Roatan – Honduras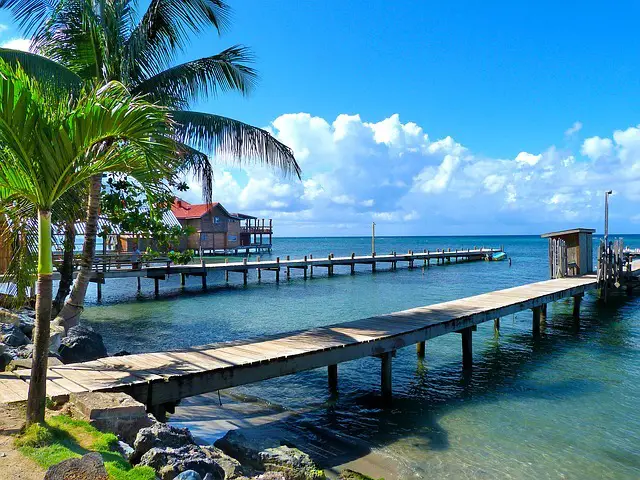 Roatan is the largest and most populous of the Bay Islands of Honduras. They consist of three islands, Roatan, Utila and Guanaja.  This string of tropical islands in the Caribbean runs along the edge of the Mesoamerican Barrier Reef System. It is the second largest reef system in the world.   
Just about 40 miles from the northern coast of Honduras, Roatan is about 48 miles long, east to west, and is less than 5 miles wide at its widest point.  
It is thought that the earliest settlers of Roatan were the Pech (or Paya) that were an indigenous group from the mainland of Honduras. When Christopher Columbus made a stop (1502) to the neighboring island of Guanaja, he found capable sailors and merchants who were trading with people as far away as Mexico and Jamaica.  
Today, with their history of Europeans, pirates, traders and military forces, Roatan's people are a diverse mixture of Spanish, Paya Indian and African. Commercial fishing had been Roatan's top industry, but that has been displaced by tourism.  
Roatan is part of the world's second largest barrier reef system. The  80°F water surrounding Roatan offers numerous  white sand beaches with diving and snorkeling sites. 
As are many of the islands in the Caribbean, there is a mixture of tin-roofed homes and expensive new homes, forming a stark contrast between the two. Tourism has brought changes to the island, with the numerous cruise ships and direct flights from Miami and Houston, along with weekly charters from Milan with visitors wanting to experience the warm waters and beautiful scenery.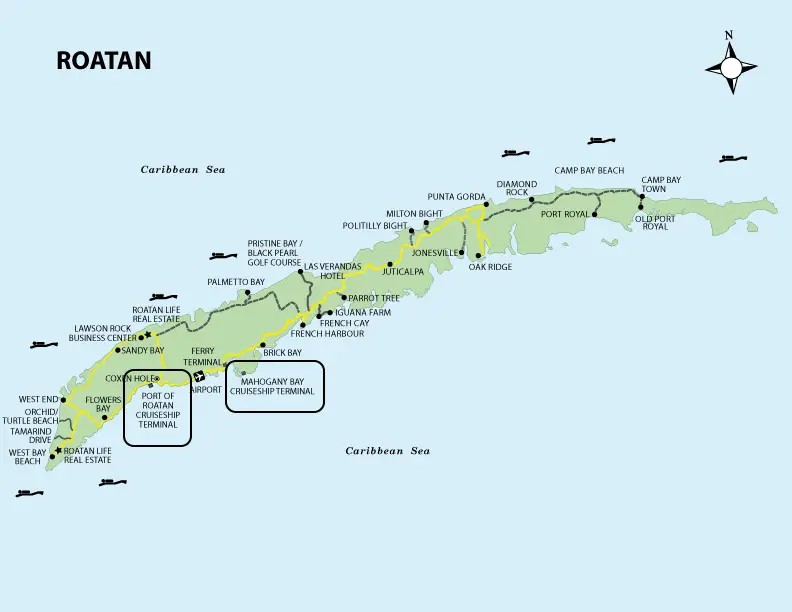 Credit: Roatanet.com
Good To Know
In general, Roatan is a safe island, but as with any tourist location, theft can be an issue and panhandlers can be a nuisance.  Leave your valuables on the ship and don't interact with those asking for a handout. 
As in any tropical area, sand flies and mosquitos will be prevalent. Don't forget repellent and sunscreen.
Check out these excursions in Roatan.
Weather:
The climate in Roatan is tropical, with lush jungles. An average year round temperature is 80°F.  September is the hottest month at an average of  84°F., and January is the coldest at a shivering 73°F!
Currency:
The Honduran Lempira is the official currency of Roatan, but American dollars are also accepted on the island.
Wireless Internet:
Around the docks there are cafes that offer free WiFi for guests.
Languages:
Spanish is the official language of Roatan, but many of the islanders speak English; a holdover from when Britain claimed the island.
Where You Dock in Roatan – Honduras
Cruise ships dock on the south side of the island where there are two ports. Coxen Hole receives ships from NCL, Royal Caribbean and Celebrity. Mahogany Bay is a purpose-built docking port for Carnival ships.
The Port of Roatan (at Coxen Hole) is the capital of the Bay Islands. This port is a commercial hub, and while Coxen Hole is not a main tourist attraction, it is a transportation hub, with Roatan's Juan Manuel Galvez International Airport located here.  The port at Coxen Hole terminal is also known as the Town Center. Here is a link to a map of the center: Town Center Map
Mahogany Bay, located in Dixon Cove, serves ships from Carnival Cruise Line and Princess Cruises. This terminal accommodates two large cruise ships. A special feature at the terminal is the chair-lift system that transports passengers from the terminal directly to Mahogany Beach. You do need to purchase a pass, which is good for the day, or you can make the 10 minute walk to the beach.
Here is a link to the Mahogany Bay Cruise Center map
Getting Around Roatan – Honduras
There is a paved road that runs north from Coxen Hole to West End, and it also runs east to French Harbour. An unpaved road takes you to Paya Bay and Camp Bay.
It is not unusual to have cattle, horses, large trucks and erratic drivers on the roads. Most of the roads are single lanes that are not well maintained, narrow and winding. There are numerous potholes to contend with, and low visibility around corners. Keep this in mind if you are choosing to rent a vehicle. There is also no GPS on the island.
Walking
 The Coxen Hole port is very small, so it is easy to get around to shops and restaurants. If you venture outside of the port gate, you will most likely be followed by panhandlers and locals wanting to sell you their wares, provide a tour or any number of other things.
If you have come into the cruise ship terminal in Mahogany Bay, it is an easy 10 minute walk to the beach area.
 Buses
 Roatan has public minbuses that run regularly between towns Monday through Satruday. These are available only at the Coxen Hole dock. You need to flag them down if you want to use them, or go to the staging area next to the Super Mercado just past the post office. 
 Water Ferries
 Water taxis run between West End and West Bay. It is best to confirm the fare before boarding. You can find the water taxis at the dock at Foster's Bar and Restaurant or at Crystal Beach Cabins in the West End.
 Taxis
 Taxis are easy to find in Roatan, but always confirm the fare before entering the cab and make sure to confirm whether the rate is in Lempiras or US dollars. Ask, too, if the rate is per passenger or for the taxi itself. If you are looking for a round trip, make sure that is also confirmed.
 Rental Cars
 There is a rental car booth just off the main plaza in Mahogany Bay. You can also rent a car from Captain Vans Rentals & More located in the West End or from
Caribbean Rent A Car that is located near French Harbour.
Scooters
 There are scooters available for rent at places like Captain Vans Rentals & More, The minimum age to rent a scooter is 18.
Just keep in mind that the roads in Roatan are not well maintained and that it might be a rough ride. You will also have to contend with few options for medical assistance in case of a fall or accident.
Shopping In Roatan – Honduras
The Coxen Hole cruise ship dock has a mall complex known as the Town Center. (Town Center Map) There is a bank with an ATM, a few restaurants, a pharmacy and liquor store. There are a few small shops and the familiar Diamonds International at this center also.
Mahogany Bay has several bars and restaurants near the beach, and the regular shops that you would expect to see including another Diamonds International and Tanzanite International shop. There is another pharmacy, Harley Davidson, and local gift shops.
Mahogany Bay Cruise Center map
Waves of Art – West End Road, West End Roatan – 4.8 miles from Town Center port
This gallery features various artists from Honduras and Central America, including talented local photographer Shawn Jackson who specializes in underwater photography. All of the goods are handmade. Many are made from sustainable and recycled material. Hand woven baskets, carved masks, Lenca pottery, Juan Pablo textiles, candles and Inritro glass are a few of the art you will find here. You can also purchase locally produced products here, like reef-safe sunscreen, honey and jelly.
Karma Jewelry Design – West Bay Beach – 6 miles from Town Center port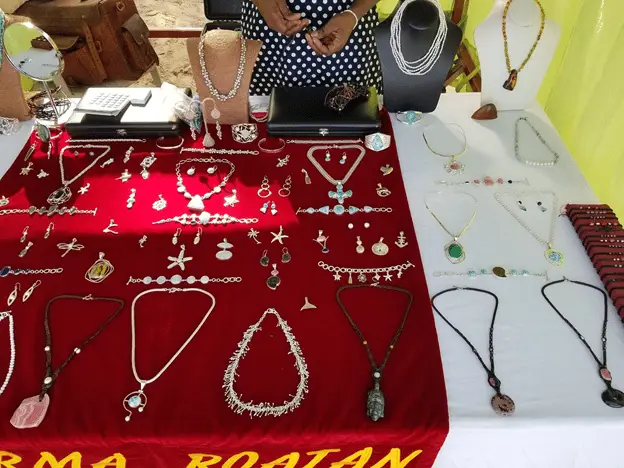 Located on the beach in West Bay, you will find some unique jewelry. The pieces are like art work, and their customers stress that the owners are friendly people and their jewelry is highly recommended. All the pieces are unique and handmade by owners Karla and Marco.
The Rusty Fish – West End Road, West End, Roatan – 4.8 miles from Town Center port
 

 

View this post on Instagram

 
All of the artwork at the Rusty Fish is made out of recycled materials. Local families make the items and this store has the best selection of locally made wood carvings. You will also find local stone carvings and handmade jewelry.
Roatan Rum Company – West Bay Road, West End, Roatan, 5 miles from Town Center port
A visit to the Roatan Rum Company will get you complimentary rum and rum cake treats. You will see Captain Jack standing outside, keeping an everlasting vigil over the Caribbean, while inside you will find rum infusions that are handcrafted. Take home some rum based hot & BBQ sauces featuring the "Saucy Girls."  Free samples are available so you will be sure to get your favorite. You can also book a private tasting by contacting them in advance. 
The Roatan Chocolate Factory – Main Street, West End, Roatan – 5 miles from Town Center port
 

 

View this post on Instagram

 
This local, small-scale chocolate company in Roatan was founded in 2010. The cacao used in their chocolate comes from the rainforests. No oils, filler, additives, preservatives or colorants are used in making their products. Choose from white, milk or dark chocolate and 12 different flavors like coconut, sea salt, island cashew and more. This video will have your mouth watering:
Stone Castle Cameo Factory Institute – Gravel Bay, Roatan – 0.8 miles from Town Center port
The Stone Castle Cameo institute has rare and interesting pieces of cameos in various forms. It is the only cameo factory in the Western Hemisphere and is part museum and part gift shop. All of the carvings are done in sea shells. You can hear about the history of these cameos and there are smaller pieces for sale.
Dining In Roatan – Honduras
The traditional food of Roatan is rice, fried or boiled plantains, pan-fried fish, tortillas and black beans. The usage of the term "fried" on the island usually means sauteed, not deep fried as one might assume.
The Beach Grill Roatan, Sandy Bay, Roatan – 6.5 miles from Town Center port
 

 

View this post on Instagram

 
Serving breakfast, lunch and dinner at Sandy Bay, the Beach Grill uses the freshest local seafood, smoked brisket along with USDA pork & ribs. On Friday's you can enjoy the all-you-can-eat lionfish. On Sunday, there are bottomless mimosas. With four different menus, you are sure to find something that pleases you.
The Lily Pond House Restaurant – Half Moon Bay, West End, Roatan – 5 miles from Town Center port
Located in an English style Tudor house, this restaurant has an ambiance that customers rave about. Make sure that you make reservations before noon (+504 9768-3404) to be able to get in. Located just a little bit away from the main stretch of the West End, there is a variety of meat and fish dishes, along with accommodations for vegetarians. Candlelit tables and soft jazz music makes for a great dinner.
Pazzo Italian Restaurant – Main Road, West End, Roatan, 4.7 miles from Town Center port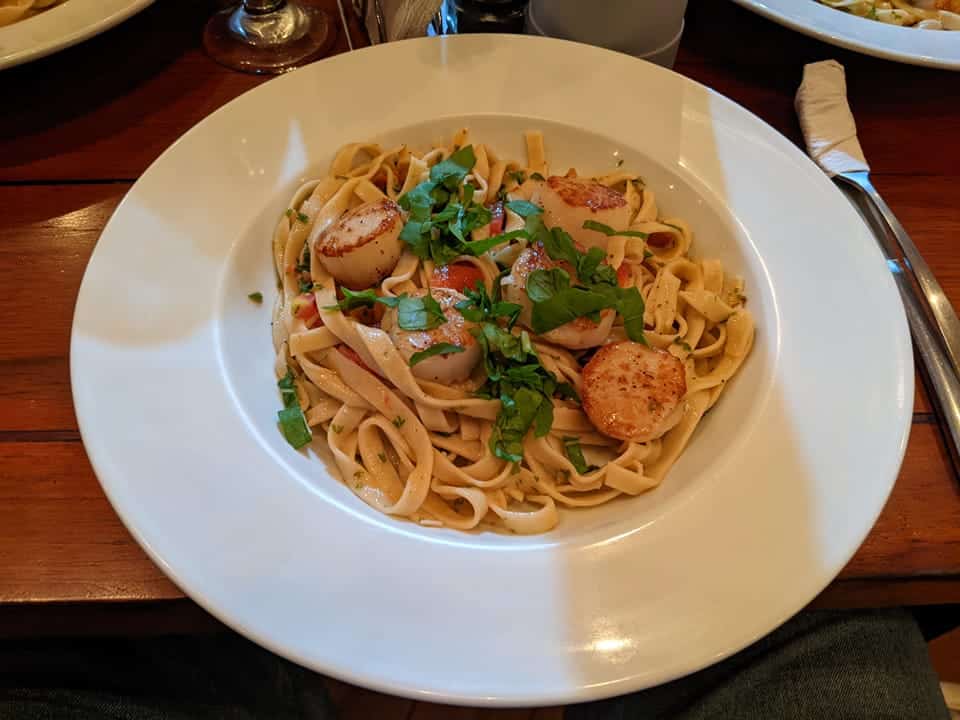 This is a classic, staple Italian restaurant on West Bay Road in the West End. Homemade pasta, appetizers and salads are served in an open dining room. You are able to, and encouraged, to bring your own bottle of wine when you dine. As this is a small restaurant and the food is fantastic, reservations are necessary. Call (+504 9889-1732)
Roatan Oasis – Carretera Principal, West End, Roatan – 4.5 miles from Town Center port
Its international fusion menu changes often, so check their Facebook page to see the most up-to-date menu items. There are some items, like the chipotle-glazed baby back ribs that are always available. Try their homemade Snickers bars or one of their creative cocktails or imported beers. Reservations are a must if you don't want to miss out on their scallop and shrimp ravioli.
Annually, the Oasis closes from about June 14th to July 14th to allow chefs and staff to have some down-time.
The Drunken Sailor – West End Road, West End, Roatan – 4.8 miles from Town Center port
Inspired by street foods, this is a quick-service establishment that works well for takeout or sitting by the water with your lunch. Described as a fry house and pizza place, they serve a Roman-style pizza with toppings like fried shrimp and calamari. The unique ambiance of the open-air seating has a few tables and counter-style seating so get there early if you want to dine-in, especially on a night with live music!
Ginger's Caribbean Grill – West End, Roatan – 4.8 miles from Town Center port
Ginger's serves traditional Caribbean food, but also has American and Latin-inspired dishes. Their Caribbean King Crab and avocado mango relish are favorites. The restaurant is right on the beach and the fish is fresh right off the boat. It has both indoor and outdoor seating, so you can enjoy your meal with ocean views.
Things To Do in Roatan – Honduras
Roatan is part of the second largest barrier reef in the world, and so it is a sought-after location for diving and snorkeling excursions. The waters are bath-water warm and there is an array of sea life like barracudas, manta rays and sea turtles.
Beaches
 West End has beaches, coral reefs for snorkeling and water sports like kayaking and sailing.
West Bay Beach has clear, shallow water and is a favorite with families. There is an entrance fee, usually about $10, which includes the use of a beach chair and access to showers and changing rooms. Or, book a beach day pass with transportation from the cruise port here!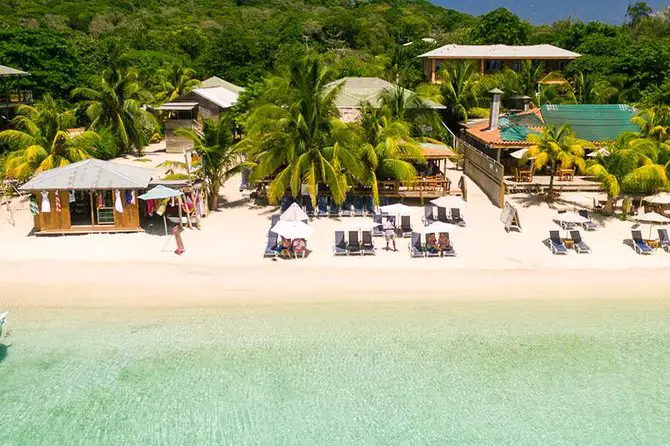 Camp Bay Beach is a bit more secluded and has a two mile stretch of white sand beach and coconut palms.
Scuba Diving:
If you would like to go on a dive, Roatan Dive Center has all the information and equipment that you would need. They offer on-site training and have certified divers that can take small groups under the waves. They also have instructors who speak English, Spanish and French.
Native Sons Diving Roatan is another scuba diving business that offers the opportunity to see wrecks, caverns, canyons and unique underwater scenery.
Coconut Tree Divers is a PADI 5 star center based in Half Moon Bay. They are a popular dive shop and tend to sell out their dives days in advance, so if you are interested you will need to book ahead. Coconut Tree Divers have a combined 40 years of experience with an array of courses and areas of expertise.
Have A Dolphin Encounter:
 Anthony's Key Resort at Bailey's Key is home to a large family of Atlantic Bottlenose dolphins. A trained naturalist will take you to the beach to meet these dolphins where you will be able, for one half-hour, to interact with them one-on-one.
Go Golfing: 
The Black Pearl Golf Course at Pristine Bay is Roatan's first and only 18 hole golf course. Created by the world famous golf course architect Pete Dye, this course starts at the ocean and travels into rolling foothills. It has Dye's signature island greens and 14 of the holes give golfers views of the ocean and the barrier reef. Reservations are required. Golf attire is also required, and while golf shoes are not available for rent, sneakers are allowed.  (011 504 2455-5220)
 Horseback Riding:
 Anthony's Key Resort also offers fully-guided horseback riding. They will take you along a beach in the town of Sandy Bay. The rides take place in the mornings or afternoons.
Horseback Riding in Roatan – Cruise Ship Transportation Packages – El Rancho Barrio Dorcas  offers Saddle and Swim packages for cruise ship passengers. You will ride on the beach and in mangroves. If you so desire, you can also book a private horseback ride.
Visit The Iguana's:
Located in French Cay, Arch's Iguana & Marine Park is a  popular spot and just a short distance from both cruise ship terminals. It is one of the oldest animal sanctuaries on Roatan. There are over 4,000 iguana in the sanctuary including the indigenous Black Spiny-Tailed Iguana. You will be able to feed and hold them, or just observe these gentle creatures.
Top Tours & Excursions In Roatan – Honduras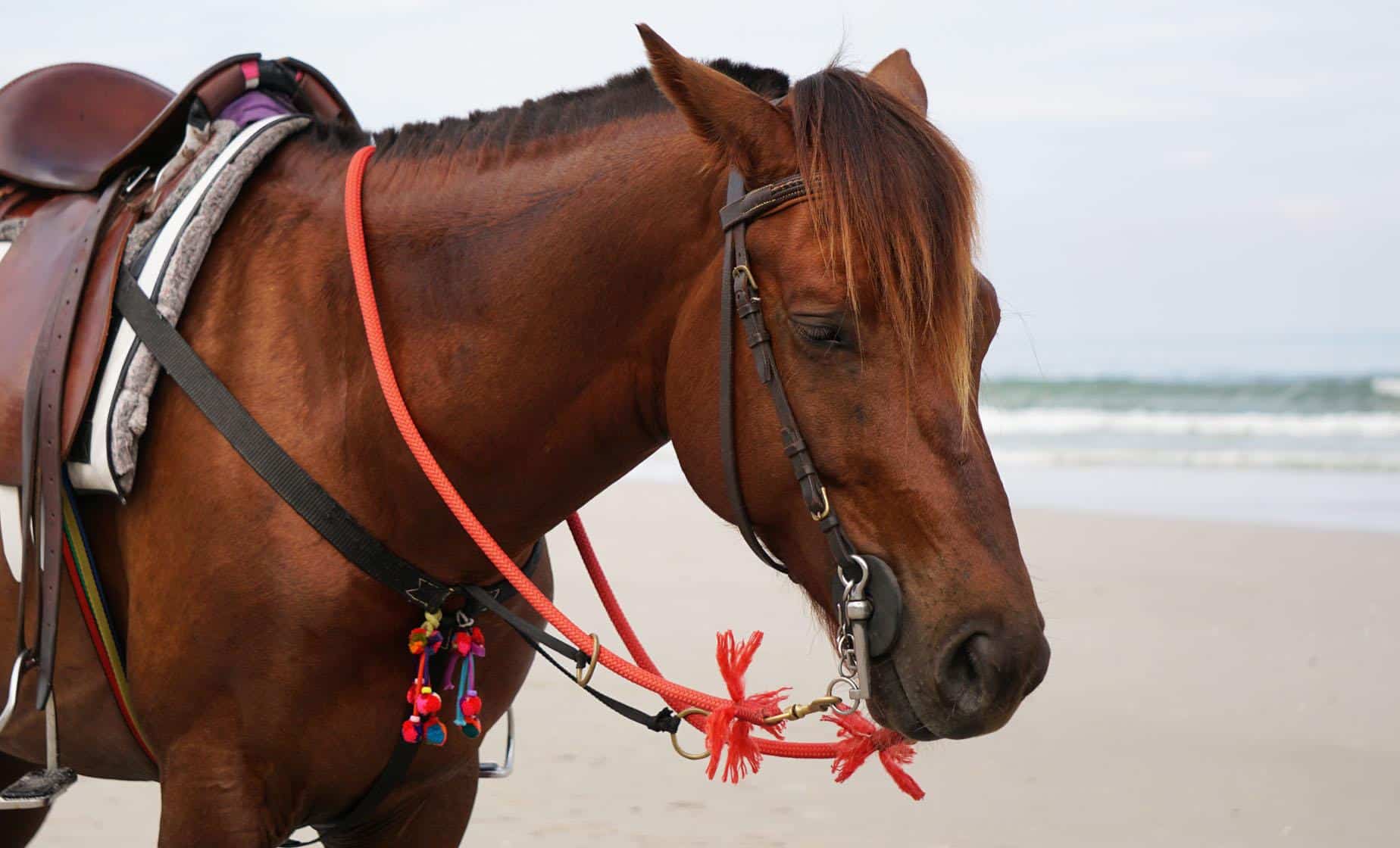 Roatan Horseback Riding & Snorkel Tour Spend 45 minutes horseback riding through the beauty of Roatan before boarding your boat for an hour of snorkeling where you'll see colorful underwater scenery, many different types of creatures including fish, eels, stingrays and lobster. After this adventure, head back to land where you'll enjoy a delicious local meal of grilled chicken or fish, rice and beans and more! This is a great way to enjoy a beautiful day in paradise!...
Duration: 5 Hours Activity Level: Easy Wheelchair Accessibility: No Food: Lunch included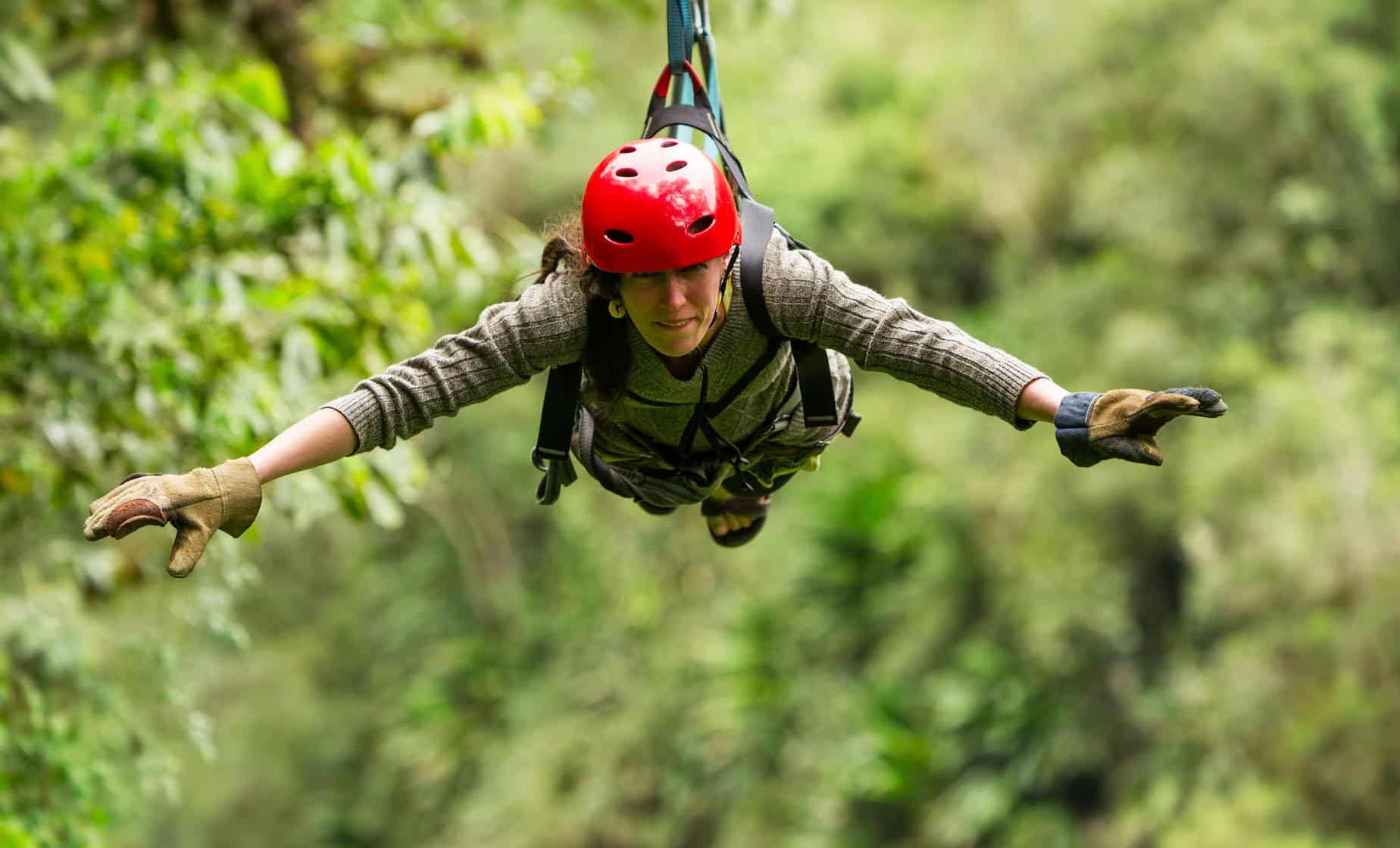 Roatan Zip & Eco Walk  On a course set out over more than 25-acres of lush Roatan scenery, you will zip just under 2 miles of cable between numerous platforms.  After your zip-line adventure,  you will walk through the raw jungle habitat, over paved paths, wooden steps and suspension bridges while keeping an eye out for tropical flowers, "Tarzan" vines, birds, lizards, Iguanas, fruit and nut trees and amazing views....
Duration: 3.5 hours Activity Level: Moderate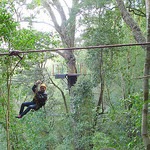 Roatan Zip & Splash Beach Break Your Roatan zip line excursion is on a course set out over more than 25 acres of lush Roatan scenery, you will zip just under 2 miles of cable between numerous platforms.After soaring through the sky, you will drive to the beach where you can splash in the sea at nearby West Bay. Here you will have approximately 1 1/2 hours to beach walk, swim, rent snorkel gear, or just zone out in a sunbeam, under a palm tree or at the nearby beach bar and rest...
Duration: 4.25 hours Activity Level: Moderate