Anchorage | Whittier Port Transportation
To depart from Whittier, coming in via air is the best option for most travelers.
What's the Closest Airport to Whittier?
Most passengers fly into
Ted Stevens Anchorage International Airport
(ANC), which is serviced by major domestic airlines as well as JetBlue, Frontier, and a few international airlines. 
Compare Rates on Cheap Flights to Anchorage
Tunnel to Whittier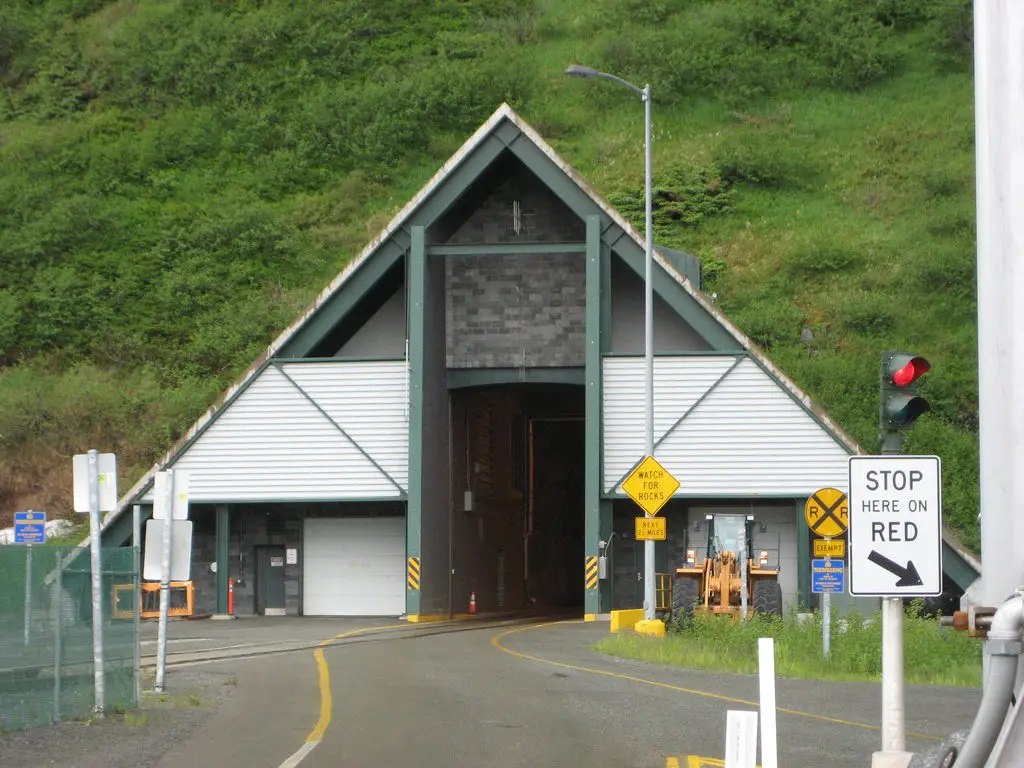 Besides the sea, there is only one way in and one way out of Whittier. It is by way of the Portage Glacier Highway and the
Anton Anderson Memorial Tunnel
, a one-lane, shared tunnel with both rail and vehicles. The surface of the tunnel is one which allows both cars to drive on and trains to ride on. The tunnel runs on a schedule to allow for traffic to flow between Whittier at one end and Bear Valley at the other. Here's an example of the schedule:   10:00am - 10:15am : traffic flows from Whittier to Bear Valley 10:15am - 10:30am : open to allow for trains 10:30am - 10:45am: traffic flows from Bear Valley to Whittier 10:45am - 11:00am: open to allow for trains   So, if you missed one opening, you'll have to wait in a staging area for an hour before you will be able to cross through. It takes approximately 6 minutes at 25mph to travel through the 2.5 mile long tunnel. There are many safety measures for those travelling through the tunnel, including the assurance that there will never be a train and vehicle in the tunnel at the same time. There are also fire-proof tunnel safehouses for travelers to go in the event of emergency. There is a toll for using the tunnel but the fee charged is good for the round-trip.
Click here for the most up-to-date toll information.
Car Rental in Whittier
If you want to experience the drive yourself,
Avis
is the only rental car company in Whittier. If you're wanting to rent in Anchorage,
check out RentalCars.com
for the best prices.
Train to Whittier
If you wish to take the train, the
Alaska Railroad
travels daily between Anchorage and Whittier. The base cost for train fare is $94 per person and the ride takes just over 2 hours.
Anchorage Shuttles to Whittier
There are numerous companies that offer motor coach shuttle service from Whittier to Anchorage and vice versa. Almost all offer sightseeing tours between your starting and ending points, with photo-op stops, as well as direct routes. The direct routes take almost 2 hours but they will drop off at either the port in Whittier or the airport in Anchorage, certain hotels or car rental companies in Anchorage. In addition to the sightseeing tours, the direct routes typically are narrated. If you'd prefer to drive in comfort, look into taking a
private transfer
from the airport to the cruise terminal.   -
Compare prices from Anchorage to Whittier with Shuttlefare.com!
-
Anchorage Hotels with Airport Shuttle
-
Anchorage/Whittier Alaska Cruise Transportation
-
Anchorage Tours and Transfers
Ending Your Cruise in Whittier?
Are you ending your cruise in Whittier and flying home from Anchorage? Don't let the fun end when you step off the ship! Instead of just taking a transfer straight back, one of the most popular ways is the
Half Day Tour from Anchorage to Whittier
.  The bus will pick you up at the Whittier cruise port includes photo stops at Beluga Point and Portage Glacier and more than an hour stop at the Alaskan Wildlife Conservation Center for a guided tour, and time to explore on your own.  
Cruise Planning at this Port