If you thought that cruise ships were just for old people, you haven't been paying attention!
The latest cruise ships have a variety of activities that appeal to all age groups, but in this guide, we're most interested in water parks & cruise ships with water slides.
Cruise line by cruise line we go through what each cruise line has to offer when it comes to waterslides and water parks!
Keep reading…
Norwegian Cruise Lines
Norwegian Cruise Lines has some of the coolest water parks at sea on their Breakaway, Epic & Breakaway Plus Classes of ships. From high above the 17th deck, you'll look out over the crystal blue waters as you're about to slip and slide 200 ft to the pool below and think "I can't believe I'm doing this in the middle of the ocean." It's pretty cool. If you don't believe me, check out the video below.
Breakaway Plus Ships
The Breakaway Plus class of ships, which includes the Joy, Escape and Bliss, offer the Aqua Racer and Ocean Loops waterslides, the latter of which has a loops out over the ships edge. Check out this video from the inside the Norwegian Joy's Aqua Racer slide:
Breakaway Ships
NCL's Breakaway and Getaway, with 5 water slides, multi-stories high, including the fastest drop slide at sea – the Free Fall, 2 swimming pools & 4 hot tubs there's hours of aqua enjoyment for the young and young-at-heart.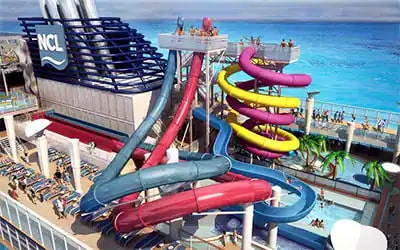 Epic Ships
On Epic class ships, along with other water slides, you'll find the only bowl slide at sea – the Epic Plunge – which takes spinning down 200ft!
Carnival Cruise Lines
Carnival Cruises has long been known as having the "fun ships" and their water park offerings are no exceptions.
Waterworks
While the configuration of waterworks may vary, it is offered on the majority of its ships….and it's not just for kids, either. There are different types of slides – speed slides, some with side-by-side racing action, the Twister Waterslide, taking you down hundreds of feet with its twists and turns, and swirling slides – the DrainPipe, along with the PowerDrencher which will dump a huge bucket of water, drenching you from stem to stern.
Disney Cruise Lines
Disney Cruises are always a good time for the young and young at heart and they have pools, slides and play areas designed for all ages.
AquaLab
The AquaLab, available on the Magic, Wonder and Fantasy, is an all-ages water playground with pouring paint cans, leaky pipes, geysers and jets, guaranteed to keep you cool on a hot day. On the Magic and Wonder, the Twist n' Spout double-looping waterslide will slide and spin you down hundreds of feet.  For the littlest cruisers, there are fun and safe areas just for them.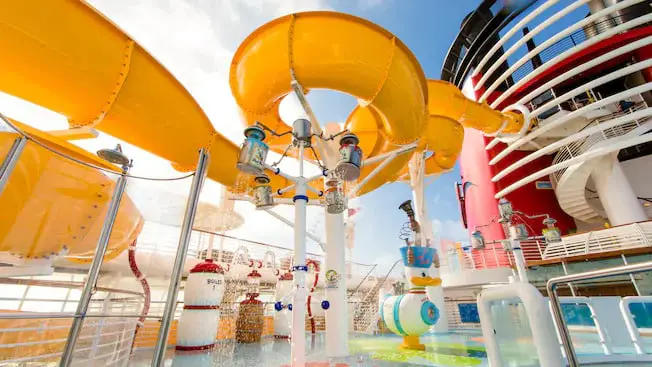 AquaDuck
Ride the first "water coaster" at sea on the Disney Dream or Disney Fantasy.  You'll drop 4 decks and even go through the forward funnel as you twist and turn 765 feet all over the ship on your two-person raft before ending in the lazy river.  Ride it at night with its multi-colored lights!
Royal Caribbean
Not to be outdone, Royal Caribbean also has some water park fun for everyone!
Splashaway Bay
From toddlers to tweens, Splashaway Bay has colorful fountains and cannons, pools, and waterslides made just for them! Available on:
Adventure of the Seas
Freedom Class Ships
Oasis Class Ships(except Allure)
Quantum Class Ships (except Quantum and Anthem)
Tidal Wave
Available only on Liberty of the Seas, this thrilling, boomerang-like slide propels you into weightlessness then ricochets you back down the other side.
The Perfect Storm – The Blaster and Riptide
Currently available exclusively on the amplified Navigator of the Seas, The Blaster Aqua Coaster, which is part of The Perfect Storm group of waterslides, is the longest water slide at sea at over 800 feet, you'll dip and drop before hurtling over the water!
Also, only on Navigator, Riptide is the first headfirst mat racer waterslide at sea, where you'll twist, turn and race through a see-through tube over the side of the ship!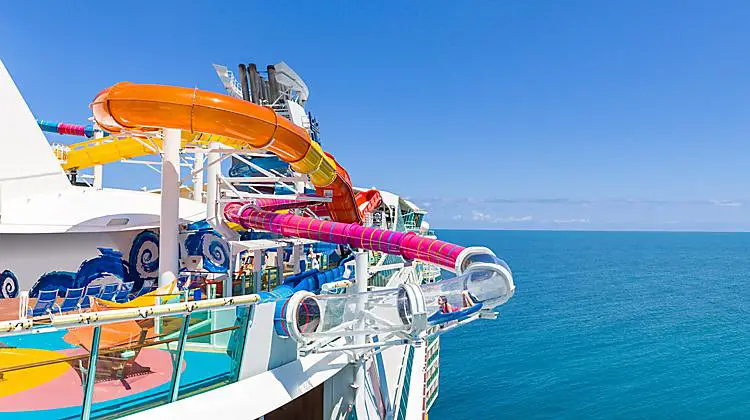 The Perfect Storm – Supercell
This daring waterslide starts like any other waterslide but then propels you into a bowl where you'll loop and spin before racing down into the pool below. Supercell is currently available on Harmony, Oasis and Symphony.
The Perfect Storm – Typhoon and Cyclone
These twin waterslide racers speed you through twists and turns, with see-through views of the ship around you. Typhoon and Cyclone are available on Adventure and Voyager, all Freedom-class ships, Symphony, Harmony, Oasis, and Royal's newest ship, Wonder of the Seas!
Check out this video from Oasis of the Seas showing the Supercell, Typhoon, and Cyclone waterslides:
This page contains affiliate links for which we may receive financial compensation when a purchase has been made through one of our affiliate partners.
About Jonathon Hyjek
Jonathon is the tech guy behind CruiseportAdvisor.com. When he's not stuck in front of his computer, Jonathon enjoys travel & cruising (even after being on a cruise ship that caught fire - a story for another day!)