CocoCay Bahamas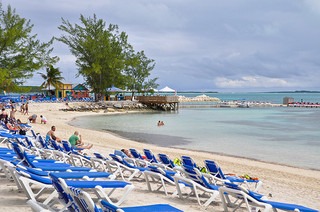 CocoCay Bahamas is Royal Caribbean's Private Island in the Bahamas.
If you're looking for a relaxing day of sitting on white-sand beaches and dipping your feet in crystal aqua water, then "The Perfect Day at CocoCay" is for you. Previously known as Little Stirrup Cay, this island is located in the Berry Island chain, between Freeport and Nassau, Bahamas.
Currency:
SeaPass – everything is charged to your on-board account.
Wireless Internet:
No Wifi Hotspots on the island
Languages:
English
Where You Dock in CocoCay Bahamas
Getting Around CocoCay Bahamas
Prior to 2019, a tender was provided to and from the ship. A brand new dock was built and now ships can dock directly at CocoCay. 
While on the island, some walking is required, however, it is a minimal amount. For those with mobility issues, there are beach wheelchairs available. 
Shopping In CocoCay Bahamas
Minimal Shopping – Straw Market & Royal Caribbean Stores
Dining In CocoCay Bahamas
There are no restaurants, but a free BBQ provided by the ship. Bars are located within easy distance of all the beaches. You can use the ship's drink packages for beverages on the island.
Things To Do in CocoCay Bahamas
There are a few different beaches with loungers and hammocks, water activities such as kayaking and wave runners, and an inflatable waterpark. Snorkeling and glass-bottom boat tours, as are cabana and floating mat rentals. There is a cost for most activities and are booked through the ship.