CocoCay Bahamas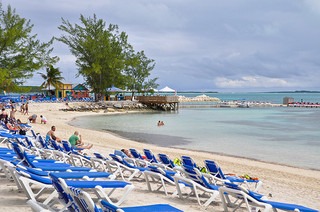 Located in the Bahamas, CocoCay is a private island owned by Royal Caribbean Cruise Line. This stunning 140-acre island is a very popular stop on many RC Caribbean cruise itineraries, and is the only cruise line that stops here. 
Some view CocoCay as a theme park that could be located anywhere in the world. The island tends to have the theme-park vibe, and you may not feel like you have visited a foreign country here.  
Other cruise passengers relish the opportunity to disembark onto solid ground in a safe and controlled environment with lots to do. 
Regardless of your thoughts on the subject of cruise line private islands, Perfect Day at CocoCay does have pristine beaches and a variety of activities. 
Go here to take a 45 minute tour with a passenger that loves CocoCay:
Good To Know
There are complimentary lockers that are available throughout the island. Also complimentary are freshwater showers, restrooms and changing rooms. 
There are also first aid stations around the island if you have any type of small need for assistance.
There are stations that have snorkeling equipment that you can rent. 
Swim vests stations located around the island for you and the kiddos. The vests are complimentary.
Beach chairs and umbrellas are also located throughout the island. 
The zip line requires riders to wear closed toe shoes, so if you plan on flying down the zip line, make sure you have the right footwear. 
You will need to bring beach towels from the ship. Wet towels can be exchanged throughout the day at one of three towel exchange stations. Remember, though, to bring your towel back to the ship. 
If you rent a cabana on Perfect Day at CocoCay, there will be towels at the cabana, which you will leave there in the cabana when you depart. 
There may be an occasional shark in the water, as there are many sharks in the Bahamas. There has not been a shark attack at CocoCay, but anytime you are in the water, be aware of your surroundings.
The jellyfish in the water are not dangerous, but their sting is painful. Avoid the jellyfish, but if you get stung, head to one of the first aid stations on the island. 
Stingrays are harmless, but avoid stepping on one. If you do, they will sting you with their tail, and you can't blame them for doing so. If you shuffle your feet through the sand as you walk in the water, the stingrays will sense you coming and will be able to get out of your way. 
Weather:
The weather at CocoCay has an average temperature of 77°F year round. The average low temperature is 69°F and the average high temperature is 84°F. There is an average of 12.5 hours of sunlight each day, making this pleasant and sunny most of the year.
Currency:
The majority of expenses on CocoCay can be added to your SeaPass. If you purchased a beverage or WiFi package onboard, you can use those packages on the island, too. 
In the shopping area, the vendors accept cash only in US dollars.
Wireless Internet:
If you purchased the WiFi package for the cruise, you will also have it on the island. There are no hotspots on the island at this point in time.
Languages:
Everyone on the island will speak English.
Where You Dock in CocoCay Bahamas The ship docks at a pier on the island. From the pier, you will walk to the island. Although it is not a long walk, there are trams that run back and forth from the ship to the pier if you prefer to be shuttled. 
Here's a map of the island. You can click here for a full map, courtesy of Royal Caribbean. Getting Around CocoCay Bahamas
The island is about a mile long and 200 yards wide, so most people just walk.
There are no taxis, and none are needed as there are island trams.  There are tram stations that dot the island to be able to hop on and off at your desired destination. 
The Island Tram runs all day, and includes five stops: Arrivals Plaza (near Thrill Waterpark); South Beach; Coco Beach Club and Up, Up and Away; Oasis Lagoon; and Chill Island. 
There is a tram that is dedicated to guests of Coco Beach Club and runs about every 10 minutes, all day. Guests can board the tram near Arrivals Plaza.
Additionally, there is also a dedicated Pier Tram that runs continuous service between the ship and Arrivals Plaza. 
For those with mobility issues, there are beach wheelchairs available. 
Shopping In CocoCay Bahamas
There is an Artisan Market on the Chill island side. You can get souvenir items and RC branded t-shirts and hats here. 
There is little to no sales pressure on CocoCay for buying items, so you can feel free to browse. without vendors pressuring you to buy. 
This is the only spot on the island that will have these types of items. The artisan market only takes cash in US dollars, so plan accordingly.
Dining In CocoCay Bahamas
If you bought a drink package for your cruise, all of the bars on CocoCay will take your drink package. If you don't have a drink package, there is water, lemonade and flavored water stands on the island that are complementary. 
Captain Jack's (Specialty Dining, so costs extra)
The house specialty is chicken wings and fries dipped in signature sauces. Live music and water views make this a favorite spot with diners. 
Skipper's Grill (complimentary)
They serve tacos with guac, barbecue chicken and burgers. Desserts include double chocolate chip caramel brownies and fresh baked cookies. 
Chill Grill (complimentary)
There is plenty of shade just steps from the beach at the Chill Grill. Tacos and barbecued chicken hot off the grill and a full menu of Caribbean-style bites. Eat at one of the picnic tables or grab a chair at the beach. 
Snack Shack (complimentary) 
Sandwiches, salads, burgers, hotdogs and fries. This is a great spot to grab and go and there are two locations on the island. 
Things To Do in CocoCay Bahamas
The island is roughly divided into two parts, the Thrill side of the island and the Chill side of the island. 
Chill side:
This side of the island is very laid back. This is the quiet side of the island. There is no live music in this area, so it is quiet and peaceful. This is a very relaxed side. 
The chill area has Harbor Beach. The beach is lined with chairs and umbrellas, all of which are complimentary. It is also an area that is ideal for those who are not strong swimmers. 
There are no waves, with calm water which is good for the kiddos. The beach gives you a great view of your ship at the pier and the water. 
This side of the park also has cabanas that can be rented for the day. These are much like a daybed on the beach, there are curtains that surround the bed which you can keep open or closed.
The cabana comes with chairs and service from the concierge. There is food and drink service available through the concierge. Complimentary water and floating mats for the water are included. 
There is a floating bar out in the water on the Chill side of the island. Depending on the tide, you may need to wade or swim out to it, but it is a fun way to get a beverage. 
There are basketball courts sprinkled throughout the island. If you like to play pool, you can check out the extremely large sized pool table, where you use your feel as the stick. 
There is also a huge Jenga game and a sand volleyball court. 
Try your hand at ping pong or at an over-sized connect four game. 
Thrill Island Water Park
There is an entry cost associated with some parts of the thrill side of the island. You can purchase entrance to the thrill side, or you can rent a cabana. If you rent a cabana, every person gets complimentary access to the water park with a wrist band. 
For up-to-date pricing, go to the Royal Caribbean cruise planner. RC uses dynamic pricing for the Thrill Water Park. As the park begins to fill, the price of admittance goes up. If this is something you want to take part in, it might be a good idea to book early. 
Check out pricing for the Thrill Island Water Park here: Royal Caribbean Cruise Planner
The Thrill Island Water Park includes:
Daredevil's Tower 
This is the tallest waterslide in North America at 135 feet tall. On this ride, you plunge down the side at 18 miles an hour. 
Wave Pool
This largest wave pool in the Caribbean can hold over 1 million coconuts. However, you won't see any coconuts in the water, just people having fun.
Adventure Pool
Try to cross the pool using the floating "lily pads."
Splash Summit
There are 1,500 feet of slides in this part of the island that  are two times taller than the Golden Gate Bridge. 
Zip Line Takeoff
Four and a half times longer than a soccer field, this 1,600 foot long zipline takes you over Splashaway bay. 
Up,up and Away 
Get a great view of the island and the water in the tethered balloon that rises above CocoCay. Taller than the Statue of Liberty, this is the highest vantage point in the Bahamas. 
Coco Beach Club
An exclusive area that includes an infinity pool, bar and restaurant along with a private beach. This area has a limited capacity of about 400 people, so if you are looking for an area that would be a bit quieter, this is the spot that has a resort-type feel. 
Floating Cabanas
The largest cabana you can rent at CocoCay is a floating cabana. They will hold eight people, but you can get permission for up to ten. There is a water slide and a floating hammock and fresh water shower. The cabanas have a minibar, that is included if you have a drink package. You can order food and drinks that will be brought out to the cabanas. 
Complimentary places on the thrill side of the island:
Splashaway Bay
Continuing with the water fun theme, there are two massive drench buckets that hold 21,000 gallons of water, so prepare to get wet. 
Captain Jill's Galleon  
The kids will love this pirate-themed area. Sixteen water cannons and three dry slides will keep them busy. 
Oasis Lagoon 
Continuing with the theme of biggest, the lagoon is the largest freshwater pool in the Caribbean. Oasis Lagoon is the length of a football field and has a swim-up bar. 
Top Excursions & Tours
All excursions, like kayaking and jet skiing, are booked through the cruise line.
Here are some examples of shore excursions at CocoCay:
Parasailing

Reef snorkeling

Glass bottom boat tour

Stingray city

Swimming pigs tour

Guided jet ski tour

Kayak adventure

Scuba diving