Category Archives: San Francisco Attractions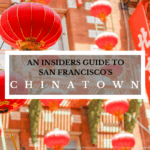 Last updated on February 22nd, 2020 at 09:41 am
San Francisco has always been a fascinating place. The charm is endless with its trolleys, steep hills, and verdant parks. Every year, more people move to this uniquely American town to join the growing community of technology leaders, emerging artists, and hardworking immigrant families.
One of the most memorable and photo-worthy spots in San Francisco is Chinatown. Even before you pass under the majestic dragon gate, it's easy to see why this neighborhood is so fascinating to tourists and locals alike.
For over 150 years, San Francisco's Chinatown has granted safe harbor to immigrants, artists, travelers and local residents who are captivated by its unique history.
Whether you are exploring Chinatown for the first time or looking to expand your knowledge of this fascinating neighborhood, here are a few spots that locals love just as much as tourists.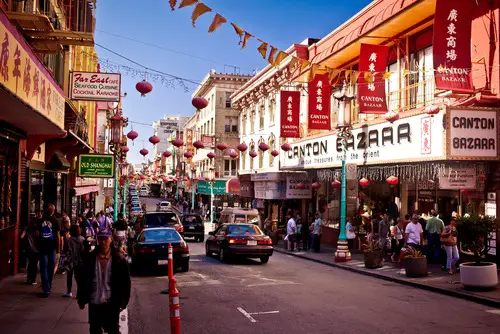 The Golden Gate Fortune Cookie Factory
56 Ross Alley, Chinatown: 415-781-3956
Despite American's affection for fortune cookies, this iconic treat doesn't exist in Chinese culture. In fact, a bakery in San Francisco called Benkyodo first introduced the cookie in the late 19th century.
Nevertheless, the making of these fortune-telling sweets never fails to fascinate the uninitiated. You can watch the masters turn out thousands of handmade treats by paying a visit to the Golden Gate Fortune Cookie Factory.
The dough cooks in small, circular iron molds called a kata, and then the shop's three employees hurry to form the cookies as quickly as they can before the dough hardens, inserting the fortune into each one. The entire process takes 4 minutes from start to finish.
Founded in 1962, The Golden Gate Fortune Cookie Factory makes 20,000 fortune cookies a day, despite its very small size and three-person production team.
The shop is open to the public to watch the low-tech magic happen. As a courtesy, founder and owner Frank Lee asked that visitors purchase a bag of cookies or contribute a flat rate of $.50 if they take pictures while inside the shop. Trust us, the cookies are very good, so consider picking up more than one bag.
Jun Yu and His Erhu
32 Ross Alley, Chinatown: 415-362-7776
It's always exciting to spot a celebrity, but even more so when that celebrity truly enjoys being seen. Over the years, Jun Yu and his simple two-stringed instrument, the Erhu, has become so iconic to Chinatown that he has been featured in the movie Pursuit of Happyness and TV shows like The Bachelor.
He takes great pride in his popularity and fame, and he has written out his film credits on a sign to let visitors know exactly where he's appeared.
Jun Yu also owns a one-chair barber shop in case you need a trim, but it's much more fun to watch him play outside the shop. Beaming his contagious grin, he likes to gather his admirers around him, and then plug his erhu into a speaker, so its warm sound can reach everyone in the street.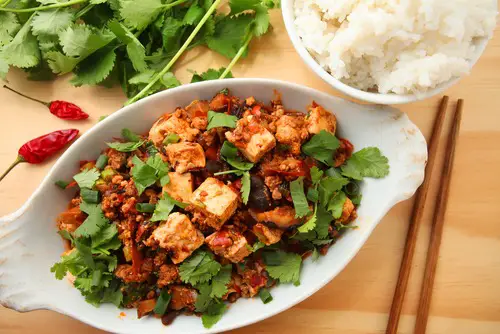 Z & Y Restaurant
655 Jackson Street, Chinatown: 415-981-8988
Anyone looking for the true Chinatown experience needs to visit this beloved restaurant. Not for the faint of heart, the Z & Y celebrates the food of the Sichuan region of China.
This part of China has its own set of peppercorns and lip-numbing spices that add a unique taste to any dish. Once you've experienced authentic Sichuan cuisine, the experience is hard to forget. Many fans claim they get a small endorphin high from the intense flavor and level of heat.
This eatery has entertained many Chinese presidents and foreign ministers; President Barack Obama also paid a visit during a trip to Chinatown. Groundbreaking chefs, like Alice Waters and Cecelia Chiang, have enjoyed dining at Z & Y Restaurant for decades.
Try the Chicken with Explosive Chili Pepper and then ease the pain with Bitter Melon in Honey. If you have a moment, send your compliments to celebrated chef, Li Jun Han, or his wife, Michelle Zhang, who oversees the dining room. It will quickly become your go-to stop any time you visit San Francisco.
Grant Avenue
Grant Avenue is one of the oldest streets in Chinatown. The famous Dragon Gate that marks the entrance into Chinatown presides over Grant Avenue as various shops compel visitors with beautiful lanterns for celebration and good fortune and little porcelain cats to bring prosperity into your life. Look for hard-to-find patches featuring dragons or soft-tipped, round calligraphy brushes.
You can wander in and out of shops on Grant Avenue for hours. Keep in mind that most of the stores don't accept credit cards, so you may have to stop at one of the many ATMs squeezed between shops if you find something you want to purchase.
Golden Gate Bakery
1029 Grant Avenue, Chinatown: 415-781-2627
The perfect stop after an afternoon of shopping, the Golden Gate Bakery is right at the end of Grant Avenue. You'll recognize it by the huge line of customers waiting to buy the famous Egg Custard Tarts, a treat so ubiquitous to San Francisco natives that the shop makes them non-stop throughout the day.
They also offer red bean paste-filled sesame balls, mooncakes, and mochi rolls along with an assortment of other traditional and delicious sweets.
Service here is friendly and fast, but do have some idea of what you want before you get to the counter. The busy employees have no time for a leisurely chat about Chinese desserts, and your fellow patrons in line behind you may not appreciate it either. Visitors and locals alike get excited just thinking about one of these authentic treats.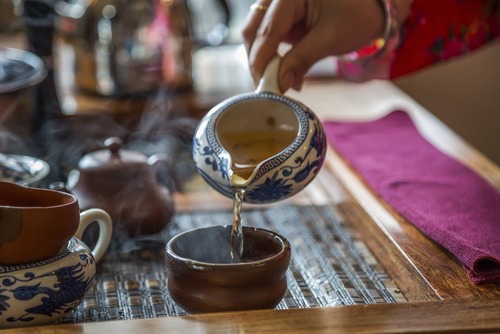 Vital Tea Leaf
Even if you don't consider yourself a tea person, you should stop by Vital Tea Leaf. It's one of the treasures of Chinatown. It's set up like a wine bar to help educate American tea drinkers on the finer points of different tea leaves and growing traditions.
You'll be greeted by Uncle Gee, who will describe all of the different teas as well as make custom recommendations based on your age, gender, and general health.
The owners of the shop travel to China every year to see the newest trends in tea, and they bring back their favorite finds for their dedicated customers. You can also shop their extensive loose leaf tea selection or relax at the counter to enjoy a tea ceremony.
Two locations: 509 and 1044 Grant Ave., Chinatown: 415-981-2388
Waverly Place
Waverly Place is famous for its beautiful, painted balconies, Buddhist temples, and Chinese Benevolent Associations. "The Street of Painted Balconies" has provided stunning details on many films, including Amy Tan's The Joy Luck Club and Indiana Jones and the Temple of Doom
Tien Hou, the oldest Buddhist temple in the United States, was built in 1852, and has survived many natural disasters, including the horrific earthquake and fire of 1906.
At the time of its construction, the city government forbade any Buddhist temples in the area due to anti-Chinese sentiment of state and local governments. Undeterred, they built the temple up three flights of stairs to keep it hidden from disapproving citizens. Across Chinatown, families used the higher, more private spaces in their homes to create altars and keep their traditions alive.
Uncrack the mystery of San Francisco's Chinatown, and you'll be rewarded with a new appreciation of Chinese traditions and its lasting imprint on American culture. It's also a fascinating testament of the resilient spirit of Asian immigrants in America.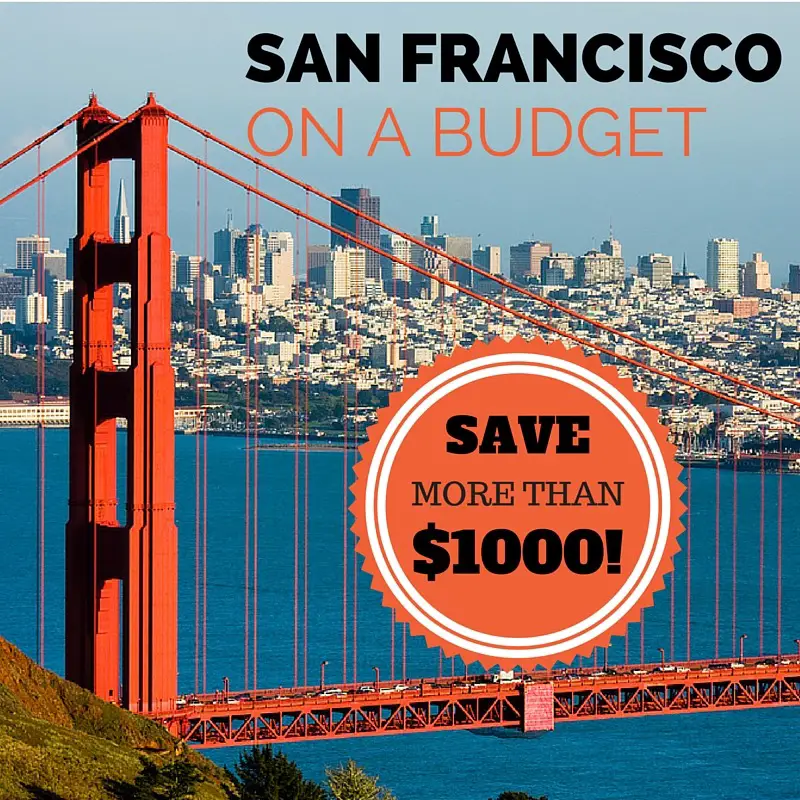 Last updated on September 10th, 2021 at 03:42 pm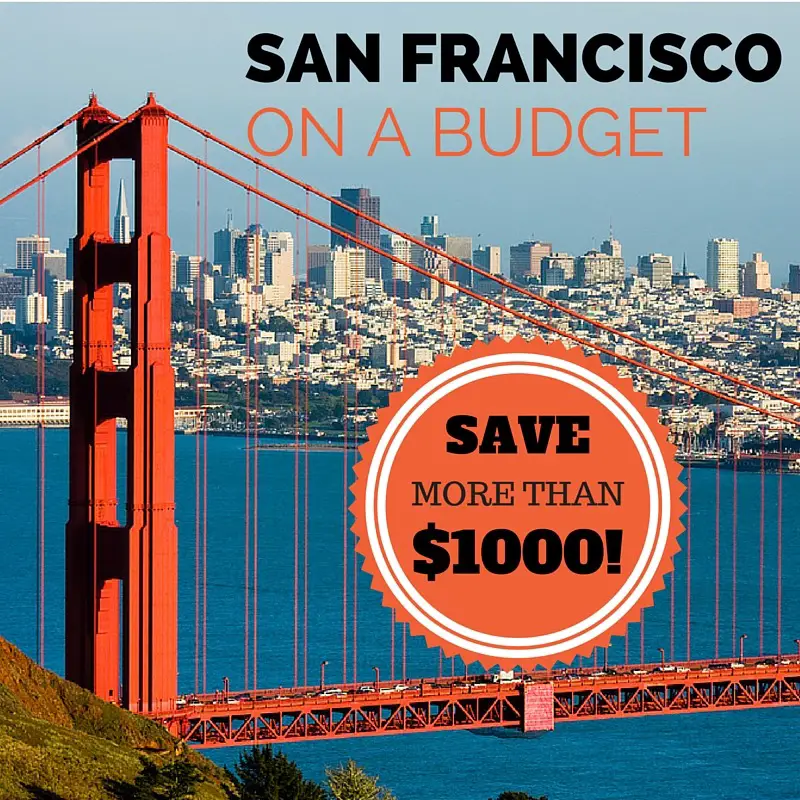 The neverending hills, the delicious smells wafting through Chinatown, the dense fog rolling in from the Bay every morning and magically lifting by afternoon, revealing a whole different side of the city — all these things and more make San Francisco one of the best towns to visit in California.
I fell in love walking the streets of this city, exploring the different neighborhoods and stopping in nearly every coffee shop I passed. But spending a fortune in any city, even one of the most expensive ones in the United States, just isn't an option for a young traveller like me, so I always plan ahead to save a few pennies.
Whether it's your first time in San Fran or your hundredth, check out my tips for saving some cash during your stay.  
Consider a cruise
Want two vacations in one? Take a cruise! You can easily find one along the West Coast that either starts from or ends in San Francisco, and you can cross a few more places off your travel bucket list at the same time.
Booking a cruise at the last minute (when cruise lines drops the prices to fill empty cabins) or bundling your cruise with a hotel stay in SF can also save you some money. Just plan a few extra days before or after your cruise to explore the city!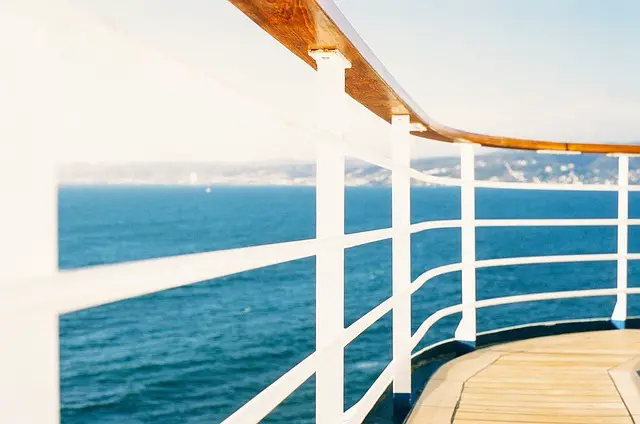 Check out free attractions
Some of the greatest things to see in San Francisco are completely free — Chinatown, Fisherman's Wharf, the Golden Gate Bridge and Golden Gate Park are just some of the top tourist destinations you won't spend a penny to visit.
Visit #thatSFtree at Mount Davidson State Park — a famous eucalyptus tree that once topped Mount Davidson and has since fallen, but is still a cool place to sit and view the city — or take a turn on the rope swing at Billy Goat Hill. And don't forget to say hello to the Sea Lions off Pier 39!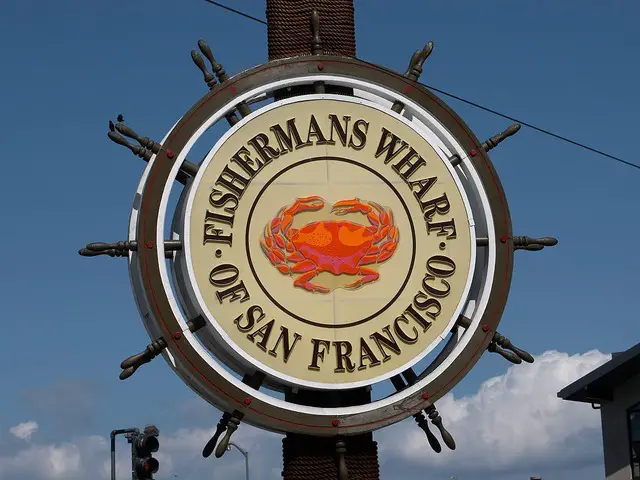 Look before you book a hotel
As I've mentioned, San Francisco is one of the most expensive cities in the world. So yeah, hotels within the city are typically pretty expensive, climbing to $150-$200 a night. But, doing a little research before you go can keep some jingle in your piggy bank and help you avoid staying in a dump.
Check out the different neighborhoods and local attractions around the hotel you're interested in. If you stay somewhere in the same neighborhood you'll be spending most of your time, you can justify spending more for a room by saving on transportation.
Pick one meal a day to splurge on
One of my favorite parts about travelling is trying new foods, and San Fran is one of the most gastronomically pleasing cities I've visited. One stroll through Chinatown and a plate of sesame chicken was all it took to make my stomach fall in love with the city as much as my heart already had. But, eating out can get expensive.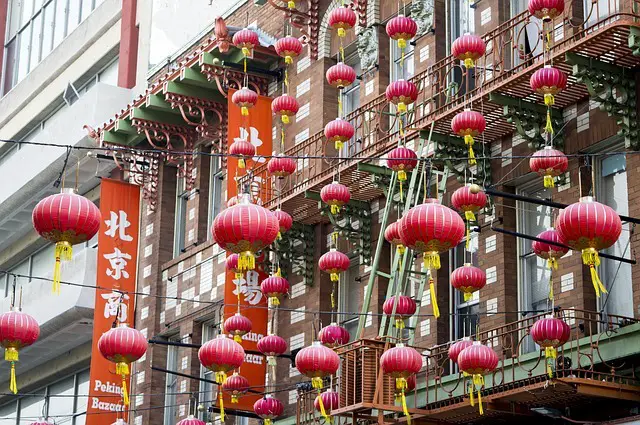 If you aren't able to grocery shop and make some meals wherever you're staying, I'd recommend choosing one meal each day to splurge on, and save on the others. A lot of people tend to save for nicer dinners, but there are tons of great lunch and breakfast (and brunch!) places in the city, so pick a different meal each day to go a little fancy for!
And depending on when you're travelling, you may even get to participate in San Francisco Restaurant Week, which is definitely worth splurging on.
Don't bother with an international phone plan
If you're not local to the United States, then chances are you won't be able to use your cell phone without racking up some serious international charges. And no one wants to come home to a giant phone bill.
Use a local SIM for your phone, and you can possibly save hundreds of dollars — and you won't be tied down to wifi in order to send messages and make calls. Just unlock your phone, pop in a SIM card from a local convenience store, and you're all set!
Save on in-town transportation
Walking the city is the best way to familiarize yourself with it, but San Francisco makes that a little more difficult. With all the hills, your calves will be screaming by lunch, and you'll be begging to hop on a cable car to get around the rest of the day.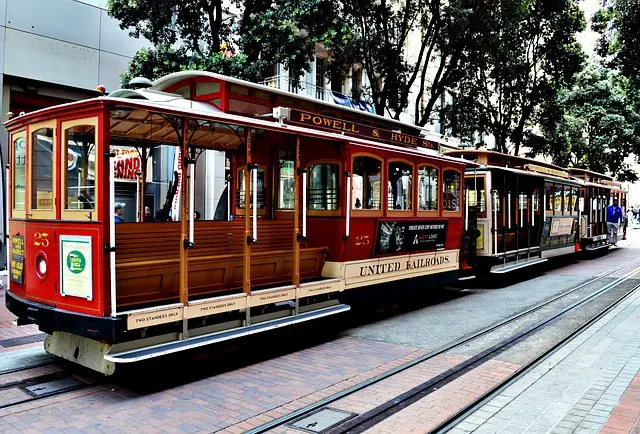 Taking public transportation is the easiest way to get around, and typically cheaper than taking a taxi everywhere, but even those cable car rides can add up quickly. Luckily, the city provides multi-day visitor passes for tourists on municipal transportation. A single ride ticket could cost you $7, but a seven-day pass is only $35.
You don't have to be a millionaire to travel the world, even if your destination is a little on the pricey side. Just do some research before you go and make smart choices during your trip, and you can make the most of any vacation on a budget!
I've been travelling around the world since my mum farewelled me in a teary goodbye and I haven't looked back since. 3 continents, 16 countries, and 38 cities later and I'm here to share my adventures.