Parking for a Cruise in Galveston
Galveston Cruise Parking – Onsite Parking
Note: Parking prices are subject to change without notice. Contact the cruise terminal for the most current pricing.
It is suggested to drop your luggage off at the cruise terminal, after which you will be directed to the parking lots/garage.
Parking for Terminals 25 and 28 (formerly 1 & 2)
Economy Lots A & B - 33rd & Harborside Drive -  Shuttle to terminal included, lots are secure
Express Lot (Park & Walk) - 2702 Harborside - closest lot to Terminal 28
SMP Parking Garage (Park & Walk) - 150 Rosenberg (25th St.) - covered parking
Pier 25 Lot (Park & Walk) - 2502 Harborside  - closest lot to Terminal 25
Rates (does not include taxes & fees):
 - Economy Lots - $16/day
 - Express Lot & SMP Garage - $19/day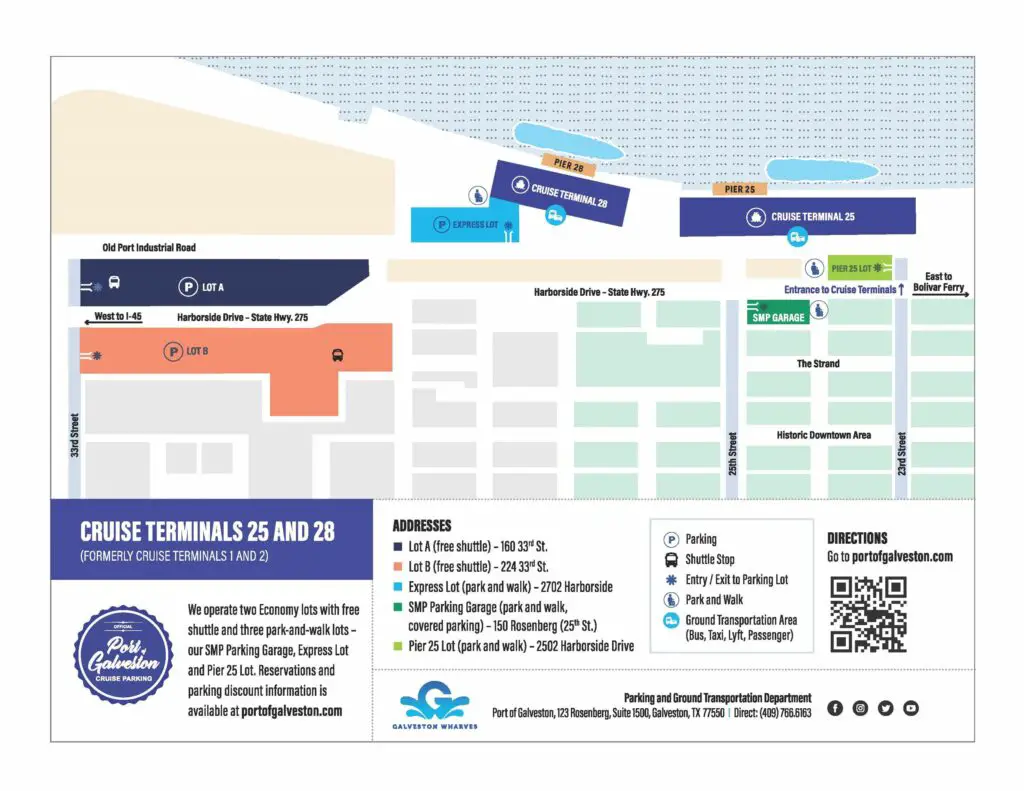 Parking for Royal Caribbean's Terminal 10
There are 3 lots surrounding Royal's Terminal 10: Pier 14 lot, South lot and the North lot, which also has premium covered parking. 
Free shuttles run on a continuous loop to all the lots, or it's a short walk from the North lot's covered parking.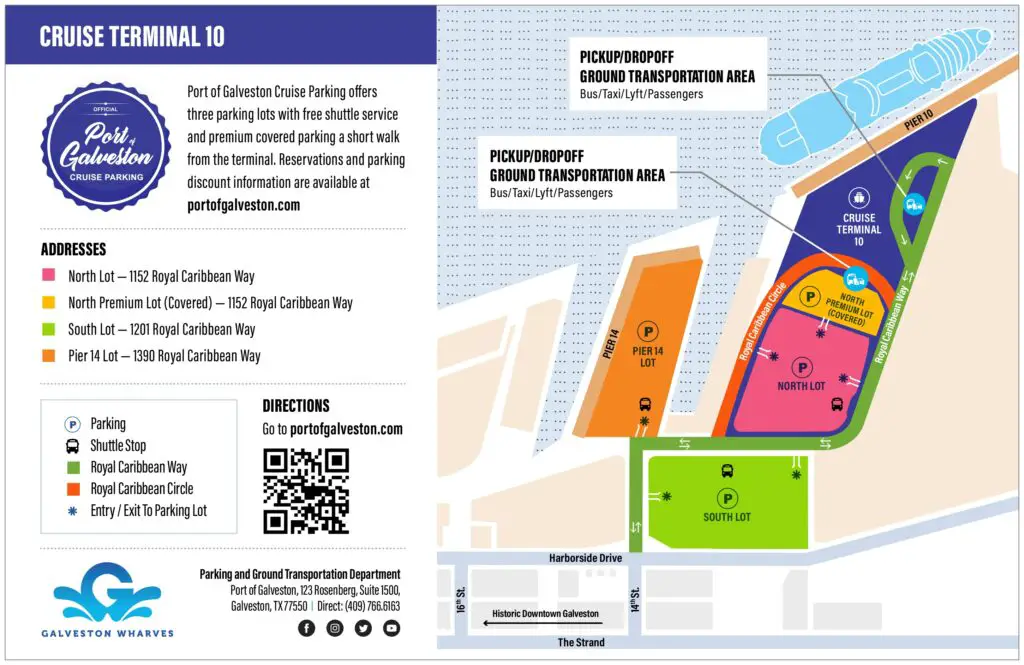 Rates (don't include taxes and fees):
North Lot - $22/day (self-park)
Pier 14 & South Lots - $20/day
Discounted Parking for disabled  American veterans - click here for more information and to enroll
Accessible Parking – available at same cost
Method of Payment –  Visa, Mastercard, Discover, AMEX, Google Pay, Apple Pay (no cash)
If you need help, or you have questions about parking at the Port of Galveston, reach out at [email protected]  or 409-766-6163
When you return from your cruise:
If you parked onsite, there are two types of shuttles you can take to retrieve your vehicle - those who don't have luggage and those who have luggage. This means you can send someone to grab your car and then come back and load up your luggage or, you can wait to get your bags and then transport them to your vehicle. Just remember you can't park in front of the terminal - this area is for active loading and unloading only. 
Port of Galveston Parking – Off-Site
Hotels in Galveston with Cruise Parking
Check these for discount cruise parking in Galveston:
Galveston Park n' Cruise
DCP Cruise Parking
Cruise Planning at this Port