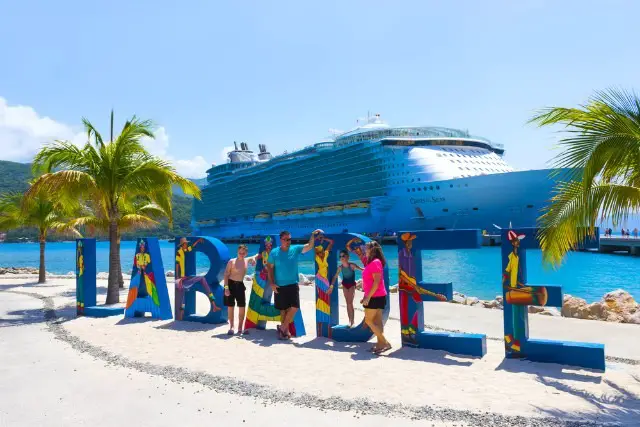 Labadee is the private tourist area  of Royal Caribbean Cruises located on a 250-acre peninsula on the northern coast of Haiti, and is used by Royal Caribbean and Celebrity Cruises.  It is completely fenced off and secured by guards to ensure guest's safety, and therefore no excursions are provided to areas of Haiti outside of the fenced area. You will still get a taste of the island, however, as RCCL employs more than 300 locals and another 200 who sell their hand-crafted goods at the flea market located within Labadee.   With the beach as the focus, there are many different water activities if you get bored of lounging on the complementary beach chairs and eating the complimentary local cuisine. Beverages work the same as if you were on the ship - if you have a beverage package, you can use it on shore (a Labadoozie is a must-try), and if you don't have a package, soda and alcohol will be priced a-la-carte like on the ship.  
Where You Dock in Labadee – Haiti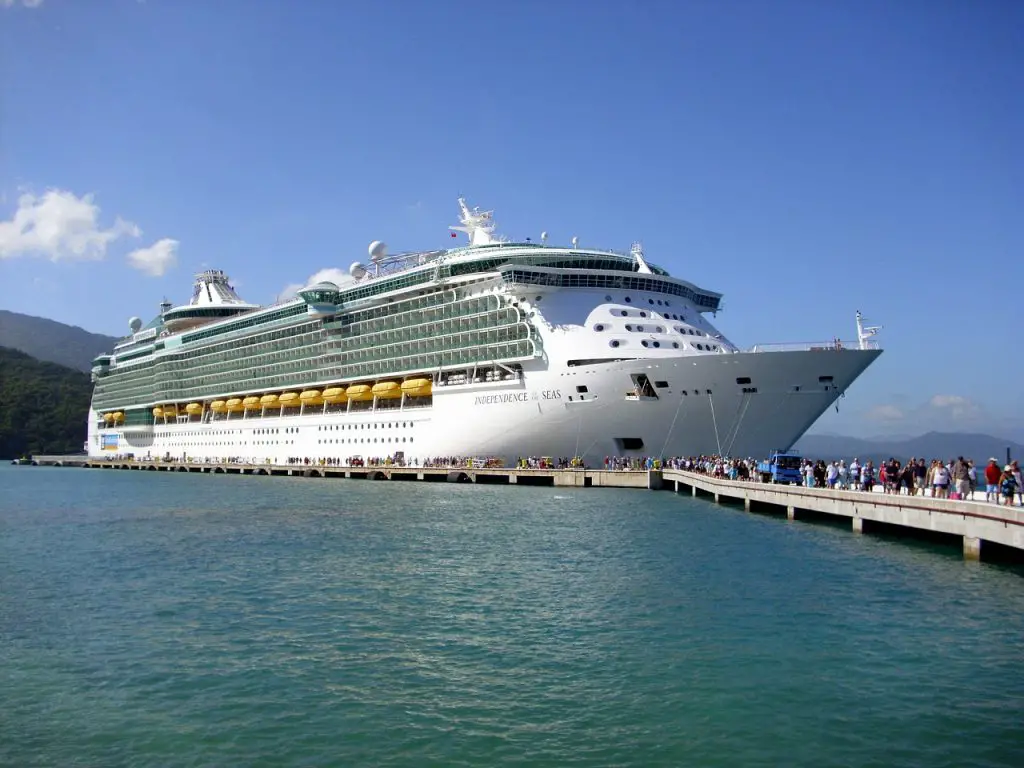 Ships dock in Labadee literally a 12-15 minute walk from everything Labadee has to offer, which makes it really handy if you want to go back and forth between the ship and the beach ( like if you forgot your sunscreen or if you want lunch from the Windjammer instead of the on-shore buffet).
Getting Around Labadee – Haiti
Everything is located within a 10-15 minute walk of the pier, but there is a tram that will take you around the island if mobility is an issue.. The tram makes a few stops at the various areas of the island which makes it easy to explore.  The tram is wheelchair accessible, as are the food and beverage venues. There are also complimentary beach wheelchairs for guests with disabilities, and are available at the Information Center, which is located just inside the pier entrance.
Shopping In Labadee – Haiti
There are two different main shopping areas – the Artisan Market and the Artisan Village. These are the only spots on the island where you would need cash (as opposed to your Sea Pass).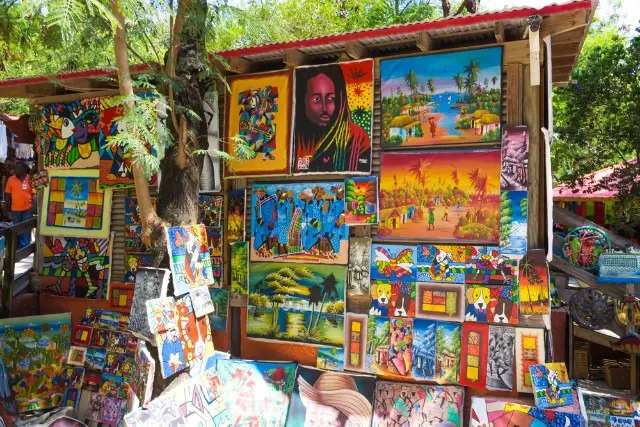 The Market offers hand-made goods at pre-set prices in store setting.  The Artisan Village offers a truer-to-life shopping experience with local vendors lining up in individual stalls up an inclined road (some refer to this as "the hill." The Village is where you would barter with locals who are trying to see you their wares, but the vendors pushiness and being aggressive in their sales tactics is usually the biggest complaint by cruisers stopping at Labadee, and many avoid this area.
There are a couple of other small Royal Caribbean shops set up where you can buy branded t-shirts, etc, but these types of items would be available in the stores on the ship.
Dining In Labadee – Haiti
There are three different "cafes" around Labadee – the Dragon's Cafe (located closest to the pier), Cafe Labadee (located in the Town Square area) and Columbus Cove Cafe (located furthest from the pier). These three offer the same type of BBQ buffet  lunch fare – chicken or ribs, hamburgers, hot dogs, salads, fresh fruit, etc. Interestingly, Royal Caribbean, on their website, states the cuisine as being "local," and with the exception perhaps of rice and beans, nothing really jumps out as being native of Haiti. Most reviews of the food are that the food is "adequate" but at least it was included in the price of the cruise.
There are many different bars that service the area, so if you have a drink package, you can use it as you would on board the ship. Water by the glass is available at all bar locations, but it is recommended you don't drink the water from the washrooms.
Things To Do in Labadee – Haiti
The main experience for spending a day in Labadee are lounging on the beach in complimentary beach chairs near the beautiful blue waters. If you are looking for a little more adventure, Royal Caribbean has provided lots of for-fee activities, many of which can be reserved before you even cruise.
There are 4 different beach areas with different activities in Labadee: Adrenaline Beach, Columbus Cove, Nellie's Beach, and Barefoot Beach.
Adrenaline Beach
Adrenaline Beach is the longest running along the left side of the peninsula when you disembark the ship. Most activities, including the Dragon's Breath roller coaster, volleyball nets  will be found at the far end of the beach. Beach beds can be rented on Adrenaline Beach.
Dragon's Breath Zip Line and Roller Coaster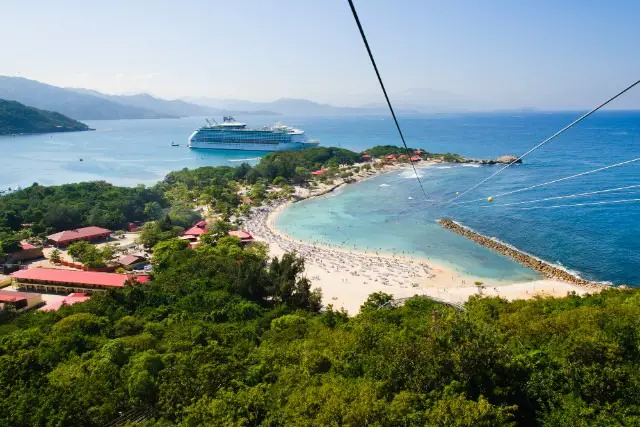 The zip line and roller coaster are perfect activities for adrenaline-junkies who want a little more than just lying on the beach.
The zip line is one of the longest in the world at 2600 feet long and offers amazing views as you zip over the ocean and span the width of the peninsula, but is expensive at close to $100/ride.  On the same mountain, the roller coaster starts at 680 feet above sea level, and uses gravity to propel cars down a mountain track at 30 miles per hour. The ride itself lasts approximately 4 minutes.
Columbus Cove
Columbus Cove, which is the furthest distance from the pier, has palm trees for shade and has been designated for swimming, but also has the water park and slide (extra cost). A complimentary splash pad area with sprinklers, fountains and buckets of water is perfect for kids who aren't comfortable in the ocean.
Arawak Aqua Park
Located in Columbus Cove, the for-fee aqua park is a great way for kids to burn off extra energy with its floating water slides, pyramids and trampolines. Crowds are kept to a minimum as admission is limited by times.
Barefoot Beach
Barefoot Beach is an area specially reserved for guests who are have suites on the ship and offers beach and over-the-water cabanas.
Nellie's Beach
Nellie's Beach is a small beach centrally located in a cove between Barefoot Beach and Columbus Cove. Cabanas are available for rent here as well, but make sure you rent them as soon as possible before your cruise, as they are in hot demand. They can hold up to six guests and come with perks such as complimentary water floats, snorkel equipment as well as beverage and waiter service.
You can reserve floating masks and snorkel gear or shaded beach loungers in advance for a cost, but beach towels should be brought with you from the ship.
There are other excursions such as kayaking, jet skiing, boat tours, fishing and parasailing, which can be booked through Royal Caribbean via the Cruise Planner.