If you're planning a cruise with Royal Caribbean, one decision you should make before departure is whether or not to purchase one of the Royal Caribbean beverage packages.
Royal Caribbean offers a variety of beverage packages to choose from, each with its own set of included drinks and perks. In this post, we'll go over the different options and help you decide which one is right for you.
All of Royal Caribbean's beverage packages include unlimited sodas, teas, and coffees, as well as a 15% discount on bottled water, energy drinks, and specialty cocktails.
In addition, all packages include a discount on wine bottles and tastings at the Vintages wine bar. 
Be sure to check ahead of sailing with Royal Caribbean, as they will sometimes offer special "sale" pricing for purchasing your beverage packages before sailing.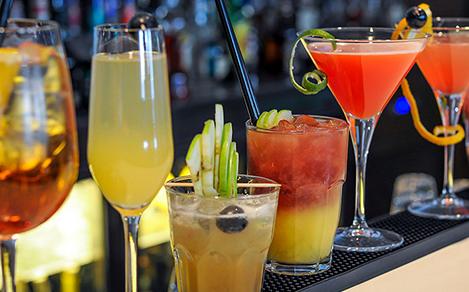 The Fine Print In Beverage Packages
There are a couple of stipulations for RC's beverage packages that you will find in most all other cruise lines, too.
You must be 21 years of age or older to purchase a beverage package that includes alcohol. 
Beverage packages of any type are not transferable and cannot be shared. Guests of legal drinking age in the same stateroom are required to purchase the same alcoholic beverage package and there is little wiggle room with this stipulation.
Gratuity and taxes may be extra, and packages do not include room service, mini bar items or souvenir glassware. 
The SeaPass that you receive when you board Royal Caribbean will have a sticker or a printed verification of the package that you purchased, so keep this pass handy.
Coca-Cola Freestyle Machines Are Lots of Fun!
Royal Caribbean serves Coke products onboard, and in a fun way. You will find Coca-Cola Freestyle machines on its ships, but in order to you them, you have to have a drink package.
Upon boarding, you'll get a special souvenir cup that "unlocks" the machine when you go to use it. These stand-alone drink dispensers will mix almost any Coca-Cola drink for you.
There are over 100 different soda/flavor combinations that you can mix. You can get a Diet Coke with lemon, or have your Sprite mixed with cherry or even grape Fanta.
Remember that any prices listed in this post are current as of this writing, January 2023. The cost will also vary by ship and sailing. 
Now, let's take a look at the different package options: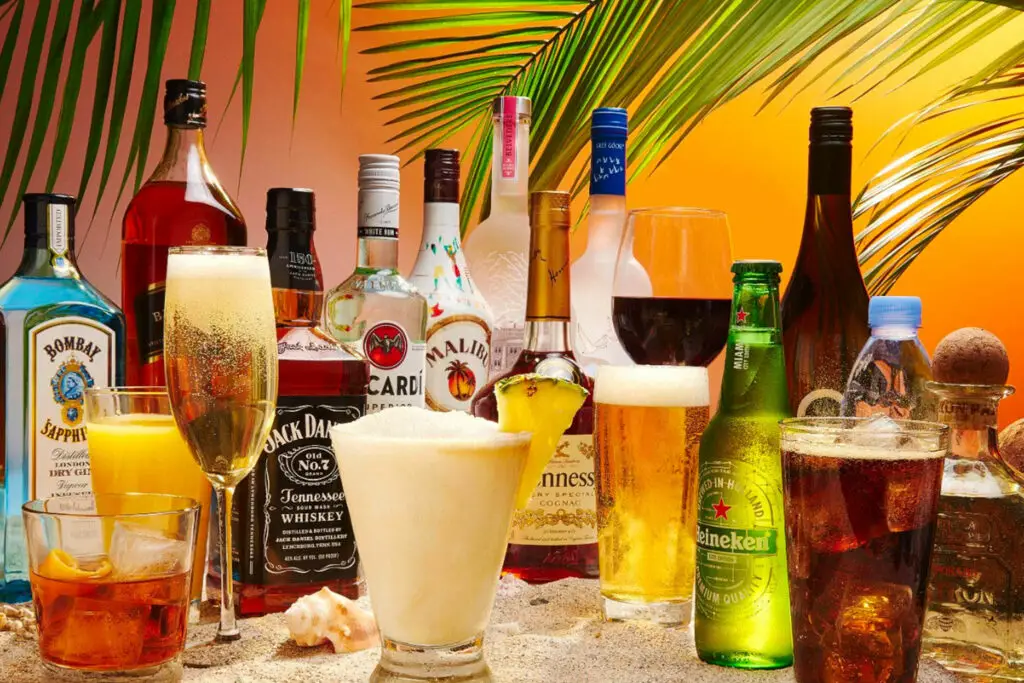 This package includes everything in the Classic Soda Package, plus a wide selection of alcoholic and non-alcoholic drinks.
RCL states that you must be 21 years of age or older to purchase this beverage package. The selection includes cocktails, spirits, beers, and wines by the glass, as well as smoothies, frozen drinks, and premium coffees.
There is no daily limit for drinks with the Deluxe Beverage Package, however, you are able to order just one drink at a time. Ordering multiples, even if they are non-alcoholic, is not permitted.
This beverage package includes several popular liquor like Grey Goose, Tito's Vodka, Patron, Johnny Walker Black Label and Dewar's 12 Scotch.
You will also receive a 40% discount on bottled wines priced up to $100 and 20% discount on wine prices above $100. 
The Deluxe Beverage Package gives you beverages with a value of up to $13 for select ships and sail dates. Deluxe Beverage Packages are $109 per person per day. When you add the 18% gratuity, you are at $128.62 per day. 
There are some items that are not included in the Deluxe Beverage Package. The exceptions are:
Drinks from Starbucks stores on ship
Room service beverages
Mini-bar items
Specialty beers
Beverages more than $13 per glass
Duty-free shop bottles of liquor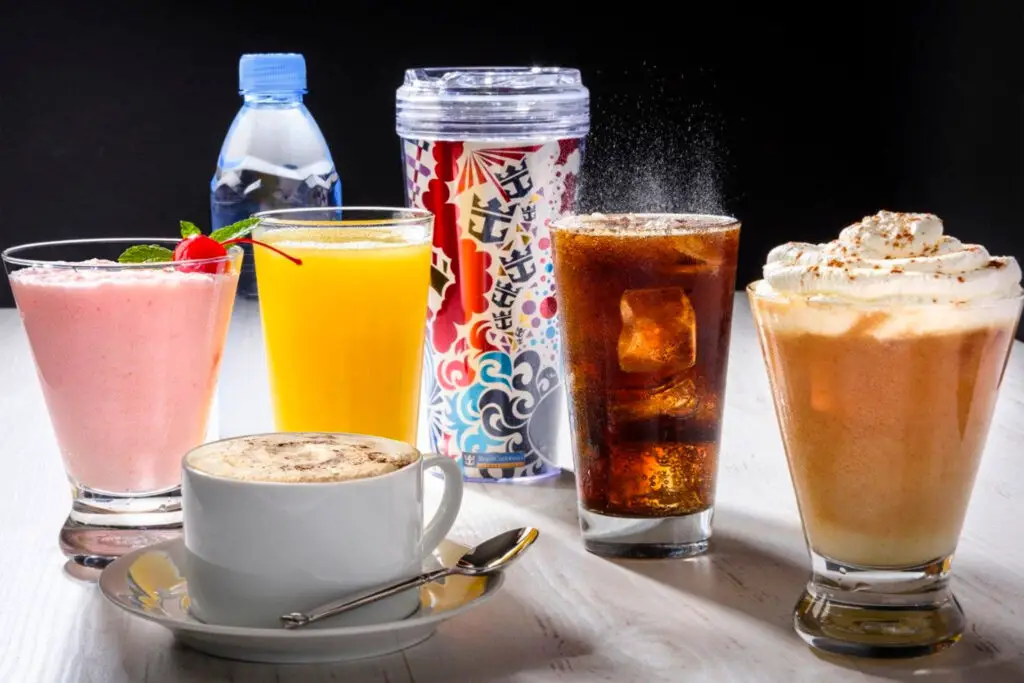 This package option includes unlimited sodas, teas, and coffees, as well as a 15% discount on bottled water, energy drinks, and specialty non-alcoholic cocktails.
This includes the Coca-Cola Freestyle machines. The Refreshment Package also includes still and sparkling water and fresh-squeezed juices.
This package is $39 a person per day with an 18% gratuity, making it $46.02.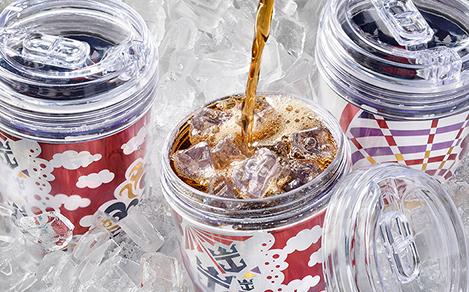 This package gives you fountain soda and refills at any venue. You will also get a Coca-Cola souvenir cup and you can use it at the Coca-Cola Freestyle machine.
It also includes a discount on wine bottles and tastings at the Vintages wine bar. The Classic Soda package is $15 per day per person with a 18% gratuity, making it $17.70.
How To buy A Beverage Package On Royal Caribbean
If you have decided to purchase a package, there are three ways to do so. 
Call the cruise line and have it added to your trip before you sail
Go to the Royal Caribbean website and access your online account to buy the package before you board.
Wait until you board and visit one of the tables that sign passengers up for packages. 
While you can purchase a package once you arrive on board,  you'll pay full price, but they are available to purchase throughout the sailing with at least 4 days remaining (which means you can't just splurge on the last day).
You can purchase a beverage package up to 72 hours before you sail. If you change your mind, you can cancel your order through Cruise Planner up to 2 days before you sail to get a 100% refund.
Check online, or with RC before your cruise, as RC will sometimes offer a discount on packages purchased before boarding. 
Should You Purchase A Drink Package On Royal Caribbean?
So, which package, if any, is right for you? It really depends on your drinking habits and preferences.
If you're a light drinker or just want unlimited sodas and coffees, the Classic Soda Package may be sufficient. If you prefer a wider selection of alcoholic and non-alcoholic drinks, the Deluxe Beverage Package may be a better fit.
Try to consider the amount that you will drink (day after day) while on the cruise. It's calculated that in order to "break even" you would need to drink approximately 15 drinks a day.
It sounds like a lot, but if you consider fresh juices, espresso-based coffees, etc. that you might drink for breakfast, in addition to other sodas or cocktails throughout the day, you can see how 15 is doable. 
If you are on a cruise that has several ports and you plan on a few excursions, that might not make as much sense to purchase a package if you have a lot of time off the ship. Shorter cruises might be a better option when considering a beverage package. 
Ultimately, the decision to purchase a beverage package with Royal Caribbean is up to you. Consider your drinking habits, the cost of the package, and the length of your cruise to determine which option is the best fit for you.
FAQs
Can I bring additional bottles of wine on board?
Yes, passengers are allowed to bring two additional 750ml bottles of wine or champagne per stateroom. To learn more about beverages that you can bring onboard, read this!
Is my beverage package able to be used at the Starbucks onboard?
Unfortunately, no. Starbucks coffee is not included. 
Can I use my beverage package at Coco Beach Club at Coco Cay?
Yes, beverage packages purchased on board can be used throughout Coco Cay.
Check out this helpful beverage package video from Royal Caribbean Blog:
This page contains affiliate links for which we may receive financial compensation when a purchase has been made through one of our affiliate partners.
About
Joy is the Co-Founder & Content Manager/Expert for CruisePortAdvisor.com and one of the founders of the site. She loves to travel, sing & bake.