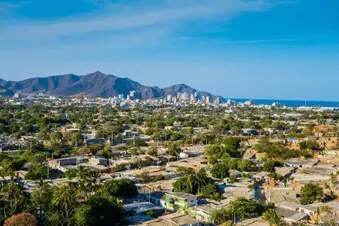 Santa Marta is one of the oldest permanent cities in the Americas. Its colonial heritage is evidenced in its whitewashed cathedral and cobblestone streets. Established in 1525 by Spain, it is one of the oldest cities in the Americas. Located in a prime spot on the Caribbean, which is  the coast in Northern Colombia, Santa Marta is about 3 hours east of Cartagena.
Santa Marta is also the gateway for trips into the Tayrona National Park, considered a national treasure by Colombia. Santa Marta is a major port for much of Colombia's Caribbean trade. It also has beautiful beaches, but most impressively, the city sits at the foot of the world's highest coastal mountain range, the Sierra Nevada de Santa Marta.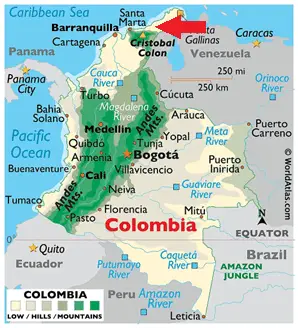 In 2011, the construction of a marina in Santa Marta saw yachts from around the Caribbean begin to stop, especially during hurricane season. The orientation of the bay and location of the mountains protect it from storms, and so it is a welcome harbor for those sailing on the Caribbean.
South of Santa Marta is El Rondero beach, which is very popular with tourists and is also the location of high-end resorts. Taganga, to the north of Santa Marta, is home to quite a few nightclubs and is also an area that scuba divers flock to.
Check out these excursions in Santa Marta.
Where You Dock in Santa Marta Colombia
Your ship will dock at Puerto Santa Marta, which is about a half mile from the center of town. This port is a container terminal, and there are no facilities for passengers. A shuttle will take you to the center of town.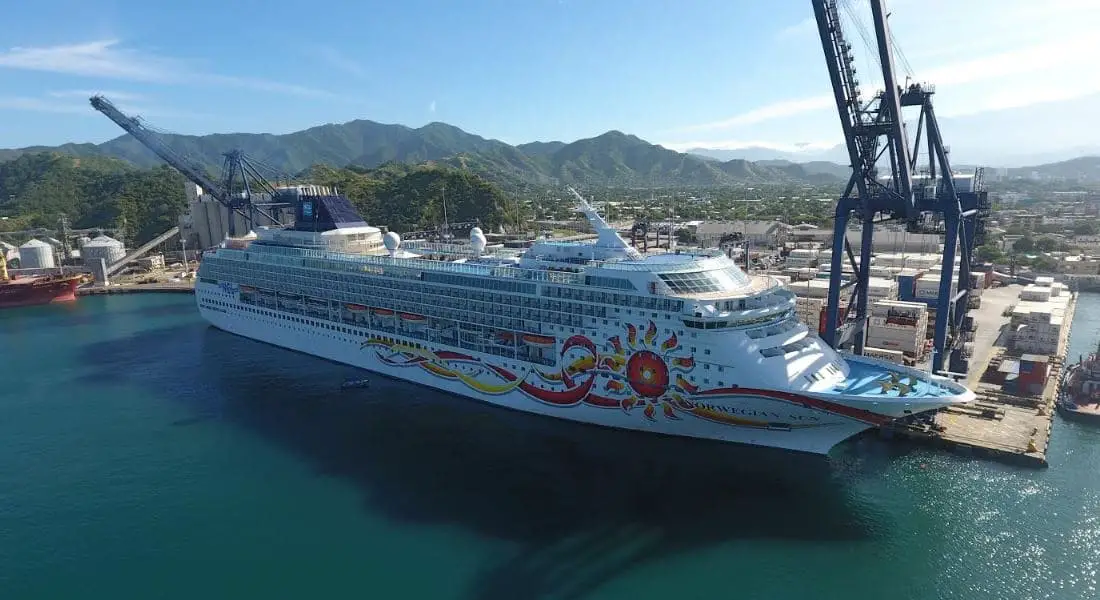 Getting Around Santa Marta Colombia
Walking
Once you take the shuttle from the dock, it is easy to walk about the historic center of town without needing a cab or other transportation. There are, however, lots of tour operators that offer city tours.
 Buses
There is a bus service (buses are blue) in Santa Marta, but the terminal is about a 30 minute drive from the city center. This service is inexpensive, but it is not well regulated and the system can leave something to be desired.
There are no regular bus stops; you flag a bus down when you want to get one and ring the bell when you want to get off. You can also just yell for the driver to stop. The route that the bus takes is posted in the front window, and this is how you will know where the bus is going.
 Taxis
Taxis in the city do not run on meters. Make sure you agree on a price before you get in the taxi.
 This is one of the taxi services offered:
Agencia Operadora de Viajes TQ  +57 304.666.5396   They also offer private tours.
 Rental Cars
The larger cities in Colombia are famous for their traffic problems, so if you rent a car, you need to factor extra travel time in your plans and take your patience along for the ride. You will need to have an international drivers license, credit card and be at least 21 years old. Driving is on the right hand side of the road.
Know too, that Colombian drivers can be erratic and unpredictable
There are the usual brands of rental cars companies in Santa Marta, such as:
National Car Rental in Santa Marta
Enterprise Santa Marta Rodadero Car Rental
Car Rental at Santa Marta Rodadero – Alamo Rent a Car
Shopping In Santa Marta Colombia
There are numerous malls and shopping plazas, more than you can count, in Santa Marta. You will find all the shopping that you would in any other large city. Electronic stores, perfumeries, clothing galore, and everything else under the sun. If you are looking for more local shopping, stay on the main walking routes in the city where you will find individual vendors with their wares. There are larger shopping malls such as you would find in the United States outside of the city center.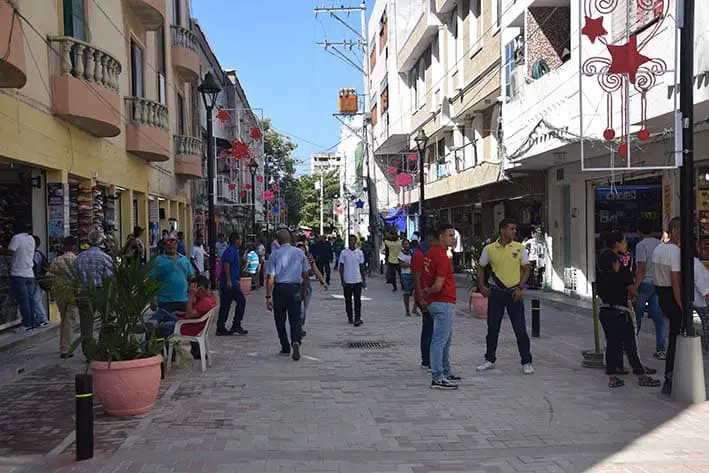 You can find anything you'd ever want or need for a reasonable price at the San Andresito market area. Every square space is filled with items to purchase so the area can feel a bit chaotic but it has been better organized and the roadway revitalized in the last couple of years to make it a better experience for shoppers. 
Artesanias Santa Martha – Downtown, Calle 20 between Carrera 1c and Carrera 2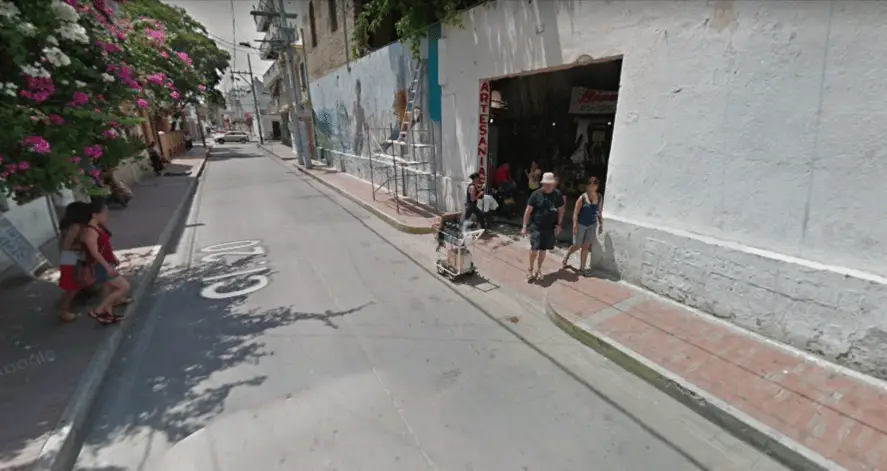 Here you will find some of the more typical souvenirs that Santa Marta has to offer, with art and crafts made by locals. Because it's a little off the beaten path, it tends to be less busy than other markets and shopping areas. Make sure you have some cash on hand if you plan to purchase anything. 
Ocean Mall – Avenida Del Ferrocarril & Calle 29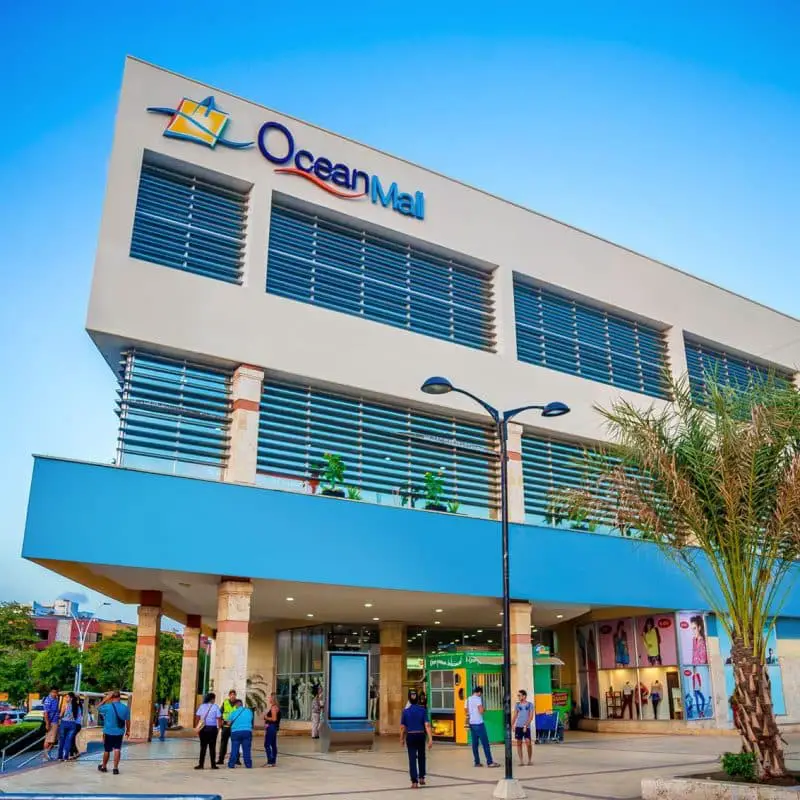 Located outside the historic city center, the Ocean Mall offers a typical mall-type experience with various shops, a movie theater, large food court and play place and arcade for the kids, as well as a casino for the adults. Literally something for everyone.
Located on the edge of town, this large U.S.-style shopping mall offers any item you could need, and more. Like the Ocean Mall above, this also has a few play places/amusements for the kids and a casino for the adults. It also has a cinema, large home store and many food options, including KFC and McDonalds. 
Dining In Santa Marta Colombia
Just as with shopping there are endless choices for dining in Santa Marta, from fine dining, to casual, to open air and everything in between.
If you're just looking for a bite to eat, street food carts are plentiful selling favorites such as tamales, arepas and grilled skewers of meat. Stick to carts that look busy and where the food is served hot. 
 

 

View this post on Instagram

 
With a Mediterranean menu and wood fired pizzas, the Ouzo offers fresh ingredients. They have meat dishes, seafood, fruits and vegetables. They serve pan seared octopus with feta cheese, lamb with orzo and pork with pepperonis and capers.
This restaurant has been in business since 1973. Here you will find seafood with a South American flare in a casual dining setting. 
 

 

View this post on Instagram

 
Exactly what the name suggests, there is a heavy emphasis on meats and burgers. A rustic type setting, they have been the winner of the Burger Master twice in a row.
 

 

View this post on Instagram

 
This Colombian coffee chain touts they are are the only brand in the world that belongs to its producers, who day by day grow the best quality Colombian coffee. They serve hot and cold beverages as well as sweet and savory pastries. There are a few locations around Santa Marta's historic city center.
As we said earlier, you can find just about any type of cuisine in Santa Marta. This is an authentic northern Indian restaurant that serves vegetarian options too.
 

 

View this post on Instagram

 
This popular Mexican restaurant has good ambiance and delicious food. Their margaritas get rave reviews and it has great menu options for vegetarians. 
Things To Do in Santa Marta Colombia
There are many different things to do in Santa Marta and, just like with the shopping, you may not have time to fit them all in.
Considered a national treasure, this spectacular park has amazing beaches that are situated against the backdrop of the mountains of the Sierra Nevadas. If you hike the park, you'll see animals, birds, plants and a few remnants of native Tayrona culture. Click here to see tours and excursions that visit Tayrona National Park.
Go Sailing
Santa Marta has many beautiful beaches and sights to see. One of the best ways to see them is by going on a boat excursion. You can take a sailing tour on a 56 foot yacht and swim, snorkel and hang out on a beach. You will be able to see islands, jungle landscapes and mountains.
Go to The Beach
While the area around Santa Marta does have some nice beaches, they aren't white-sand, Caribbean-style beaches.
The closest one to the cruise terminal is located in the historic city center, but it's not recommended for swimming as it's reported to be quite polluted. 
A decent beach located south of the city center is Rodadero Beach. It's located closer to the airport, is surrounded by skyscrapers but is popular with tourists, so it does have some amenities if you're looking for a beach-resort feel. It can get pretty crowded and there are a lot of vendors trying to sell their wares. You would need to take a taxi to get here from the port. 
From the town of Taganga, which is about a 15 minute drive from Santa Marta, you'll find access to a number of nice beaches. Most require a boat ride to access, and Playa Grande is popular. This lovely beach has good swimming and amenities such as restaurants and beach chairs for rent.
Tayrona National Park also has many beautiful beaches, and these tend to be more natural and less busy. 
Santa Mart Museo del Oro Tairona museum is in the city center and has information in both Spanish and English. See ancient artifacts and learn about the history and landscape surrounding Santa Marta. The museum is free and takes less than an hour to explore.
Top Tours & Excursions In Santa Marta Colombia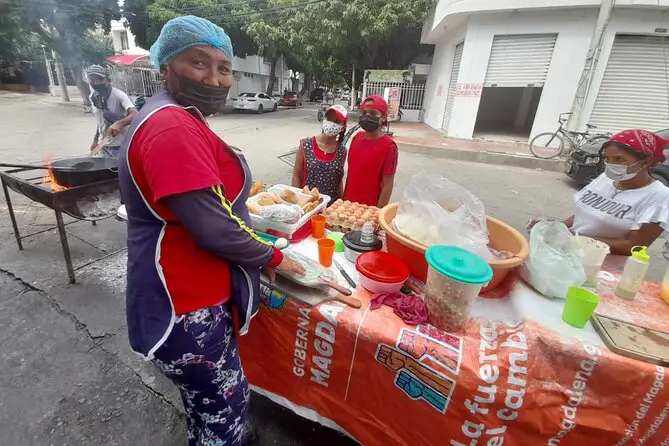 Learn about Caribbean Colombian history through this delicious afternoon food tour. Visit 7 family-owned places in the historical city center and discover traditional local food such as arepas con huevo and learn about local coffee from professional baristas. Vegetarian and vegan diets can be accommodated. Come hungry!...
Duration: 3-4 Hours
Activity Level: Easy
Wheelchair Accessibility: Yes
Food: Included
Book Now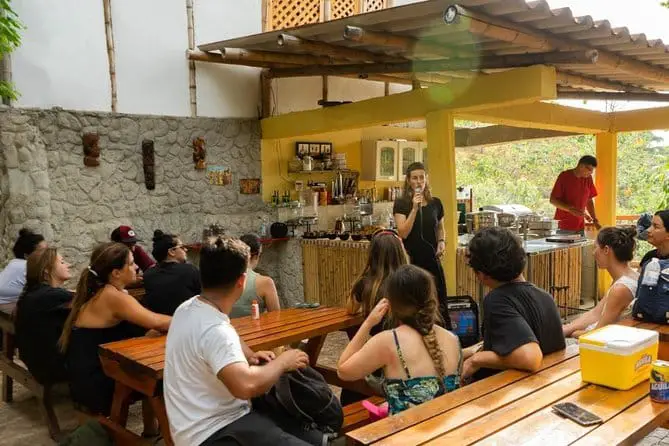 Minca is a small village located in the foothills of the Sierra Nevada de Santa Marta at 700m above sea level, populated by coffee, cocoa and honey producers. Located in one of the richest environments of Colombia, it has several rivers that run through its territory. This area is full of waterfalls and cold water coming down from the mountains, and it is an area to enjoy unique landscapes in a charming setting....
Duration: 8-9 Hours
Activity Level: Easy
Wheelchair Accessibility: No
Food: Lunch and Coffee Included
Book Now