When you are in Galveston for your cruise, there are many excellent and affordable Island favorite restaurants that you simply have to try. Here are our seven top choices (in order from least to most expensive):
**Check out our map of restaurants near the port in Galveston**
#1 Shrimp 'N Stuff (Cost – $)
 

 

View this post on Instagram

 
Shrimp 'N Stuff is a Galveston, Texas tradition. It first opened in 1976, and it became rapidly known as the shrimp place where locals eat.
Shrimp 'N Stuff offers very affordable, delicious seafood, including po-boys, gumbo and fresh salads.
For gumbo buffs, know that theirs is made from scratch. Every shrimp is peeled, deveined and breaded in house; nothing is frozen. Also, all of the seafood breading for the shrimp, oysters, fish and crab balls, are made in house, as are all of the sauces.
This is a warm and casual restaurant, with dining available inside and out. Customers order their meals at the counter, seat themselves, and pick up their order when it is ready.
#2 Star Drug Store (Cost – $)
If you are in the mood before or after your cruise for an old fashioned soda fountain and a sandwich, you can't go wrong here. Known as the oldest drug store in Texas, locals also say that the breakfasts are tasty and affordable – the pancakes, sausage and grits and bacon are among the favorites. The grits are smooth and creamy and the bacon thick and crispy. You can't do better than that!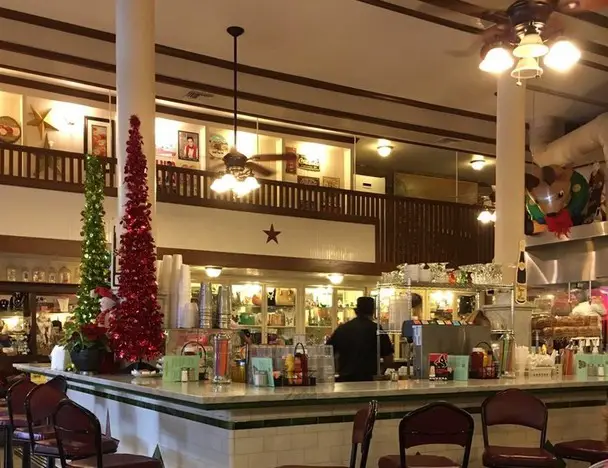 History buffs should note that the Star Drug Store dates to 1886. The soda fountain was added in 1917. Also, this was the first desegregated lunch counter in town.
Star Drug Store Menu
#3 Blvd. Seafood (Cost – $$)
Blvd. Seafood has the look of a nondescript diner on the outside, but recent visitors say that they prepare a multitude of delicious, creative seafood plates.
The seafood eatery features an open kitchen/dining room with plenty of seating available to view all of the food prep action.
Executive Chef Chris Lopez has created a menu with plenty of fresh seafood choices, and many are from local fishermen. Signature dishes include the Gulf Coast Flat Fish Stack and Broken Arrow Ranch Venison Medallions.
#4 Sunflower Bakery (Cost – $$)
Locals say that 99% of the food here is made from scratch and features local, fresh ingredients. On the menu include delicious Gulf shrimp, homemade sandwiches, and the best bakery in Galveston.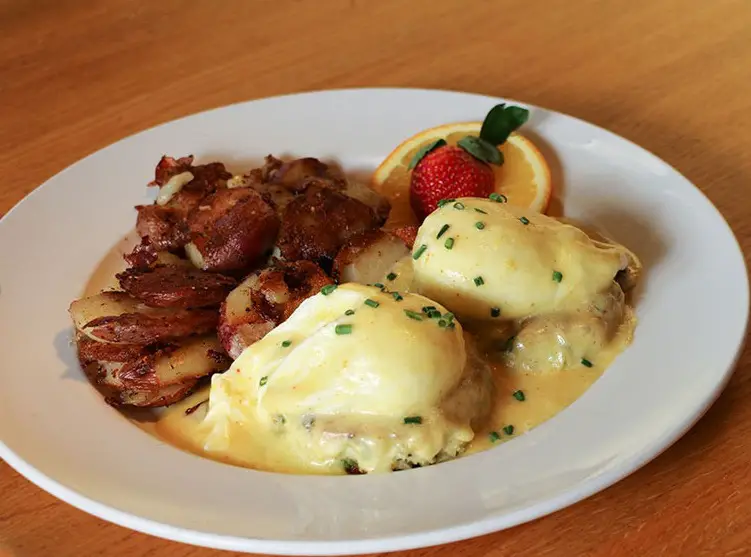 Popular with tourists and locals, visitors rave about the fresh waffles for breakfast, featuring fresh blackberries, raspberries, and real whipped cream.
If fresh baked goods are your desire, you can enjoy delicious fresh pies, cakes and cookies, plus banana bread and pound cake.
Sunflower Bakery Menu
#5 The Steakhouse at the San Luis Resort (Cost – $$$)
To celebrate the beginning or ending of your Galveston-based cruise, consider The Steakhouse. This elegant eatery is known for its select, USDA Midwest, grain-fed beef, live Maine lobster and outstanding wine list.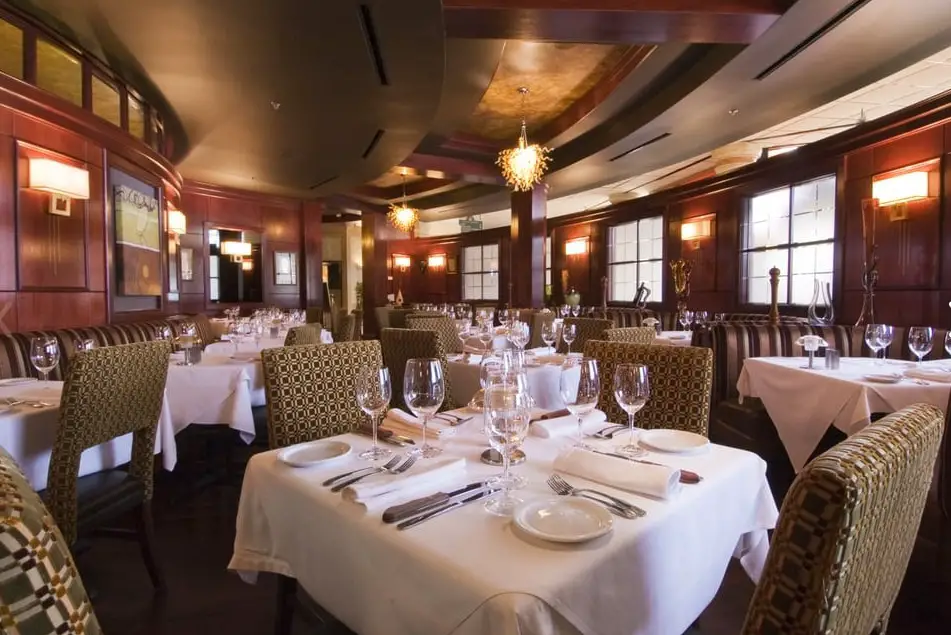 Image Credit: https://www.yelp.com/biz_photos/the-steakhouse-galveston-2
It has been the recipient of the AAA Four Diamond Award for the last 13 years, and was chosen as a Top Ten Texas Steakhouse by renowned food critic Thomas Horan.
Visitors note that the steaks and lobster are top-notch, and the lobster mashed potatoes receive rave reviews. Also highly favored are the escargot ('mild and buttery') and the lamb chops are succulent.
Note that this excellent steakhouse is located in the four-star San Luis Resort, and resort casual attire is appropriate. No t-shirts, shorts or tank tops, please.
The Steakhouse Menu
#6 Gaido's (Cost – $$$)
Gaido's has been a luxury seafood mainstay in Galveston since 1919, and it has a reputation for five-star food and service. It has a strong commitment to serving only the freshest, locally sourced seafood.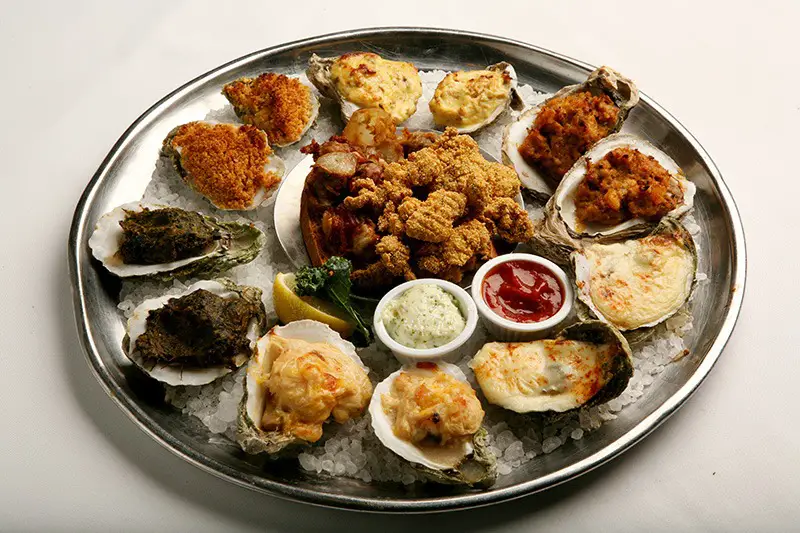 The raw oysters on the half shell are highly recommended. The blackened yellow tuna is dusted with Cajun seasonings, and the delicious, moist Atlantic salmon is brushed with lemon garlic butter and dusted with charcoal seasonings.
Gaido's Menu
#7 Rudy & Paco Restaurant & Bar (Cost – $$$$)
If you are visiting Galveston for a cruise, you cannot miss one of the best and most unique dining experiences. Rudy & Paco offers delicious, fresh seafood & steak, with an unusual South/Central American flavor.
Tops on the extensive menu are the grilled Gulf red snapper with mild cilantro cream sauce, and the sublime crab cakes, featuring a chipotle cream sauce.
Please note that shorts and tank tops are not permitted in the dining room, but are accepted if seated at the full-service bar
On your next stop in Galveston, make sure you visit one of more of these top Island eateries for delicious food and local flavor.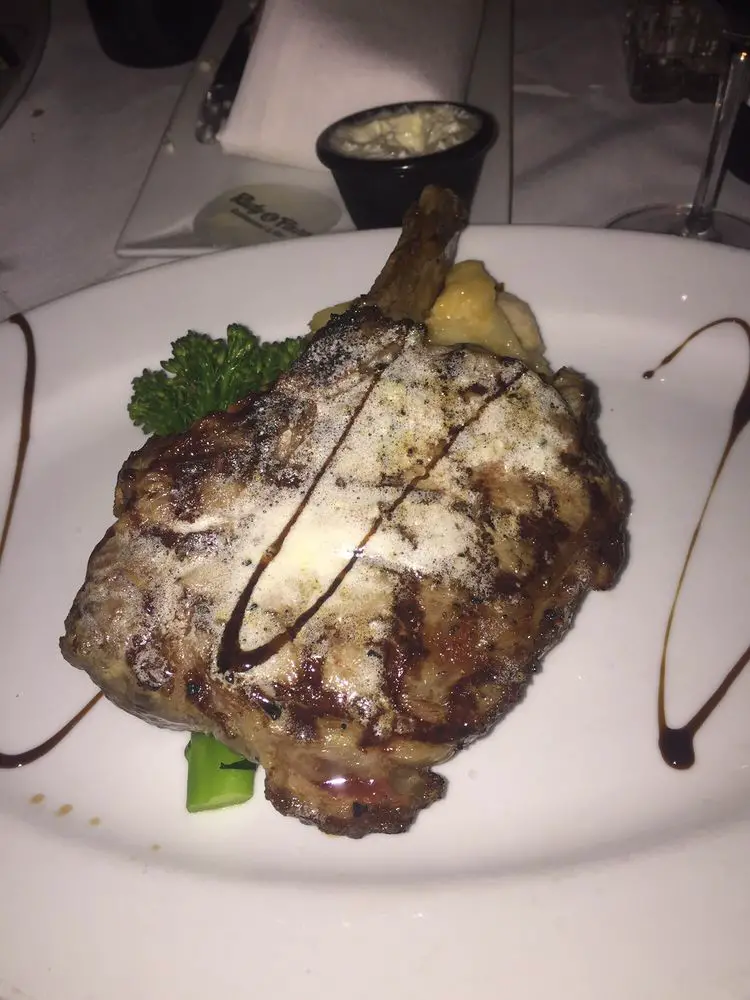 This page contains affiliate links for which we may receive financial compensation when a purchase has been made through one of our affiliate partners.
About Patrick Manley
Patrick Manley is a real estate investor in the Houston / Galveston area.