Carnival Cruise Loyalty Programs: Sailing Towards Rewards and Benefits
Carnival Cruises, one of the most recognizable names in the cruise industry, understands the value of building lasting relationships with its passengers. To achieve this, Carnival has developed a comprehensive loyalty program known as the "VIFP Club," which stands for "Very Important Fun Person Club."
This program is designed to reward and recognize the loyalty of Carnival cruisers, offering a range of benefits and perks based on a passenger's level of loyalty to the cruise line. In this article, we will explore the Carnival Cruise Loyalty Program in detail, covering its various levels, benefits, and how it enhances the cruise experience.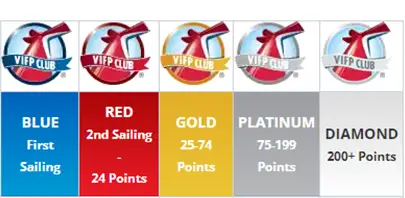 The Levels of Membership
The Carnival Cruise Loyalty Program features several membership tiers, each with its own set of perks and rewards. As passengers continue to cruise with Carnival, they progress through these levels. Let's delve into each level:
1. Blue: All guests are automatically enrolled in the VIFP Club at the Blue level after their first Carnival cruise. At this entry level, members start experiencing the program's basic benefits, including members-only offers, setting the stage for further rewards.
2. Red: (24 points) After completing their second cruise with Carnival, guests move up to the Red level. Here, they begin to enjoy additional privileges such as early boarding, which can significantly enhance the embarkation experience.
3. Gold: (25-74 points) Carnival rewards passengers who complete their sixth cruise with the cruise line by promoting them to the Gold level. At this stage, members can access more significant benefits, including onboard discounts and special offers.
4. Platinum: (75-199 points) The Platinum level is achieved after completing 25 Carnival cruises. Platinum members receive even more valuable perks, such as priority reservations for specialty dining and spa treatments, which can enhance the overall cruise experience.
5. Diamond: (200+ points) After an impressive 50 cruises with Carnival, passengers reach the Diamond level. This elite tier grants access to exclusive member events and parties, providing opportunities for socializing and celebrating with fellow Carnival enthusiasts.
Program Benefits and Rewards
The Carnival Cruise Loyalty Program offers a wide range of benefits and rewards, making it an attractive proposition for repeat cruisers. Here are some of the key benefits associated with the program:
1. Priority Check-In and Boarding: Members of the VIFP Club enjoy priority check-in and boarding, reducing wait times and allowing them to embark and disembark more quickly and efficiently.
2. Complimentary Gifts: Carnival shows its appreciation to members through various complimentary gifts, including pins, tote bags, and other exclusive items.
3. Exclusive Member Events: Carnival hosts special events and parties exclusively for VIFP Club members. These gatherings offer a chance to connect with fellow cruisers and create lasting memories.
4. Discounts on Carnival Merchandise: Members can enjoy discounts on Carnival-branded merchandise, providing opportunities to purchase souvenirs and memorabilia at reduced prices.
5. Priority Reservations: Platinum and Diamond-level members can secure priority reservations for popular onboard experiences, such as specialty dining and spa treatments, ensuring they get the best availability and timing.
6. Complimentary Cabin Upgrades: When available, Carnival may offer complimentary cabin upgrades to loyal passengers, enhancing their cruise experience by providing more spacious accommodations or better views.
7. Priority Tender Service: For destinations where ships anchor offshore, members can benefit from priority tender service, allowing them to disembark and explore ports of call more promptly.
Earning Cruise Points
The progression through the VIFP Club levels is based on the accumulation of cruise points. Typically, passengers earn one cruise point for each cruise day, and certain promotions or suite bookings might offer additional points.
The more cruises you take, the more points you accumulate, and the higher your membership level becomes.
Milestone Rewards
In addition to the benefits associated with each level, Carnival Cruise Line offers milestone rewards to celebrate significant cruise achievements. These rewards can be particularly enticing for those who have a deep affection for Carnival and have sailed with the cruise line numerous times.
Milestone rewards may include complimentary cruises, onboard spending credits, and other special perks that recognize and reward loyalty.
Program Accessibility
Joining the VIFP Club is easy and automatic. All guests who take their first cruise with Carnival Cruise Line are enrolled at the Blue level. However, it's advisable for members to create an online account on the Carnival Cruise Line website to manage their VIFP Club membership and stay informed about their benefits.
Additionally, contacting Carnival's customer service can provide assistance and answer any questions regarding the loyalty program.
Enhancing the Cruise Experience
The Carnival Cruise Loyalty Program plays a significant role in enhancing the cruise experience for passengers. Whether you're a first-time cruiser or a seasoned Carnival enthusiast, the program offers something for everyone.
For newcomers, it provides a glimpse into the perks and rewards that await them as they continue to cruise with Carnival. For loyal passengers, it's a way to be recognized and rewarded for their dedication to the cruise line.
The benefits of the program, such as priority check-in and boarding, help to streamline the boarding process, reducing stress and allowing passengers to start enjoying their vacation sooner.
Complimentary gifts and exclusive member events create a sense of belonging and camaraderie among passengers, fostering a community of Carnival cruisers who share a common love for sea travel.
Discounts on Carnival merchandise provide opportunities to take home souvenirs and mementos, while priority reservations for specialty dining and spa treatments ensure that passengers can enjoy the onboard experiences they desire without the hassle of long wait times.
For those who have reached the Platinum and Diamond levels, the Carnival Cruise Loyalty Program truly shines. These members benefit from exclusive events and parties, allowing them to celebrate their loyalty with fellow cruisers and Carnival staff.
Complimentary cabin upgrades, when available, can transform a standard cruise into an even more luxurious experience, and priority tender service ensures that they can make the most of their time in port.
Final Thoughts
Carnival Cruise Line's VIFP Club Loyalty Program is a testament to the cruise line's commitment to creating memorable experiences for its passengers. It not only rewards loyalty but also enhances the overall cruise experience by providing a range of benefits and perks that make every voyage with Carnival even more enjoyable.
From priority check-in to exclusive events and discounts, the program caters to passengers at various stages of their cruising journey. It's a way for Carnival to express its gratitude to its passengers while fostering a sense of community among its loyal cruisers.
As the cruise industry continues to evolve, it's essential for cruise lines to build strong relationships with their passengers, and loyalty programs like the VIFP Club are a key part of that strategy. For those who have experienced the joy of cruising with Carnival, the loyalty program serves as a reminder of the fun and adventure that awaits them on their next voyage at sea.
For more information go here: VIFP Terms And Conditions
This page contains affiliate links for which we may receive financial compensation when a purchase has been made through one of our affiliate partners.
About
Joy is the Co-Founder & Content Manager/Expert for CruisePortAdvisor.com and one of the founders of the site. She loves to travel, sing & bake.