I can't pinpoint exactly what it is about the city that intrigues me so much. Maybe it's the people or the natural beauty? Or it could be the, history, landmarks and architecture – Or maybe it's just the great food?
There are so many things to do in Quebec City, whether you're there for 8 hours on a cruise, or staying for a few days.
What's So Special About Quebec City?
Quebec City is to Canada what Boston is to the United States. Quebec City has a rich history, dating back to the 1600s when it became the first permanent settlement in what today is Canada.
While other settlements existed in Canada before Quebec City, many were simple trading posts erected to support the fur trade. Quebec City on the other hand grew into a significant settlement that helped to establish New France and eventually what we know today as the country of Canada.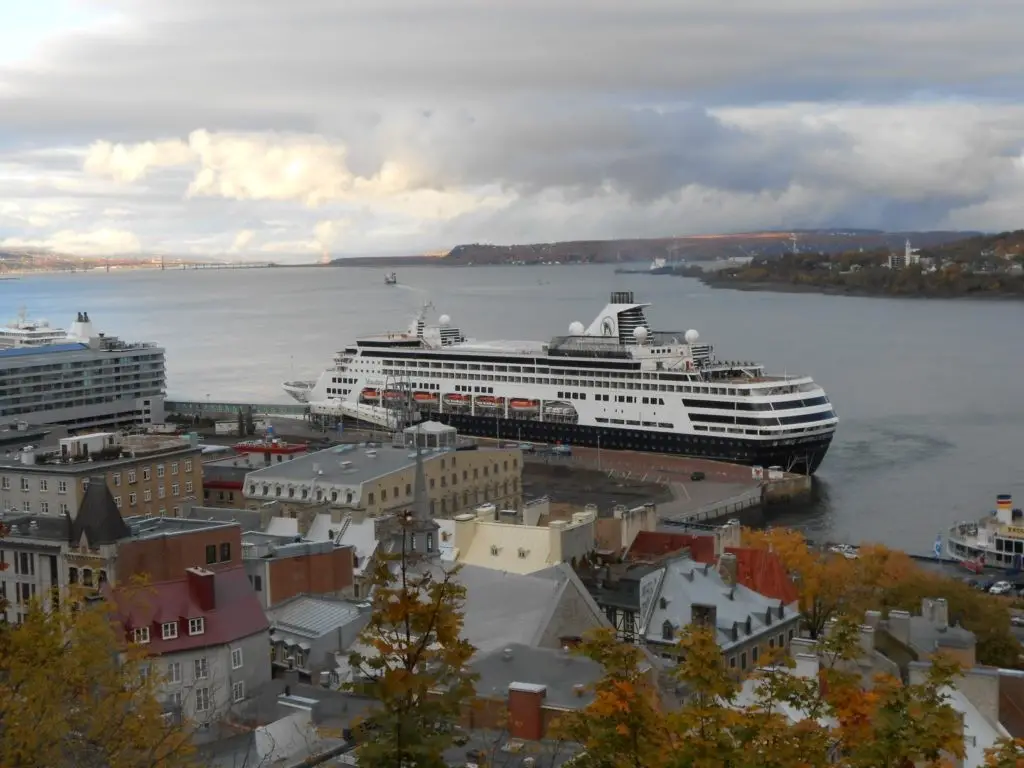 For visitors to Quebec City, expect a city rich in history with beautiful architecture, amazing food and friendly people.  Quebec City is becoming a hot cruise destination – so much so that they have announced a major investment into the cruise terminal recently.
Quebec City makes the perfect stop for a cruise as much can be seen during an 8 hour stop, however if you do get a chance to stay a few days longer, you will not be disappointed.
Here are 11 historical sites that you MUST visit on your next cruise into Quebec City.
Old Quebec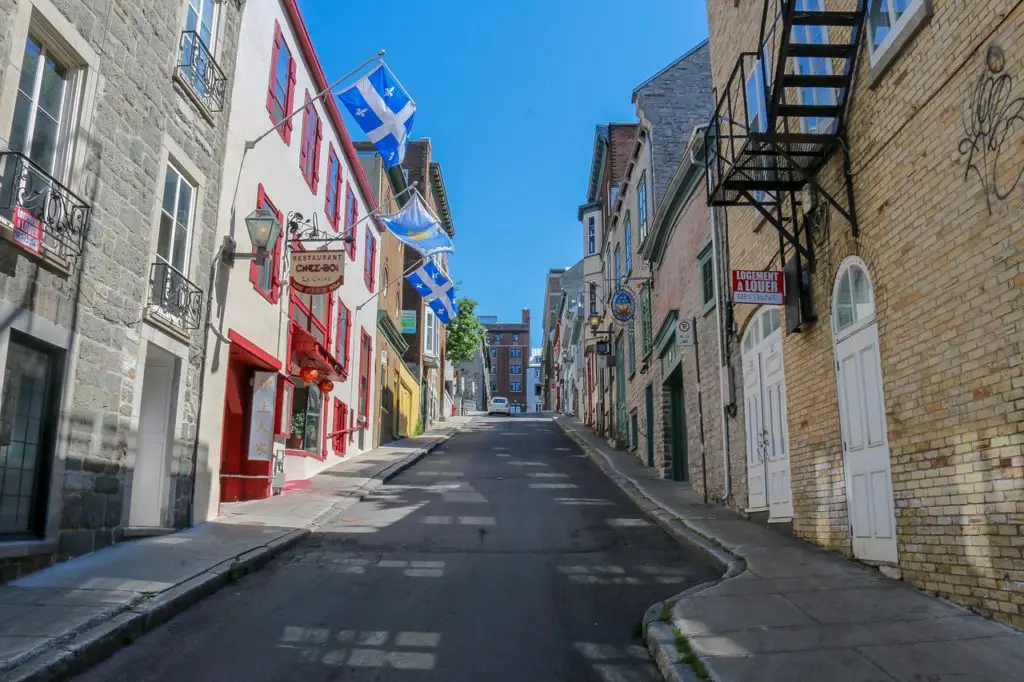 Quebec City is really divided into 2 cities technically – Quebec City and Old Quebec City, which is a UNESCO World Heritage site.
Quebec City as a whole is a vibrant, modern city with its own flare while Old Quebec City is the original settlement, surrounded by brick walls that acted as a defense against the British, who sought to take control of  what was then a part of New France.
The old city itself dates back to the 1600s and many buildings built during this era are still standing and in use today.
Take a stroll through the narrow streets and you might be convinced you are in Europe. Small shops, narrow cobblestone streets and vibrant colors give this city a charm not found in many other places in North America.
For those coming into Quebec City on a cruise ship, the cruise ship dock and its proximity to Old Quebec could not be more perfect. A short 15 minute walk from the cruise ship and you will be in the heart of Old Quebec City.
Take time to stroll the streets, visit the shops and restaurants and read the historical plaques located around the area. If you do nothing else while in Quebec City, visit Old Quebec City for sure!
Place Royale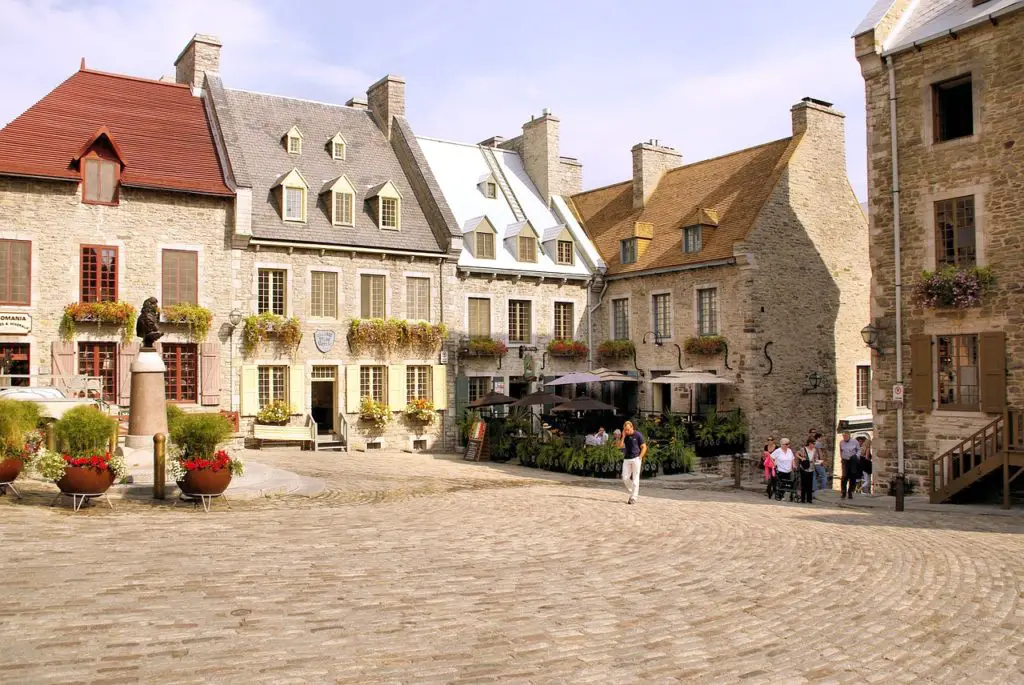 Located within Old Quebec City, this town square has been in important gathering place since it was first commissioned by Samuel de Champlain in 1608. Considered the "cradle of French civilization in America," this town square will transport you back in time in the blink of an eye.
Beautiful architecture dating back to the 1600s including the oldest stone church in North America (Notre-Dame-des-Victoires church.) are situated here, as well as the Place Royale Museum where you can learn about this settlement and its importance to the fur trade with American indigenous fur traders.
Situated around the perimeter of the Place Royale are unique shops and cafes which make a great spot to sit and people-watch.
Cathedral-Basilica of Notre-Dame de Québec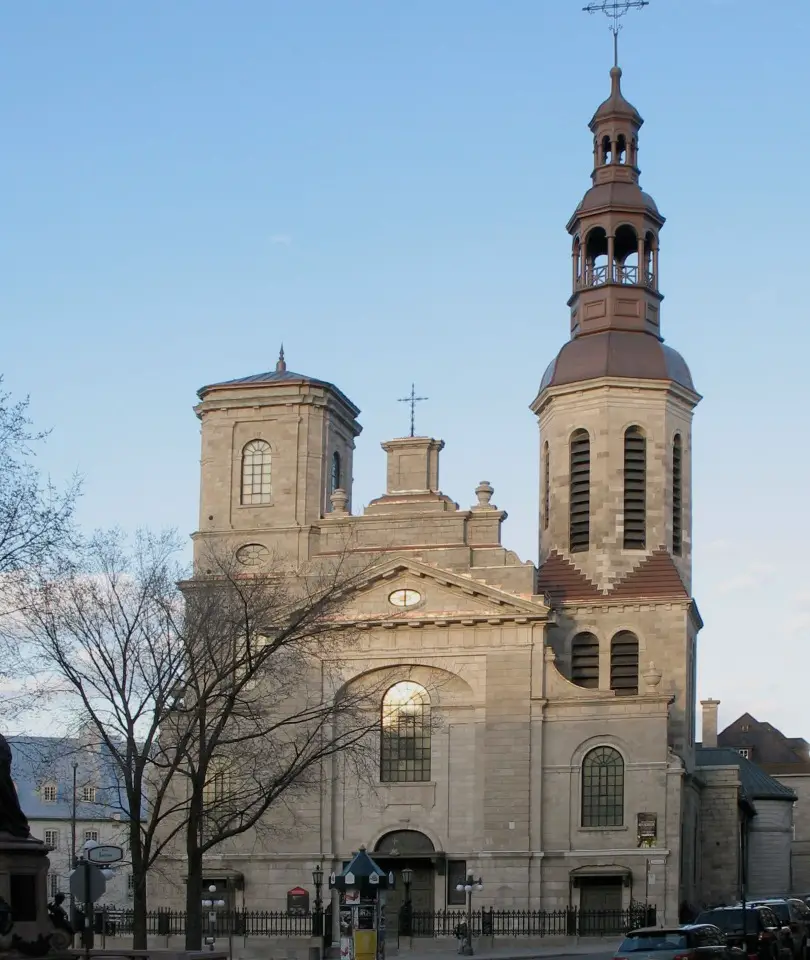 Also on the list of UNESCO World Heritage sites, this church is the oldest in the Americas north of the Spanish colonies in Florida and New Mexico. Pope Pius IX declared it to be a minor Basilica in 1874.
Originally built in 1647, it has been destroyed by fire and rebuilt twice and in 2014 the cathedral celebrated it's 350th anniversary. The church is located within Old Quebec and just a 10-minute walk from the cruise ship dock.
Chateau Frontenac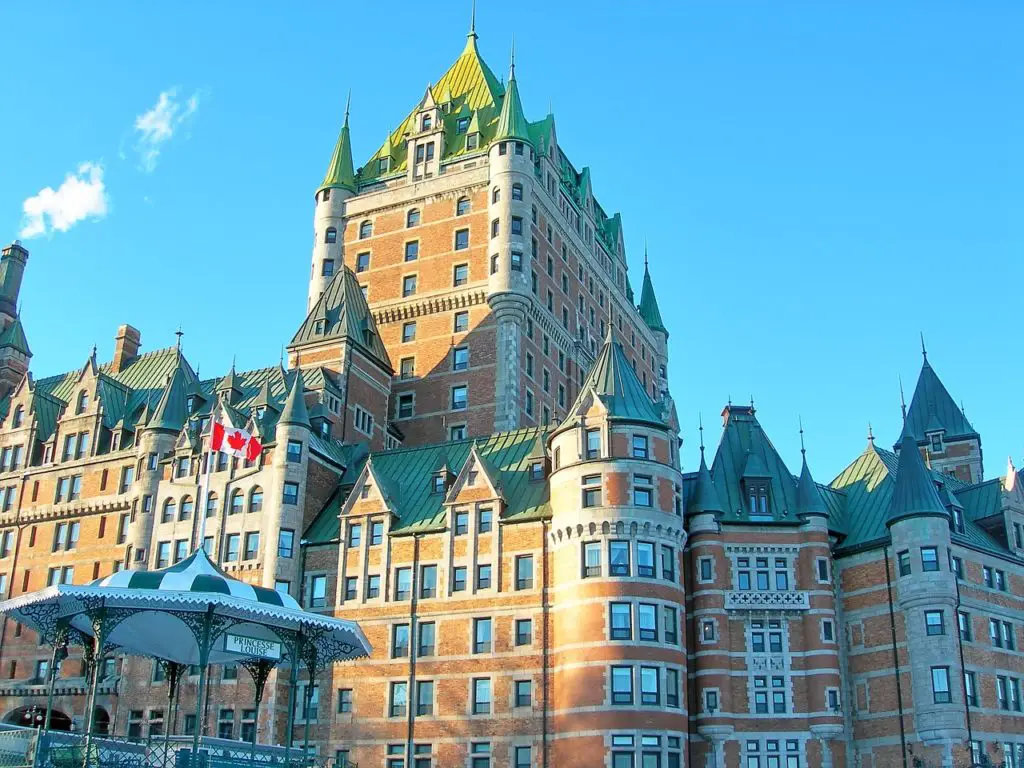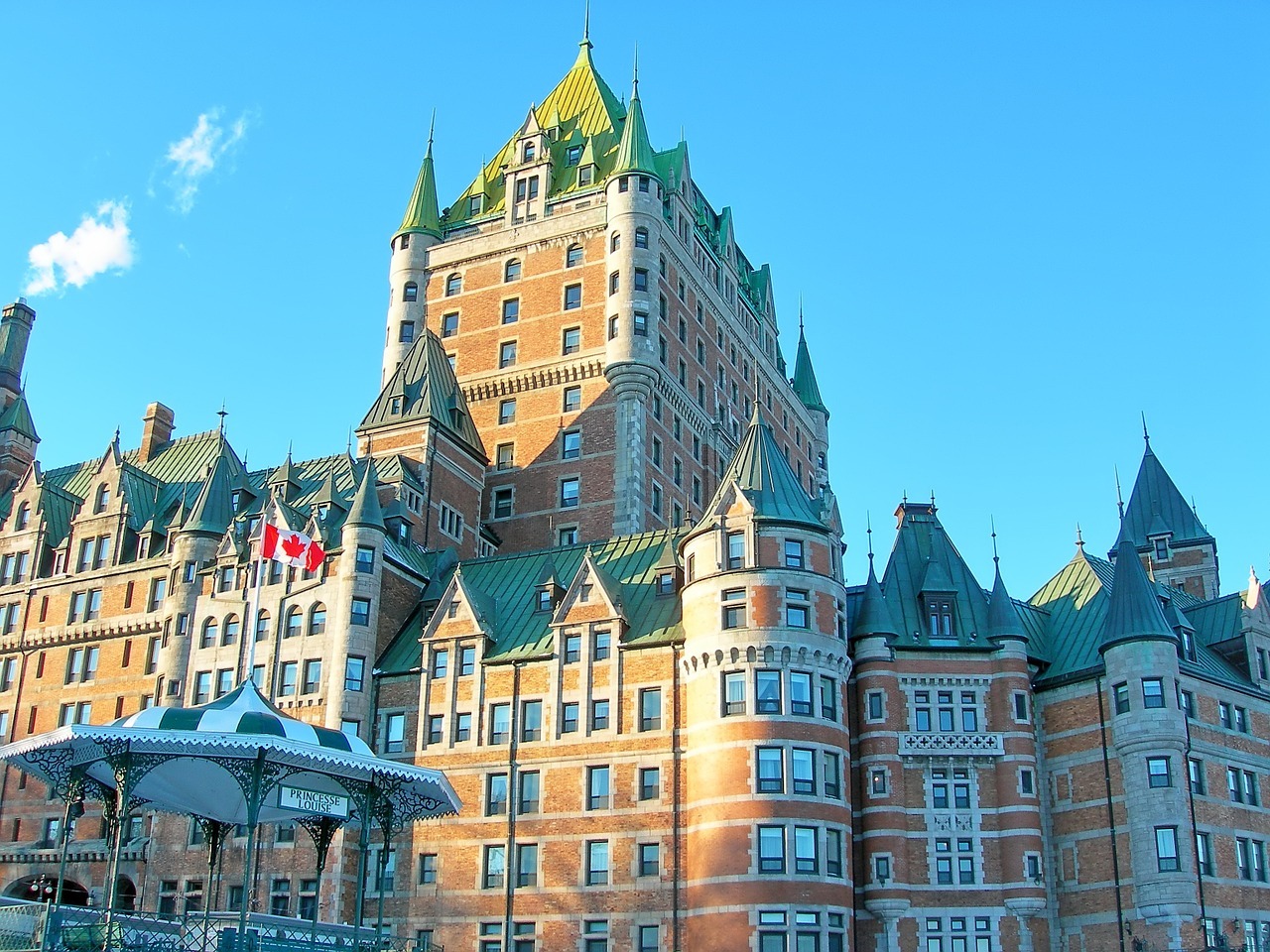 No visit to Old Quebec would be complete without a photo of the famously picturesque  Fairmont Chateau Frontenac.
Why?
Because it's the most photographed hotel in the world! The hotel sits atop a hill overlooking the St. Lawrence river, providing a spectacular view of the area.
Originally built in 1883 by the Canadian Pacific Railroad as a means of promoting tourism in Canada, the hotel has been expanded several times since.
From a historical standpoint, the Chateau Frontenac has been in many films and more importantly, was the site of a meeting between Winston Churchill, Franklin D. Roosevelt and Canadian Prime Minister Mackenzie King, as they planned the allied invasion of occupied Europe during World War II.
If you have time either before or after your cruise, staying a night in the Chateau Frontenac is not to be missed. While it's not cheap ($400+ per night) the experience is one you won't soon forget. Even if you can't stay overnight, visitors are encourage to take a stroll through the first floor which has shops and a cafe.
Plains of Abraham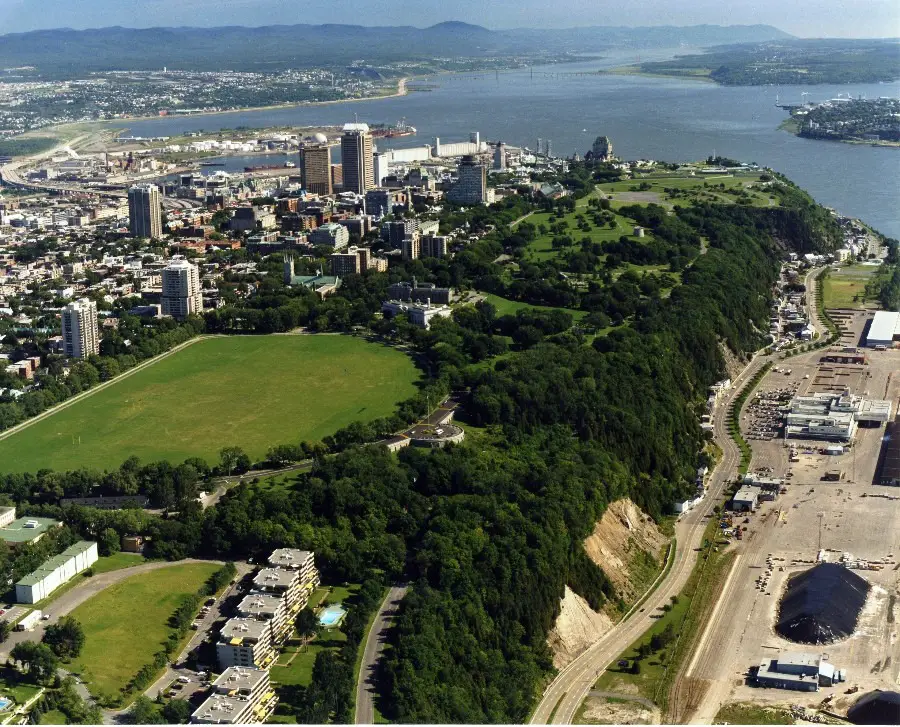 This 2.4 km long park park was the site of the historical "Battle of the Plains of Abraham" otherwise known as the Battle of Quebec. This particular battle was fought in September 13, 1759 as part of the Seven Years War between British and French soldiers. It only lasted about 30 minutes, but what followed would change the course of history in Canada.
The French were lead by Louis-Joseph de Montcalm while the British were lead by General James Wolfe. Both leaders died from injuries sustained at the Battle of the Plains of Abraham.
For lovers of history, this location and battle was important as it allowed England to gain control of Quebec City (Upper Canada) as well as key locations throughout the USA.
Located at 835 Wilfrid-Laurier Avenue, today the Plains of Abraham is used as large public park complete with festivals and outdoor activities and is the starting point for many tours of Old Quebec. This park is often compared to Central Park in New York and Hyde Park in England.
Gare du Palais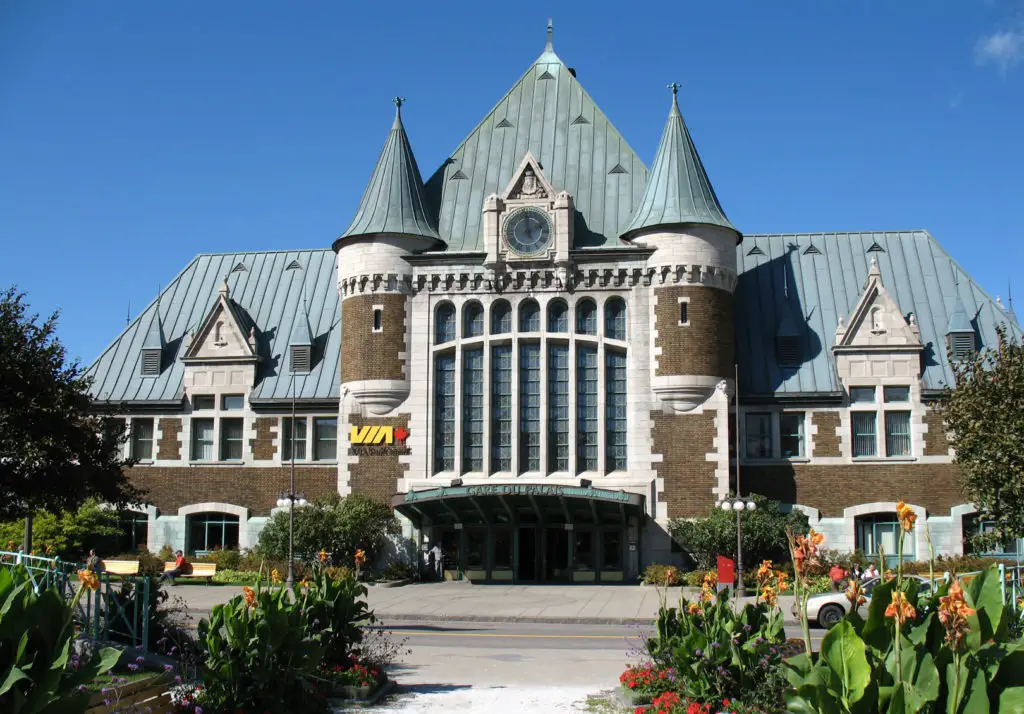 After visiting Chateau Frontenac (above) you might be thinking "I've seen a building that looks like this before" – you are not losing your mind! Gare du Palais is a train station built by Canadian Pacific Railway in 1915, with a similar design to the Chateau Frontenac.
Today Gare du Palais serves trains from VIA Rail, which is the national railway service in Canada as well as coach buses from Orleans Express. In 1992 the train station was designated as a Heritage Railway Station.
Via Rail is a great option for those traveling in from Toronto or Montreal or visitors heading to other locations in Canada, such as the capital – Ottawa which is about 6 hours away via train.
Grande Allée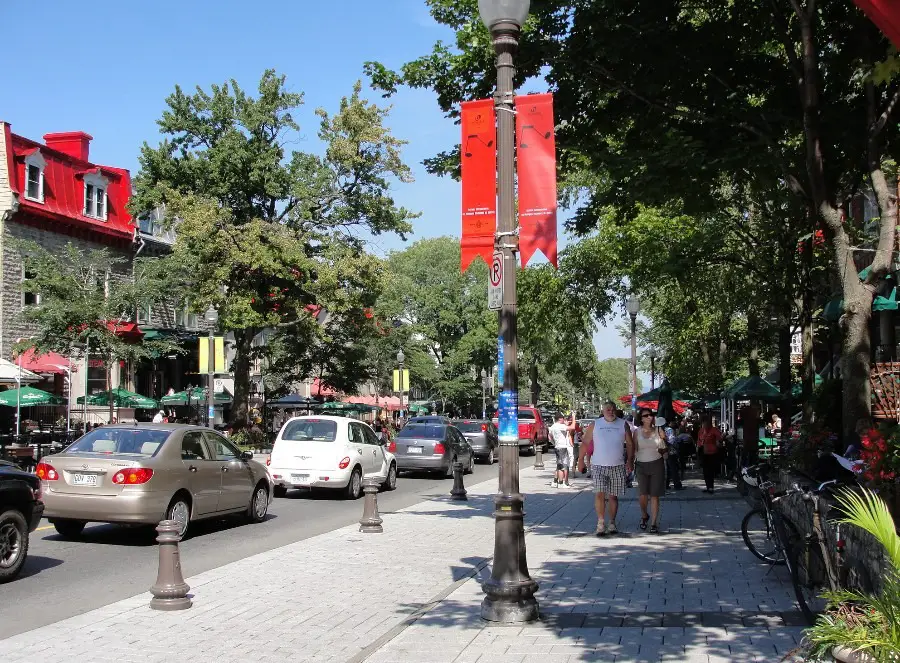 Looking for cafes with patios, upscale restaurants, budget eats or unique shops with an urban feel? The Grande Allee is just what you are looking for.
During the day the street is alive with pedestrians strolling and packed patios where you can get lunch or drink. In the evening it comes alive with dance clubs, DJs and live music.
This unique street is home to restaurants and small hotels built in old Victorian buildings, complete with one of the most unique Starbucks stores we have ever visited.
The Grande Allee is on the opposite side of The Plains of Abraham and a taxi would be advised if traveling from the cruise terminal to the Grande Allee.
île d'Orléans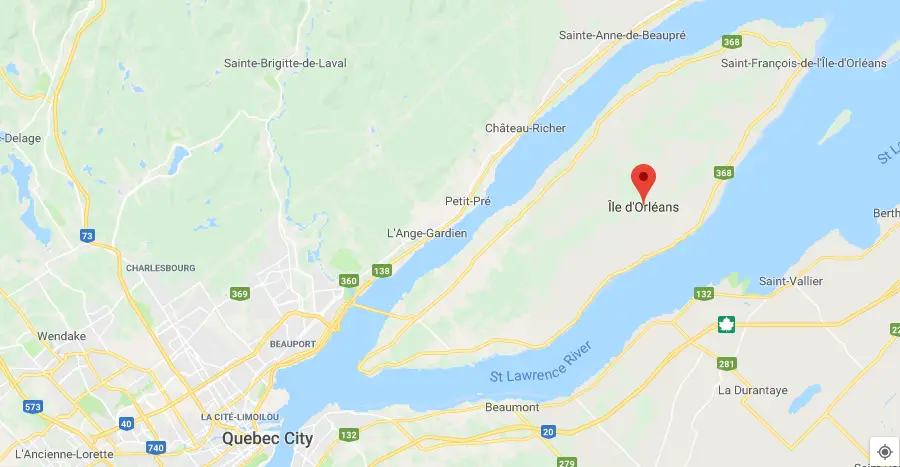 Looking for a slower pace? Forget the busyness of Quebec City and escape to the country. Located a short 15 minute drive from the cruise terminal, this island sitting in the St. Lawrence River is home to many farms, villages and shops.
By renting a car, you can drive the perimeter of the island in just a couple of hours, but keep in mind there are no highways or fast moving roads on the island and when you get to the island you will see why.
Driving over the bridge to Ile D'Orleans will feel as though you have journeyed to the French countryside. The pace is slower and the countryside is dotted with small farms, fruit and vegetable stands, art galleries, artisans, craftsman, bed & breakfasts and tiny idyllic villages. While on your drive, keep an eye out for a small sign for the Confiturerie Tigidou, which will lead you up a winding, hilly driveway to a barn which houses some of the most delicious jam you will have ever tried.
Ile D'Orleans has been a highlight of each visit to Quebec City.
Quartier Petit Champlain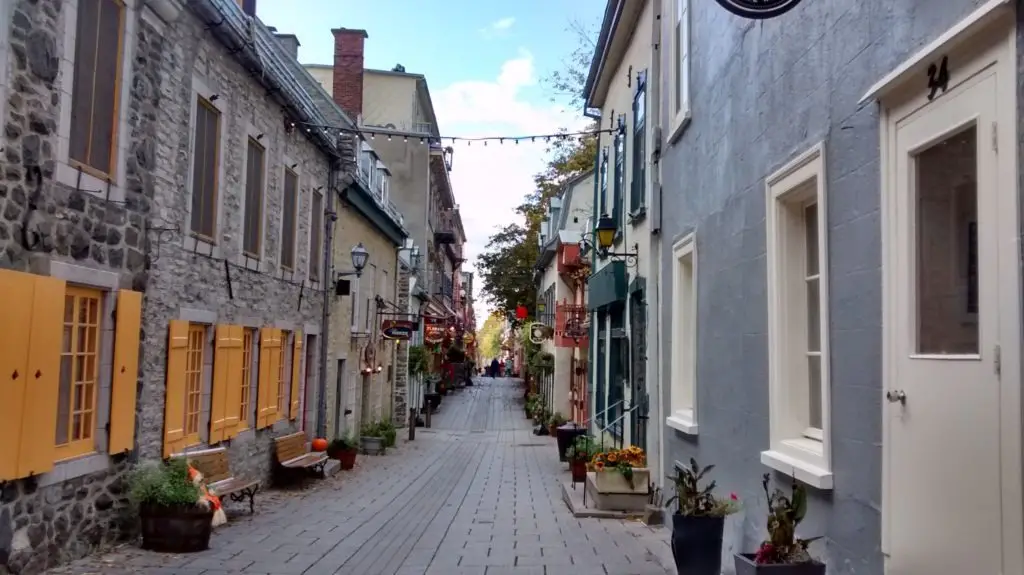 Forget big box stores, modern shopping malls and national store chains. Quartier Petit Champlain is the complete opposite. Small shops, art galleries, craftsman boutiques and cafes dotted along the streets offer an old world charm not found many other places in North America.
No trip to Quebec City should ever be complete without a stroll down the narrow streets of Quartier Petit Champlain, located in Old Quebec. Named after founder Samuel de Champlain this area is the oldest commercial street in North America. Preserved for over 400 years, the charm of this area will cause you to fall in love with the city.
If you plan on purchasing a bit of Canadiana to take home, Quartier Petit Champlain is home to many artists and artisans creating all kinds of interesting products.Make sure to try a piece of creme de sucre, a type of, delicious, creamy, melt-in-your-mouth sweet that is similar to fudge. (Can you tell how much I love it?!)
Fortifications of Quebec National Historic Site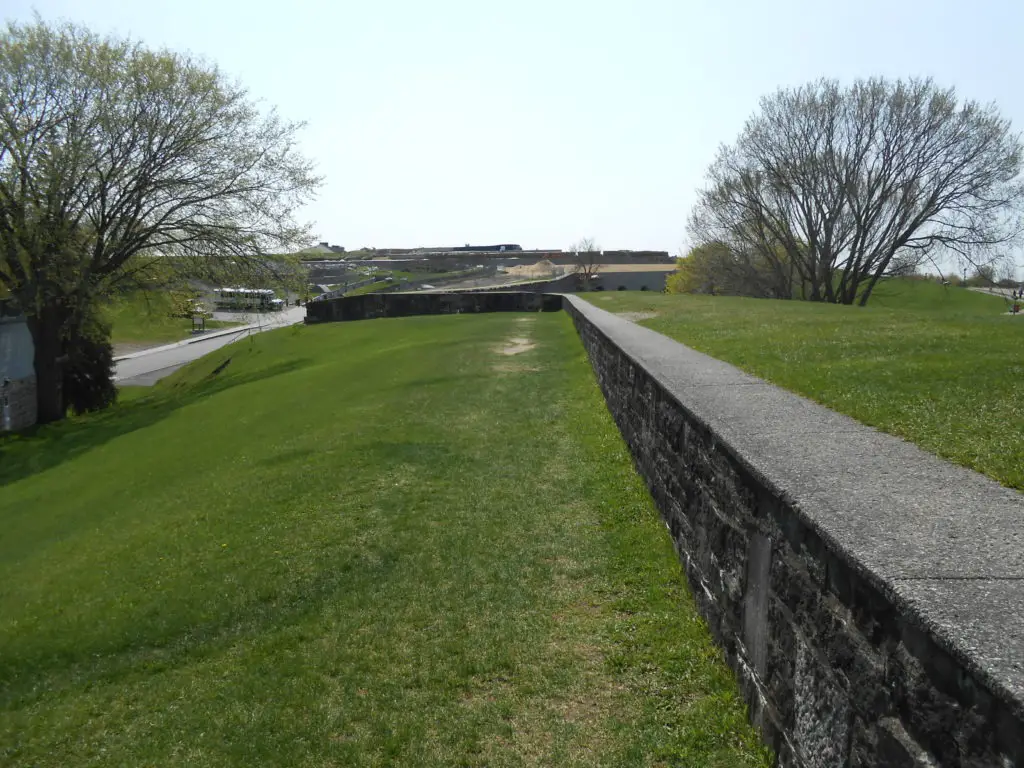 While the walls around Old Quebec City give it a quaint, historic charm, 400 years ago these same walls provided much needed protection from invading forces.
The walls, almost 5 kilometres long (3 miles) surround the oldest parts of Quebec City. For visitors with an interest in history, taking a guided tour around the walls will give you a brief history of why the walls are there and how they protected the city during its 300+ years.
Located a 10 minute walk from the cruise terminal, a visit to the Information Centre at this historic site will give you a quick overview of the fascinating history of this beautiful city.
Epicurie J.A Moisan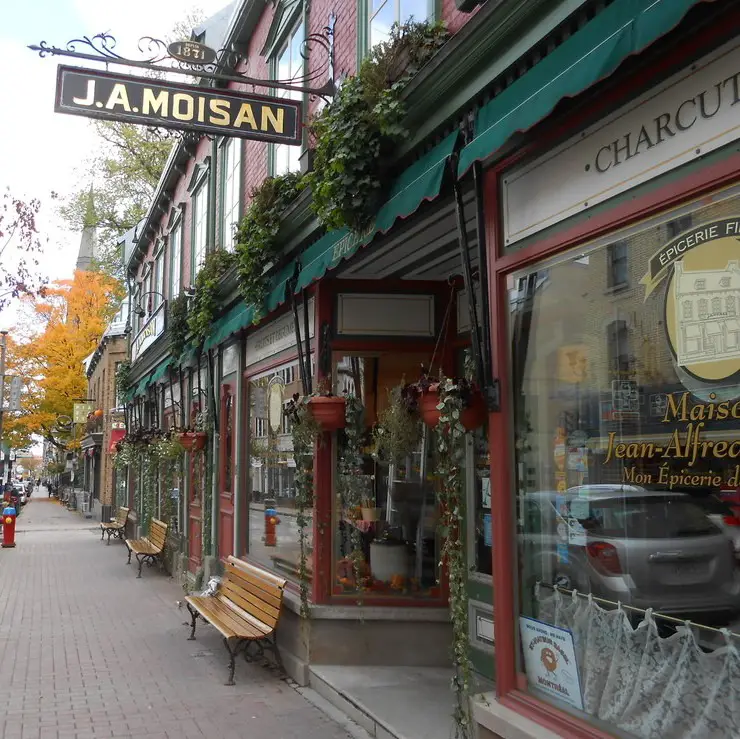 If you work in retail and have an interest in history, this is a stop you will appreciate. J.A. Moisan is the oldest grocery store in continuous operation in North America. Opened in 1871, this store has been providing for the grocery needs of the local area for over 140 years.
Today J.A. Moisan is a gourmet food-lovers paradise, offering all kinds of gourmet cheeses, meats, fresh breads, wine and beer. A small cafe at the front of the store offers delicious pastries and coffee. Strolling up and down the aisles of J.A. Moisan feels like stepping into a time machine. The wood floors and attentive staff are a nice change from the large scale supermarkets of today.
And the list goes on…
Quebec City is so full of things to do, sights to see, food to taste and souvenirs to purchase that we could not possibly detail in just 11 points.
We just hope that we have given you enough reason to consider taking a cruise to or from Quebec City in the near future.
This page contains affiliate links for which we may receive financial compensation when a purchase has been made through one of our affiliate partners.
About Jonathon Hyjek
Jonathon is the tech guy behind CruiseportAdvisor.com. When he's not stuck in front of his computer, Jonathon enjoys travel & cruising (even after being on a cruise ship that caught fire - a story for another day!)