Although I had never been on a cruise, I soon found out that I still had expectations of what a cruise would be like. Those expectations came from brochures, advertisements, and friends who had cruised before.
During this new adventure, I came across some surprising things, both big and small, that I had not thought about beforehand, but would have an impact on a second cruise.
#1 Port Of Departure And Cruise Length May Give Clues To The Type Of Passengers
My first-ever cruise was booked for me by those who knew the ropes, but it was based solely on the time of year and the proximity of the departure port to my relatives.
I have since learned that the length of the cruise and departure points can sometimes dictate the passengers you will encounter onboard. If this will matter to you, it would be a good idea to do some research before you book.
In speaking with fellow cruisers on my first-ever cruise, I learned that short-duration cruises of just a couple of nights are sometimes referred to as a "booze cruise." They can be filled with those who are looking for a few days away on the water and time to relax.
My cruise,  on Royal Caribbean's Brilliance of the Seas, left from Tampa, Florida, and was a five-night cruise. One of the things that was intriguing to me at first glance was how few children were on board.
The more bells and whistles a ship has, the more families are likely to be onboard. Those ships that mimic a floating water park are popular with the kiddos, so know that if you want a quiet cruise look for a ship with fewer of these attractions.
The next big surprise besides the absence of munchkins was how many walkers, mobility scooters and canes were in use by fellow passengers. There were a good number of passengers that were in their 70s and above on this cruise.
My ship departed from Tampa, which is in close proximity to Florida's largest retirement community, The Villages. Punta Gorda, with half of its population over 65, is also within reach of Royal Caribbean's Tampa port.
Ship Size Is a Deciding Factor In Passenger Demographics
I learned, too, that the ship's size is a determining factor in the type of passengers onboard. There are many sizes of cruise ships, and they seem to get bigger by the day.
These, loosely, are definitions of ship sizes according to the number of passengers they can carry:
Mega-ships: 3,500 + passengers
Large ships: 2,500 – 3,499  passengers
Midsized ships: 1,500 – 2499  passengers
Small-Mid ships: 800 – 1,499  passengers
Small ships: 799 or fewer  passengers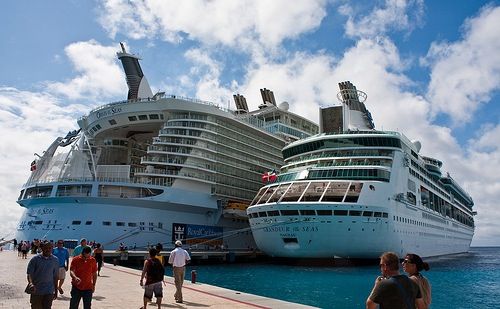 Mega-ships will offer the most restaurants, entertainment and the latest innovations. They will draw those guests who can afford to spend more, have higher expectations for their cruise and are most likely to have children in tow.
Large ships have a lot of the same features as a mega-ship but are not as over the top. They appeal to those traveling with families, and I mean entire families. A large ship is a great venue for a family reunion.
Midsized ships, like the Brilliance of the Seas that I was on, offered a mix of amenities but were of the standard type. The midsized ship is usually the oldest and smallest ship for most large cruise lines.
Midsized tend to have limited itineraries and fewer bells and whistles. They are perfect for the seniors that I encountered on my cruise who liked being on the water without needing to be entertained nonstop.
The small-mid and small ships reflect the more upscale, luxury atmosphere that some cruise passengers seek. They tend to be more expensive, and few, if any, children are on board as they tend to cater to an older clientele.
In some cases, the cruise line itself will tell you what type of fellow passengers to expect. Dollars to doughnuts a Disney cruise is going to be full to the brim with excited, overstimulated munchkins.
With activities like the Sail Away Party, Mega Deck Party, 80s Night Deck Party, White Hot Night Party, and Northern Lights Glow Party, Carnival is a floating party palace. If you are looking for fellow fun-loving passengers, Carnival may be your best bet.
Everyone I encountered on Brilliance of the Seas was friendly, but the majority of passengers were in their 50s and this was definitely not a cruise that had many young, single cruisers.
#2 When Was The Ship Last Dry Docked And Why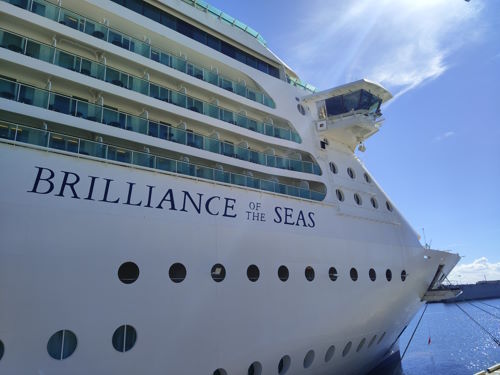 I realized when I boarded the Brilliance of the Seas I had expected her to be…well, brilliant. Bright and shiny. Her crew were attentive, helpful and all had bright smiles, but the ship itself reminded me of the brand "Faded Glory."
My cabin furniture had dings, scrapes and scuffs. I sent a picture of the cabin to a friend who commented that the loveseat looked like the kind of sofa you would find in an up north hunting camp.
Having been in the hotel industry for numerous years, I could see that it had been a while since the Brilliance of the Seas had had a renovation.
When a cruise ship is in dry dock, the vessel is docked for maintenance, repairs or refurbishment. The ship can be out of commission for a few days, weeks or even months depending on what needs to be done.
If bright and shiny is important to you, check the cruise line's website for information on when the ship was last in dry dock and what was done at that time.
All areas of the Brilliance of the Seas seemed very clean, even if they seemed just slightly out of date. My cabin was roomy, clean, and accommodated all my needs.
It did not detract from my enjoyment in any way, but don't expect, like I did, for every ship to look brand new.
#3 Prepare For The Worst And Keep Meds On Your Person
I am sure you have heard it before, but unless you are sure you won't get motion sickness, plan as if you would. Before my cruise, I researched what type of pills/patches/potions would keep me from hurling over the side of the deck.
I looked at something you could wear on your wrist and a patch you could put behind your ear. I thought of carrying a handy plastic bag…just in case I was struck at an inopportune time.
After all the research, planning, and preparation, I forgot my products of choice at the last stop before boarding the ship. Yep, I did. I had changed items from one carry-on to another and apparently thought leaving them behind was a good idea.
So what surprised me was, with all my preparation, I totally flubbed the execution. If you have vital items, like meds, passports, and ID, make sure you double-check that you have them in hand before heading out.
You Arrive First And Your Luggage Whenever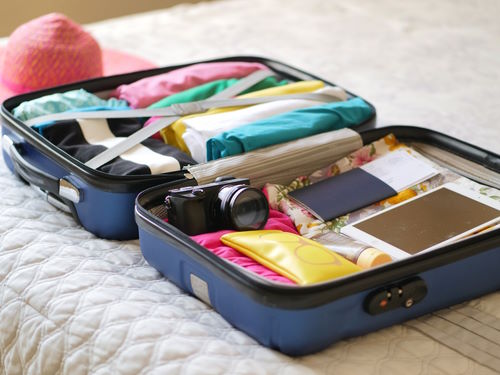 I was also surprised that your luggage may take 5 hours to get to your cabin as mine did. That meant that items I had wanted from my suitcase before dinner did not arrive until after my appointed time in the Main Dining room.
If you have meds or Dramamine that, unlike me, you have remembered to bring, keep it on your person when boarding the ship. Don't think, like I did, that you can get it from your luggage in a timely manner because that might not happen.
The ship I was on was at about 85% capacity, which meant that there was luggage from about 2200 guests that needed to be distributed over 12 decks. Getting everything where it needed to be was a feat in itself for the crew, and that task takes time.
It was also an awakening that although there were places onboard to purchase over-priced Dramamine, I had no idea where those places were located. When a ship is boarding passengers, it is a hive of activity.
I hadn't anticipated how busy and crowded it was moving about the ship that first day.
Finding your way can be like swimming upstream, and the customer service desk is the most popular spot on the ship.
Every crew member was helpful, but it would have been a whole lot better if I had not dropped the ball and had kept my most needed items with me when I boarded the ship.
I am happy to report that, once I discovered I had been a numskull, I threw myself on the mercies of Poseidon, Neptune and Popeye for good measure. I experienced not one ounce of seasickness.
The downside of not one ounce of seasickness was that I was able to eat anything and everything. And what I gained wasn't measured in ounces.
#4 Watch Your Step
I know that a ship floats on water. I know that the water is always moving. What I didn't expect, and came as a surprise, is that some of the movement you felt depended on where you were on the ship.

My cabin was on deck three of Royal Caribbean's Brilliance of the Seas. I could feel the movement and swaying of the ship most when I was laying in bed. The cabin had a large round window and I found that I loved looking at the water rushing by.
The swaying I felt in the cabin was pronounced just one night. I needed to get up and take the wooden hangers off their rods and lay them on the floor of the closet to keep them from clanging around.
Another surprise was that the bathroom was a step up from the rest of the cabin. I have no idea why the floor of the bathroom was not on the same level as the rest of the cabin.
It made me realize that if the ship was in turbulent seas, or if you had imbibed too much, the four-inch step up into the bathroom could be treacherous when entering or exiting.
The Higher You Go, The More You Sway
The Pacifica Theatre on the Brilliance of the Seas was on deck six and in the forward. That was an area where the movement of the ship was pronounced. Some of the seating in the back of the theater was on swivels, and swivel they did.
The Main Dining room, located on deck four, and the Colony Club on deck six were both in the aft of the ship and you could feel movement in both areas, especially the Colony Club.
I often walked the deck, and the majority of the time, had little swaying or rocking to contend with. I was surprised that when there was movement, being able to see the horizon and the waves seemed to minimize the swaying effect for me.
Choose A Cabin Located In The Middle Of The Ship
Other, more experienced cruisers had booked my cabin. They knew that the lower the deck, and the closer to the center of the ship, the less movement would be felt in the cabin.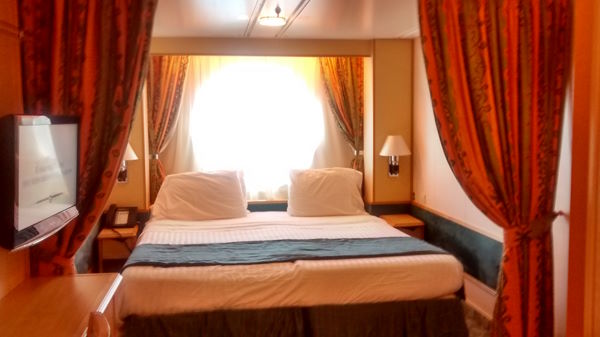 As an aside, it was also surprising to me the big difference it made in having a window in the cabin. Interior cabins are usually less expensive and most cruisers don't spend much time in their cabins.
Having the window gave me a visual orientation that helped minimize the effect of the motion. If that might be a factor for you, consider springing for the ocean-view cabin.
Forward-facing staterooms are subject to more movement than other parts of a ship. Visit the websites for the cruise line you are interested in to see where cabins are located.
All in all, I think that the times when the motion impacted me the most was when I could not see the water and the horizon. Being in a theater or in the Centrum, you could forget that you were on a ship, and not in a building on solid ground.
When you forgot where you were and you felt the motion, it was disconcerting until you reminded yourself you were on the water and it was not an earthquake.
In speaking with other veteran cruisers, they remarked that our journey, which went from Tampa, Florida to Grand Cayman and Cozumel in the Gulf of Mexico was one of the smoothest cruises they had ever been on.
Knowing that the motion I experienced was considered minimal to those in the know, I was grateful for such a smooth passage, but also aware that it was not typical to have such a peaceful journey.
#5 Love Me Tender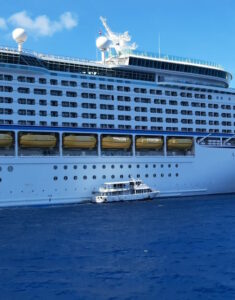 While I don't necessarily feel like I have a philosophical bent, I do agree with Socrates when he said "Knowing is not the same as doing." That profound observation can be applied to the cruising experience.
I thought I was being proactive in reading the information Royal Caribbean had on their website about my cruise. It was really not informative at all, but it did mention that Grand Cayman was a tender port. 
While it sounds like a term of endearment, I learned a tender port meant that the ship would anchor away from the shore and a small boat called a tender would take passengers to the pier at shore.
A Tender Port Means Allowing Extra Time To Get There
What surprised me was that getting on and off using a tender was a time-consuming process, with a tender boat carrying between 100 – 150 passengers at a time.
That meant times in which you could depart were assigned by deck. If you missed your assigned time to depart, you had to wait until there was boarding for all passengers.
I hadn't thought about this either, but you went through security both leaving and coming back aboard the ship. That added extra time to the process.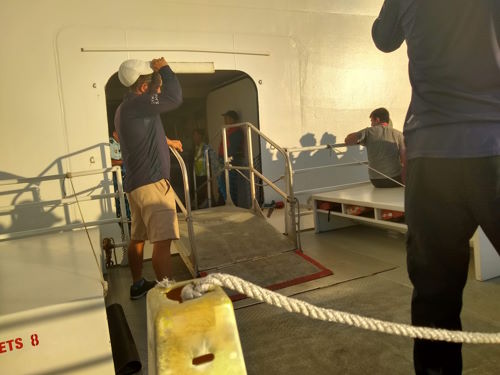 The biggest surprise was that it was not a stroll in the park getting on and off the tender from the ship. The ramp going up to the tender was steep and there was a padded structure overhead that you needed to duck under.
After you ducked, you immediately stepped onto a small platform with a steep decline into the tender. This transfer was surprisingly awkward and a bit challenging.
As I had mentioned before, there were lots of wheelchairs, canes, and mobility devices on this cruise. It occurred to me that there would be some passengers who would have had a difficult, if not impossible, time traversing the ramps from the ship to the tender.
While the fact that Grand Cayman was a tender port was information given before the cruise, the challenge of getting off and then back on the ship was not mentioned.
Getting back on the ship seemed to me to be an even more precarious adventure. The inclines were steeper and there was some movement of the ship at that time it was anchored in the bay.
I was surprised that there was not more in-depth information about the process and the fact that some on board might not be able to make it off at a tender port.
Once at the pier, it was easy getting off and on the tender, but the ship was a horse of a different color. It seemed there should have been more detailed information of the process on the website or in the information given to cruisers.
#6 Put That On Ice
Having been in the hotel business, I now realize that I had expected the inside of my ship's cabin to be much like a hotel room. In a way it was.
But it surprised me at first that there was no coffee maker. However, it makes sense when you realize that a hotel room is stationary and a ship's cabin is not.
It is another one of those simple things that I made an assumption about without any real thought or research.
I had also assumed there would be a small refrigerator in the cabin, and there was not. Instead, there was a small look-a-like that stated it was a cooler, not a refrigerator.
I ended up not using the cooler as it didn't keep beverages very cold. Instead, I used the stainless steel beverage holder I had brought with me.
I would go up to the Windjammer Cafe and fill the beverage holder with ice and a beverage from one of the drink stations. This worked fine for me but it did get me thinking.
If you had medication, like insulin, that needed refrigeration, would the cooler in the cabin keep it cold enough? If you were a first-time cruiser, an amenity you would take for granted on land like a refrigerator, might not be available on the water.
For those with medication that needs to be refrigerated, the staff at the medical facility onboard can keep your medication cold. This however means you will need to go to the medical clinic each time you need to take it.
If you don't want to be surprised, unpleasantly so, decide on the amenities that are actually necessities for you on board. Call your intended cruise line to make sure you will have what you need before sailing.
#7 How Do You Get There From Here?
One important aspect of cruising that you don't want any surprises with is the logistics of getting to your cruise. Not everyone is fortunate enough to live in a port city, so you need to make arrangements to get there.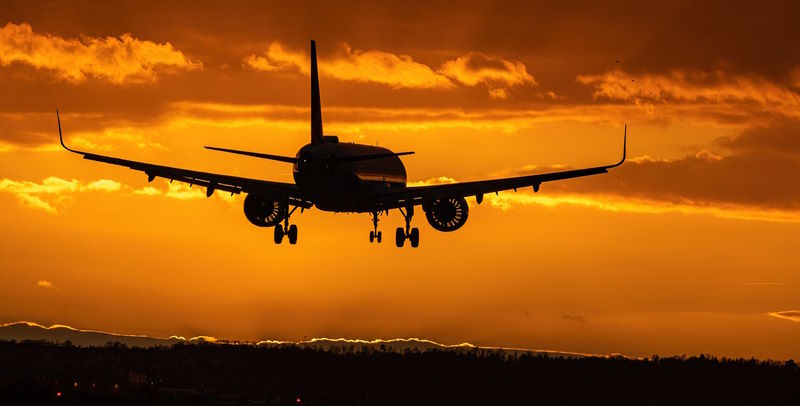 Much like airlines, cruise lines operate on a strict departure policy. Cruise lines adhere to those times, with the Captian making the call to delay any departure.
Just know that if it comes to deciding whether to wait five or ten minutes for your tardy self to reach the dock, most Captains are going to be waving you a fond farewell from the upper deck.
It is not simply a matter of punctuality, either. Cruise lines pay expensive docking fees, and if a ship is late leaving the pier, there are additional charges added to that fee.
If a cruise ship has to wait for you, that also means they have to put the pedal to the metal to get to the next stop on time. That means higher fuel consumption and higher costs.
An Oasis-class ship can consume $300,000 worth of fuel a day, and smaller cruise ships can still use a significant $100,000 a day.
If your mid-size cruise ship were consuming about $150,000 worth of fuel each day, that would mean every one-minute delay would cost the line $104. In addition to late fees at the pier and additional fuel used to make up time to the next port, ships need to keep on schedule.
Get To The Departure Port The Day Before Sailing 
Plan out your travel arrangements ahead of time. Not everyone has the luxury of taking off as much time as they want for a cruise, but it is still necessary to allow enough time to get to your departure port, so don't plan on arriving the same day you are boarding the ship.
For me, that meant getting from Detroit, Michigan to Tampa, Florida at the end of January and the middle of winter. That meant factoring in delays due to winter and possible cancelled flights.
Fortunately, I have family in Florida, and at their suggestion, I flew down on a Friday to make sure I was there for the Monday cruise.  You might not have that option, but don't try flying or driving to port on the same day your cruise departs.
I made it to Florida without incident, but we allowed for extra time on the cruise departure day to make the two-hour trip to Tampa. Allowing an extra hour helped us to be on time even though we were delayed by an accident and had trouble locating the correct parking structure.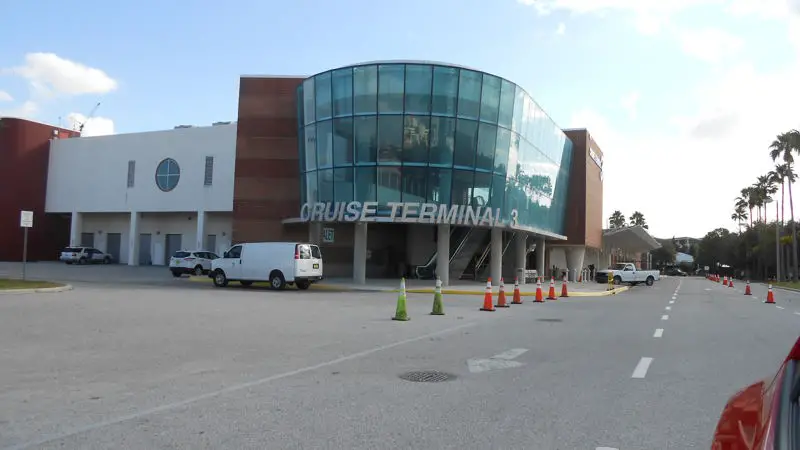 There are just way too many ugly surprises that could derail your plans. If you are not as fortunate as me to have relatives in a nearby port town, arrive the day before your ship departs and stay at a hotel near the dock.
Before booking the hotel, find out if they have a shuttle to the port and what times the shuttle departs. The days of a hotel making continuous trips to and from a port or airport are a thing of the past. Most shuttles now run on the hour, so make sure you know what time they run and how you will get to the port from the hotel.
Your cruise line will give you a time to arrive for embarkation. Being early does not get you on early, you will still have to wait for your embarkation time, but at least you will be there. Once you are on board, you can relax and let the Captian handle the rest of the trip.
Final Thoughts on My First Cruise
The cruise was a wonderful experience, no doubt about it. I learned some things that I would apply to a future cruise, but even with the first-time cruiser surprises, it was a worthwhile and fun vacation.
Here is another surprise that was a very pleasant one indeed.
If you are going for the experience of being on a ship at sea, it does not have to cost you an arm and a leg.
Cruising does not have to break the bank. Just as you would plan ahead time-wise, you can also budget accordingly.
I am not a drinker, so that saved a bunch of money at the get-go. I found that the food served in the Main Dining room and the Windjammer (included in the cost of the cruise) was more than enough portion-wise, in variety and taste that I did not feel compelled to visit the extra-cost specialty restaurants.
There was the opportunity to purchase perfumes, jewelry, clothing, and purses on board, but they didn't tempt me. I purchased magnets for my fridge from the ports and felt that the many great memories were enough to bring home.
I departed the ship without any additional charges on my cabin, and didn't feel that I missed out on anything.
If you get the opportunity to go on a cruise, do some research beforehand so that you won't have any surprises that impact your trip.
I found that the crew on Royal Caribbean's Brilliance of the Seas were willing and eager to fill in the gaps for this first-time cruiser. Knowing I was in good hands made my first cruise a truly memorable, wonderful experience.
This page contains affiliate links for which we may receive financial compensation when a purchase has been made through one of our affiliate partners.
About Marlene
After graduating from Michigan State University with a Bachelor's Degree in Hospitality Business, I began a career with Marriott International. My favorite position was Event Manager for Courtyard Hotels. I received Marriott's Employee of the Year Award, and it is the only item on my shelves that gets regularly dusted.