Galveston Cruise Port – Terminal Information
Last updated on October 30th, 2021 at 08:35 am
Galveston Cruise Port Terminal
The Port of Galveston is located on Harborside Drive, at 22nd street. With plenty of parking options and nearby access to several hotels, restaurants and local attractions, the port is a great takeoff spot for a wide array of local and international adventures.
There are two cruise terminals beside each other, with parking across the street.
There are two Entrance Gates to access the cruise terminals:
West End Gate – 3870 Port Industrial Road
East End Gate – 1402 Harborside Drive

In late 2018, the port announced they had come into agreement with Royal Caribbean to build a new state-of-the-art Oasis-class terminal in the area which is currently known as Pier 10.  Finally, in August 2021, they broke ground and are confident the new $125 million terminal will be ready in fall 2022 as the homeport for Allure of the Seas. The state-of-the-art technology available will include mobile check-in and facial recognition. A new 1800 space parking lot will also be built.
Here's a concept rendering of the new terminal (photo from royalcaribbeanblog.com):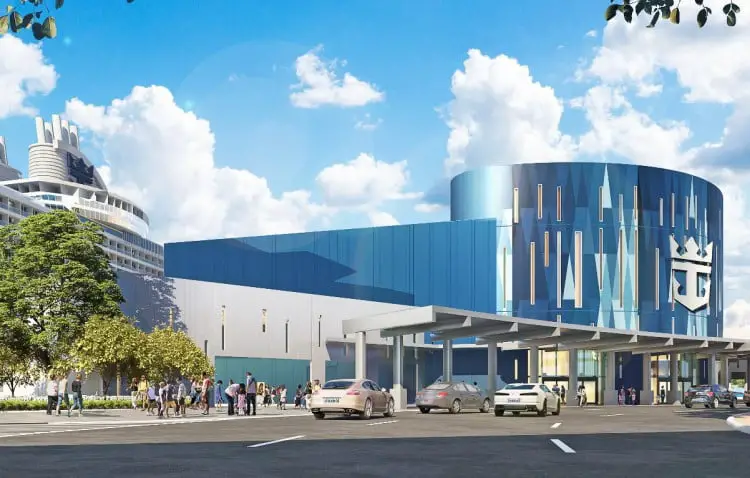 Parking for a Cruise in Galveston
Best Way to Get from Houston to Galveston
Cruises From Galveston Port
Carnival Cruises– Breeze, Dream, Vista
Disney Cruises– scheduled to restart November 2021 with Disney Wonder
Royal Caribbean – Independence, Liberty, Adventure, Allure, Grandeur 
Hotels Closest to Galveston Cruise Terminal
Galveston Park & Cruise Hotels
Galveston Hotels with Fly & Cruise Packages
Galveston Embarkation Tips:
– drop luggage off prior to parking
– Passengers with Special Needs – ask if there is a special check-in line for those with disabilities. Often there is an expedited line for those who can't stand for long periods of time. As well, there are usually cruise line staff who are more than willing to help with wheelchairs if passengers are unable to walk the ramp to the ship
This page contains affiliate links for which we may receive financial compensation when a purchase has been made through one of our affiliate partners.
Cruise Planning at this Port