If you're disabled yet keen to travel, a cruise is perhaps one of the best options. Seeing the world with complete ease, it's the ideal way to visit multiple destinations without the hassle of multiple plane journeys or an excessive amount of movement.
With that being said, it's still vital you're doing all you can to prepare and make it easier for yourself and those you may be traveling with.
Here are five ways to ensure smooth sailing when cruising with a disability.
Research Thoroughly
Perhaps the most important thing to do in making the cruise easier for yourself comes before you've even boarded.
It's crucial you take the time to thoroughly research your options, considering everything from the route the ship takes all the way through to the facilities on board the ship itself.
And, of course, your priority should be accessibility. It's important the ship you choose can easily accommodate disabled guests.
The good news is that ships from the major cruise brands are accessible – even more accessible than many buildings you encounter on a daily basis.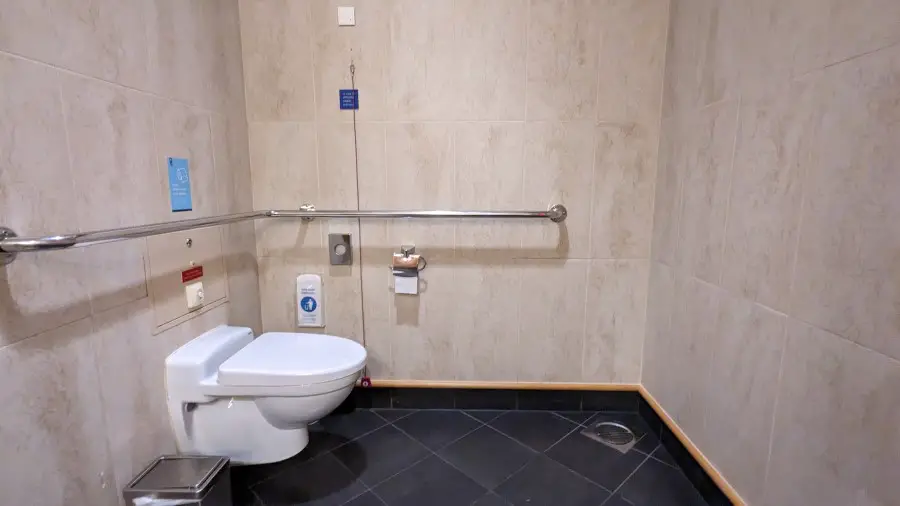 There are few places on a ship where a person using a wheelchair could not go, but these are a very small number of venues.
But, the dining venues, entertainment options and even the public bathrooms around the ships are fully accessible.
Let The Cruise Line Know Beforehand
As soon as you book your cruise, reach out to the special needs department of the cruise line and let them know you are coming.
They will ask if you have any questions and they may ask clarifying questions about your needs, so they can be ready for you when you come.
Special Needs Information by Cruise Line:
Often, staff on cruise ships are almost overwhelmingly friendly and willing to do all they can to accommodate you and make you feel at home, so don't fret.
Whether you need to change rooms, you need assistance moving throughout the ship, you have dietary restrictions or you simply have a minor query you need to be addressed, don't hesitate to simply ask.
The best place to ask on most ships will be at the front desk.
You will usually be met with a warm reception, as the staff's main focus is satisfying guests and ensuring their time spent on and off the ship is a good one.
Communicate Needs With Patience
As a person with a disability, it can get frustrating having to advocate for your needs over and over again.
But here's the thing: No one can imagine what your exact needs might be. Communicate with cruise staff with patience and kindness and when doing this, I can say that I have never had a bad experience on a cruise ship related to my disability.
Help the staff understand what your needs may be and why you need the accommodation and you will be met with staff that are eager to make your cruise a great one.
I have however seen guests get angry or frustrated with a mobility situation and it made the guests' experience a bad one, as well as the staff and anyone around that had to listen to the unreasonable conversation.
Be patient. Be kind.
Consider Booking An Accessible Stateroom
Speaking of rooms, it's important to ensure during the booking process that you're securing a room suitable for you. This is especially important if use a wheelchair full-time. And, although elevators make it easier to go up and down, in the case of an emergency you could be stuck if they're out of service.
Again, it may be worth directly contacting the cruise line to see if there are any available rooms perfectly catered to you. With a prime location and easy access, it's certainly worth asking.
When booking a room, consider things like how far away the room is from embarking and disembarking the ship, the proximity to the upper deck and to the ship's restaurants and places for entertainment, and ensure you'll easily be able to get from A to B. Cruise ships are large, and so it's crucial you're situated in the right part of it.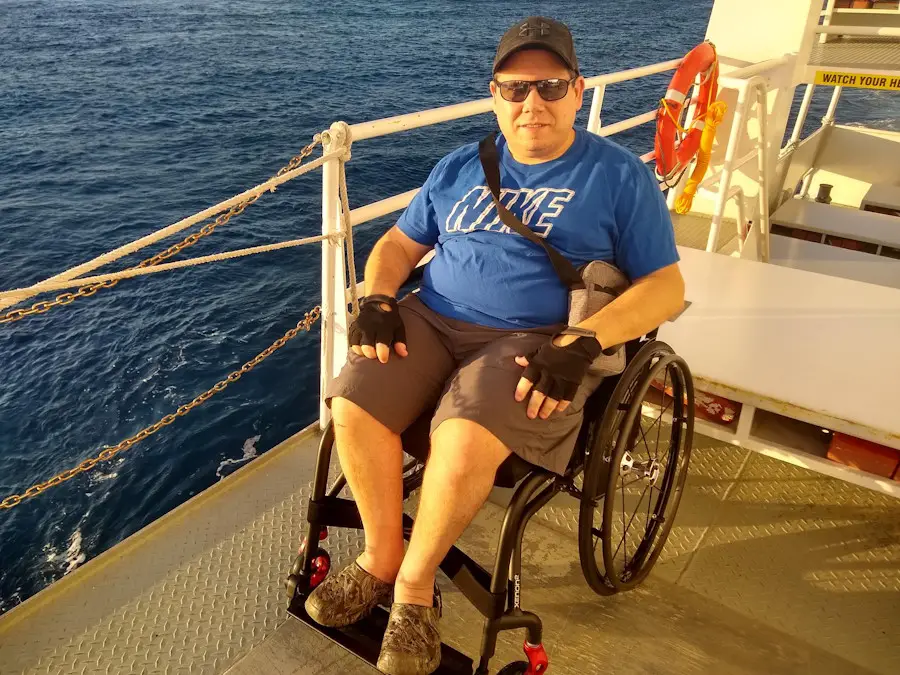 Writer Note: As a part-time wheelchair user myself, I can get around a small stateroom, without my wheelchair. The only caveat is that my wheelchair doesn't fit through the door, without folding it first. I opt NOT to book an accessible stateroom in order to leave the limited number of accessible staterooms for guests who cannot walk and need a roll-in shower.
For me, the only accommodation that we need to make is that there's a shower stool that I sit on while showering, which the cruise line easily accommodated.
Other than that, I don't require a fully-accessible room and can make it around the room with crutches while my wheelchair stays folded up inside the room until we leave the stateroom. 
Ensure The Destinations You're Visiting Are Accessible
As previously mentioned, it's vital you ensure the destinations the ship will be stopping at are suitable for you to head off and explore.
Thankfully, due to accessibility requirements in the USA and Canada, many places that you visit will be fully accessible, but when you get outside these areas, it becomes more challenging.
I have personally had no trouble navigating popular cruise ports like Grand Cayman, Costa Maya and Cozumel using my wheelchair, but there are smaller Caribbean ports that would be more challenging.
Book An Accessible Excursion
Through our shore excursion partner, Shore Excursions Group, there are some excursions that are accessible or good for people with limited mobility.
The description of each excursion will show you whether an excursion is accessible or good for people with mobility challenges.
Also, the cruise lines do offer accessible excursions in some ports, so make sure to ask at the shore excursions desk.
What About Taking Tender Boats With A Wheelchair?
Where it can become challenging is the tender process. Find out if the itinerary you are interested in is a regular dock or a tender.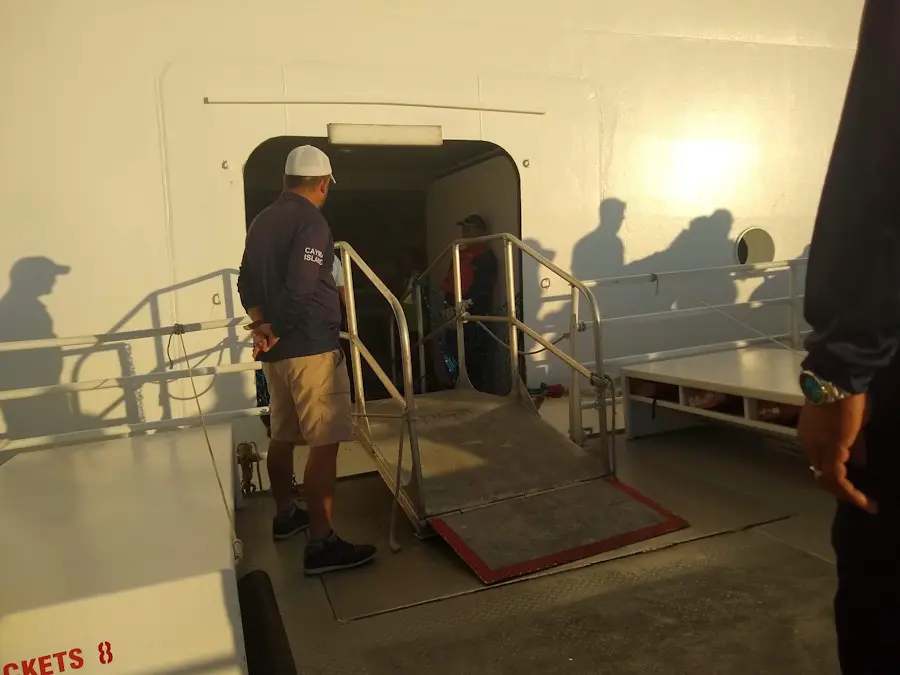 Tender boats are smaller boats that take you to shore. In places like these, the ship docks about 1 mile out, and smaller boats meet up with your ship and take you to shore.
I have managed to navigate tenders using my manual wheelchair, but larger, heavier electric wheelchairs or scooters may have challenges getting off on tenders.
Consider Staying On The Ship
If you are concerned that getting off the ship is just too much, consider staying on the ship. There's no issue just hanging out around the ship when it's in port, and sometimes this can be a wonderful experience.
Most people get off the ship, leaving it wide open for you to explore and enjoy. With fewer crowds, you might just enjoy your time on the ship without the crowds. It's a great time to enjoy the pool, hot tub or just lounging around.
Prepare For The Unexpected
It's a good idea to save some emergency numbers on your phone should you come into danger or injure yourself – although the chances of it are highly unlikely.
When leaving the ship, take your passport with you. I know you're thinking "what if I lose it?"
That's a good question, but a more important question is "what happens if I need to stay at the destination to receive medical care?"
This is a real possibility. There have been many cruisers who have had to stay in places like Mexico or the Caribbean to receive medical care, long after the ship has departed. Having your passport with you will help you get home much easier!
Leave the ship with water, your passport, a credit card, sunscreen and some cash.
Bring The Right Equipment With You
If you require some additional things to help you on your cruise, make sure you're able to bring them. If you're a wheelchair user this is a given, but should you require any additional medical supplies or equipment, be sure to run it by the cruise line first.
Things like needing to keep medication refrigerated, bringing oxygen equipment or a dialysis machine should be planned thoroughly with the cruise line before you set sail.
Cruise lines can make many accommodations for disabled guests, so if you have a question – just ask.
Book With A Travel Agent Or Disability Advocate Group
There are a number of travel agencies and disability advocacy groups that put together packages for individuals or families with specific needs. One such organization is called "Autism of the Seas".  While the name suggests it's just for people with Autism, their website states that they offer cruises for people with varying disabilities.
Another popular travel agency within the disabled community is Sage Traveling. Their website is packed with information, especially for people with disabilities who want to travel.
Cruising Is A GREAT Option For People With Disabilities!
Overall, as a disabled cruiser, I can confidently say that cruising with a disability is not only possible but highly recommended. The cruise lines do a great job of helping to make my cruise a good one.
This page contains affiliate links for which we may receive financial compensation when a purchase has been made through one of our affiliate partners.
About Jonathon Hyjek
Jonathon is the tech guy behind CruiseportAdvisor.com. When he's not stuck in front of his computer, Jonathon enjoys travel & cruising (even after being on a cruise ship that caught fire - a story for another day!)