Cruise Parking at Port Everglades
Last updated on August 24th, 2022 at 04:11 pm
Onsite Cruise Parking at Port Everglades (Ft Lauderdale, FL)
Note: Parking prices are subject to change without notice. Contact the cruise terminal for the most current pricing.
Passengers departing from Port Everglades have convenient access to parking adjacent to the cruise terminals. When you enter the port area, you will have to present ID and your cruise tickets, so make sure you have them handy. You can then make your way to the appropriate pier and park in whichever parking garage is closest.
Heron Parking Garage services Terminals 2 & 4 (follow the orange colored signs featuring a heron from any of the port's entrances)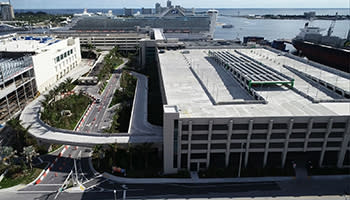 Palm Parking Garage services Terminals 19, 21, 25, 26, 27 and 29 (follow the green colored signs featuring a palm frond from any of the port's entrances)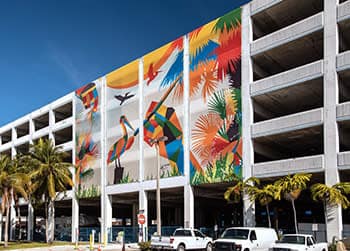 Parking Lot #18 – Terminal 18
Parking Lot #19 – used as an overflow lot
If unsure which at which terminal your ship will be docked, call your cruise line in advance. Otherwise, there is a large LED sign at the port entrance which will detail which ship is docked at which terminal.
All parking facilities are well-lit and patrolled by security personnel. There are facilities for handicapped parking, with all spaces located close to elevators and crosswalks. There are more than 4,200 parking spaces available at:
$15 a day for regular-sized vehicles
Over-sized vehicles cost $19 a day
Porter service is also provided for taking your baggage from the parking garage to the ship.
Accessible Cruise Parking at Port Everglades
In compliance with Florida Statute 316.1964, parking fees are waived at all Port Everglades lots and garages to disabled persons operating vehicles with ONE of the following qualifications:
Display a Florida Toll Exemption Permit as explained in Florida Statute 316.1964 
Vehicle is modified with specialized equipment such as ramps, lifts, or foot and hand controls for use by a disabled person 
Display the "DV" license plate from any state – Disabled Veteran – issued under Florida Statute 320.084 
Off-Site Cruise Parking at Port Everglades 
See Port Everglades Hotels which offer Park & Cruise packages
Rodeway Inn & Suites – Parking only
Park by The Ports
Gold Coast Cruise & Fly Parking
Park n'Fly
Park n'Go
FLL Park Safe Cruise Parking
This page contains affiliate links for which we may receive financial compensation when a purchase has been made through one of our affiliate partners.
Cruise Planning at this Port