Port Everglades, Fort Lauderdale FL Terminal Information
Port Everglades is located at 1850 Eller Drive, Fort Lauderdale, Florida 33316. Easy to access via car, taxi, bus, rail, and ship, the port is also conveniently located next to Fort Lauderdale-Hollywood International Airport (FLL), making it very convenient to fly in to Fort Lauderdale and get right on a cruise. It is a large and busy cruise port, but there are lots of signs to help you on your way.
Port Everglades cruise terminal has three entrances:
– 17th Street Causeway, located at Eisenhower Boulevard
– State Road 84, located just off of US 1 (Spangler Blvd)
– I-595 East (Eller Drive)
There is a security checkpoint at each entrance where you will need to show your ID and cruise tickets. Check the large digital signs as you enter the port to see which terminal at which your ship is docked. 
There are 8 cruise terminals located within Port Everglades:
Terminal 2 is primarily used by Carnival Corp. ships equipped with Ocean Medallion technology
Terminal 4 is being redesigned for Disney Cruises which is set to open in Fall 2023
Terminal 25 is primarily used by Celebrity's most innovative ships (i.e. Beyond, Edge and Apex).
The other terminals are interchangeable between cruise lines. 
Because Port Everglades is such a busy port, it is important to arrive after 11:30am, and no later than 2 hours prior to your ship's departure time, but it's advised to follow the boarding time given to you in your cruise documents. 
Check out this Port Everglades Map to give you a better idea of where you're going, or if you like to day-dream before you even get to port, check out your upcoming view by checking this out: Port Everglades Web Cam
Transportation to Port Everglades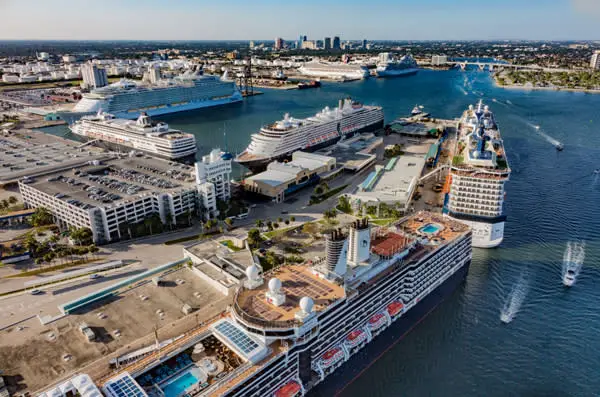 Port Everglades Embarkation Tips:
– If coming from FLL, allow 45 mins – 1 hour to get your luggage, find transportation, traffic to the port and clearing the security checkpoint inside the port entrance
– There are large digital signs at each entrance which will show you at which terminal your ship is docked. Follow the brightly-colored signs to more easily navigate to your terminal and parking garages.
– Check-in typically begins around 11am, but most cruise lines will give you a check-in time. While most people like to get aboard the ship as early as possible, this makes for very, very long lines, especially when boarding a large ship.
– It is recommended that luggage is dropped off at the terminal prior to parking
– Passengers with Special Needs – before you go and stand in the long line with everyone else, ask a uniformed staff person if there is a line for those who are unable to stand for long periods of time or walk long distances. There is usually an expedited line,  and staff with wheelchairs if assistance is needed getting from the terminal to the ship.  On a previous cruise from Fort Lauderdale (2019), we were travelling with a wheelchair, and as soon as we stepped into the cruise terminal, a porter came right over to push the chair, and instead of waiting in a line, an employee came to us with an iPad and checked us in, before the porter wheeled us onto the ship. From shuttle to ship, the whole process took about 10 minutes. 
– Make sure you have all your cruise documents handy, and make sure you are following the most up-to-date health protocols as laid out by your cruise line. 
Cruises From Port Everglades
Port Everglades is the home port for many different ships from different cruise lines, mostly during the Spring, Fall and Winter:
Royal Caribbean
Holland America
Princess Cruises
Celebrity
Silversea
Viking Ocean Cruises
Ritz-Carlton Yacht Collection
See Excursions in Fort Lauderdale
This page contains affiliate links for which we may receive financial compensation when a purchase has been made through one of our affiliate partners.
Cruise Planning at this Port