PortMiami Cruise Terminal Information
Miami is considered the Cruise Capital of the world, with over 4.8 million cruise passengers visiting it's port in one year. Cruises originating from Miami embark from the Port of Miami which is located at 1015 N. America Way, Miami, Florida.
Directions to Port of Miami
Driving from the north, you may take I-95 and exit at 3B Bayside. Keep going south and turn left into Northeast 5th Street, where you will eventually get to the bridge into the Port of Miami.
From the south, take I-95 North and take Northwest 2nd Street exit. Keep going and then turn right toward Northwest 5th Street. From here you will see the Port of Miami Bridge which will take you into the port entrance.
If you are travelling in from the Interstate, look for the signs for the PortMiami tunnel. It's a quick and free way to get directly to the port without having to get off the Interstate and drive in downtown Miami.
Click the helpful links below: 
Getting from Fort Lauderdale to Port of Miami
Touring the area after your cruise? Store your luggage with Luggage Hero. Click here to finding pricing and locations closest to the PortMiami Cruise Terminal.
Port of Miami Cruise Terminals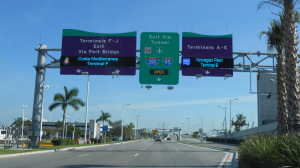 Electronic signs will inform you which ships are docked at Port Miami at which of its many terminals, with easy drop-off locations in front of each terminal, or adjacent parking lots if you choose to drive.
Click for Port of Miami Parking
Royal Caribbean's Terminal A
Cruise Terminal A – the Crown of Miami –  was built specifically for Royal Caribbean in 2018, enabling it to handle Royal's largest ships with the latest technology for an expedited check-in process.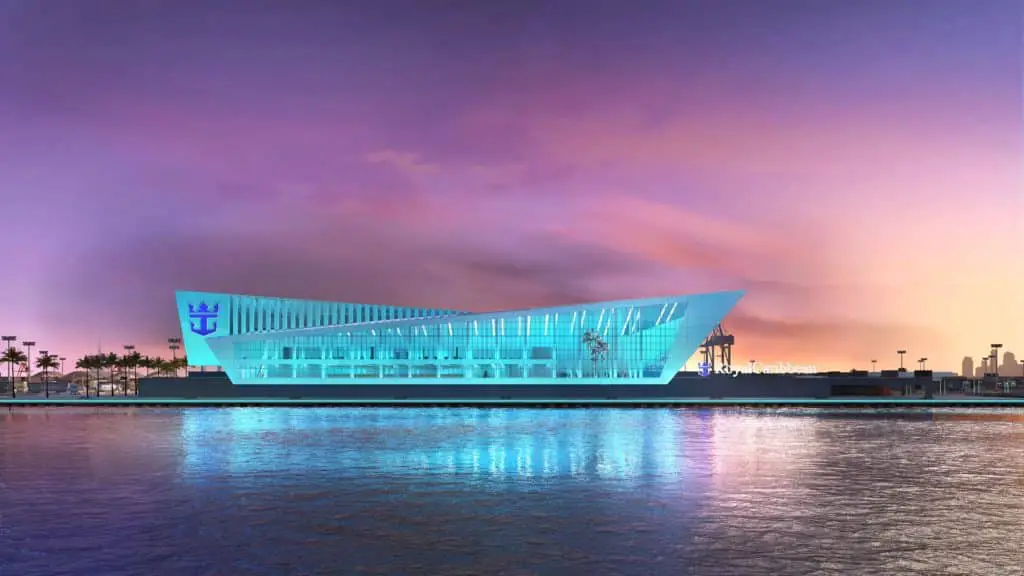 Norwegian's Terminal B
Cruise Terminal B – the Pearl of Miami – was built for Norwegian Cruise Line and opened in 2021 and can accommodate ships carrying as many as 5000 passengers.
Miami Cruise Terminals C, D & E have been built with mega-ships holding up to 5000 passengers. In order to move passengers through the terminal as quickly as possible, the highest-technology in screening is available, as well as a conveyor system, similar to an airport, to retrieve your luggage when you disembark.
Carnival's Terminal F
Carnival's expansion to Miami's Terminal F broke ground in early 2021 in preparation for Carnival's newest ship set to debut in 2022 – the Carnival Celebration.  Here's a video of the proposed terminal renovations:
Terminal G is one of Miami's landmarks with the iconic sails: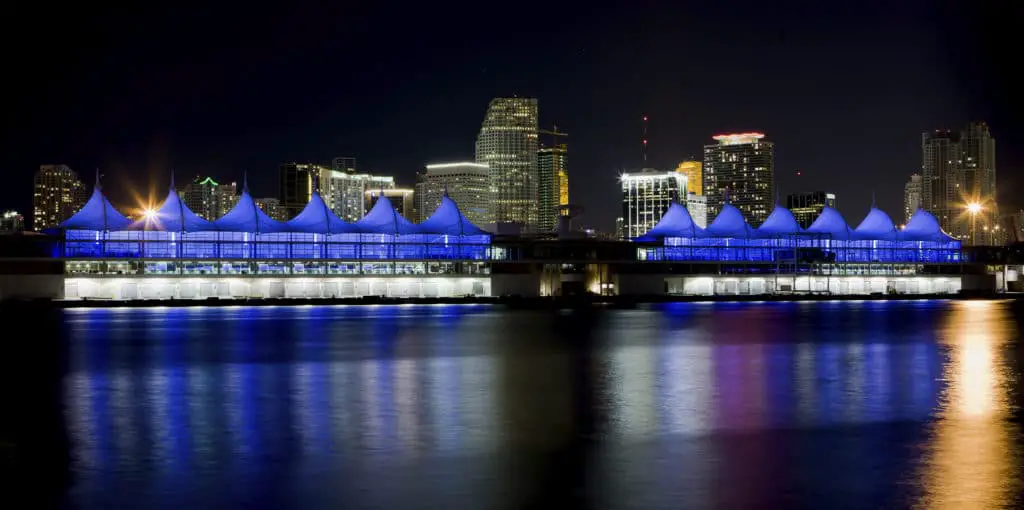 Miami Cruise Terminal J was built with smaller luxury cruise line passengers in mind – Azamara, Regent Seven Seas & Oceania.
Virgin Voyages Terminal V
Opened late 2021 with the arrival of Virgin's Scarlett Lady, this state of the art terminal  – Palm Grove – is located on the north west side of the port (see link to map below).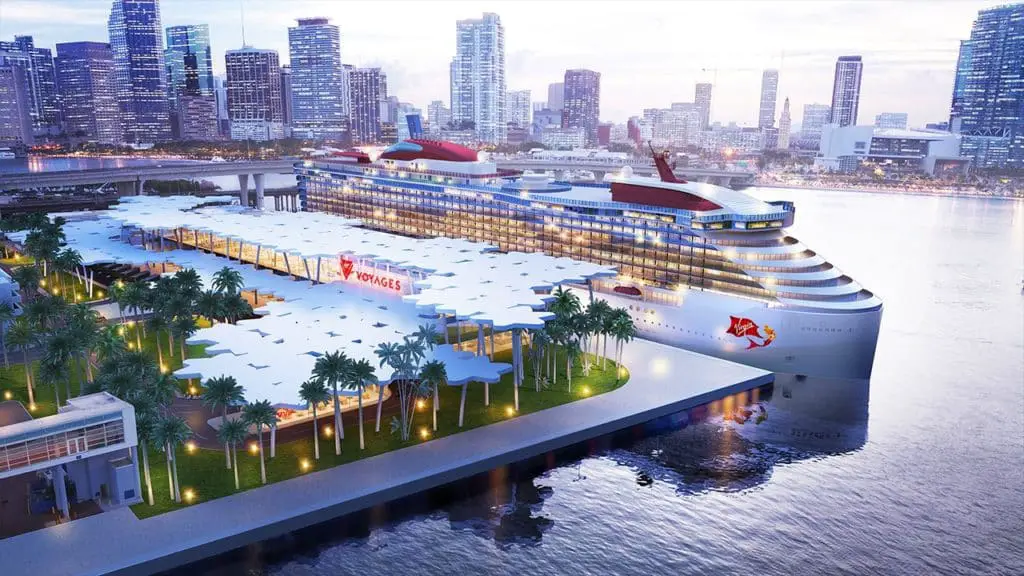 MSC's Terminal AA/AAA
MSC has broken ground on their new cruise terminal slated to open in 2023 and will be able to hold up to three ships at once. Here's a rendering of the new terminal, built in partnership with Fincantieri (who is currently building the MSC Seashore at their shipyard in Italy).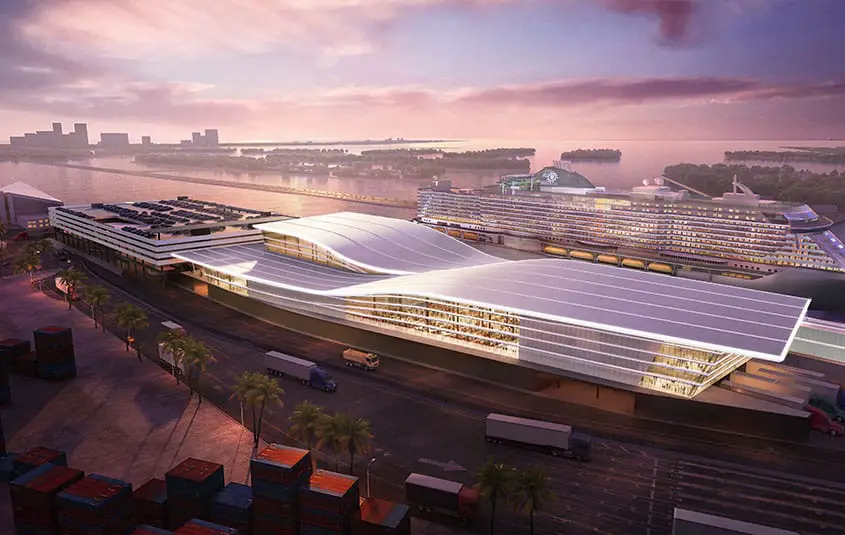 Port of Miami Cruise Lines & Ships
The following cruise lines have ships that depart from Miami, mainly during the Spring, Fall and Winter months:
Azamara 
Norwegian 
Carnival 
Oceania 
Celebrity 
Royal Caribbean
MSC 
Viking 
Disney
Regent Seven Seas
Virgin Voyages
Miami Weather
Miami enjoys warm weather all year 'round, with highs reaching into the 70s and 80s. Hats and sunblock are highly recommended even during cloudy days. The humidity can be a bit stifling during the summer months, particularly for those accustomed to dry heat. June is the rainiest month of the year.
Cruise passengers traveling to Miami should be aware that the city–as is the entire state of Florida–is located in the hurricane belt. Because storms and hurricanes are common during the months between early June and the end of November, it is advisable to purchase travel insurance when traveling to and from the area during this period.
This page contains affiliate links for which we may receive financial compensation when a purchase has been made through one of our affiliate partners.
Cruise Planning at this Port