PortMiami Cruise Terminal Information
Last updated on September 26th, 2018 at 07:14 pm
Miami is considered the Cruise Capital of the world, with over 4.8 million cruise passengers visiting it's port in one year. Cruises originating from Miami embark from the Port of Miami which is located at 1015 N. America Way, Miami, Florida.
Directions to Port of Miami
Driving from the north, you may take I-95 and exit at 3B Bayside. Keep going south and turn left into Northeast 5th Street, where you will eventually get to thebridge into the Port of Miami.
From the south, take I-95 North and take Northwest 2nd Street exit. Keep going and then turn right toward Northwest 5th Street. From here you will see the Port of Miami Bridge which will take you into the port entrance.
PortMiami Tunnel – if you are travelling in from the Interstate, look for the signs for the new PortMiami tunnel. It's a quick and free way to get directly to the port without having to get off the Interstate and drive in downtown Miami.
Click the helpful links below: 
Getting from Fort Lauderdale to Port of Miami
Port of Miami Cruise Terminals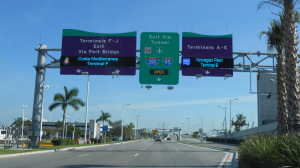 Electronic signs will inform you which ships are docked at Port Miami at which of its seven terminals, with easy drop-off locations in front of each terminal, or adjacent parking lots if you choose to drive.
Click for Port of Miami Parking
Cruise Terminal A was built specifically for Royal Caribbean and is scheduled to open in late 2018 and has an adjacent parking garage with 1000 parking spaces. 
Miami Cruise Terminals D & E have been built with mega-ships holding up to 5000 passengers.In order to move passengers through the terminal as quickly as possible, the highest-technology in screening is available, as well as a conveyor system, similar to an airport, to retrieve your luggage when you disembark.
Miami Cruise Terminal J was built with luxury cruise line passengers in mind – Azamara, Crystal, Regent Seven Seas & Oceania – and is currently undergoing e a $3 million face lift, so these services have been temporarily moved to Cruise Terminal B.
Port of Miami Cruise Lines & Ships
The following cruise lines and ships depart from Miami, mainly during the Spring, Fall and Winter months:
Azamara – Journey, Quest
Norwegian – Bliss, Escape, Getaway, Jade, Sky, Star, Sun
Carnival – Glory, Magic, Sensation, Splendor, Victory, Vista, Horizon (NEW! Sept. 2018)
Oceania – Insignia, Riviera, Regatta, Sirena, Marina,
Celebrity – Eclipse, Equinox
Royal Caribbean –  Enchantment, Adventure, Navigator, Empress, Allure, Mariner 
MSC – Divina, Seaside
Viking – Sky, Sun
Disney – Magic
Regent Seven Seas – Navigator, Mariner, Explorer
Miami Weather
Miami enjoys warm weather all year 'round, with highs reaching into the 70s and 80s. Hats and sunblock are highly recommended even during cloudy days. The humidity can be a bit stifling during the summer months, particularly for those accustomed to dry heat. June is the rainiest month of the year.
Cruise passengers traveling to Miami should be aware that the city–as is the entire state of Florida–is located in the hurricane belt. Because storms and hurricanes are common during the months between early June and the end of November, it is advisable to purchase travel insurance when traveling to and from the area during this period.
This page contains affiliate links for which we may receive financial compensation when a purchase has been made through one of our affiliate partners.
Cruise Planning at this Port