Is bigger always better? This is a question one must ask themselves when it comes to cruise ships. We're going to take a look at the biggest cruise ships in the world in this article and let you decide. We think these ships are spectacular because of their vast amenities like skating rinks, waterslides, rock climbing walls and so much more.
Here's our list of the biggest cruise ships in the world.
Royal Caribbean: Wonder of the Seas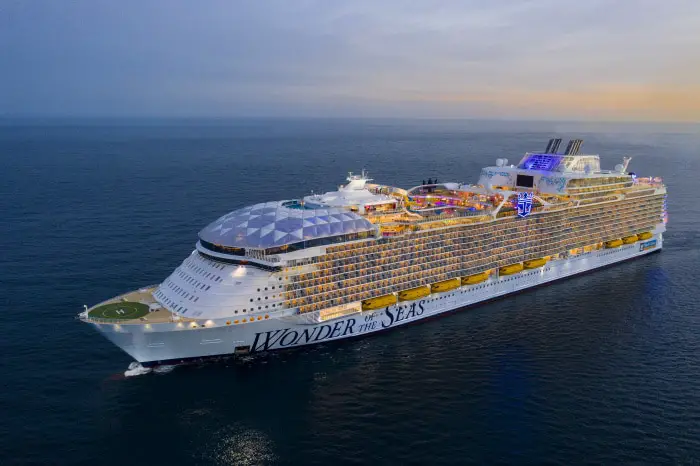 Good things come to those that wait, and the wait is over for the world's largest cruise ship, Royal Caribbean's Wonder of the Seas. Making its debut on March 4th, 2022,  the Wonder of the Seas is a staggering 1,188 feet long, and can house a small city of 6,988 passengers. This is the second time in four years that Royal Caribbean has added to their award-winning Oasis Class (the first was Symphony of the Seas) with the world's largest cruise ship.

The Oasis Class ships are designed with a "neighborhood" concept and the Wonder of the Seas has eight different neighborhoods, one more than the Symphony, that are themed to suit different traveler interests.
Wonder of the Seas also features Central Park, a tranquil public space that is a combination of nature and nautical. Go here to relax, shop, dine or just take a stroll.
The Suite Neighborhood is a first for Royal Caribbean, and is available only on Wonders of the Seas.  It is a private enclave located midship and wraps around the ship's funnel uptakes. It offers suite passengers exclusive amenities, like their own private sun deck, lavish loungers and the Suite Neighborhood has its own dedicated plunge pool and bar.
You will never run out of things to do on Wonder of the Seas. It is much more likely that you will run out of time first. There is mini golf, laser tag, a casino, two rock climbing walls, a theater, sports court, Karaoke lounge, a zip line and spa and fitness center.  There are four pools and 10 hot tubs, or you can try surfing at the Flow Rider surf simulator.
Splashaway Bay caters to the munchkins with a splash pad, aqua park area with water sprays, slides and dump buckets. Wonder Playscape is an underwater themed playground with climbing walls, nets, games, puzzles, slides and all sorts of nooks and crannies.
Three waterslides on board are called the Perfect Storm, with two of them being racing slides and one that ends up with guests sliding around a "champagne" bowl to the bottom.
There are 10 restaurant options, besides room service which is available 24/7. For an extra fee, there are 11 other restaurants, including The Mason Jar, the new Southern Restaurant and Bar. You can visit one of the 12 bars and lounges on board, and don't forget the ever favorite Starbucks. Try out The Vue, a new bar on Wonder of the Seas, which offers picturesque views of the ocean both day and night.
If that were not enough to boggle your mind, you can be hundreds of miles out on the ocean and still be able to ice skate. Just visit Studio B and take your turn on the rink. If you are not yet on overload, you could take in one of the four new shows that will debut on Wonder of the Seas, including the Aqua Theater's first all-female cast that performs high dives from 55 feet, tumbling, acrobatic feats and much more.
Click here for more information on Royal Caribbean's Wonder of the Seas.
An F.Y.I: 
If you have an interior cabin, you won't miss out on a view. Royal Caribbean has installed virtual balconies in certain cabins on select ships that transmit real-time images from outside the ship. An 80-inch high-definition screen is installed in interior staterooms and spans almost from floor to ceiling. Guests can enjoy real-time views of the ocean, and these views will be as true to life as possible. For example, if you are in port, your view may be obstructed by a building that is outside because the images reflect where your cabin is located on the ship and what that real view would be. This feature can be turned on or off.
Note: While virtual balconies are not available on RC's Wonder of the Seas, it is available on Symphony of the Seas and other RC ships.
Carnival: Mardi Gras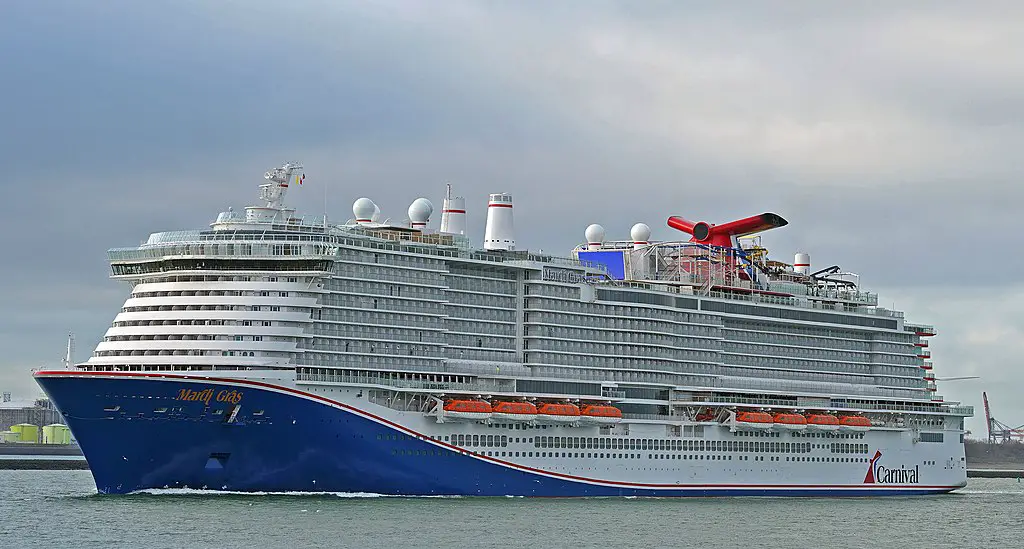 kees torn, CC BY-SA 2.0, via Wikimedia Commons
With a length of 1,130 feet and the ability to hold up to 5,282 passengers, the Mardi Gras operated by Carnival Lines has six themed areas onboard that feature dining, entertainment and attraction experiences.
One of those attractions was recognized by Popular Science magazine as being one of The top 100 new technologies of 2021. The first roller coaster at sea is on board Carnival's flagship Mardi Gras. The BOLT is both fun and a feat of modern engineering. While there is no guarantee of level ground at sea, this creative coaster uses electricity to power the motorcycle-esque cars. One of the nice things about this coaster is that the rider controls the speed (up to 40 mph). Other than a plane, the BOLT is one of the most exciting ways to travel 187 feet above sea level!
The 600-foot long ropes course located in the Ultimate Playground takes the zip line to a new level. You will travel out over the ocean in this adrenaline rush of an experience.
The massive onboard waterpark is the largest in Carnival's entire fleet. There are three water slides, including the 312-foot Blue Lightning. If at any time you feel the need to cool off, try the 150 gallon PowerDrencher tipping bucket; it will do the trick!
You won't find a shortage of pools aboard the Mardi Gras, there are four different outdoor pools and 5 whirlpools. The sports court with basketball (if you lose a ball off court, you are NOT going to retrieve it!) and jogging track will help you keep on top of your fitness regime. If you prefer something a bit more sedate, try out the mini golf course.
The cuisine on the Mardi Gras is lacking in nothing, The Brass Magnolia, Guy's Pig & Anchor Smokehouse/Brewhouse, Palm Restaurant, Big Chicken, Lido Marketplace and Pizzeria Del Capitano are some of those included in your cruise.
For an additional fee, dine at Emeril's Bistro 1396 or the Fahrenheit 555 Steakhouse. There is no shortage of seafood, either. Don't forget to try the Bonsai Sushi or Seafood Shack. Best of all, Mardi Gras has a free 24-hour ice cream machine in the Family Harbor Lounge!
Feeling lucky? Give your luck a whirl in the onboard casino, which is huge, so you won't run out of options. Then head to the Grand Central Atrium, where you will find bars, shops and aerial performances.
Take a look at what awaits you on Carnival Mardi Gras:
Visit here for more information about Carnival Cruises.
Norwegian: Encore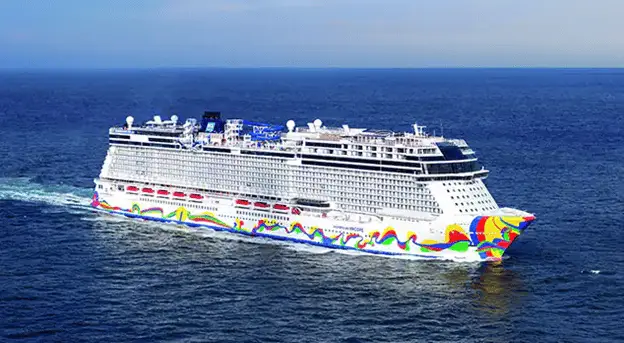 Norwegian Cruise Line's Encore has an overall length of 1,094 feet and can welcome almost 4000 guests.
Encore serves a wide variety of culinary tastes, and is sure to have offerings for every palate at one of the more than 20 eateries on ship. There are three main dining rooms (one with a 24 hour soft serve ice cream stand!) with buffets, cafes, grills and on-the-go choices. You will have options 24 hours while on board, along with room service.
You won't have to miss your fix of Starbucks, or you can choose from more than 50 different bottled and 22 draft beers at The District Brew House.
You can take in some entertainment, too. Winner of six Tony Awards, Kinky Boots (music and lyrics by Cyndi Lauper) will have you clapping and singing along. Choir Of Man is all high energy with dancing and hit songs. The Social Comedy and Night Club has two talented comedians that will leave you laughing before you dance the night away as a DJ spins your favorite tracks. Last but not least, go back in time to the Cavern Club and enjoy an evening of great music with a Beatles cover band.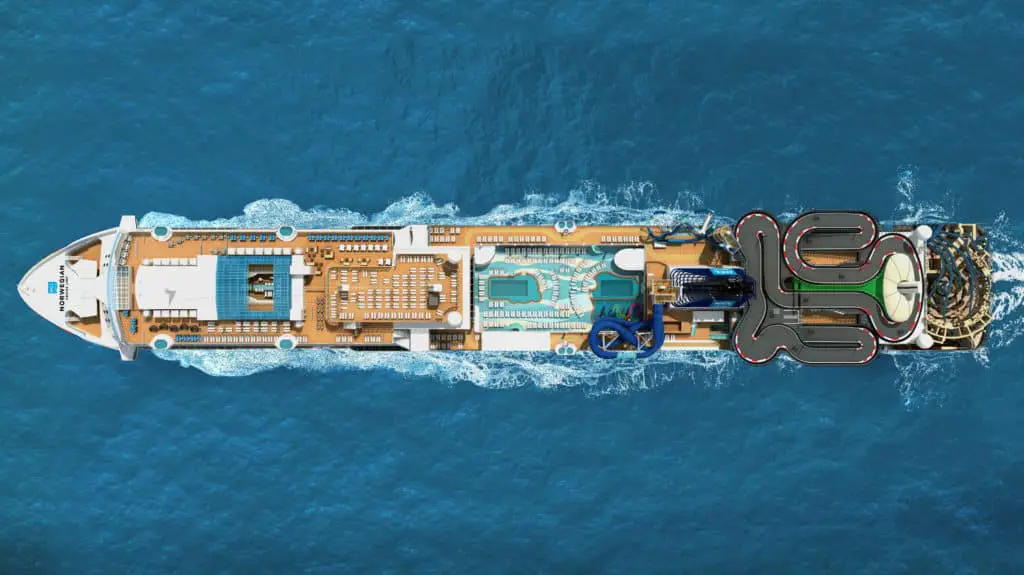 Encore has an Aqua Park with two multi-story slides. The Aqua Racer is a tandem waterslide where you can race against your fellow park goer. The Ocean Loops is an extreme ocean water slide that moves you in a loop twice over the ocean and will take you around hairpin turns on the largest race track at sea. Not for the faint of heart!
It boggles the mind but the Encore also has the largest race track at sea. The Encore speedway offers over 1100 feet of go-kart action. High-speed curves are suspended 13 feet off the side of the ship. While you may have all the skills necessary to win, the revolutionary interactivity of the speedway allows guests to boost their favorite racer past the finish.
Not to be outdone, the Galaxy Pavilion takes you from the outside to inside a virtual reality world that has immersive VR experiences and thrilling simulator rides. Or, if you are one of the clever ones, you can solve the puzzle of an escape room that features holograms and enchanted artifacts.
The kiddos will not be lacking for things to do, either. They have their own Aqua Park with a tube slide and tipping buckets or water cannons. Teens will have Entourage to visit. A retreat all their own with movies, music, video games and dance parties. This is a place where parents are not allowed so teens can hang out with people their own age.
If you don't want to leave your fitness routine behind, visit Encore's state-of=the-art fitness center. Take a RYDE cycling class or attend a Pilates session. Yoga and guided meditation classes are also available. A spa and heat therapy in the Thermal Suite are sure to have you feeling your best while you are onboard.
Check out what awaits you aboard the Norwegian Encore:
Visit here for more information about Norwegian Cruise Line.
MSC: Grandiosa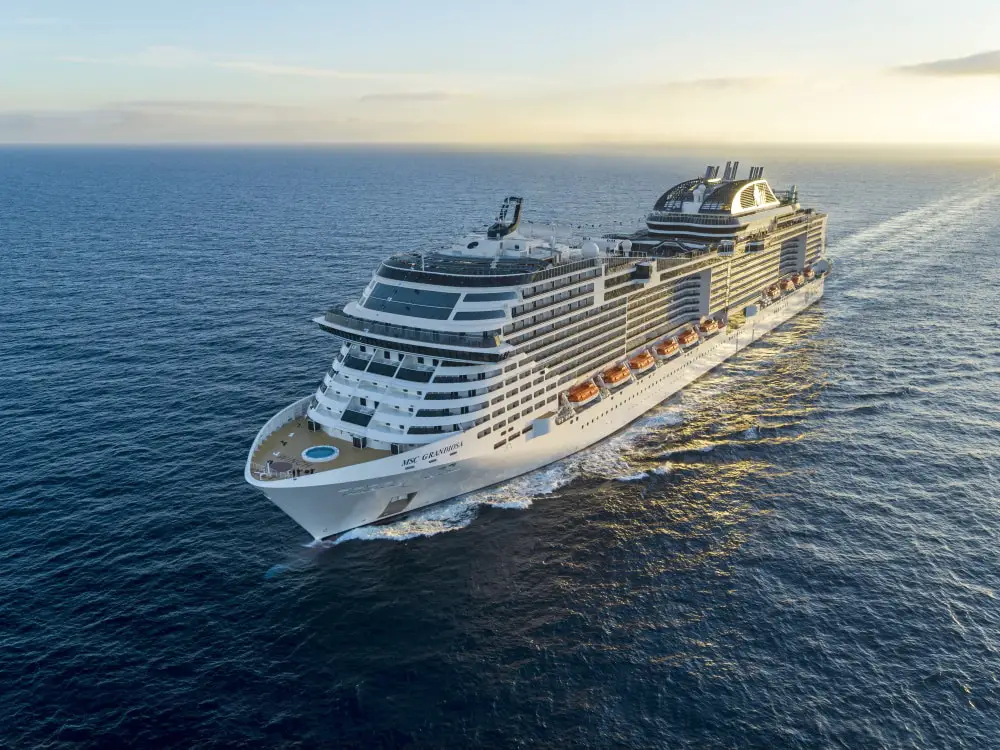 One thing the MSC Cruise line has in spades is experience at sea. As a family-owned company, they have a global seafaring heritage that dates back to 1675. Today, almost 350 years later, this knowledge and experience is evident in the MSC Grandiosa. At 1,087 feet long, this ship can carry 6,300 passengers in style. And talk about style, the MSC Grandiosa was christened in Hamburg in November 2019 by Sophia Loren!
The Grandiosa has one of the largest shopping areas on a cruise ship, and profits from items sold in the MSC Foundation shop go towards their marine protection program.
With 10 restaurants, you will have your choice of dining venues that serve fresh food, such as a sushi bar, teppanyaki restaurant, steak house tapas bar and several other bars and lounges.
The 21 bars and snack areas on the ship include some with live music and another has an exhibition of 26 original works by French Impressionist Edgar Degas. Incredibly, you will be able to have a first of its kind experience of fine art at sea.
The Grandiosa also has another one of a kind experience with its indoor promenade that is covered with a 305 foot long "digital sky"; the largest anywhere at sea. Images are projected on the ceiling 24 hours a day.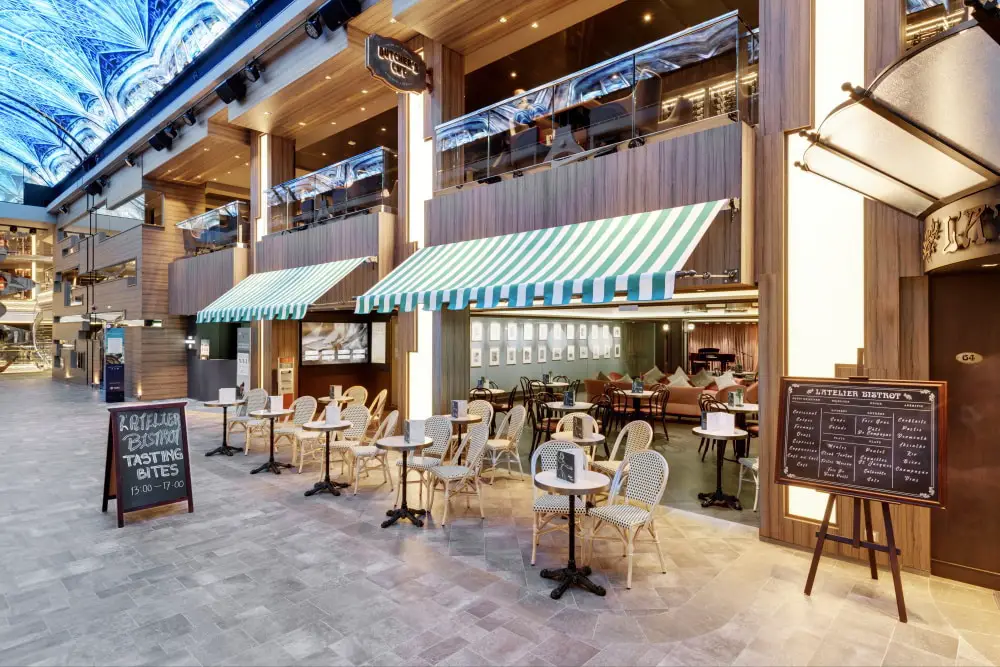 Making your journey easier, Zoe, is a voice-enabled assistant that is in every cabin. And to make your ride to any deck level quicker, elevators are operated with an exterior screen. Once you select a floor, you will be able to see immediately which elevator will arrive first.
Not only can you pamper yourself in a spa, you can try the latest in gaming technology with the 164 slot machines or play at the live gaming tables.
Everything on the MSC Grandiosa is big, including a 4D cinema and full-size bowling alley. The Polar Aquapark is one of the most intricate and exciting water parks at sea, with three twisting slides, a "Himalayan Bridge" and a variety of pools.
MSC has become the Official Cruise Partner of Formula 1. Their cruises will collaborate with Formula 1 to bring their ships bort-side during select Grand Prix weekends. Grandiosa has a Formula 1 simulator on board for you to see what it would be like to be a driver. The steering wheel and dash electronics operate as their real-world counterparts would.
MSC has come a long way in the journey that began hundreds of years ago, as they now sail to more than 100 countries around the world and host guests from over 185 nationalities.
Take a look at what awaits you aboard the MSC Grandiosa:
Visit here for more information about MSC Cruises.
Costa: Toscana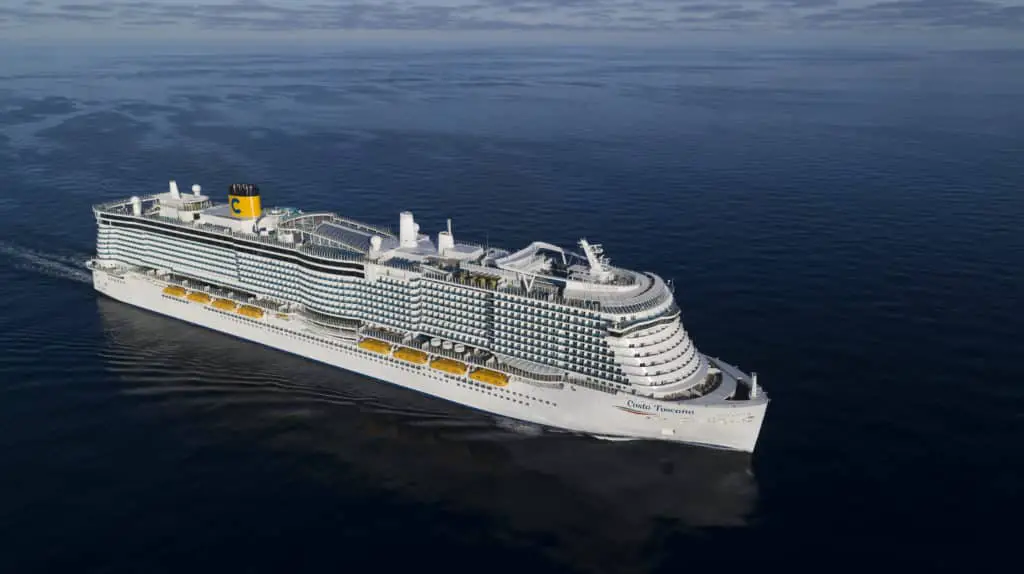 Built in 2021, the Costa Toscana is Costa's flagship. At 1,106 feet long it can carry up to 6,338 passengers.
This ship is the third ship of the Costa Group that is powered by liquefied natural gas (LNG). LNG is an excellent alternative to reduce greenhouse gas emissions.
Costa Toscana has been designed to be a traveling "smart city" where sustainable solutions are applied to reduce environmental impacts, while at the same time bringing an unparalleled cruising experience to its passengers.
All the furnishings, lighting, fabrics and accessories have been made in Italy. Besides the Solemio Spa, the ship has areas dedicated to entertainment with themed bars and 11 restaurants.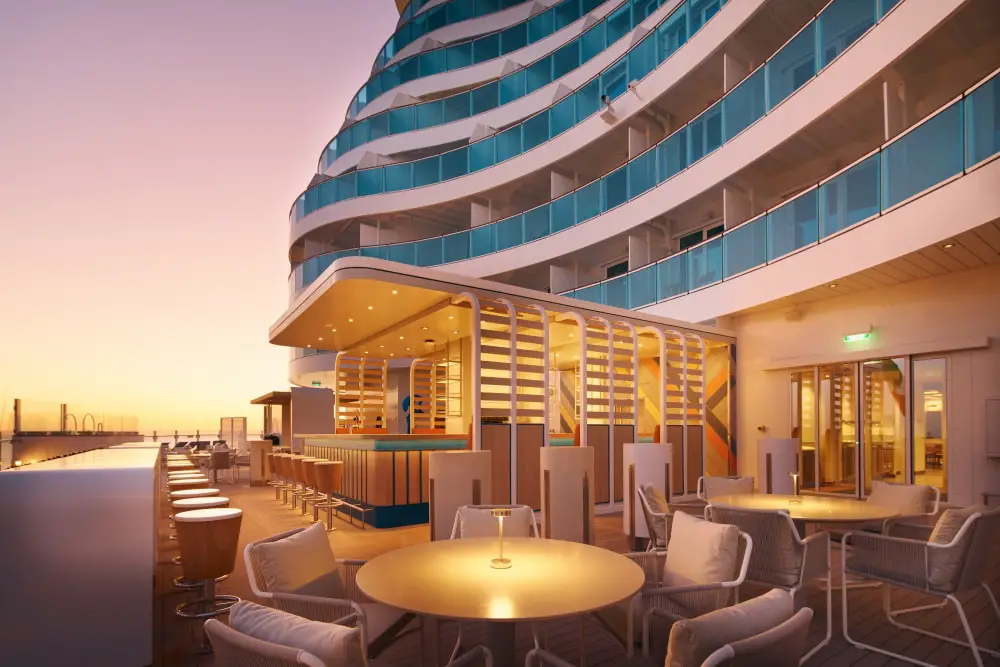 Specific restaurants are dedicated to families with children and in the LAB restaurant you can try your cooking skills under the guidance of Costa's chefs.
Colosseo, a space in the center of the ship, spreads over three decks and is dedicated to the best shows. Huge LED screens on the walls and on the dome will tell a different story in each port of call.
An open-air balcony on the top deck features a crystal floor that lets you experience the thrill of "flying over the sea. One of the four swimming pools is indoors with a beach club and that pool contains salt water rather than fresh water.
There is also a vibrant waterpark with an amazing waterslide that will be a favorite for all ages.
You can dance the night away at the Disco or win big at the casino. Although your cruise will be stress-free, you may still want to visit the relaxation room, Turkish bath or get a massage.
Check out the Costa Toscana during its maiden voyage:
Visit here for more information about Costa Cruises.
AIDA: Cosma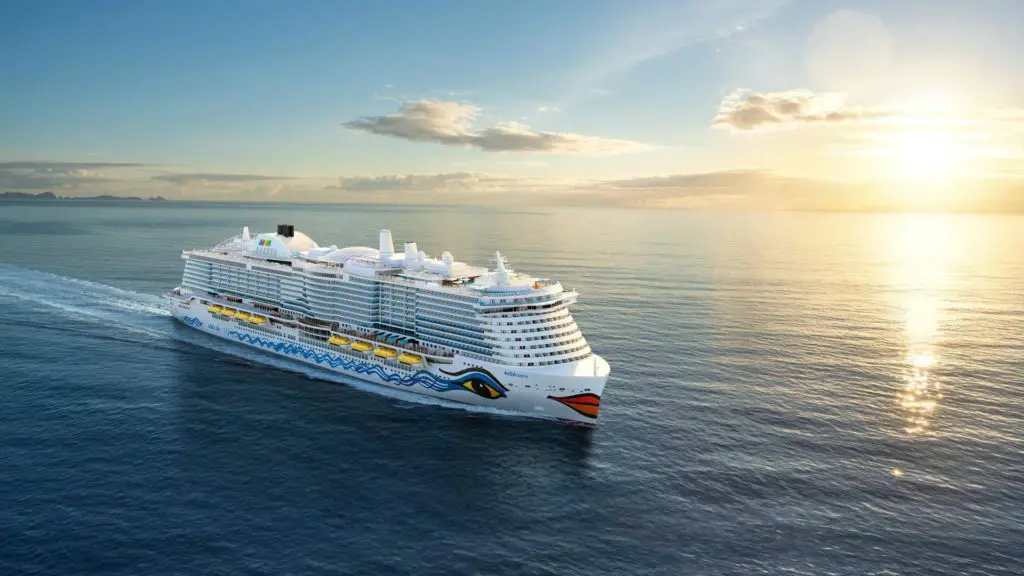 AIDA is Europe's largest German cruise line and the AIDAcosma, built in 2019,  is an impressive 1,105 feet long with the ability to carry 5,200 passengers. It is also the second liquified natural gas (LNG) powered ship in their fleet.
You will feel that you have been transported to the future when you interact with the Pepper robots that dot areas of the ship. This latest cyborg technology is a "humanoid" robot that greets and guides passengers through embarkation. The Pepper robots will also assist passengers throughout the cruise by providing information and tips about onboard dining, entertainment, workshops, casino, shopping, shore excursions and tours.
These helpful robots are mobile and communicate in English, German and Italian. A little on the eerie side, Pepper can interpret human emotion by analyzing voice tones and facial expressions, but it doesn't seem like their goal is to overthrow humanity. At least not yet:  Pepper the Robot – onboard Costa Cruises
While at sea, Pepper can direct you to the rock-climbing wall on the outdoor Sport Deck or the running track. To cool off, the large pool that extends across the width of the ship.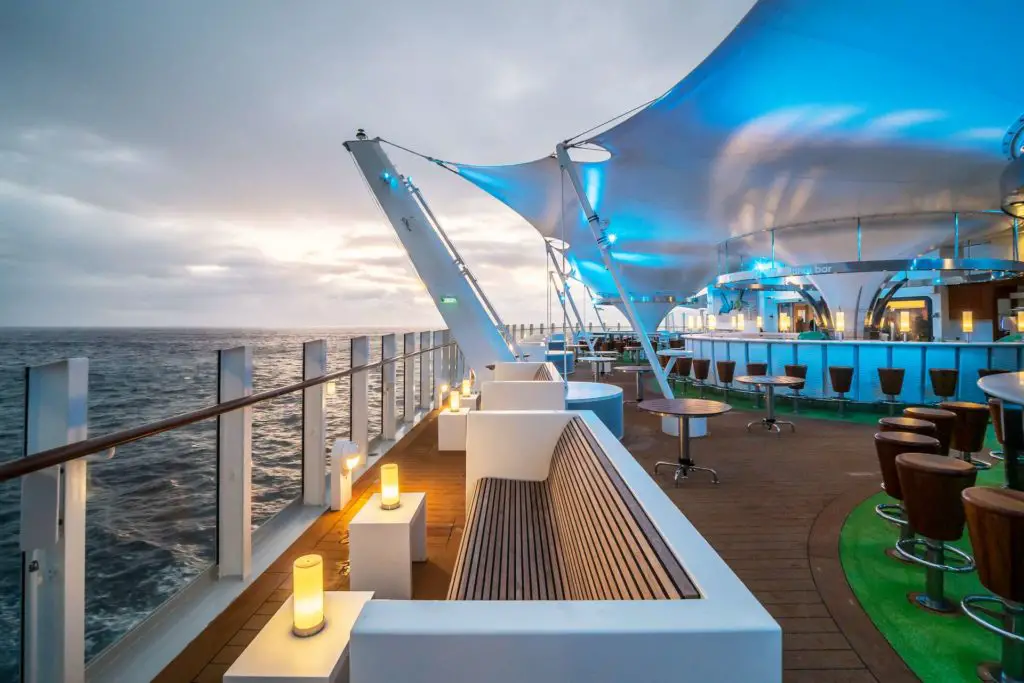 Take the kiddos to the Fun Park at the stern with a children's pool, a twin water chute and water slide. Most impressive and relaxing is the infinity pool or the sea-view sauna.
With 17 restaurants and 23 bars, you won't be short on options for delicious food. The new Beach House restaurant will serve summery, light dishes. Shops, a disco, gym area, the Theatrium and the lavish Body & Soul Organic Spa will make your time onboard fly by.
Take a look at what awaits you onboard the AIDAcosma:
Click here for more information about AIDA cruises.
P&O: Iona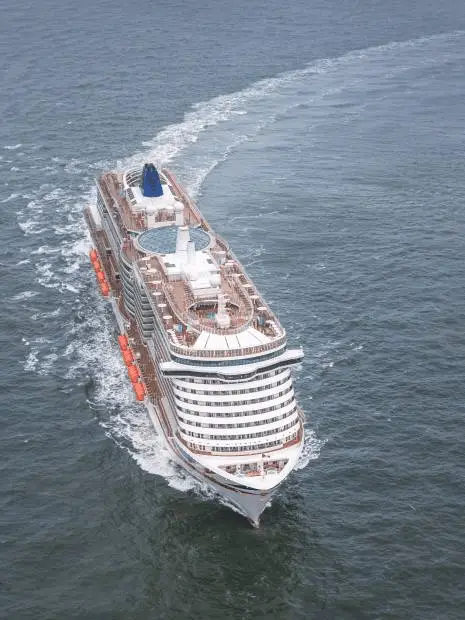 At 1,128 feet, P&Os Iona can hold 5,200 passengers on this luxury ship. Designed to invite the outdoors inside, the Iona has a stunning SkyDome, three-tier glass Grand Atrium and Conservatory mini-suite cabins.
One of the features that guests appreciate is that the artwork on the ship will tell you where you are at. Blue artwork indicated that you were at the forward, grey midship and red at the aft.
An Excel class ship, the Iona features an on-board craft gin distillery. Across the ship there are 30 different dining venues to choose from no matter the time of day.
Enjoy a rousing game of table tennis, football or basketball before hitting the spa.
With a focal point for rejuvenation, the Oasis Spa and Salon will allow you to de-stress in the hydrotherapy suite, or get a relaxing massage.
The movie theater has four screens to choose from and the acrobatic show is one of the favorites that regularly is at full capacity. Live music and dancing is a fun part of every night, or try the karaoke.
There are four pools, including an infinity pool, infinity whirlpool spas and a dozen regular whirlpools. A sauna, steam room and fully equipped gym along with fitness and dance classes give you plenty to do.
Once you have shopped, dined, swum and exercised, take a trip to the onboard library, grab a book and relax on deck.
Take a look at Cruise with Ben & David's tour of the Iona:
Click here for more information on P&O Cruises.
Cruising Fun Facts:
On average, a commercial cruise ship covers about 84,007 miles each year, the equivalent of traveling around the world three and a half times.
If you love cruises and never want them to end, that is a real possibility. The World Residences at Sea gives you the opportunity to live on the largest private residential ship on earth. There are just 165 residences on board, so you may need to act fast.
Miami is the "cruising capital of the world" as more cruises depart from Florida than any other state. About 2,500 vessels arrive and service about 4.5 million passengers each year.
While cruise ships rarely use their anchors, they still have them. One cruise ship anchor can weigh up to 20,500 lbs, which is about the same weight as four adult elephants!
Most cruise cabin walls are made of metal, so before traveling, get some heavy-duty magnetic hooks and clips. Use them for hanging up light clothes or hats and free up storage space in your cabin.
A ship that has 3,500 passengers will use about 600 pounds of butter per day, 250,000 eggs per week and 170,000 pounds of fresh fruit and vegetables per cruise. They bake bread every day and the chefs are professionally trained.
This page contains affiliate links for which we may receive financial compensation when a purchase has been made through one of our affiliate partners.
About
Joy is the Co-Founder & Content Manager/Expert for CruisePortAdvisor.com and one of the founders of the site. She loves to travel, sing & bake.