Cruises have long been a popular vacation option for families looking to relax and explore new destinations. One of the newest trends in cruising are ships that cater specifically to adults looking for a more sophisticated and adult-oriented experience. 
One such cruise line is Virgin Voyages, which offers cruises for adults only on its sleek and modern ships. The cruise line's ships are designed for adults only, those 18 and above, with no children allowed on board. 
This means that guests can enjoy a more relaxed and sophisticated environment, free from the noise and chaos that can sometimes accompany cruising with children.
Virgin Voyages is a Relatively New Cruise Line
Virgin Voyages is a relatively new cruise line, having launched in 2020, but it has already made a name for itself with its unique approach to cruising. The company was founded by Sir Richard Branson, the founder of the Virgin Group, and it reflects his bold and innovative spirit.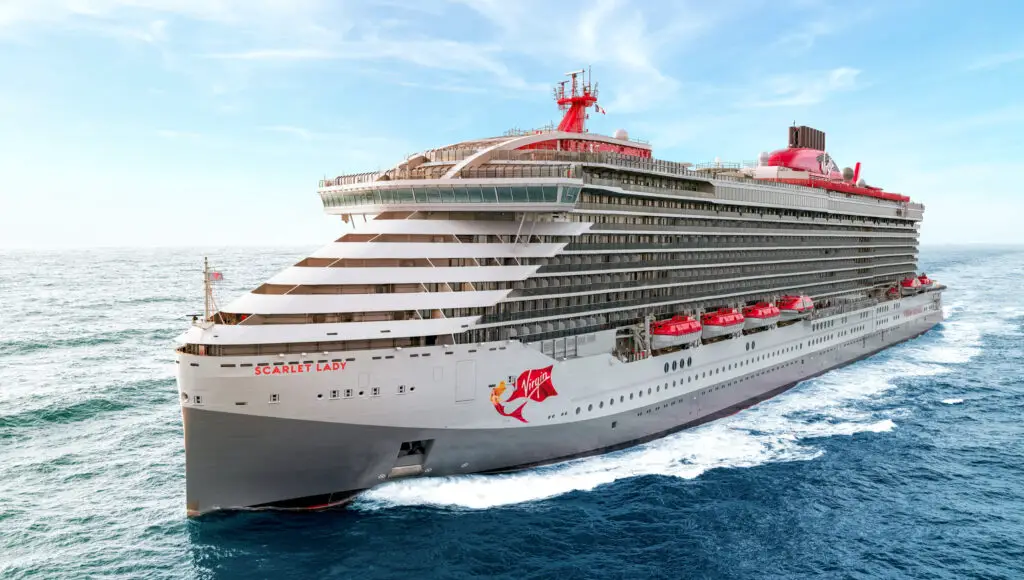 As of this writing (Jan 2023), Virgin Voyages has four ships in the fleet and all of them are ladies: Scarlet Lady, Valiant Lady, Brilliant Lady and Resilient Lady. All four ships are designed with adults in mind and feature a wide range of amenities and activities that cater to this demographic. 
Scarlet Lady and sister ships Valiant Lady and Resilient Lady are in full operation. Brilliant Lady will join the fleet later in 2023. In February of 2022, Virgin Voyages had the grand opening of Terminal V at PortMiami, Florida, from which its fleet will set sail.  
Lots Of Entertainment Options
The ships have multiple bars and lounges, including a rooftop lounge with panoramic views, as well as a variety of dining options. There are also spa and fitness centers, which offer a more tranquil and relaxing experience.
One of the standout features of Virgin Voyages' ships is the variety of entertainment options on offer. The ships feature multiple performance venues, including a theater, a comedy club, and a live music venue.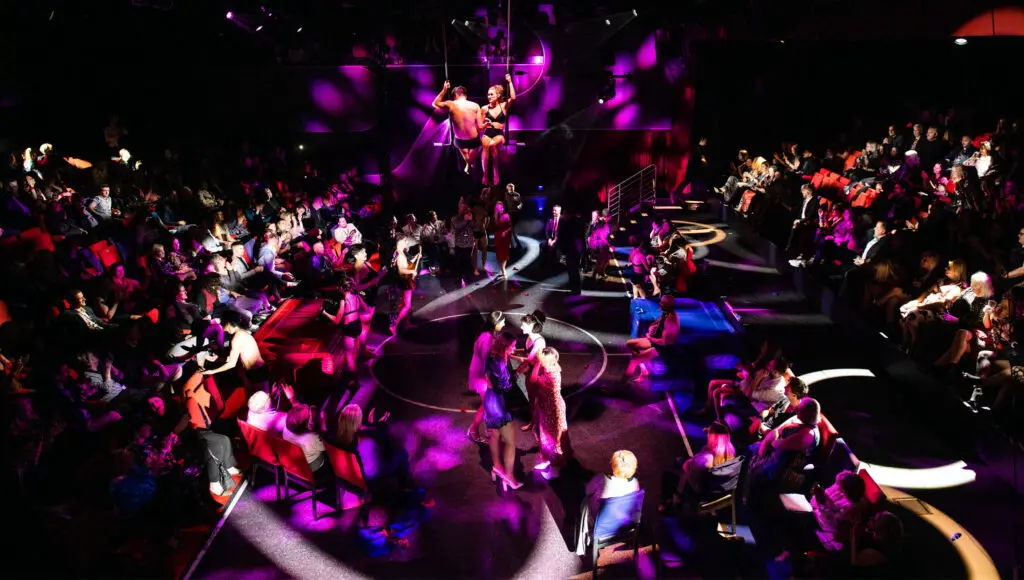 The cruise line also partners with well-known brands, such as the New York-based comedy club The Comedy Cellar and the Miami-based night club LIV, to offer a range of shows and performances.
Adult-Geared Shore Excursions
In addition to the onboard amenities, Virgin Voyages also offers a range of shore excursions that are designed with adults in mind. These excursions include activities such as wine tastings, cooking classes, and art tours. 
The cruise line's itineraries are designed to take guests to off-the-beaten-path destinations and provide them with a deeper understanding of the places they visit. For example, in addition to visiting popular tourist destinations, the cruise line also offers opportunities to explore lesser-known destinations and meet local people. Bimini, Bahamas, for example is a semi-private area that Virgin Voyages travels to and offers an exquisite adults-only beach day. 
The cruise line also works with local partners to offer unique and exclusive experiences, such as a private concert in a historic palace or a VIP tour of a famous art museum.
Sustainability and Options For Exercise
One of the unique things of Virgin Voyages is their focus on sustainability. The company has a number of initiatives in place to minimize its environmental impact, such as using advanced wastewater treatment systems and sourcing food and supplies locally.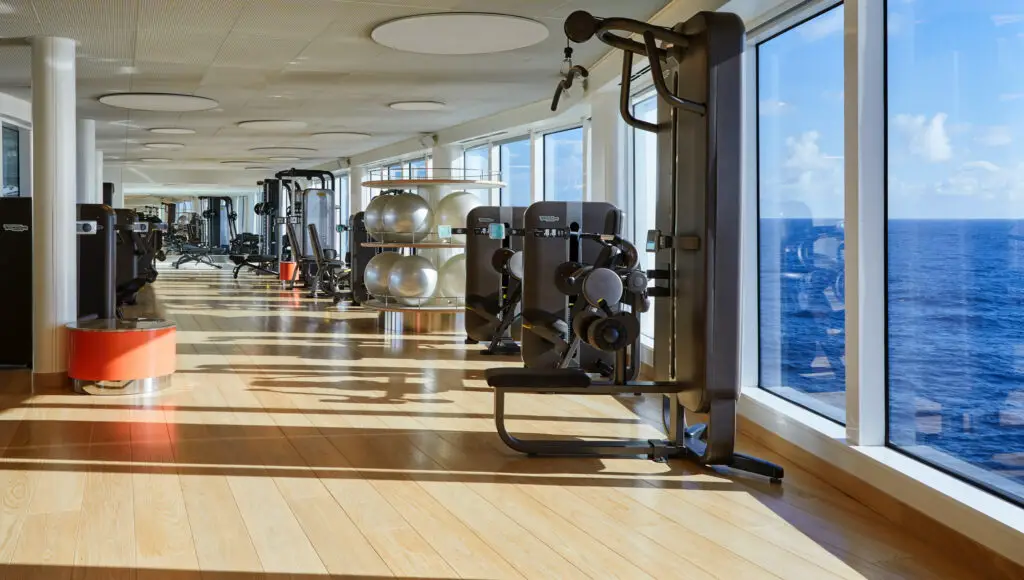 They also offer a "Sailor for the Sea" program, which encourages guests to adopt sustainable practices during their cruise. There are many options for exercising onboard, including a running track and a huge exercise facility as well as small exercise "stations" all over the ship.
Speak The Virgin Language
Part of the immersive experience is the terminology used on board. Passengers are "sailors", balconies are "sea terraces", the cruise is a "voyage" and travel agents are "first mates." 
There are also multiple restaurants rather than one large dining hall as on most other cruise ships. The atmosphere is more relaxed on the Lady ships, and there is no requirement to dress up for dinner.
Even the crew members on all Virgin Voyages are not in traditional dress. Most wear very casual uniforms which consist of Virgin Voyages t-shirts, jeans and trainers.
Virgin Voyages' Scarlet Lady
For examples of Virgin's bid to create a more adult experience, we are going to use Scarlet Lady as a representation of what you might expect on one of their adult cruises. 
Scarlet Lady was the first ship built for Virgin Voyages. Her 1,400 cabins can accommodate more than 2,700 passengers and has a crew of 1,160. Scarlet began her voyages in October of 2021.
There is a tattoo parlor on Scarlet that is very popular with sailors, to use Virgin's terminology. You could certainly get a lasting memento of your voyage there. 
Although Scarlet Lady has a pool, some sailors were not at all impressed with the size of the only pool. The outer perimeter of the pool was wading depth, and the pool itself was less than half the entire dimension of the pool area.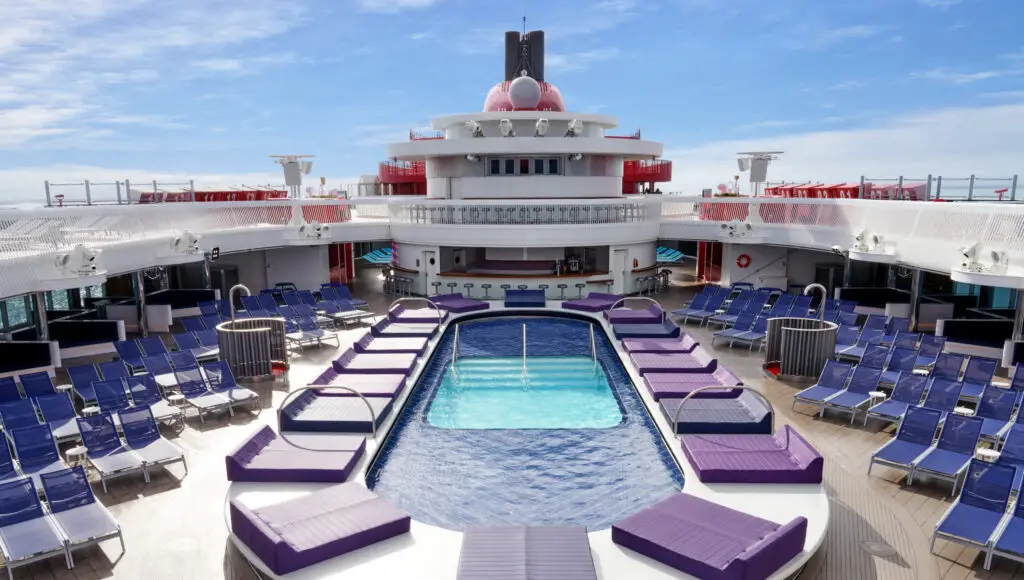 There is a circular well-being pool that is supposed to be more like a hot tub experience, but sailors found that it was used more like a pool because of the small size of the other swimming pool. 
Cabin Features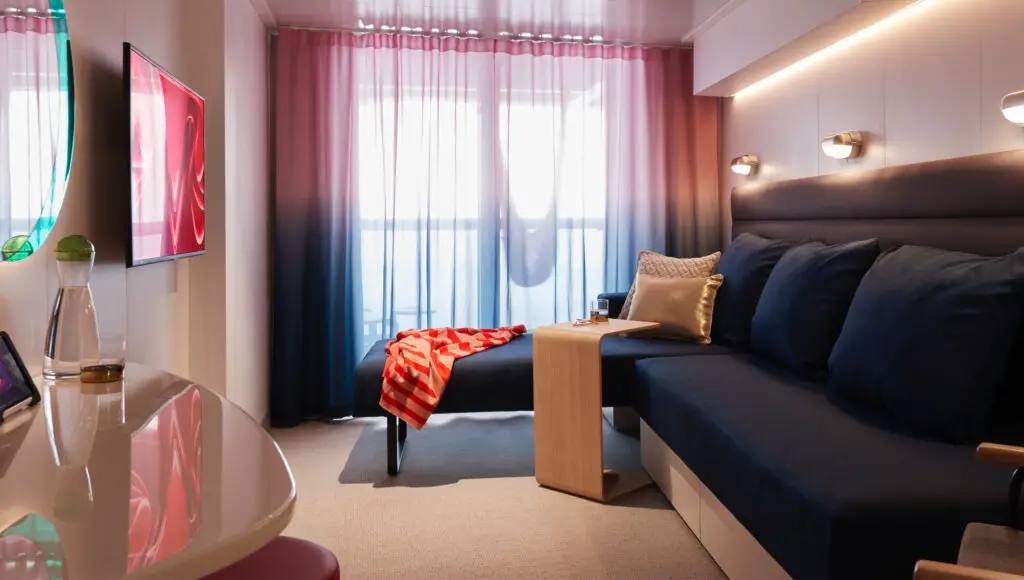 Under the desk in your cabin, there is a mini-bar. There is also, in keeping with an adult only ship, a "Time To Play" kit.  For an additional cost ($30 in Jan 2023) you get a few adult toys in this kit. 
All of the bar soap in your cabin is going to be black. Whether it is an exclusively adult product might be debatable, but it is certainly unusual.
Some sailors were not impressed with the storage space, or lack of drawers, in the cabin area and others felt it sufficient. There are, however, lots of plugs and USB ports in the cabin.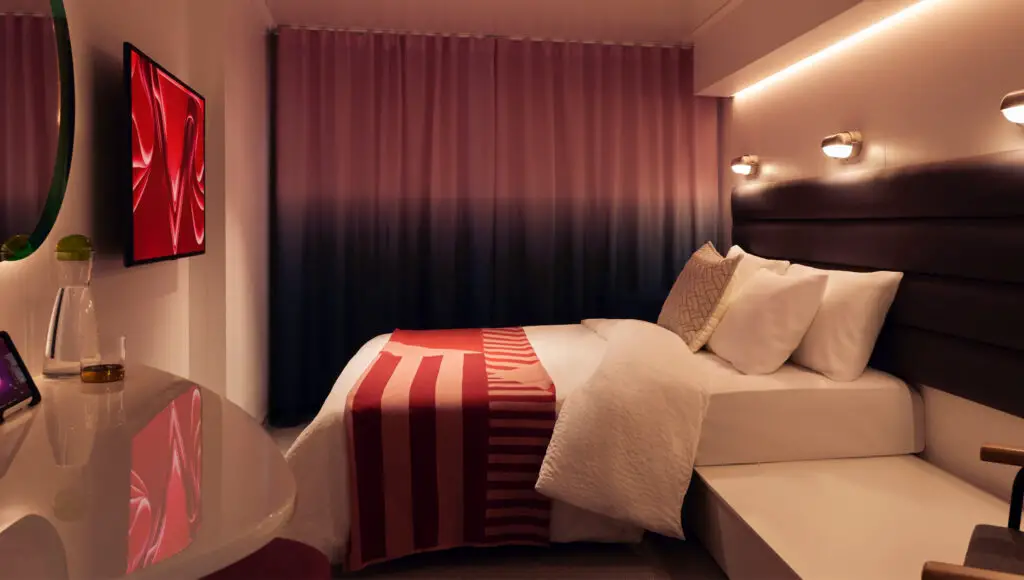 Technology Is Key
The Virgin Voyage experience also leans heavily on technology. Download the app on your phone and it will help to guide you through the embarkation process, and give you all the onboard menus for the six restaurants. 
The app also lets you keep track of your onboard spend and a daily schedule of activities. There is also a tablet in your cabin that will open and close the curtains, adjust temperatures and control the cabin lighting.
Restaurants Onboard Scarlet Lady
Continuing its adult theme, the ice cream parlor on board, which is a bonafide parlor, not the self-serve soft ice cream you find on other cruises, is named "Lick Me Til Ice Cream" and certainly leans heavily on innuendo. 
As mentioned before, there are six restaurants on board and no main dining room. Razzle Dazzle (mainly vegan and vegetarian foods) is one of the most popular dining spots, and use the app on your phone to make reservations as the dining room fills up quickly. 
While Virgin Voyages says that they don't have a buffet, they do have an area called The Galley with lots of seating and a variety of food areas, like a food court in a mall. Here your food is made when you order it, and there are self-serve soda machines. 
The menus on the app will also clearly display vegan, vegetarian and gluten free options, of which there are plenty on this cruise line menus. 
There are, however, no alcohol packages for Virgin Voyages. Cocktails (as of Jan 2023) run about $13 – $15 and $7 to $8 for a beer. A mixed drink is about $10.
Final Thoughts
Overall, Virgin Voyages offers a unique and sophisticated cruising experience for adults. The company's ships are designed with adults in mind, and the onboard amenities and entertainment options reflect this. 
The cruise line's shore excursions and itineraries are designed to provide guests with a more authentic and immersive experience and the company's focus on sustainability sets it apart from other cruise lines. For adults looking for a more refined and adult-oriented cruise experience, Virgin Voyages is definitely worth considering.
This page contains affiliate links for which we may receive financial compensation when a purchase has been made through one of our affiliate partners.
About Jonathon Hyjek
Jonathon is the tech guy behind CruiseportAdvisor.com. When he's not stuck in front of his computer, Jonathon enjoys travel & cruising (even after being on a cruise ship that caught fire - a story for another day!)