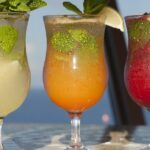 Carnival Cruise Lines Drink Packages
Last updated on March 10th, 2023 at 07:29 pm
Carnival Cruise Lines offers a variety of beverage packages to enhance your vacation experience. Whether you prefer cocktails, beer, wine, soda, coffee, or all of the above, there's a package that fits your needs.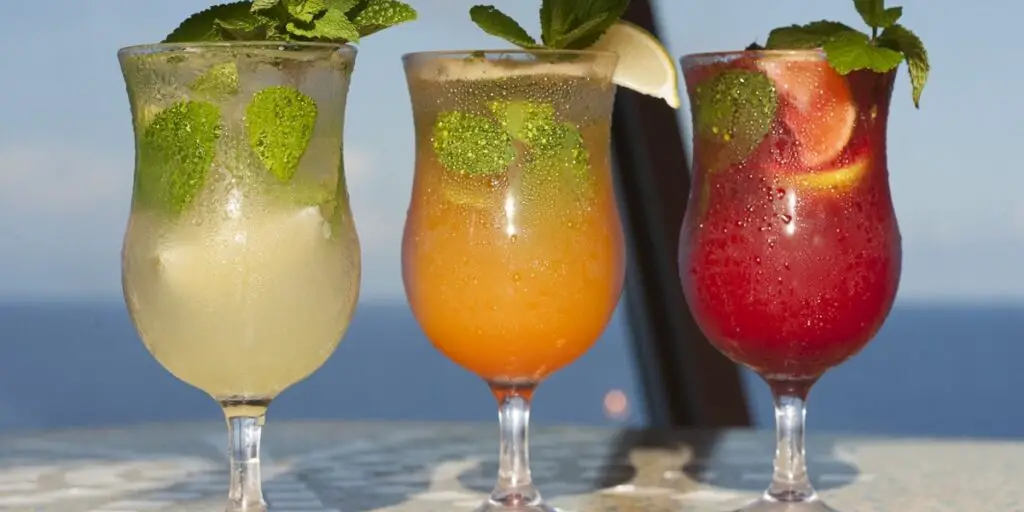 Below is a breakdown of the different packages available, including prices and what you get for the cost of the package.
The cost is priced as per person, per day and if you choose a beverage package, you will need to pay for the entire length of the cruise.  Note: this information is accurate as of the writing of this article. Check Carnival's website to confirm.
The Cheers! Drink Package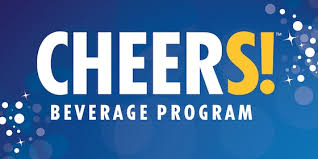 This all-inclusive package allows you to enjoy unlimited drinks (non-alcoholic) for a flat daily rate, starting at $59.95 per person, per day. With gratuity, it comes to $70.74 a day.
Alcoholic drinks are limited to 15 per day. The package includes cocktails, beer, wine, and non-alcoholic drinks up to $20 per serving. You'll also receive a 20% discount on bottled wine purchases and a 10% discount on spa treatments.
The Cheers! Beverage Program is only available to guests aged 21 and over and cannot be used in conjunction with any other promotions or discounts. It will also be added for all adults over 21 years who share the same stateroom. 
There are quite a lot of options with the Cheers! Package. It includes soft drinks (Pepsi products), juice, spirits & cocktails, beers, wine by the glass, and zero-proof frozen cocktails. 
It also includes energy drinks, specialty coffee, hot tea, 500ml bottles water, large water bottles in dining rooms and 25% discount on spirit or wine by that glass that is over $20. If you buy the package on board before the cruise begins, it is $64.95 a day and with gratuity comes to $76.64 a day.
The Cheers! beverage packages must be purchased for the entire length of the cruise and cannot be added mid-cruise. There are some items that are not included in the Cheers! Drink package and those are: 
Drinks in souvenir glasses
Alcohol by the bottle (except beer)
Drinks offered at the gangway (welcome beverages)
Room service alcohol or mini-bar drinks
Shareable drinks like buckets or pitchers
Fresh-squeezed orange juice served in the Havana Bar
Bottomless Bubbles Drink Package
This unlimited soda package provides you with all-you-can-drink soda and juice for the entire length of your cruise.
The Bottomless Bubble drinks are available in the lobby, casino and pool bars. The cost for this package is $6.95 per day for a child 17 and under and $9.50 per day for an adult, 18 years and over.
This cost does not include the automatic 18% gratuity that will be added to the package. That will make the cost $8.20 per day for those under 18 years of age and $11.21 for those 18 years and older. Just as with the Cheers! Package, the drinks may not be shared. The soft drinks are served by the glass (16 ounces) and juice is served by the glass also (10 ounces). The soda options are Pepsi products, which includes Pepsi, diet Pepsi, Pepsi Zero Sugar, Caffeine Free Pepsi and Diet Pepsi Caffeine Free.
You will also be able to choose Sierra Mist, Sierra Mist Zero Sugar, Mug Root Beer, Mountain Dew, Diet Mountain Dew, Bubly Lime Sparkling water and Bubly Blackberry Sparkling water.
The juices will be orange, cranberry, tomato, pineapple and grapefruit. Bottled water and specialty coffee are not part of this package.  Depending on the location you go for your drink, the selection may vary.
The drink fountain at the buffet will have limited options, but the bar will have cans of the various sodas.
The Bottomless Bubbles package does not include:
Drinks other than the sodas or juices
Drinks sold in souvenir glasses
Bottled Water
Specialty coffee
Room service drinks
Drinks offered during debarkation on the gangway
Know Before You Go
You know your drinking habits better than anyone else, so before you choose a beverage package, know that on Carnival Cruise Lines, the Main Dining Room and the 24/7 Lido Restaurant serve non-bottled water, lemonade, iced tea, hot chocolate and non-specialty coffee and tea free of charge.
Those options are included in the price of your cruise. If you are wanting to cruise on the cheap and soda or alcoholic beverages are not something you would want anyway, the purchase of a beverage package is completely optional. You would be able to enjoy yourself with the drink options that are already included in your fare and not need to add an additional expense. 
Like most of the cruise lines, Carnival prohibits its passengers from bringing on water, soda and other non-alcoholic beverages that are packaged in glass or plastic bottles.
On embarkation day, you can bring a small quantity of non-alcoholic beverages (sparkling water soda, energy drink, juice or milk) that are packaged in cans or cartons, but they must be in your carry-on luggage.
Carnival considers a small quantity to be a maximum of 12 sealed, unopened cartons of 12 ounces or less. 
Passengers are not allowed to bring any alcoholic beverages on board with one exception. At the beginning of the cruise on embarkation day only, you may bring (if you are over 21) one 750ml sealed bottle of wine or champagne per person, in your carry on luggage.
If you choose to bring this on board and would like to drink it that first day in the main dining room, specialty restaurant or bar, there is a $15 USD corkage free per bottle. So you might want to think about uncorking it yourself and toasting in your cabin.  
Please note that all beverage packages exclude room service, mini bar items, and items purchased at the gift shop. In addition, gratuities are not included in the package price and must be paid separately.
While you can use your beverage package almost anywhere on the ship, the package will not be included on Carnival's private islands, the Half Moon Cay or Princess Cay in the Bahamas. Drink packages are not offered on European itineraries. 
FAQs:
1. Can I share my beverage package with someone else?
No, beverage packages are non-transferable and can only be used by the person to whom they are assigned. In addition to that, if one adult (over 21) in your cabin purchases the beverage package, then any other adults in the cabin must also purchase the beverage package. This is probably an effort to keep people from sharing alcoholic drinks. 
2. Can I purchase a beverage package for only part of my cruise?
No, beverage packages must be purchased for the entire length of the cruise and cannot be added mid-cruise.
3. What if I order a drink over the $20 per glass limit with the Cheers! Package or want to buy a round for my friends?
If you choose a drink that is not included in your beverage package, then you pay the cost of the drink, but get a 25% discount off the menu price. When buying rounds, your drink will be charged to your drink package, and any other drinks will be charged to your on board account. There is also a wait period of five minutes between drinks with beverages on board whether you have a package or not.
This page contains affiliate links for which we may receive financial compensation when a purchase has been made through one of our affiliate partners.