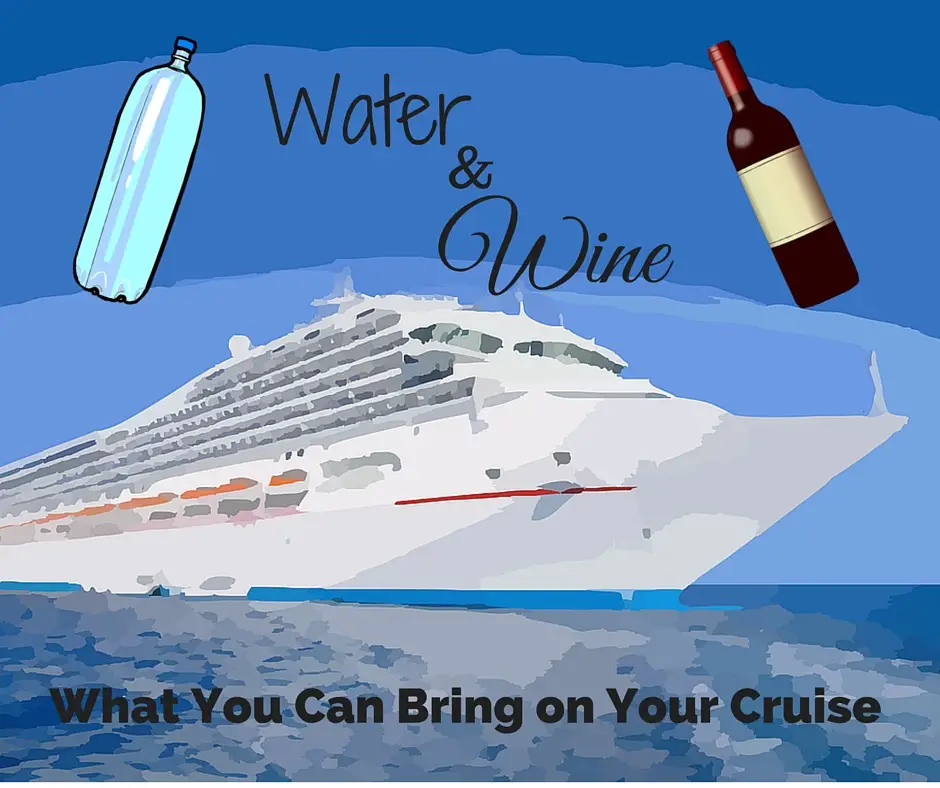 Water, Wine, Beer & Soda:
What Beverages Can You Bring On Board?
Last updated on March 1st, 2023 at 09:28 pm
The most popular Cruise forums around the internet are filled with questions from cruisers looking for answers. It's no surprise that the most common cruise questions are beverage-related and go something like this:
"Can I bring bottled water with me when I board?"
"Can I bring wine with me on a Carnival Cruise?"
"WilI I be able to bring Soda on my Royal Caribbean cruise?"
"How much wine can I take on my cruise?"
"Can you put cans of soda in checked luggage?"
With beverage packages getting more and more expensive, and single drinks costing upwards of $15 on some cruise lines, avid cruisers are looking to save a few dollars on their next cruise.
Look no further – We have compiled a list of the water, wine, booze and soda rules at each of the major cruise lines.
For restricted items other than beverages, click here to read our post: What NOT to Pack on Your Next Cruise
Carnival Cruises Beverage Policies
In 2016,  Carnival banned all bottled beverages, including water, to avoid smuggling alcohol on board. No glass bottles, no plastic bottles of any kind!
Bottled Water is provided on board for $4.50 for 12 500 ml (16.9 oz) bottles. You can purchase these in advance if you wish to avoid paying a gratuity and can take home any unopened bottles.
If you are over 21 years of age, you are allowed to bring with you One (1) 750ml bottle of unopened wine or champagne per person. There is a corkage fee of $15 if you want to consume it at dinner or a bar.
Also allowed are a maximum of 12 unopened  355ml (12 oz) beverage cans or cartons, of non-alcoholic beverage, brought aboard at the time of embarkation, or during a port of call stop.
Ensure you bring these with you as part of your carry-on luggage, not in your checked.
As with most cruise lines, alcohol purchased at a port of call will be stored for safe keeping until the end of the cruise.
CLICK HERE to visit Carnival beverage policies
Or Visit the Cruise Port Advisor article about Carnival Beverage packages.
Royal Caribbean Beverage Policies
Back in 2018, Royal Caribbean updated their beverage policy that on the day of boarding, guests can carry on small amounts of non-alcoholic beverages. 
"Small amounts" means 12 standard-size (17 oz/500 ml) cans, bottles or cartons of water, juice, soda, etc. Distilled water, or beverages such as dietary beverages or milk for babies or medical purposes are permitted and don't seem to fall under the max. 12 rules.  Checking non-alcoholic beverages (i.e. sticking luggage tags on cases of water) are no longer  permitted.
Wine & champagne are allowed in your carry on luggage, but is limited to 1, 750ml bottle of wine per adult, per sailing. There is a $15 corkage fee if you wish to consume it in public areas (ie the Main Dining Room during dinner). Note that if you are doing a back-to-back cruise, you are allowed to bring additional bottles (ie 2 bottles per adult per sailing).
CLICK HERE to visit Royal Caribbean beverage policies
Norwegian Cruise Lines Beverage Policies
Per Norwegian's Beverage Policy, water and soda are not allowed to be brought on board in either carry-on or checked luggage. If these are found, it will be disposed of.
If you require water or milk for medical or special needs reasons,  email the access desk – [email protected] to obtain permission prior to your cruise.
Wine and champagne, however, are permitted (no limit as to how many is stated on NCL's website) but are subject to a corkage fee based on bottle size –  750ml bottles are $15 and 1500 ml Magnum are $30 – regardless of where you drink it, even your stateroom. Sorry to all the boxed wine lovers – only bottles are allowed.
CLICK HERE to visit Norwegian's beverage policies
Disney Cruise Line Beverage Policies
Passengers that are over 21 years of age are permitted to bring on board at the time of embarkation, or ports of call, 2 750 ml bottles of wine or champagne or 6 12 oz beers. If you wish to consume your wine in the dining room with dinner, there will be a corkage fee of $25 per bottle. As with other cruise lines, you must carry these on with you. If you put them in your checked luggage, they will be held until the end of the cruise. Also, you won't be able to drink your own alcohol is any public area or lounge (other than the dining room). 
While water bottles or soda are not specifically referenced in their policies, Disney does state that non-perishable, government-approved snack foods are permitted as long as they are unopened and in their original packaging. We are assuming this includes bottles of water or cans of soda. Just don't bring Grandma's homemade cookies. Those will be confiscated.
Check out our article on Disney Drink Packages
CLICK HERE to visit Disney Cruise Lines beverage policies.
Holland America Beverage Policies
Effective June 2021, guests are permitted to bring wine or champagne as part of their carry-on luggage as long as it does not exceed 750 ml per bottle.  Holland America's policy does not say how many bottles you can board with, however "wine brought in quantities deemed to be excessive by the vessel or security will be refused." A corkage fee of $20 per bottle will apply. 
No other alcoholic beverages are allowed and will be confiscated.
Also effective June 2021, no non-alcoholic beverages will be permitted on the day of embarkation EXCEPT water in cans or cartons (absolutely no plastic bottles) at a limit of six liters per stateroom (i.e. 12 cans or cartons 500 ml or less) or 6 cans or cartons 1 liter or less).
Click HERE to see Holland America's policies.
Bottled water and soda is also allowed (no limit) as long as you carry it on board with you on embarkation day.
Princess Cruises Beverage Policies
On Princess, each adult which has reached drinking age is permitted to bring 750 ml bottles of wine or champagne aboard on embarkation day. The first bottle will not be charged a corkage fee if consumed in the stateroom, but any others will be subject to a fee of $15, regardless of where is it consumed.
While not specified on Princess' website, passengers seem to be allowed to embark with non-alcoholic beverages. As a good rule of thumb, it's best to carry unopened bottles or cans in their original packaging with you when you board as opposed to packing them in your checked luggage.
Click here to learn more about Princess' policies.
Celebrity Cruises Beverage Policies
Celebrity permits 2 750 ml bottles of wine per stateroom. If you wish to partake of it in one of the dining or bar venues, you will be charged a $25 corking fee per bottle.
There appears to be no "policy" for or against bringing your own case of water or soda aboard with you, but in their FAQ of "What Not to Pack" it does mention "Alcoholic and Non-Alcoholic beverages" but older posts on other forums state that people have brought their own non-alcoholic beverages on board as long as they are unopened and as part of their carry-on luggage. Since Celebrity is owned by Royal Caribbean, their policy may be similar (see above). 
Click HERE to see Celebrity's policies.
MSC Cruises Beverage Policies
As MSC Cruises is gaining popularity in the North American market, it's important to know their policies on what can be brought aboard at the time of embarkation.  Their policy differs from all other cruise lines currently sailing from North America, in that they do not allow ANY beverages, including alcohol of any type to be brought on board at the time of embarkation, whether you want to consume it in your cabin, or not. 
MSC even takes it a step further in their policy on "Passenger's Conduct"  that "in order to ensure safety and security standards, it is strictly forbidden to bring food and beverage on board the vessels…. any local or "typical" food item purchased during the cruise in any port of call will be collected and returned at the end of the cruise."  It seems that unless your dietary item is prescribed by a doctor, you can't bring it with you. 
Click here to see more information on MSC's policies.
Go All In and enjoy Free Drinks & Wi-Fi, plus Flexible Booking Changes up to 48 hours prior to your cruise Costa Cruises Beverage Policies
Costa is another European cruise line making it's foray into the North American market with cruises departing from Fort Lauderdale.  Their beverage policies, including alcohol, are similar to MSC's, with having no allowance for bringing food or beverages on board during embarkation.  In fact, they will confiscate and hold any food or drink at the embarkation port for you to collect after you disembark your cruise. If something is purchased at a port of call, it will be kept in custody with the ship's officers and will be released to the passenger at time of disembarkation. At least we know where they stand!
For more information  on Costa's "Personal food and beverage items" policy, click here.
Marella Cruises Beverage Policies
Marella Cruises (formerly Thomson Cruises) is a UK-based cruise line, but has world-wide itineraries including those that begin and end Montego Bay, Jamaica travelling around the Caribbean, as well as to Central America and Colombia. You can't bring your own beverages on board, but you won't need to! One of the many great things about Marella Cruises is that "All Inclusive is Standard" which means selected soft drinks, juices, cocktails draft beers, cider and wines. They also have tea and coffee-making facilities in each cabin! 
For more information on Marella's beverage policy, click here.
This page contains affiliate links for which we may receive financial compensation when a purchase has been made through one of our affiliate partners.