Are Cruises good for wheelchair users?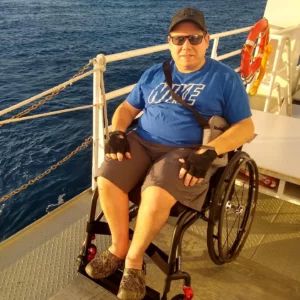 Yes, cruises are a good choice for vacations for wheelchair users as they have come a long way in terms of accessibility for people with disabilities.
Most major cruise lines have made significant efforts to ensure that their ships and onboard amenities are wheelchair accessible.
However, it's important to note that accessibility can vary greatly from ship to ship, and even from cabin to cabin within the same ship. It's always best to check out the disability section of each cruise line's website for full information.
One of the major accommodations made for people with disabilities on cruises is the availability of wheelchair-accessible cabins.
These cabins have been specially designed with wider doorways, roll-in showers, and other features to make them more comfortable and usable for guests who use wheelchairs. Keep in mind, these cabins do sell out quickly though, and are in short supply.
Cruise ships also have ramps, elevators, and other accessibility features to help guests with disabilities move around the ship.
Many ships also have special areas designated for guests with disabilities, such as reserved seating in theaters and special seating in dining areas.
Many cruise lines also have staff members who are trained in providing assistance to guests with disabilities.
In general, cruises are a great way to see the world for those with mobility challenges.
This page contains affiliate links for which we may receive financial compensation when a purchase has been made through one of our affiliate partners.