Last updated on September 17th, 2023 at 08:41 am
Determining if cruises are safe depends on your risk tolerance in general. For most people, cruises are considered safe, but that's not to say that bad things can't happen. Weather events, mechanical issues or issues with "bad" people exist whereever you go, which does include cruises.
Are cruise ships safe? Ultimately, yes, they are. When you consider how many people take cruises each year (approx. 20 million) the number of incidents are low. It is considered one of the safest ways to travel.
Passenger safety is paramount, which is why there are a number of items you can't bring aboard with you and why passengers have a Bill of Rights created by the Cruise Lines International Association (CLIA).
Crew members are very prepared for various types of incidents. They each have a role to play when it comes to safety and practice safety drills on a regular basis, so in a time of crisis, like a fire on a cruise ship, they are calm and prepared. 
If you're concerned about your health on a cruise, especially since the pandemic that started in 2020, don't worry. Cruises have been at the forefront of keeping passengers safe. They have gone above and beyond any other industry in terms of working to keep both passengers and crew safe.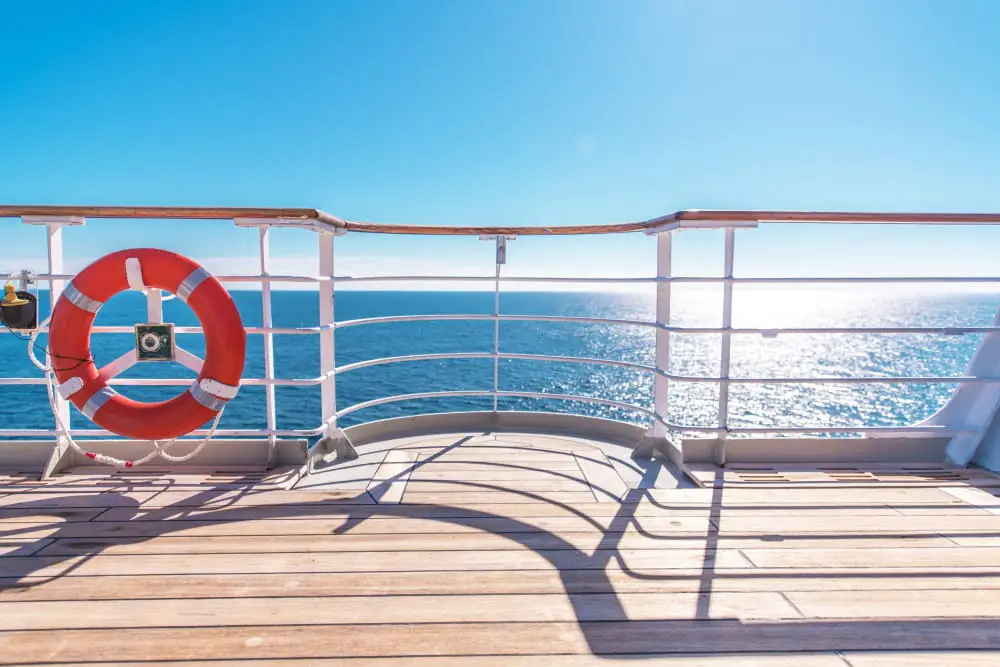 In times of inclement weather, like hurricanes, a captain and his officers are very aware of what is coming and how to avoid the worst of it. This could mean changing course, or even itineraries. While this can be disappointing, it's to ensure passenger safety.
However, since cruise ships are like floating cities, with some carrying as many as 5000 passengers, things can happen.
Here are a few tips to stay safe on your next cruise:
Drink responsibly. Bad decisions can be made while someone is really intoxicated and it can have repercussions. Fights can break out, invitations can be accepted to get a little too close to strangers (if you know what I mean), and dares can be made which can lead to injury or death. You don't really want to be acting like you're the "king of the world" on your balcony if you've had way too much to drink.
Keep your valuables in your room safe. Most of the time these safes are activated with, and opened only with, your credit card. Don't be flashing wads of cash while in the casino, or wandering around with thousands of dollars worth of jewelry, when it could be kept in your room safe (or better yet – left at home).
Pay attention during the muster drill. If you've taken a cruise before, you know that most people think having to attend the muster drill is a drag. However, it gives very valuable information for what to do in an emergency. Don't wait something to happen to realize you should have paid attention. Know where your life jackets are located (in your cabin, or on deck) and listen to instructions from the crew.
If you feel unwell, stay in your room and contact the medical staff on the ship if your symptoms are beyond normal. It's common for people to have cold symptoms on a cruise, but if you have a hard time breathing or keeping down food, contact the medical team on your cruise ship.