Do cruise ships have family rooms or suites?
Last updated on September 18th, 2023 at 09:32 pm
Yes, most major cruise lines have family suites or staterooms, and depending on the cruise line, the configuration of the family suites or staterooms will be slightly different.
Keep in mind when booking a family stateroom, the price is still PER PERSON.
When booking a hotel room suite it's possible to book one room and pay one price, regardless of whether 2 people or 6 people are staying in the suite.
With cruise ship family staterooms, passengers pay a per-person price which includes the room, most food options, as well as a majority of the recreation and entertainment options onboard the ship.
If price is a factor, the most economical way to cruise and still stay together would be to book connecting rooms, which have an interior doorway that can be opened to allow movement back and forth.
The following are family staterooms on the most popular major cruise lines:
ROYAL CARIBBEAN
On the low end of price, Royal Caribbean's inside staterooms often offer sleeping for 4 people, where the 3rd and 4th beds lower down from the ceiling.
At the higher end, Symphony of the Seas has the "Ultimate Family Suite" which has an in-room slide, from the upstairs bedrooms to the living area, and air hockey and ping pong tables out on the private balcony, as well as the 4-bedroom Villa Suite.
Also available on the newer, larger ships are the Royal Suites which come with high-end amenities including your own "Royal Genie" who will cater to your every whim. On older, smaller ships, there are often 2 bedroom suite configurations.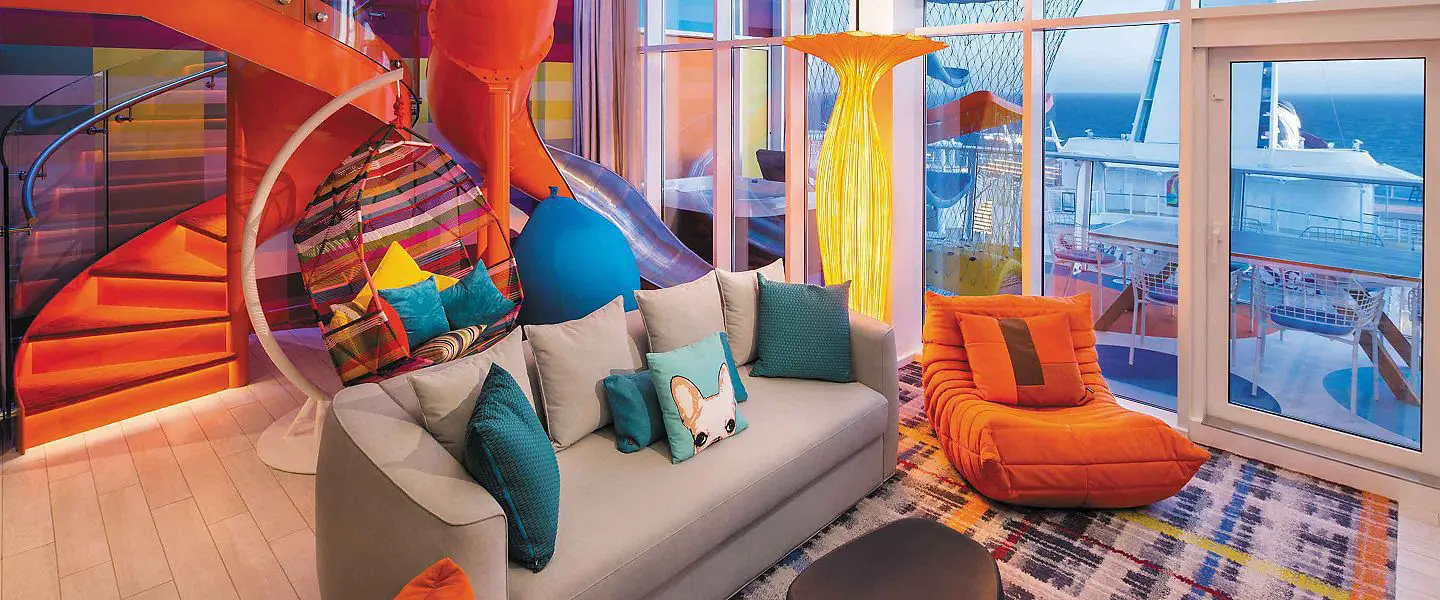 Carnival offers family-friendly staterooms fleet-wide, which can accommodate up to 5 people, and have a second washroom, including Deluxe Ocean View staterooms, as well as Suites.
Disney offers Concierge Suites, which can accommodate between 5 to 7 guests in two separate bedrooms, 2 bathrooms, including one with a whirpool tub, a living and dining room and a fully stocked pantry and wet-bar. 
Disney also offers Deluxe Family Oceanview Staterooms which can sleep as many as 5 guests.
Norwegian offers quite a few different options if space is what you're looking for. Aboard the Dawn and Star, there is the 6600 square foot, 3 bedroom Garden Villa , which can sleep as many as 8 and comes with your own private butler.
If that seems like a little too much, also offered on the Dawn and Star are Family Suites which can accommodate up 6 guests with a double bed, double sofa bed, and double murphy bed, but with little privacy, as the sleeping quarters are all in the same space. Deluxe two-bedroom family suites are available if you'd like your own space away from the kids.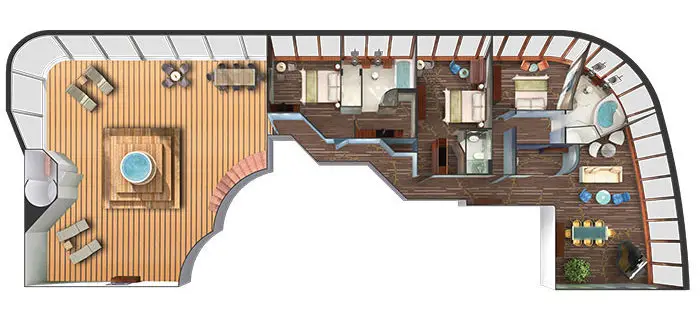 If your itinerary doesn't involve the Norwegian Star or Dawn, NCL offers Mini-Suites or Family Balcony Staterooms, which can accommodate up to 4 people in spaces ranging from 216 to 285 square feet.
The Haven is another accommodation category, which, in addition to many luxurious stateroom amenities, comes with an exclusive area on the ship with its own pool, sundeck, hot tub and fitness area. The Haven offers a 2-bedroom Family villa, which has two bathrooms and is available on many of Norwegian's ships. 
Princess Cruises offers a two-bedroom family suite, which can accommodate between 6-8 people, and has two bedrooms and two bathrooms,connected by a large living space and large balcony. Essentially, it is a mini-suite connected to an interior cabin by a shared lounge, but it's great for people looking for a little more privacy and living space.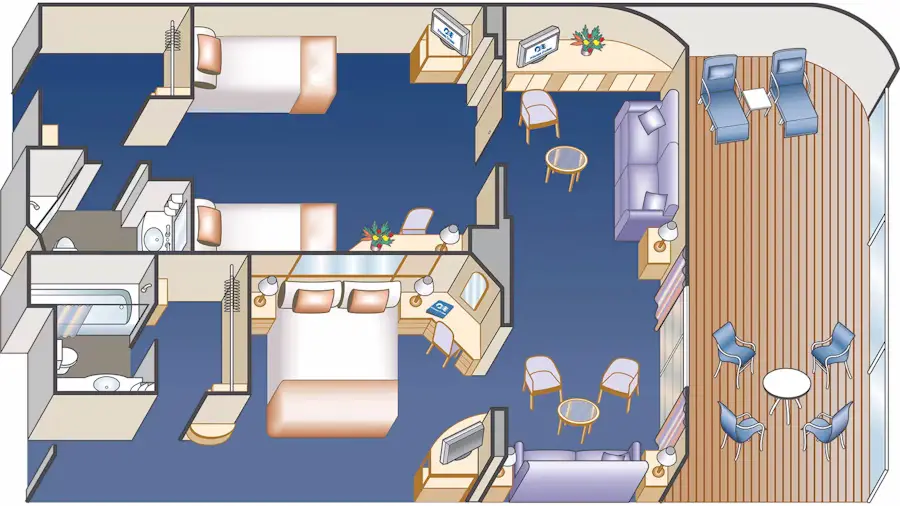 Celebrity offers Family Veranda Suites which have a private bedroom and sitting area with pull-out sofa, plus a large, private veranda, a space suitable for 4 people, and available on most of Celebrity's fleet. 
They currently only offer one two-bedroom suite configuration on the Celebrity Reflection, aptly named the Reflection Suite, which offers amazing views, especially from the cantilevered shower.