Do cruise ships have free food?
Last updated on October 7th, 2021 at 06:57 am
Yes, the price of food is included in the price of your cruise.
Almost all cruise lines offer the following complimentary dining venues: the main dining room, a buffet, places to get snacks and, depending on the cruise line and ship, a few other restaurants which may offer different types of food (i.e. pizza, burgers).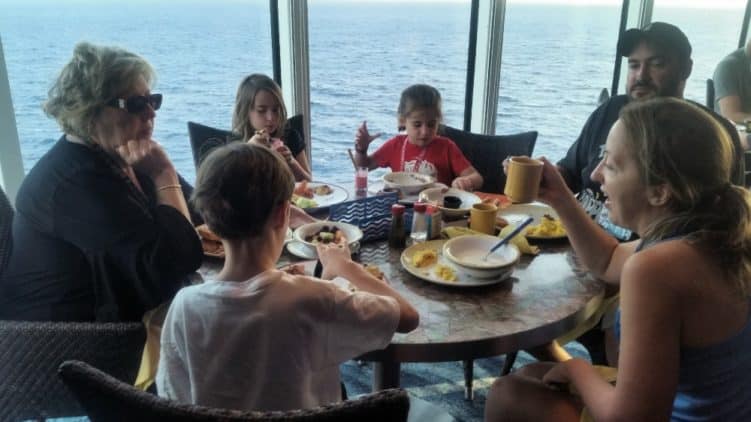 Main Dining Room
The main dining room (MDR) will serve breakfast, lunch and dinner and is often modelled after an upscale sit-down restaurant, where you will order off a menu. There are usually three options for dinner when you book your cruise – early seating, late seating or a flexible dining time (sometimes called My Time Dining – where you would reserve a time each night).
If you choose an early or late seating, you would be seated at a table for anywhere from 2 to 8 people (you can choose your table size after your cruise is booked), and eat in the same area, with the same people, with the same wait staff. A lot of passengers like this format because the wait staff get to know you (and hopefully offer exceptional service) and it allows for meeting new people who sit at the same table.
Most cruise lines also have a dress code for dinner time in the MDR. Business casual is typically appropriate (i.e. no shorts, tank tops or bathing suits). If the cruise line still has formal nights, they tend to not be so formal anymore (i.e. no tuxedos or ball gowns). 
Breakfast and lunches in the main dining room are a bit more casual, where you just show up between certain times and get seated, often at a table with other passengers, typically not the same people from dinner.
Buffet
If the dining experience in the MDR doesn't sound like it's a good fit for you, the buffet is another dining option. It's a casual atmosphere with lots of different food options for breakfast, lunch, and dinner.
Buffets are typically open for most of the day so it can be a great place if you want to pick up a snack mid-day. Tip: on some ships, there's a complimentary soft-serve ice cream machine often located near the buffet.
Other Food Options
On most cruise lines there are other venues that offer complimentary food and these would vary by ship. Most ships have a coffee bar or cafe which would have complimentary cookies and other sweet items. 
While the complimentary food is usually good and plentiful, cruise lines still encourage passengers to pay extra to dine at specialty restaurants (e.g. a steakhouse, Italian cuisine). You can still get steak or pasta in the MDR or buffet, but the quality tends to be better at a specialty restaurant. 
Beverages
Complimentary beverages include glasses of water, lemonade, iced tea, usually some fruity beverage sweetened with a sugar substitute, brewed coffee, tea and juice at breakfast (not fresh-squeezed). 
If you want soda or alcohol but don't think you'll drink enough to warrant purchasing a beverage package, you can purchase these as you go, either at dinner or at one of the many onboard bars. 
To figure out which dining venues are complimentary on your cruise, find your ship on the cruise line's website and check out the dining options for full details. 
This page contains affiliate links for which we may receive financial compensation when a purchase has been made through one of our affiliate partners.