Going on a cruise is exciting in itself, with the anticipation of seeing different places and meeting new people. Another aspect that people going on a cruise look forward to is the food.
What a joy to not think about grocery shopping, meal preparation and clean up! To have delicious options available 24 hours a day and all that you want is a wonderful experience. Not only that, unless you choose to dine in a specialty restaurant, the food is included in the price of your cruise. It sounds like heaven!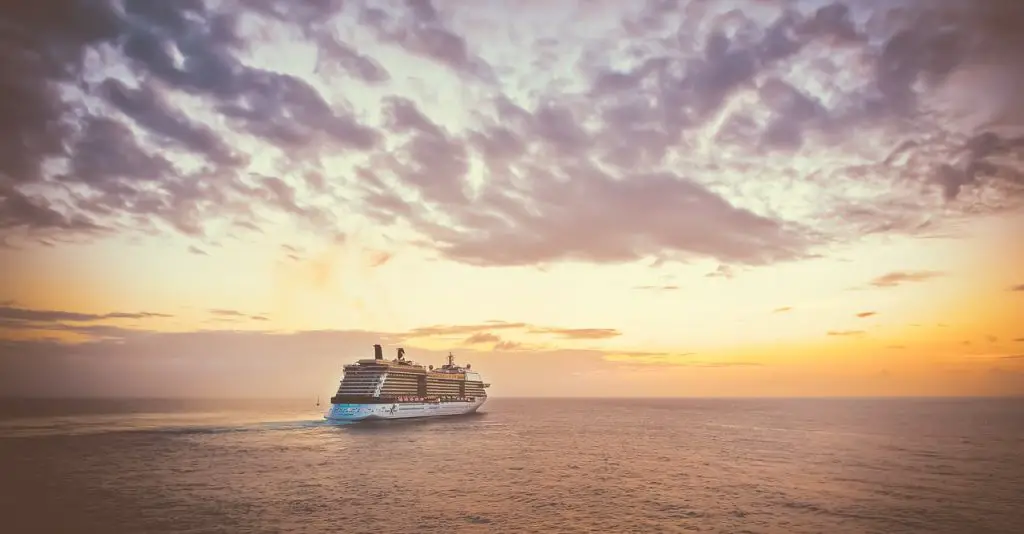 The chefs and wait staff on a cruise are there to help you make choices and appease those picky eaters. When you explore Caribbean cruise sailings, you can expect them to be able to provide you with the best that they have to offer.
While dining options will vary between cruise lines, they all tend to pride themselves on the variety of dishes and quality of the food. Each cruise line has their own set of on-board dining areas. The type of on-board restaurants can change, not just from one cruise line to another, but also between the ships within a cruise line. Before setting sail, check with your particular cruise line and the ship on which you will be sailing to see what is offered.
If you want to make the most of what is on offer on a cruise ship, it is important to be adequately prepared. And if you have any questions, don't hesitate to ask.
There are some particulars that vary from cruise line to cruise line and between the ships in a line. There are, however, some aspects of cruise ship dining that are the same.
Here are some of those similarities:
Choose Where You Sit
Some cruise lines have assigned tables and you will sit with the same people each time.  If you want a different table for one reason or another, you just need to ask the Maitre d' and one will be found for you.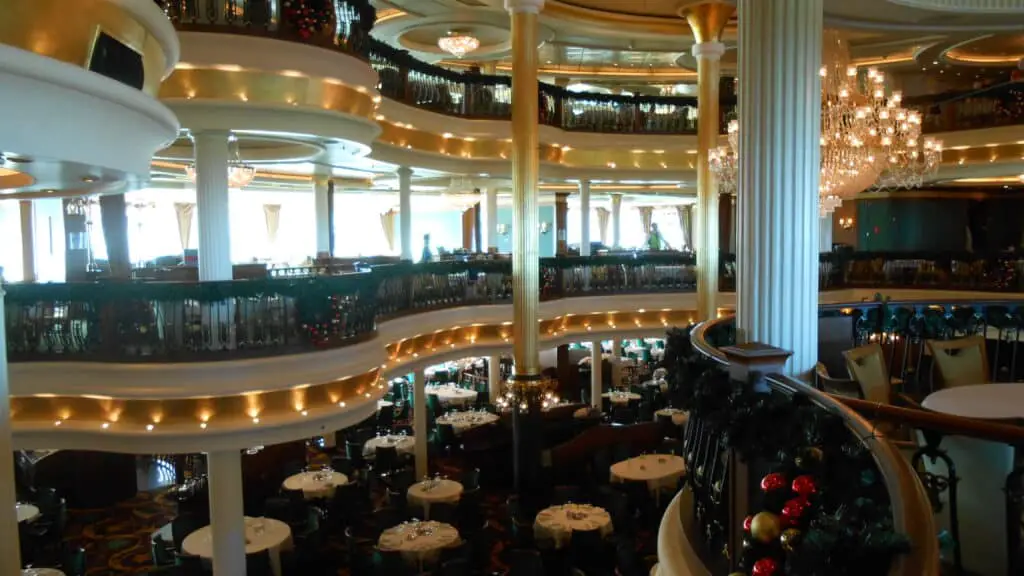 Privacy if You Want It
Most tables on a cruise ship will hold up to 8 people. If you prefer, you can request a smaller table for just you and your partner or group. Your cruise line wants you to have the very best experience while on board. Just make sure that you let the cruise line know before you depart what is the best dining option for you.
Friendly Wait Staff
The wait staff on a cruise line understands the importance of good customer service. The majority of the time, you will have the same staff serving you throughout the cruise. They will get to know you and your needs and this helps make for a consistent experience. These staff work hard and are on call for long hours so don't forget to leave them an appropriate tip once the cruise is over.
The Buffet Option
Cruise ships have main dining rooms, but most major cruise lines also have a buffet. You can use the buffet to save time as you won't need to place an order. They are also good if you want to grab something and go out on the deck. Buffets have a variety of items that appeal to a wide variety of tastes. Buffets are a favorite with passengers.

Wide Variety of Food
Going on a cruise is any "foodie's" dream! You may have been hesitant to try cooking certain dishes at home. Or to order ethnic dishes at a restaurant and end up not liking the dish you have to pay for. On a cruise, there is a very wide variety of food, methods of cooking and dishes from different cultures. Being on a cruise gives you the opportunity to try new dishes without hesitation.
Familiar options like burgers and fries are available, or you could have a steak every day. There are vegetarian options, along with healthy fruit and vegetables. If that wasn't enough, there are desserts available around the clock.
Most cruise passengers look forward to a cruise to be able to be free from the mundane chore of preparing meals and being able to try something new. It is one of the most fun and wonderful aspects of a cruise!
Accommodating Allergies & Special Diets
All cruise lines are very accommodating with allergies and special dietary requests. It's recommended that if you have specific allergies, to contact the cruise line in advance of the cruise where you can speak to someone in a "special needs" type of department and they will note your account.
Most lines will go so far to as to order items specific to the passenger if it's over and above what they typically offer on board.
Menus in the various dining venues will have vegetarian options as well as low-sugar options for dessert, but are very flexible if you wanted to swap out extra veggies for rice or eliminate sauces. You can speak to someone in the main dining room once you board and let them know your preferences.
Popular Cruise Lines And Their Dining Options
Note: not all dining options are available on all ships. Check with your individual cruise line for details.

Royal Caribbean (RCL) ships have different venues for their dining options, but there are some similarities among them all. To check what food venues are available on your ship, click here.
Vegeterian and Dietary Restrictions
Royal Caribbean cruise ships are able to handle special requests, such as food allergies, gluten-free, Kosher and low-fat and sodium requests. Vegetarian options are available on all menus in the MDR and Windjammer Cafe.
And, for anyone observing a Keto diet, it's quite likely that you will be able to stay consistent when you're onboard a cruise as well.
With dietary requests, you will need to notify RC 45  days prior to sailing and 90 days prior to sailing for European and South American cruises.
Room Service
Available 24 hours a day on RCL cruises, there is an order fee of $7.95 (as of this 11/2022 writing) whether you order one or ten items. Complimentary breakfast options like muffins, bagels, oatmeal and toast do not have the order fee.
Restaurants Included in Your Fare:
Main Dining Room (MDR)
RCL has a main dining room available on all of their ships. The main dining room (MDR) is open for breakfast and dinner. Lunch is served on sea days only. The MDR is a sit-down restaurant with waiter service and it is included with your cruise fare.
Windjammer Cafe (Buffet)
Included in your cruise fare, they serve breakfast, lunch and dinner. The Windjammer has burgers, soups, sandwiches, ethnic dishes, salads, pastas, desserts and more. This is a self-serve buffet. You can eat in the restaurant or take your meal elsewhere on the ship.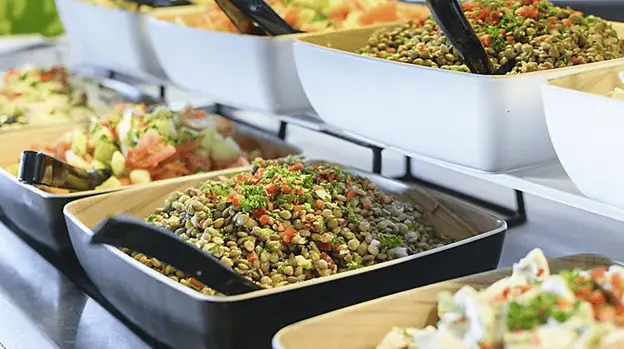 Quick Service Restaurants (Complimentary)
The majority of other complimentary food venues on a RCL cruise are in quick serve restaurants. These venues offer grab-and-go food. Seating is limited in these venues, but you can take your items elsewhere on the ship. Some of the venues on RCL cruises are:
Sorrento's Pizza: various pizzas by the slice and antipasti.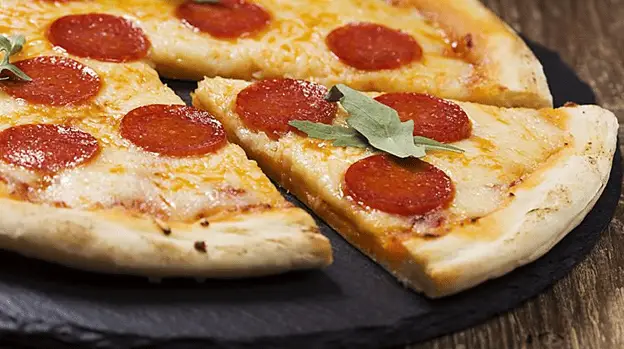 Cafe Promendade: Coffee, pastries, sandwiches and fruit.
Park Cafe: Salads, soups, sandwiches and breakfast.
 Cafe at Two70: salads, soups, sandwiches and breakfast.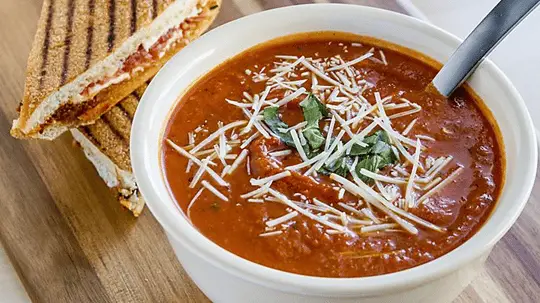 Mini Bites: Burgers, fries, hot dogs, quesadillas, omelets, and salads.
 Doghouse: Hot dog and sausage stand.
El Loco Fresh: Mexican fare.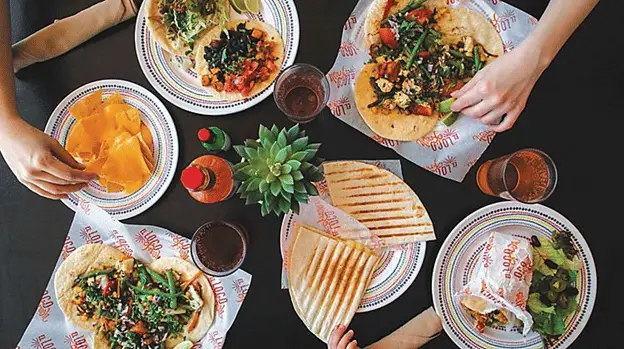 Additional Cost Restaurants:
Specialty Dining
Specialty dining includes a cost to dine there. The cost varies from restaurant to restaurant and ship to ship. Specialty dining will offer a greater variety of food choices than the complimentary locations. On RCL, they have designed their specialty restaurants around themes or cuisines. It is recommended that you make a reservation in advance to avoid waiting.
At the specialty dining restaurants, you will not be seated with other guests. In a specialty restaurant, there is either a cover charge (one price for all the items on the menu) or a la carte pricing. The cost varies considerably between restaurants, and the same restaurant on different ships can also be priced differently.
On Royal Caribbean, children that are 12 and older are welcomed to specialty restaurants when accompanied by adults.
Izumi Hibachi & Sushi: Japanese with teppanyaki and sushi menu.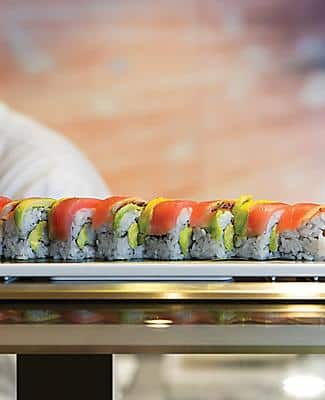 Chops Grill: RC's signature steakhouse.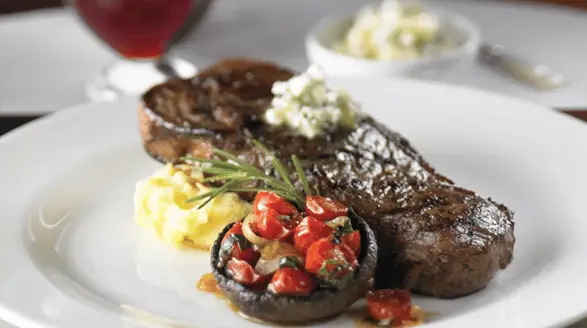 Giovanni's Italian Kitchen/Giovanni's Table: Italian offerings like pasta carbonara, eggplant parmigiana, pizza.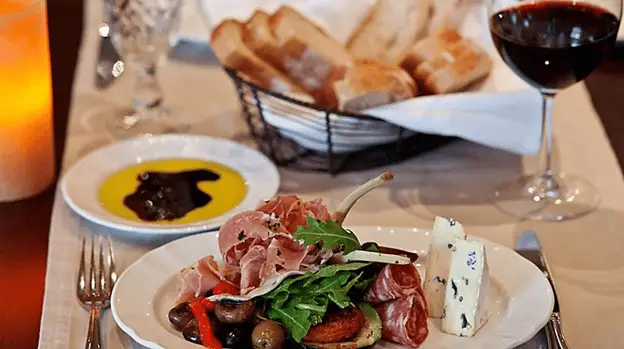 Jamie's Italian: A modern take on Italian cuisine from chef Jamie Oliver.
Wonderland: A dining experience with a whimsical theme.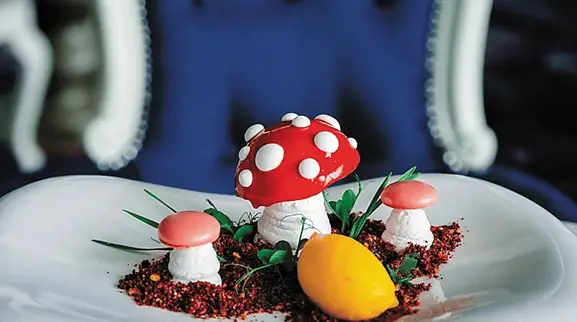 150 Central Park: Elegant dining with a focus on locally sourced ingredients.
Samba Grill: A traditional, all-you-can-eat-meat Brazilian rodizio.
Sabor: A Mexican restaurant with tacos, quesadillas, and small plates.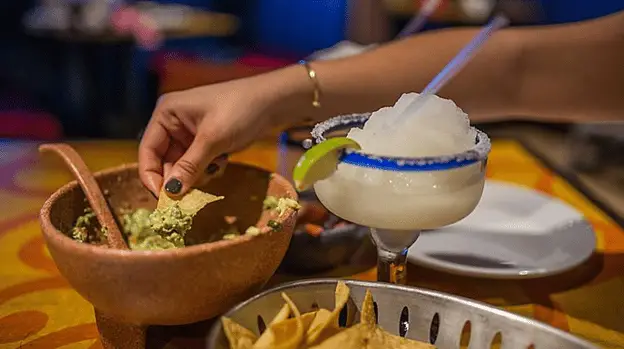 Playmakers Sports Bar & Arcade: Features classic bar food including nachos, sliders, fries, and chicken tenders.
Hooked Seafood: A seafood restaurant highlighting dishes and flavors from the Northeast, including clam chowder and oysters
The Mason Jar: A southern-inspired restaurant with fried chicken, lobster and crawfish gumbo, and brunch options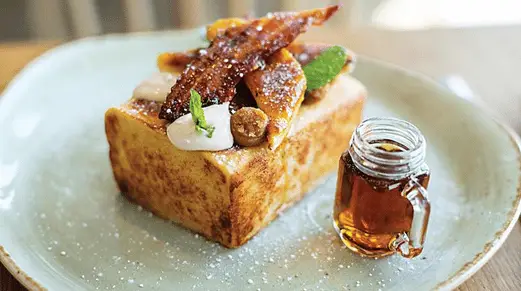 Portside BBQ: A barbecue restaurant with a variety of barbecued meats and comfort food side dishes
Chef's Table: A six course meal where each course paired with a different type of wine.
Quick Service Restaurants (Additional Cost):
Johnny Rockets: Hamburgers, sandwiches, fries, onion rings, milkshakes. Just like you'd get on land – even the staff entertain you with singing and dancing!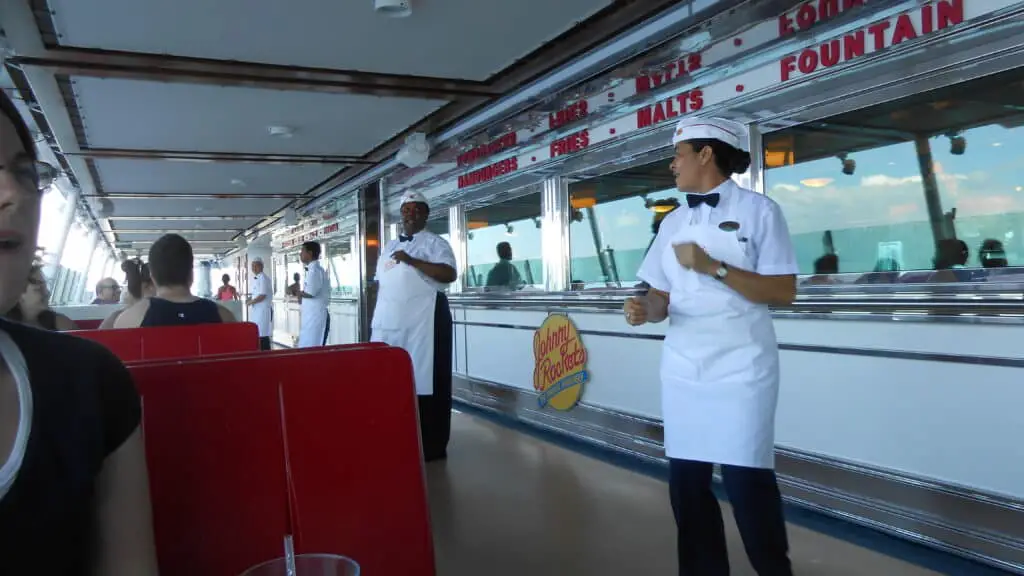 Fish & Ships: Fish & Chips, chicken tenders and lobster rolls.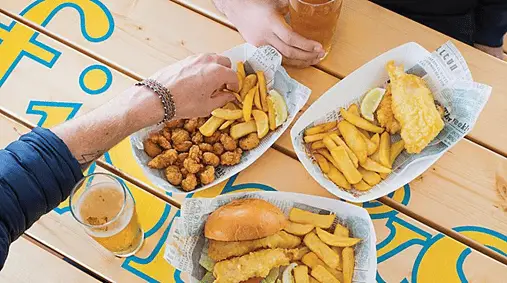 Carnival has a wide variety of food options onboard. You will find everything from hot dogs to fine dining, and plenty of options for the kiddos. Depending on which ship you sail on,  there will be various dining options that are either included in your fare or are extra. Click here to explore the dining venues on specific ships. 
Dietary Needs
Carnival can accommodate the following dietary needs: vegetarian, low-cholesterol, low-fat, low-carbohydrate, low-sugar and gluten-free. Carnival suggests that once you are on board, you speak with the head waiter or dining room host in advance, so they can assist in planning your daily meals in the dining room. This should be done on the first night of the cruise.
Carnival has gluten-free pizza dough, pasta, bread and hamburger buns. There are also cake options.
If you have kosher needs, Carnival asks that you let them know at least two weeks in advance of your sailing date. They will then provide pre-packaged kosher meals.
Carnival ships are equipped with Menu Mate, a food ingredient program that is on all ships and seeks to accommodate passengers with food allergies. The food allergy or restrictions are entered into a touch-screen tablet at a food venue and the software will display items in that food venue that are allergen-free. List video explains more about it:
Room Service
Carnival offers room service 24 hours a day. Breakfast, a variety of sandwiches, salads, appetizers, pizza, wings and dessert are just a few of the items available. Some, but not all, room service items are an additional cost.
Restaurants Included In Your Fare
Main Dining Room (MDR)

The main dining room on Carnival will offer a variety of items from burgers and hot dogs to steak, Asian and Italian favorites.
As with all the cruise lines, the main dining room on Carnival's ships will vary. Some of the ships, like Carnival Vista, have two main dining rooms. One of the dining rooms is for passengers in the flexible "Your Time Dining" program where you choose when you want to dine and a table is assigned to you at that time. The Reflections dining room is for those with assigned seating dinner.
The main dining room (MDR) on Carnival has three full courses. Tables are already set and waiters will bring your food to your table.
Lido Marketplace (Buffet)
Carnival's buffet, the Lido Marketplace, offers a wide variety of options from salad bar, deli, Asian, BBQ, pasta, pizza, amazing deserts, etc., etc.. There is plenty of casual indoor and outdoor seating to enjoy all these delicious choices.
Quick Service Restaurants (Complimentary)
Blue Iguana Cantina: Mexican options with tacos, burritos, tortillas and salsa.
Guy's Burger Joint: Carnival partnered with Guy Fieri from "Diners, Drive-Ins and Dives." You will have the options of a roadside burger joint, and this is open for lunch.
Big Chicken: Shaquille O'Neal's restaurant, they serve chicken sandwiches, chicken strips, fried chicken baskets. Sides of potato salad and jalapeno slaw.

Guy's Pig & Anchor Smokehouse: Another winner from Guy Fieri which serves up BBQ brisket, sausage, baby back ribs, salmon and dry rubbed chicken. Note: This is complimentary for lunch only. Dinner is an additional cost. 
Pizzeria del Capitano: Pizza 24 hours/day with hand-tossed crust and fresh, quality ingredients.
Sea Dogs: All beef hot dogs with a variety of toppings. Available on sea days only.
Swirls: This could be dangerous, as Swirls is a 24 hour ice cream parlor. Soft-serve and frozen yogurt with toppings you add yourself.
Chibang!: This new concept combines blends of Chinese and Mexican in a elegant, modern setting. Open for lunch and dinner, try their delicious noodles and burrito bowls.


Additional Cost Restaurants:
Seafood Shack: Fish sandwiches, seafood salads and seafood platters.
JavaBlue Cafe: Hot and cold coffees and a variety of pastries.
Cucina del Capitano: Traditional Italian trattoria with food served family-style, just like Nonna used to make!


The Chef's Table: Multi-course dinners hosted by the ship's Master Executive Chef. Items that are not offered on the regular menus. Group size is limited to 14 and reservations are required.
Steakhouse : Steak, lobster, filet mignon and a variety of gourmet appetizers in an elegant setting. Award winning wine-list.
Emeril's Bistro 1396: Authentic bayou flavors crafted by famed chef Emeril Lagasse. Fried oysters, BBQ shrimp, duck & sausage gumbo, po-boys, muffuletta sandwiches, fresh ceviche and jambalaya.
Jiji Asian Kitchen:  Enjoy a mix of familiar dishes and new creations featuring regionally-inspired dishes from Mongolia, China, Vietnam, Philippines, Singapore and Indonesia.


Bonsai Sushi: This a-la-carte restaurant has a small menu offering sushi, sashimi, rolls and more. 
RedFrog Pub: Enjoy Caribbean snacks like conch fritters and West-Indies roti in this Key West-inspired pub. Live music and unique drinks abound.

On Norwegian Cruise Line, Freestyle Dining means passengers are free to dine when they prefer and with whom they prefer with no fixed dining times or pre-assigned seats. They have a wide variety of options that include both sweet treats and healthy options. You can dine inside or oceanside along The Waterfront. Click here to see what dining venues are available on which ships. 
Dietary Restrictions
Norwegian asks that all guests with dietary needs or food allergies contact Norwegian to discuss their needs prior to your cruise. Norwegian vessels are supplied all over the world, according to their website. This makes it easier to meet specific food requirements in some countries, and very difficult in others. At least 45 prior to sailing, you need to make any requests busting their Guest Special Needs Request Form, which is on their website. Kosher dining options also need to be made through reservations at 800.237.7030 at least one month in advance of sailing.
Room Service
Available 24 hours, you can order breakfast, lunch and dinner items. Continental breakfast items are complimentary until 10am, otherwise there is a service charge plus gratuity for room service orders. Passengers can also pre-order meals to be delivered at certain times.
Restaurants Included In Your Fare
Main Dining Room (MDR)
Depending on the ship, there could be two or three main dining rooms, with names like "Venetian," "Savor," or "Manhattan Room." While the MDRs themselves have a different decor and ambience, the menus are the same across each MDR, with the menus changing daily. You will find options for breakfast, lunch and dinner. Make sure to check once onboard, as some of the MDRs are open for breakfast, and others for lunch and dinner. Reservations are recommended.
In the main dining rooms, there is a variety of options that include steak, seafood, chicken and vegetarian choices along with sides and desserts.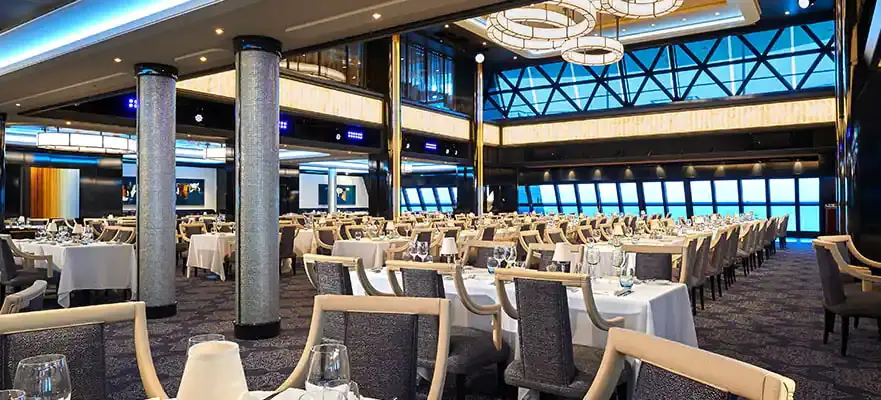 Manhattan Room aboard Norwegian Bliss
Main Buffet
Depending on what ship you are on, the name of the buffet might be Garden Cafe, Raffles Court, Market Cafe, Aloha Cafe or others. With indoor and outdoor seating, the buffet offers breakfast, lunch and dinner. There are action stations in the buffet that include meat carving, made to order pasta, pizza, omelets, waffles and soft serve ice cream.
Other Restaurants Included in Your Fare
Note: this is just a sample of complimentary restaurant "categories" which could be available on your NCL ship. Specific venue names vary by ship.
24 Hour Eatery: Aside from the buffet, NCL offers a pub or sports bar-type venue that's open 24 hours a day and offers classic pub food items like reuben sandwiches and fish & chips along with other comfort foods. On some ships, it may be called O'Sheehans Neighborhood Bar & Grill, on others it's The Local Pub & Grill, or just "Sports Bar."
Poolside Bar & Grill: Typically offered on sea days, these poolside grills offer hotdogs and hamburgers. Some ships offer Sabrett's Hot Dog carts poolside. Look for the blue and yellow umbrellas!
Asian: Most ships offer a complimentary Asian restaurant such as Shanghai's, Bamboo, or Silk. They offer noodles, soups, fried wok dishes and others.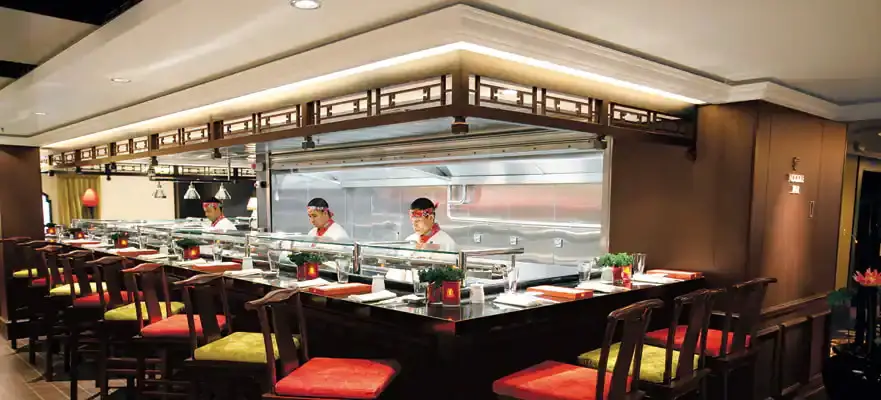 Food Hall: On NCL's newest Prima class ships, the food hall offers various cuisines in one location, kind of like a mall food court. There are 11 different restaurants and the coolest thing is that you order via tablets from your table and the food will be delivered when it's ready.
Additional Cost Restaurants (aka Specialty Dining):
Q Texas Smokehouse: Authentic Texas BBQ. Smoked meats that are infused with various flavors. Traditional sides with plenty of drink options.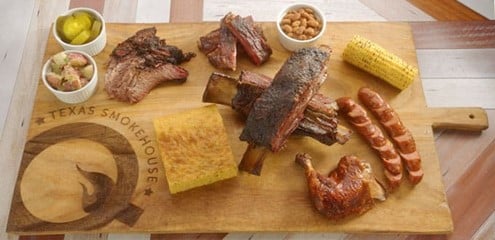 Moderno Churrascaria: This Brazilian steakhouse has a salad bar of imported cheeses, olive, cured meats, ceviche and salads. There are also skewers of beef, pork, lamb and chicken.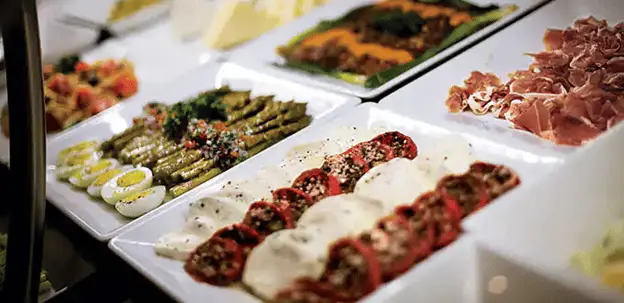 Cagney's Steakhouse: This steakhouse is on most ships and features premium cuts of meat and unique and delicious sides.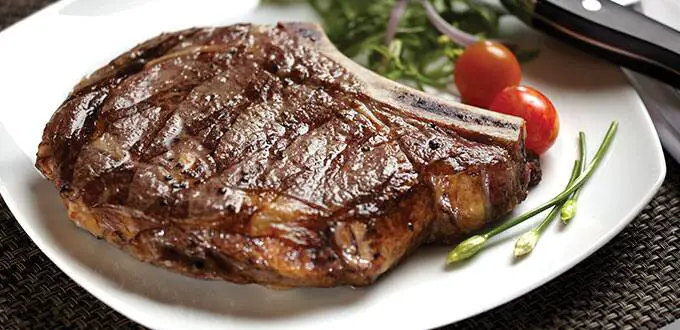 Italian Restaurants: Depending on the ship, the Italian specialty restaurant will be called Onda by Scarpetta or La Cucina. Italian fare with signature pastas like Spagehetti Tomato & Basil with an extensive wine list. Both raw and cooked seafood, vegetable dishes and Italian desserts.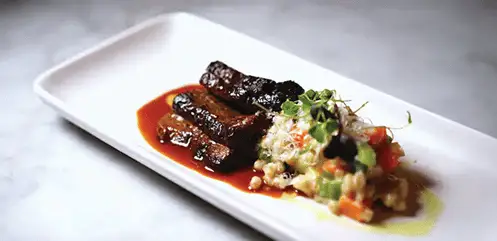 Japanese Restaurants: The specialty Japanese restaurant abord your NCL ship may be called Wasabi, Teppanyaki or Sushi Bar, and offer delicious rolls, grilled meats and other Japanese delicacies.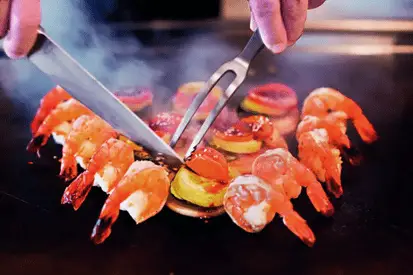 The Bake Shop: Just as it sounds, you will find all things sweet here. French macarons, chocolate bonbons and gourmet cupcakes.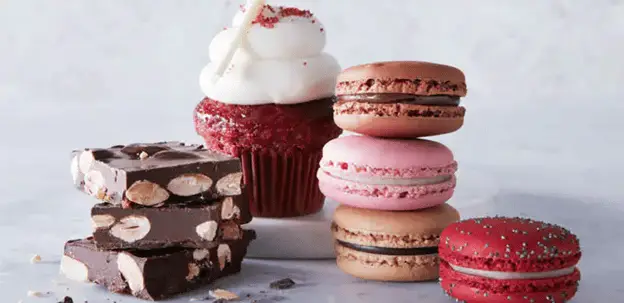 This page contains affiliate links for which we may receive financial compensation when a purchase has been made through one of our affiliate partners.
About
Joy is the Co-Founder & Content Manager/Expert for CruisePortAdvisor.com and one of the founders of the site. She loves to travel, sing & bake.