Royal Caribbean Cruises has several island destinations. One of the favorites among cruise passengers is Perfect Day at Coco Cay. It has everything from water slides to pools to cabanas and the exclusive Coco Beach Club.
If you like those types of ports, you will have Royal Caribbean's new development to look forward to. Located in Nassau, Bahama, the 17-acre development will be called The Royal Beach Club at Paradise Island and is a much-anticipated addition to Royal's presence in Nassau, Bahamas.
A Work In Progress
At this point, the plans for the Beach Club are still in the works, and the project's environmental reports still need approval. So while these are early days, we do know some of the ideas that Royal has in mind for the Beach Club thus far.
Royal Caribbean's Ideas For Royal Beach Club
According to a Royal Caribbean press release in May of 2023, Royal says:
"Opening in 2025, the Royal Beach Club at Paradise Island in Nassau, The Bahamas, will combine the island's striking beaches with Royal Caribbean's signature experiences to create the ultimate beach day.
Alongside private cabanas, stunning pools and more, the vibrant Bahamian spirit and culture will come to life throughout the world-class destination experience.
Vacationers will be welcomed by local architecture that complements the exceptional views of The Bahamas' turquoise-blue waters and white sand beaches, along with experiences that feature Bahamian fare, island-style barbecues, live music and local artisans."
Location For Royal Beach Club On Paradise Island
The Royal Beach Club at Paradise Island will be located at the western end of the island. This is the area where the famous lighthouse near the Port of Nassau is located.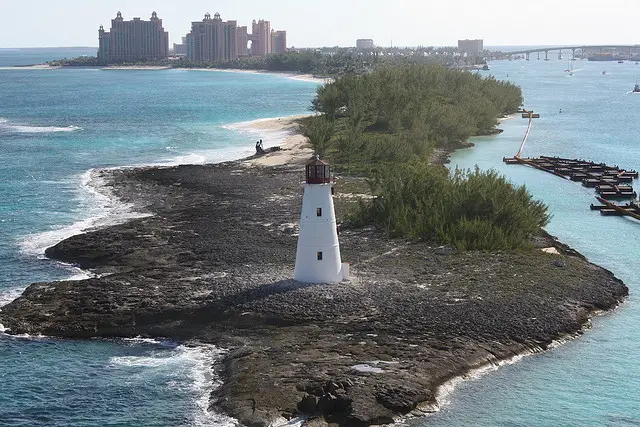 Hog Island Lighthouse courtesy of 'where was it shot'
The Beach Club will be positioned just across the inlet from where the cruise ships dock in Nassau, Bahamas. Located on the western end of Paradise Island, passengers will take a short ferry ride over to the beach club from the docks.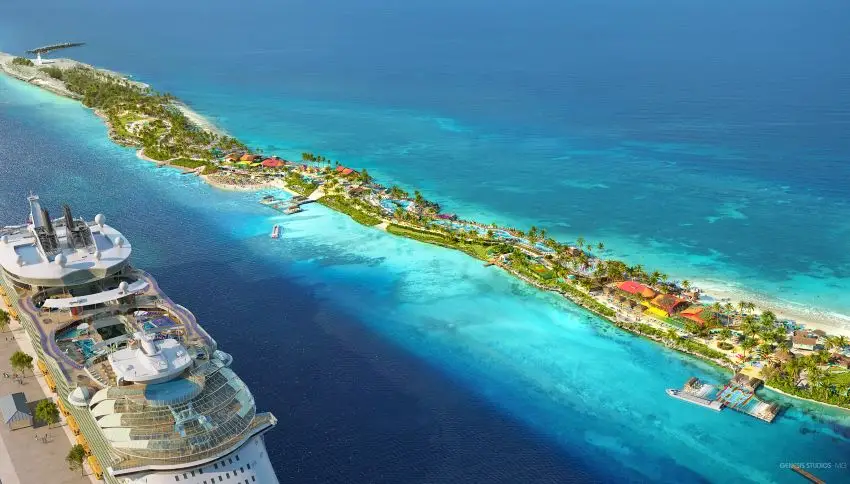 Artist's conception. Courtesy of Royal Caribbean
At this point in time, there is some development in this area including the Atlantis Resort, but much of the island is still undeveloped.
According to local media, Royal Caribbean expects to use their sixth Oasis-class ship, Utopia of the Seas, on an all-Bahamas itinerary when the ship debuts in 2024. If this proves true, it would boost the number of visitors to Nassau and Paradise Island greatly.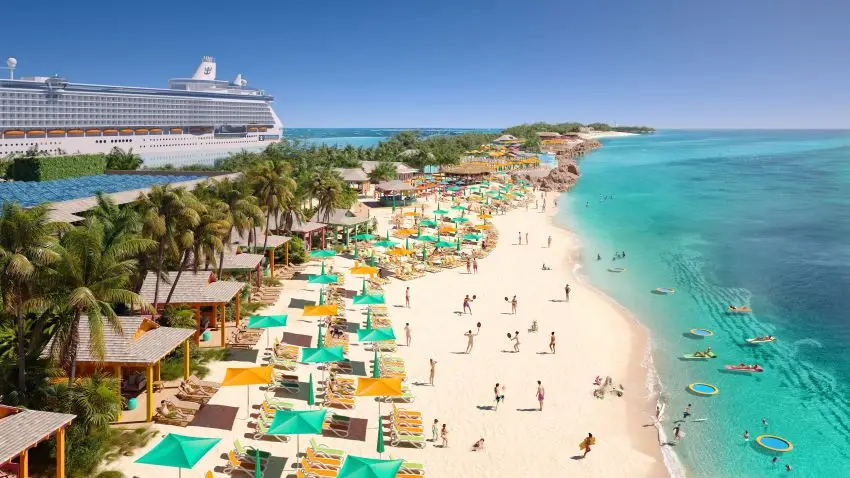 Artist's conception. Courtesy of Royal Caribbean
What Visitors Can Expect At The Royal Beach Club
This new development will provide a different kind of experience for cruisers on Royal Caribbean.
At this point in time, CocoCay, which is RC's number one destination. The Beach Club will be much different from the CocoCay destination.According to Royal, only about 40% of the cruise line's guests will get to visit the Beach Club, making it more of an exclusive experience.
Whereas CocoCay provides zip lines and hot air balloons, the Royal Beach Club will have its focus on a serene setting, outstanding food and beverage and great service.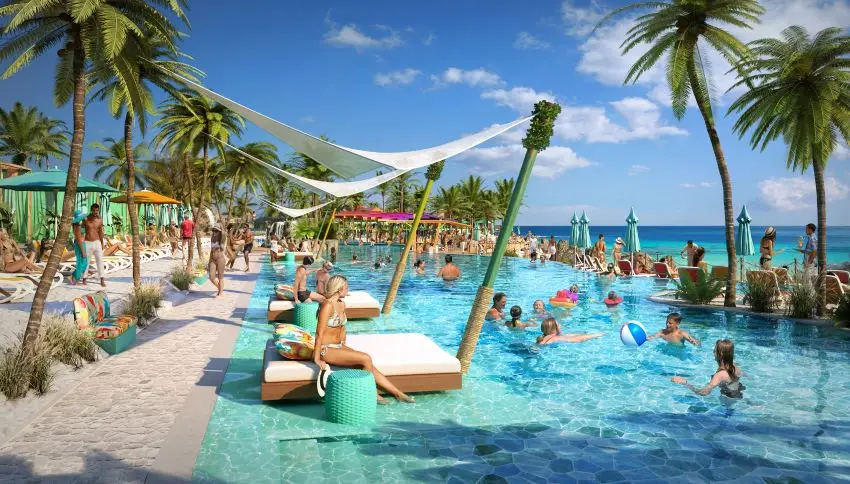 Artist's conception. Courtesy of Royal Caribbean
The Beach Club will feature "local architecture" as well as experiences that feature Bahamina fare, island-style barbacues, live music and locat artisans.
The area will include diving pavilions, private cabanas, 14 beach bars, a 26,000 square-foot pool and a 4,000 square-foot splash pad for the kids.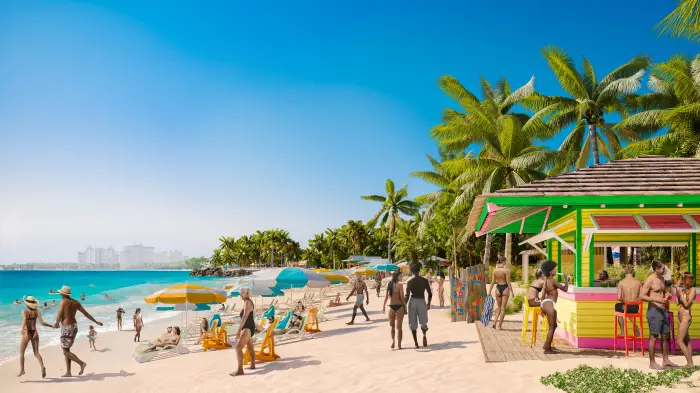 Artist's conception. Courtesy of Royal Caribbean
The Royal Beach Club Will Be Fee-Based
Another big difference between CocoCay and The Beach Club is that the Club will be an all-inclusive, fee-based, upscale experience.
Senior Vice President and Chief Product Innovation Office for Royal Caribbean, Jay Schneider has said that there will be a fee for access to the Club, and the focal point of the Club will be beautiful beaches and heated pools.
While the price for access to the Club has not yet been announced, it will include a water taxi ride to the island, food, beverage (including alcohol), beach chairs and umbrellas. It will also include non-motorized activities that include swimming, snorkeling and kayaking.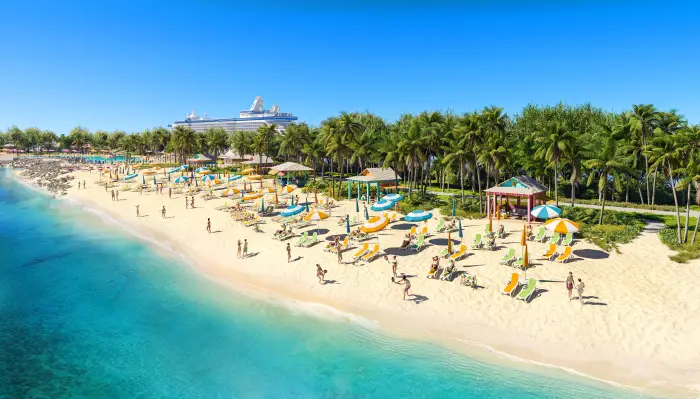 Artist's conception. Courtesy of Royal Caribbean
Royal Caribbean's Commitment to The Bahamas
Royal Caribbean Cruise Lines plans to ensure that the operation of the Beach Club is executed with Bahamian companies, rather than using its own employees to operate the Club.
In order to develop the area, Royal Caribbean has worked in close collaboration with the Bahamian government. Royal has said that it will not dredge the area in and around Paradise Island and it will not build overwater cabanas.
They plan to minimize the impact on marine life by having a Bahamian company conduct environmental monitoring during the construction process.
Royal's Partnership With The Bahamian Government
Royal Caribbean says it has agreed to a public-private partnership whereby "Bahamians can own up to 49% equity in the beach club."
The 17-acre Beach Club will be made up of 13-acres of land owned by the cruise line and four acres of "Crown Land" (public land owned by the state) that's serving as equity.
With this agreement, a share of Royal's profits from the project will be returned to the Bahamian government. Considered a first-of-its-kind agreement, it is also coupled with a new tourism levy.
To facilitate this partnership, in June of 2023, Royal Caribbean hired Bahamian business and land development executive Philip Simon as president of Royal Beach Club at Paridise Island and general manager of Royal Caribbean International Bahamas.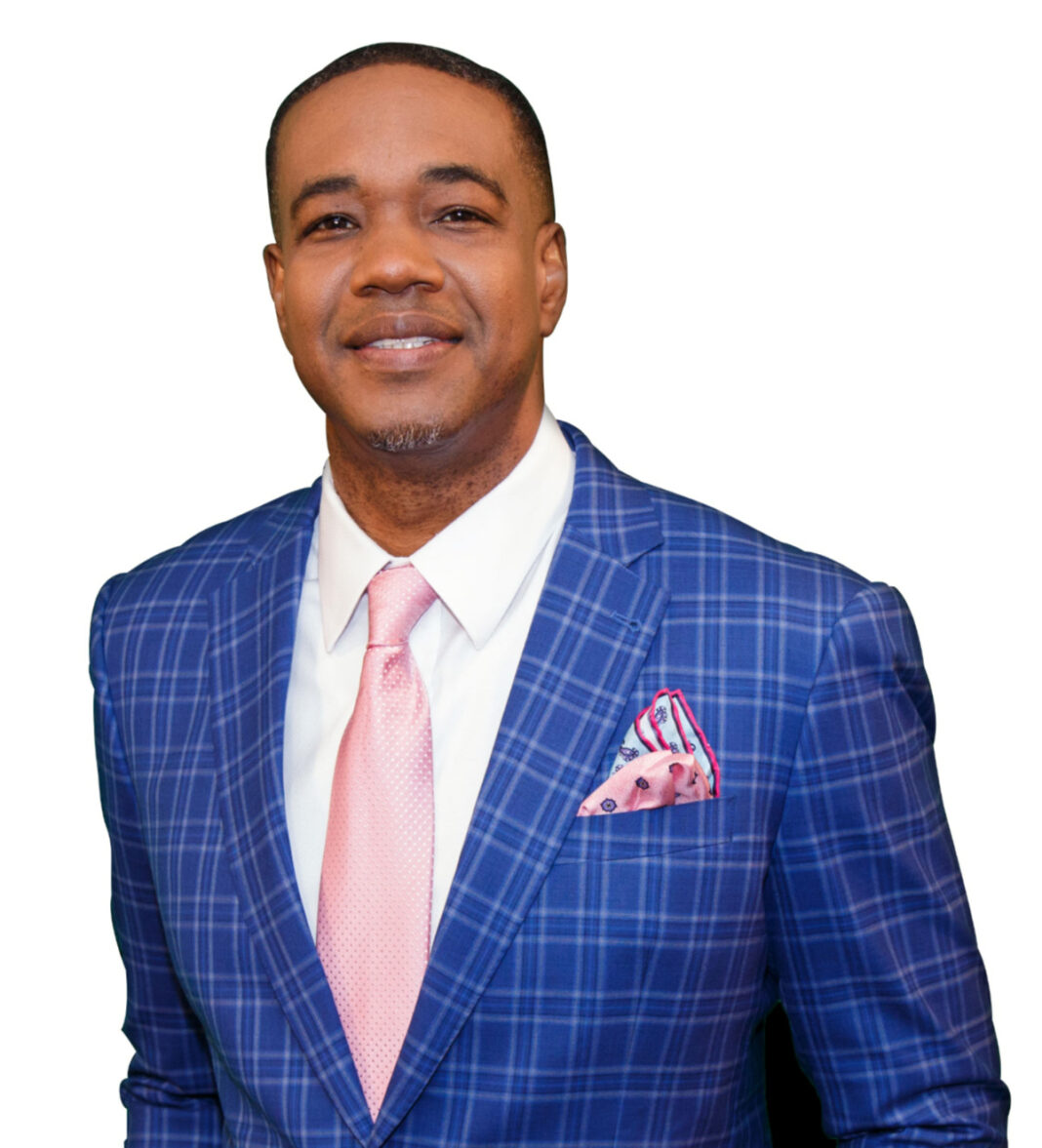 Philip Simon. Picture courtesy of Royal Caribbean
Not All Is Well In Paradise
While plans for the Beach Club are going forward, there has been some trouble in paradise. Not all concerned are not happy with what they see as Royal Caribbean's intrusion on the island.
Atlantis Resort located on Paradise Island, have had Royal Caribbean's project on their radar ever since it was first proposed in 2020.
Atlantis Resoirt officials have expressed concerns about the impact on the environment and job losses elsewhere on the island if Royal's project goes forward.
There have also been reports of Atlantis pressuring employees to oppose Royal Caribbean's beach club, which the resort denies.
Atlantis President and Managing Director Audrey Oswell has stated that "The potential impact on our beaches, marine life, and water supply could be devastating if the appropriate environmental controls and practices are not carefully planned and executed."
In spite of these concerns, Royal is continuing to move forward with the Beach Club project. In June of 2023, there was a public consultation with the Bahamas Department of Envirnomental Planning and Protection, and Royal has received "approval in principle" for the project.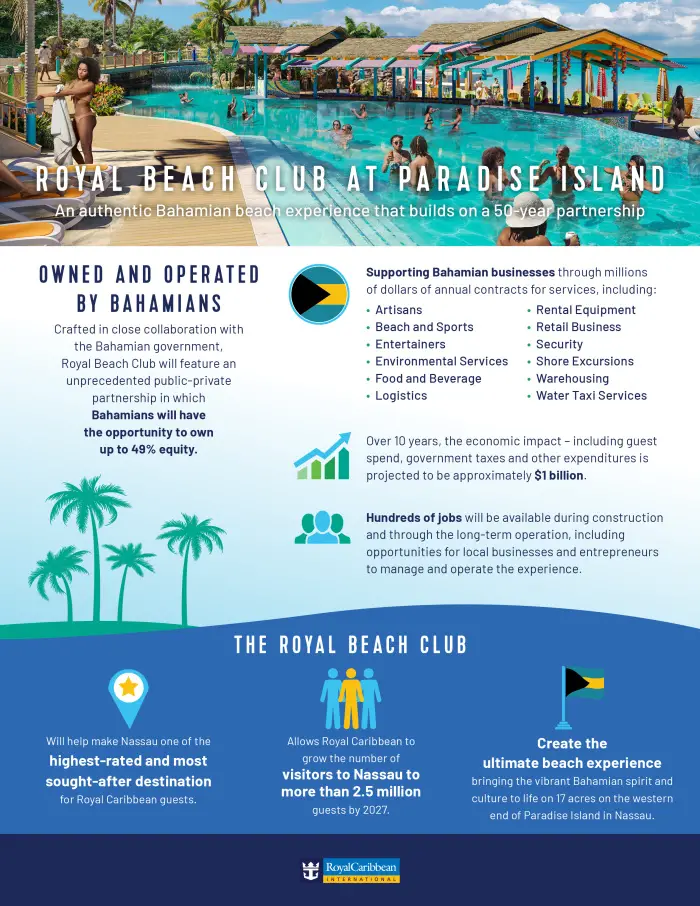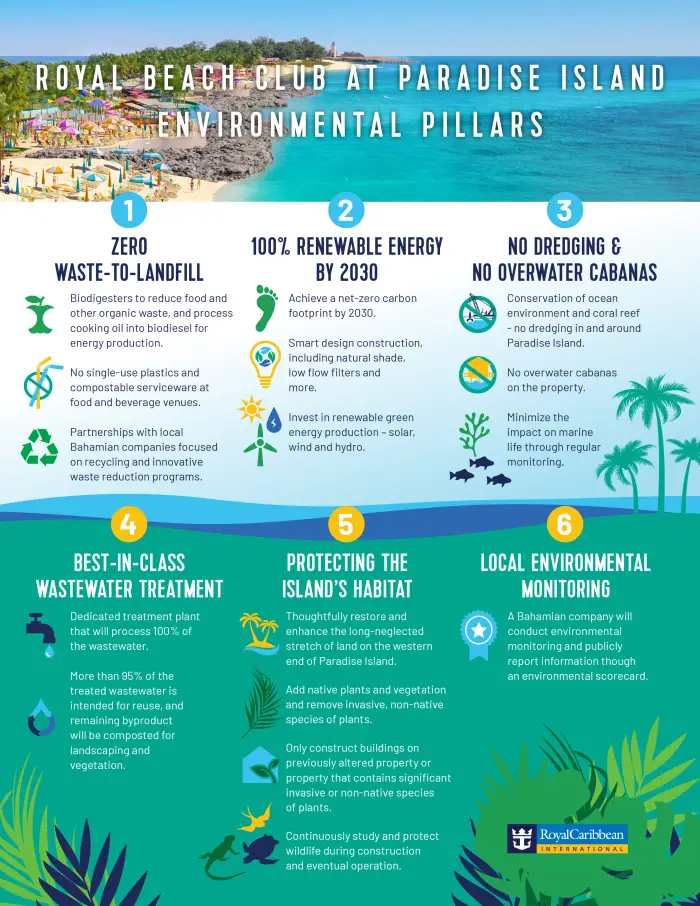 You can find further information about the Royal Beach Club at Paradise Island here: https://www.royalbeachclubatparadiseisland.com/
This page contains affiliate links for which we may receive financial compensation when a purchase has been made through one of our affiliate partners.
About Jonathon Hyjek
Jonathon is the tech guy behind CruiseportAdvisor.com. When he's not stuck in front of his computer, Jonathon enjoys travel & cruising (even after being on a cruise ship that caught fire - a story for another day!)