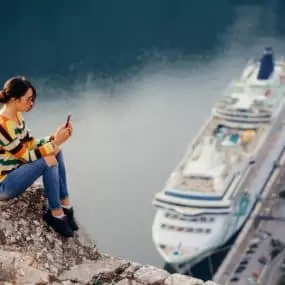 WiFi Packages on Cruise Ships – Updated 2021
Last updated on October 9th, 2021 at 10:18 pm
We live in a digital age where social media is prevalent in many aspects of our lives.
Whether we are chronicling our travels, advertising our business interests, getting remote work taken care of, sharing vlogs, or engaging with friends and family – few can go a day, much less extended time periods without Wi-Fi access or means of getting to their accounts.
Especially in this remote-work-driven world, business has become a work from anywhere endeavor where you can be cruising the world and still keeping a finger on the heartbeat of your other ventures.
Do cruise ships have wifi?
It is a critical question for those planning a vacation to ask in the planning stages of their travels.
The answer is not a straightforward yes or no and does change by the cruise line. We know that having Wi-Fi readily available onboard and how reliable the service is could be a critical factor in selecting a boat and destination.
What follows is a breakdown of the advertised services around Wi-Fi by the cruise line and previous cruiser insights on these services for many cruise lines sailing vacationers are considering.
Royal Caribbean – Offers a VOOM Surf Voyage Package you can add to your cruise to stream and stay connected. Depending on if in port or at sea and the number of devices you will be connecting, these packages start at $15.99 for one device for the slower service and go as high as $22.99, but for various itineraries and member levels, there are discounts available.
Overall, users have good things to say about the service, though it does appear there can be some spotty coverage depending on your itinerary.
Celebrity – Xcelerate stream is the top-tier package you can add to your cruises on Celebrity for near-constant coverage while cruising. This package is great for those wishing to stream movies and such while underway and seems to have fairly good reviews from previous customers.
The more economy package will be Xcelerate surf for those needing some basic email and messaging services for a more value-added cost.
MSC Cruises – the satellite internet packages on MSC Cruises offer the ability to bring your own devices for public area and café spot coverage. When added to a cruising package, the coverage on this one is for 24-hour coverage, which is nice considering others throttle when available if you read the fine print.
They also have cafes with printers and full screens and keyboards to facilitate work or other activities.
Carnival Cruises – carnival is pretty transparent in the three levels of Wi-Fi offered from $6.80/person per day social plans to the premium plan that begins at $13.60/person per day. The Premium does boast three times as fast connection also, which is why each is based on your need for simple social media feeds to streaming or work commitments.
Check the fine print and ensure that you pick the right package as there are some pre-purchase restrictions that this plan enforces before embarking.
Holland America – Internet and Wi-Fi packages on Holland America cruises are a bit trickier as they charge an activation fee of $3.95. Then you pay by the minute with packages for 100 or 250 minutes or pay as you go.
This is by far one of the more expensive options and not as well-reviewed, so you might want to dig into this with your travel advising partner to get the real skinny before booking, should more readily available internet available be a concern for you.
Princess Cruises – MedallionNet is the Wi-Fi service of Princess cruise lines, and recently they announced some improvements to their service even to help accommodate those that might need to work while onboard. They boast their services being "The Best Wi-Fi at Sea," and they have several unlimited day packages for as little as $9.99 a day.
It must be added that there is a lot of good reviews out there that might back this claim but again, read through all the data to make the best-informed decision.
Costa Cruises – Costa features a Data and Social package for their internet, with access available in all public areas and cabins throughout their ships. They have an Internet Point area where you can use onboard devices or bring your full ship usage.
Additionally, their packages range from 250 MB to 3 GB. Their social package has a list of sites it allows access to in a more economical fashion – or you can pay as you go if you aren't sure of your needs before sailing.
Disney Cruises – [email protected] is the program covering all of Disney's internet packages at sea options. There is free access to the Disney Cruise Line Navigator app, which is also accessible to view other data packages. Depending on the data needed, and devices a custom plan can be purchased once onboard and charged directly to your stateroom.
Virgin Voyages – Wi-Fi is included with all Virgin Voyage packages. In fact, recently, information about research being done on eh cruise line for Wa-Fi access underwater has been published. This cruise line ensures you can stay connected and share photos of your amazing travels.
Viking Ocean – internet access onboard is free, but there are some significant limitations on bandwidth for such activities as streaming. The ships do have a Business Center on board with computers or use your device, but the other amenities onboard are the draw – internet access due to itineraries, and locations along with onboard setup make access to the internet not as spectacular as on other cruise lines.
Crystal – complimentary services on board all their boats for internet and Wi-Fi allow you to bring your own devices. They do note that some apps work onboard well, but others that are satellite dependent could be spotty in coverage in certain areas.
This is completely satellite coverage, and they do a great job of laying out coverage concerns on their website.
Oceania – Wavenet is the internet service provided by Oceania, and the basic levels are free to all sailing with them. Additionally, a Prime option can be tacked for $9.99 a day to more robust access to allow for such things as streaming and the like.
Passengers in the premium Owners and Vista suites even get provided an iPad ensuite for the duration of the voyage for their use in accessing social media, email, and other internet options.
Azamara offers packages that start at $0.33/a minute with one-hour passes to one-day or full cruise packages. Several spelled out limitations to their services, such as Skype and others, so it's important to go through their exceptionally detailed and transparent services listings before setting expectations for your cruise.
Norwegian – Norweigian's services onboard are offered in internet cafes onboard, with some stateroom access on certain ships. Laptop rentals, email access, and other items for this coverage can be found on their website, but for those needed streaming services or more robust coverage for work, you must take a hard look at this one before booking.
Silver Seas – has unlimited complimentary internet for all those sailing. Speed limitations depend on the package level and ship, so checking to ensure you have the right service may include additional service level add-ons, but basic levels remain free.
They also feature onboard cafes where you may use their computers and other devices or bring your own and access the internet throughout their ships.
A Word of Caution About Cruise Line Wi-Fi
Certain apps, a variety of service options, port of call, and destinations along your cruise can all impact the internet service on a ship.
If these services and having access to friends, coworkers, work, or even social media feeds are important to you, do your research before embarking as not all cruise lines have given their online services the same consideration.
Can you stream movies on a cruise ship?
Wifi is getting better for certain and more readily available. While the speed of an individual cruise ship might be enough to stream movies, you might end up going through your available bandwidth quickly. 
Additional charges in most cases will apply for streaming or higher/longer coverage periods and can have a significant impact on the cost of your cruise experience if not booked in advance. 
That being said, it is not the same on every ship, and the costs are specific to each cruise line, so don't make assumptions that just because you sail on one two years ago and want to pick a new line, the services may not be the same.
Conclusions
Depending on the destination, cruise ship capabilities, and even your stateroom location, the variances in coverage can be significant.
Look at the cruise line websites and reviewers on popular websites like the CruiseCritic Forums who can be brutally honest on reviewing such amenities. Real-life examples may help you from being frustrated mid-cruise and not enjoying a hard-earned vacation due to slow internet when you are already out to sea.
This page contains affiliate links for which we may receive financial compensation when a purchase has been made through one of our affiliate partners.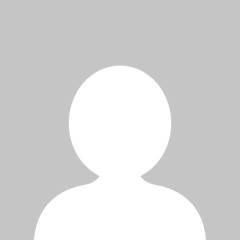 Jonathon is the tech guy behind CruiseportAdvisor.com. When he's not stuck in front of his computer, Jonathon enjoys travel & cruising (even after being on a cruise ship that caught fire - a story for another day!)