Embarking on a cruise from the scenic Seward Cruise Port in Alaska promises awe-inspiring natural beauty and unforgettable experiences. To ensure a smooth journey, it's essential to plan your transportation to the port in advance.
In this blog post, we'll provide valuable information on reaching the Seward Cruise Port, including details about the nearest airport and available shuttle services.
Getting to Seward:
Seward, located on the Kenai Peninsula in Alaska, serves as a gateway to breathtaking glaciers, fjords, and wildlife-rich waters. Seward is one of Alaska's oldest and most scenic communities on the Kenai Peninsula.
The Kenai Fjords National Park is one of the most visited areas in all of Alaska because of the spectacular natural wonders and the popularity of Seward as a cruise ship destination.
Here are the primary transportation options to reach the Seward Cruise Port:
Seward Alaska Airport:
Looking for Seward Alaska airport?
While Seward does have its own small airport, it is not equipped for large-scale passenger services. If your cruise leaves from Seward, the closest airport to Seward is the airport in Anchorage, Alaska.
Ted Stevens Anchorage International Airport (ANC):
Distance: Seward is approximately 125 miles south of Anchorage.
Ground Transportation: From ANC, travelers can choose various ground transportation options to reach Seward:
Rental Cars: Several rental car agencies operate at the airport, allowing you the freedom to explore at your own pace. It's advisable to reserve a vehicle in advance to ensure availability.
Private Shuttles: Numerous private shuttle services offer transportation between Anchorage and Seward. These shuttles provide a convenient and comfortable option, with scheduled departures and pickups directly from the airport.
Shared Shuttles: Shared shuttles are also available and offer a more cost-effective option for travelers willing to share transportation with other cruise passengers. These shuttles typically require advance booking.
You can find out more information about the airport, transportation options and flight information here:
Ted Stevens Anchorage International Airport and here: The State Of Alaska ANC Safe Travels
Take The Train
Another scenic option is the Alaska Railroad, which operates a summer-only route from Anchorage to Seward.
The Alaska Railroad Coastal Classic Train journey is renowned for its breathtaking views, including glimpses of glaciers, mountains, and wildlife. The train terminates at the Seward Train Depot, just a short distance from the cruise port.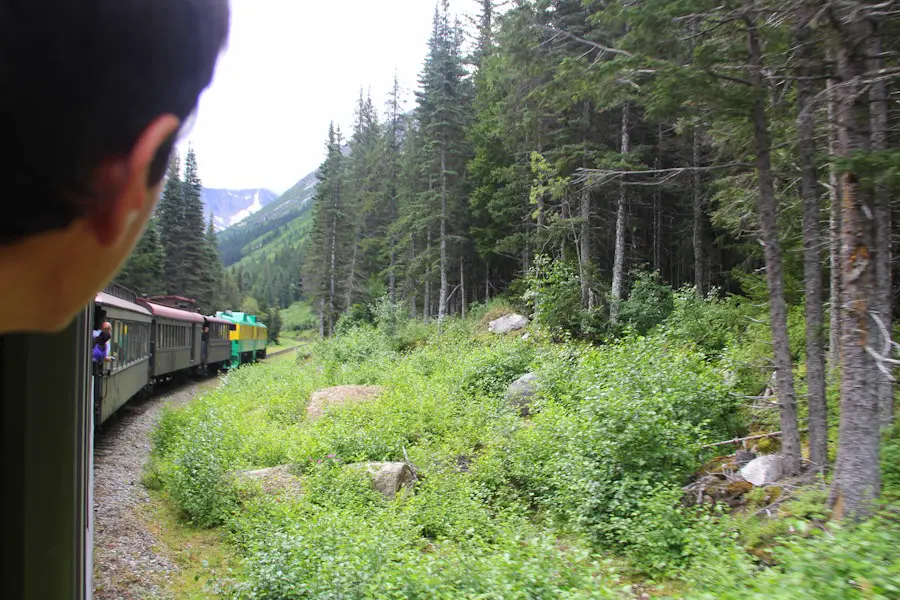 Drive Yourself
For those who prefer to explore at their own pace and enjoy the freedom of the open road, driving from Anchorage to Seward is a popular choice.
Of course, if you decide to drive to Seward, you're going to need to park your car for the duration of the cruise. You can find out more information about cruise parking in Seward here.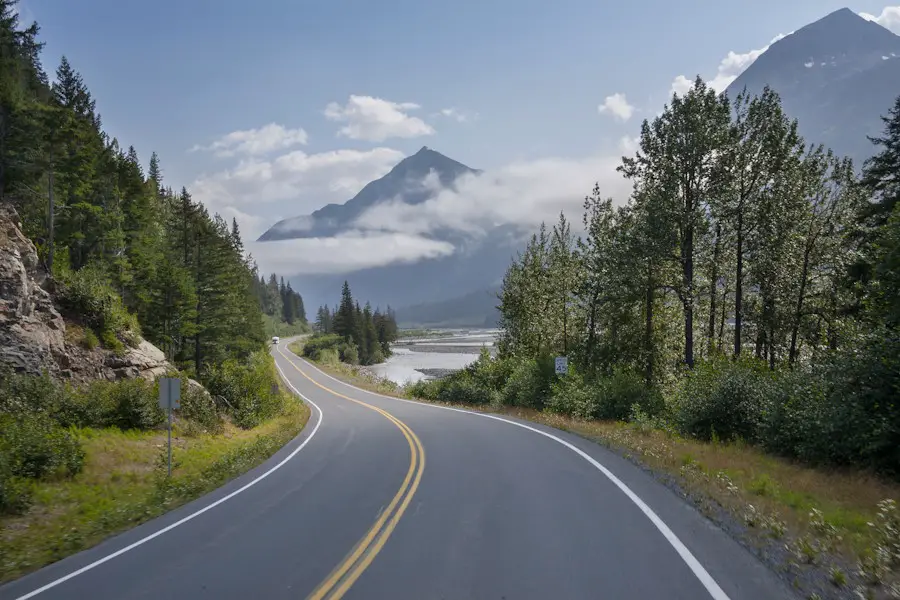 The scenic Seward Highway (Route 1) connects the two locations, offering picturesque views of mountains, lakes, and forests along the way. If you drive, check out these scenic day drives: Anchorage Scenic Day Drives
Shuttles to the Seward Cruise Port:
To streamline the process of reaching the Seward Cruise Port, shuttle services are available to transport passengers directly from Anchorage or the Anchorage airport.
Here are a few options to consider:
Major Marine Tours This company offers transportation services from Anchorage or the airport to the Seward Cruise Port. Their shuttles are convenient, and comfortable, and provide a direct connection to the port.
Seward Bus Line The Seward Bus Line operates a scheduled shuttle service between Anchorage and Seward, offering transportation to cruise passengers. They provide both one-way and round-trip options, accommodating various departure times.
Cruise Line Transfers: Many cruise lines offer their own shuttle services for passengers who have booked cruises departing from Seward. Check with your specific cruise line to inquire about transfer options.
About The Cruise Port In Seward
The cruise port in Seward, Alaska is known as the Seward Cruise Terminal. It serves as a major gateway for cruise ships traveling to and from the scenic wonders of Alaska, including the nearby Kenai Fjords National Park and the picturesque Resurrection Bay.
Read here for some key details about the Seward Alaska Cruise Terminal Information before your trip.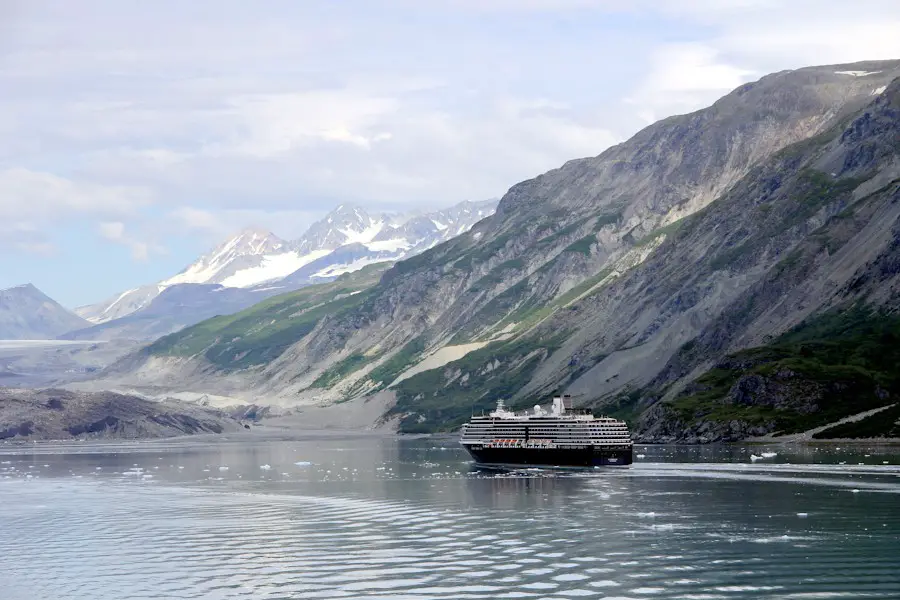 Location: The Seward Cruise Terminal is situated in the city of Seward, which is located on the Kenai Peninsula in southcentral Alaska.
It is nestled at the head of Resurrection Bay, offering breathtaking views of mountains, glaciers, and pristine wilderness.
Berths: The port has two berths, named Terminal 1 and Terminal 2, capable of accommodating large cruise ships.
These berths are equipped with necessary infrastructure such as gangways, mooring facilities, and fueling stations to facilitate the smooth embarkation and disembarkation of passengers.
Attractions: Seward is renowned for its natural beauty and outdoor recreational opportunities. Visitors often explore the nearby Kenai Fjords National Park, where they can witness stunning glaciers, marine wildlife, and breathtaking fjords.
Even though it is a small city, there is no lack of things to do in Seward Alaska. It is a stunningly beautiful place.
The Exit Glacier, located just outside Seward, is a popular attraction for hiking and witnessing the magnificence of a glacier up close. The city of Seward itself offers charming shops, galleries, restaurants, and opportunities for fishing, kayaking, and wildlife spotting.
Season: The cruise season in Seward typically runs from May to September when the weather is relatively milder in Alaska.
During this time, numerous cruise lines offer itineraries that include Seward as a port of call or embarkation point for voyages exploring the Inside Passage or other destinations in Alaska.
The Facilities At Seward Cruise Terminal
The Seward Cruise Terminal offers several guest amenities to enhance the experience of cruise passengers. The terminal has a spacious passenger building that serves as a hub for various services and facilities.
Check-in & Luggage
The terminal provides check-in counters where passengers can complete the necessary procedures before boarding their cruise ships. This includes the verification of travel documents, distribution of boarding passes, and luggage handling.
Seating
Comfortable seating areas are provided throughout the terminal, allowing passengers to relax while they wait for embarkation or disembarkation procedures.
Restrooms
Restroom facilities are available within the terminal for passenger convenience.
Tourist Information
The terminal offers visitor information services, where knowledgeable staff can provide assistance regarding local attractions, transportation options, and general inquiries about Seward and the surrounding area.
WiFi
The terminal provides Wi-Fi access so that passengers can stay connected and access the internet while waiting or during their time at the terminal.
Shopping
The Seward Cruise Terminal often features shops where passengers can browse and purchase various items. These shops may offer souvenirs, clothing, accessories, local products, and more.
It's important to note that the specific amenities and services available at the Seward Cruise Terminal may vary based on the cruise line, the season, and any specific arrangements made by the cruise companies.
It's recommended to check with your cruise line or travel agent for the most up-to-date information regarding guest amenities at the Seward Cruise Terminal for your specific cruise.
Final Thoughts
Reaching the Seward Cruise Port to embark on your Alaskan adventure requires thoughtful planning and consideration of available transportation options.
Whether you choose to fly into Anchorage and utilize shuttles, explore the scenic train route, or embark on a self-drive journey, the journey to Seward promises to be as captivating as the destination itself.
Enjoy the breathtaking landscapes and wildlife sightings as you make your way to the Seward Cruise Port, where your unforgettable cruise experience awaits.
This page contains affiliate links for which we may receive financial compensation when a purchase has been made through one of our affiliate partners.
About Jonathon Hyjek
Jonathon is the tech guy behind CruiseportAdvisor.com. When he's not stuck in front of his computer, Jonathon enjoys travel & cruising (even after being on a cruise ship that caught fire - a story for another day!)