Exploring the Idyllic Island Paradise of Bimini
If you're in search of an unforgettable cruise in the Caribbean, Bimini in the Bahamas is a destination worth considering. Just a short cruise away from mainland Florida, this idyllic island offers a serene escape from the hustle and bustle of everyday life.
Bimini has the clearest and cleanest waters in the region which makes snorkeling and diving particularly enjoyable. Marine life is diverse around Bimiini and the islands are popular for sport fishing.
Let's dive into the reasons why taking a cruise to Bimini is an excellent choice, discuss the cruise lines that travel to the island, and highlight the exciting activities and attractions to explore during your visit.
A Little Bit About Bimini
Only about 9 square miles, there are two main islands that make up the island chain, North Bimini and South Bimini, with a much smaller third island, East Bimini. The waters surrounding the islands are shallow at just 20 to 30 feet in most places.
Known as the "Gateway to the Bahamas," Bimini was settled by indigenous Lucayan people. They christened the area Bimini, meaning "two islands" or "twin islands."
In the past, the islands were also a haven for pirates, and during the Prohibition period in the United States, the islands' close proximity made them an excellent haven and supply point for rum-running.
Ernest Hemingway lived in Bimini for two years, from 1935 to 1937. It was here that he worked on To Have and Have Not and fished aboard his boat Pilar.
Bimini has been a favorite cruising ground for America's yachting set, because of its location off the Florida coast where the Gulf Stream meets the Bahama Banks. The channel here between North and South Bimini is a large and sheltered harbor ideal for boaters.
Bimini is known as the Big Fish Fishing Capital because it has some of the greatest ocean fishing anywhere in the world.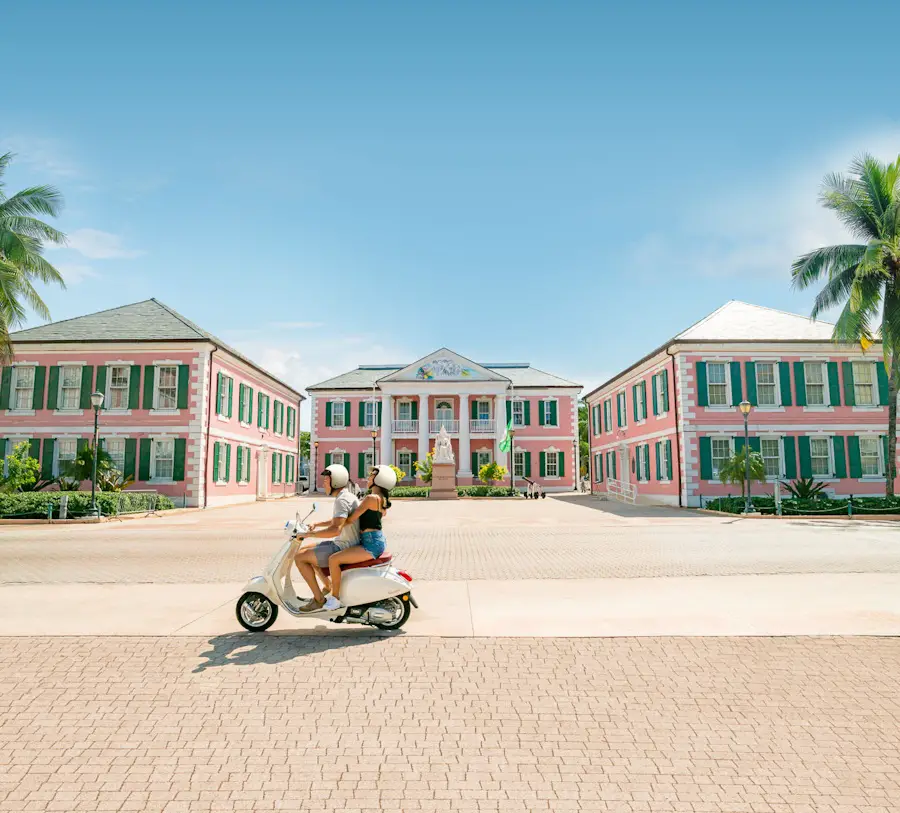 Resorts World Bimini Cruise Port
Opened in the summer of 2021,  Bimini's New Cruise Port at Resorts World has made it possible for Oasis-class vessels to dock directly in the area. Resorts World Bimini is an expansive beachfront resort that has a hotel, casino, marina and a private beach.
Cruise Lines That Travel to Bimini
Several cruise lines offer voyages to Bimini, making it easily accessible to travelers. Let's take a closer look at some of the popular cruise lines that include Bimini as a port of call:
Virgin Voyages: Known for their innovative and adult-focused cruise experiences, Virgin Voyages offers voyages to Bimini as part of their itineraries.
Virgin Voyages Adults-Only Cruises cater to those 18 and above. Their ship, the Scarlet Lady, provides a luxurious and vibrant atmosphere with a focus on relaxation, entertainment, and rejuvenation.
Margaritaville at Sea: Offering two-night cruises from Palm Beach, Florida, formerly called Bahamas Paradise Cruise Line, Margaritaville at Sea provides an affordable option for those seeking a quick getaway to Bimini. The MV Grand Classica, one of their ships, features a range of onboard amenities to ensure a comfortable journey.
Carnival Cruises: Known for its fun-filled atmosphere, Carnival Cruise Line offers a variety of itineraries that include stops at Bimini. With a diverse selection of activities and entertainment options onboard their ships, you can expect a lively and enjoyable cruise experience.
Royal Caribbean Cruises: Renowned for its fleet of innovative and luxurious ships, Royal Caribbean  provides cruises to Bimini, often as part of a longer itinerary exploring other Bahamian islands. Their ships boast a plethora of amenities and activities, ensuring a memorable vacation at sea.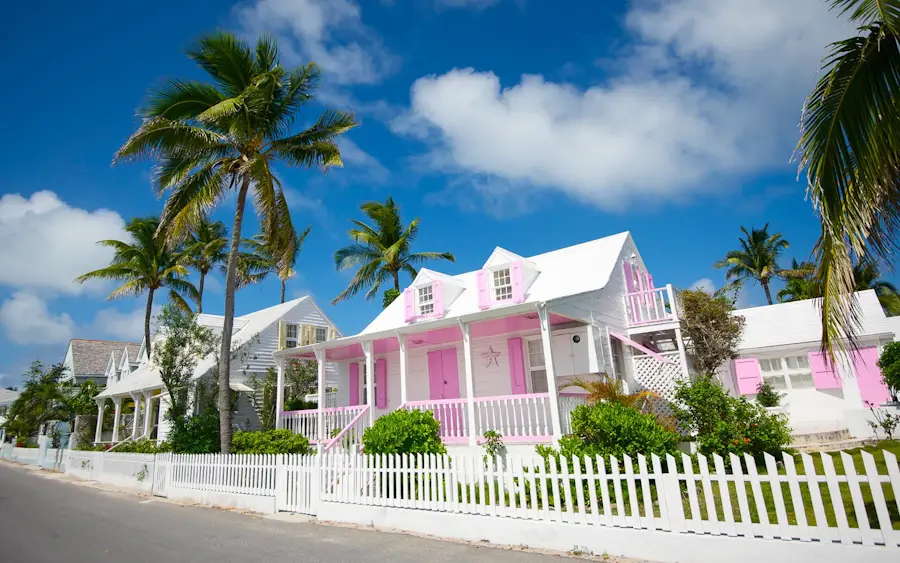 Things to Do in Bimini
Although Bimini is a small island, it offers a wealth of activities and attractions to suit a short cruise visit. Bimini Cruise Port has many things to do that are not your run-of-the-mill tourist activities.
Here are some highlights to consider during your time on the island:
Explore Bimini's Beaches: Bimini boasts pristine beaches with crystal-clear turquoise waters, making it a haven for beach lovers. From the powdery sands of Alice Town Beach to the secluded sands of Radio Beach, you'll find the perfect spot to relax, soak up the sun, and enjoy the tranquil surroundings.
Dive into Underwater Adventures: Bimini is a paradise for divers and snorkelers, with vibrant coral reefs teeming with marine life. Explore sites like the famous Bimini Road, a series of underwater rock formations believed to be part of an ancient civilization, or swim with dolphins in their natural habitat.
Visit the Bimini Biological Field Station: Also known as the "Shark Lab," this research facility allows visitors to learn about marine conservation and observe shark research up close. At Bimini Biological Field Station you can join educational tours and even participate in snorkeling expeditions to encounter these majestic creatures in their natural environment.
Experience the Healing Hole: Bimini is home to the legendary Fountain of Youth, a natural underwater spring known as The Healing Hole . It is believed to have rejuvenating properties due to its mineral-rich water. Take a refreshing dip and see if the legends hold true.
Dolphin House Museum: The Dolphin House Museum is full of items collected across the Bimini islands. It is an ocean-inspired museum built using recycled, salvaged and donated materials. A truly unique spot to visit on the island.
Snorkel the S.S. Sapona Shipwreck: the S.S. Sapona is one of a fleet of concrete ships commissioned by U.S. President Woodrow Wilson when steel was in short supply and troops needed to be transported during WWI.
The ship was completed after the end of the war, and so was sold for scrap. Briefly used as a casino, and then for oil storage, Sapona was bought to be used as a floating warehouse to store and distribute liquor during the prohibition.
During a hurricane in 1926, the ship ran aground and was damaged beyond repair. Today, the Sapona Shipwreck  sits in 15 feet of water and makes for a fascinating snorkel site.
Discover Local Culture: Immerse yourself in the vibrant culture of Bimini by visiting the local art galleries, boutiques, and restaurants. Enjoy delicious Bahamian cuisine, sip on a refreshing cocktail, and engage with friendly locals who are eager to share their island's rich heritage.
Bimini Is Worth The Visit
With its beautiful beaches, diving excursion, fantastic marine life and laid-back atmosphere, Bimini is a refreshing place to visit. Year-round warm temperatures that rarely get below 60, make it pleasant to visit almost any time of the year.
Taking a cruise to Bimini ensures a memorable vacation filled with adventure, relaxation, natural wonders, and cultural immersion. With its proximity, stunning landscapes, and exciting activities, Bimini offers an unforgettable experience for travelers of all kinds.
This page contains affiliate links for which we may receive financial compensation when a purchase has been made through one of our affiliate partners.
About Jonathon Hyjek
Jonathon is the tech guy behind CruiseportAdvisor.com. When he's not stuck in front of his computer, Jonathon enjoys travel & cruising (even after being on a cruise ship that caught fire - a story for another day!)