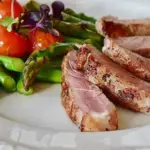 Eating Keto On A Cruise
Last updated on February 20th, 2023 at 09:10 am
Eating keto on a cruise can be a bit of a challenge, but with some planning and preparation, it is definitely possible.
The key to success is to be mindful of the foods you are consuming and to make sure that you are getting enough healthy fats and protein while avoiding high-carb foods.
What Is A Keto Diet?
A keto diet is a very low carb and high fat diet that is similar to Atkins. It aims to increase the body's intake of good fats and protein, and limit the intake of carbohydrates and sugars. 
Using this method, the reduction in carbs puts your body into a metabolic state called ketosis. Your body is forced to burn fat and weight loss follows.
Do Cruise Lines Offer Keto Diet Menus?
Cruise lines do have options for people with dietary restrictions, and will provide for those restrictions when notified in advance.
There are those who
need gluten free options
because of celiac disease when on a cruise, and that is considered a dietary restriction. They also regularly offer sugar-free options.
A keto diet is possible to follow by simply choosing foods that are already available, and so cruise lines do not have keto menus or consider a keto diet as being a dietary restriction.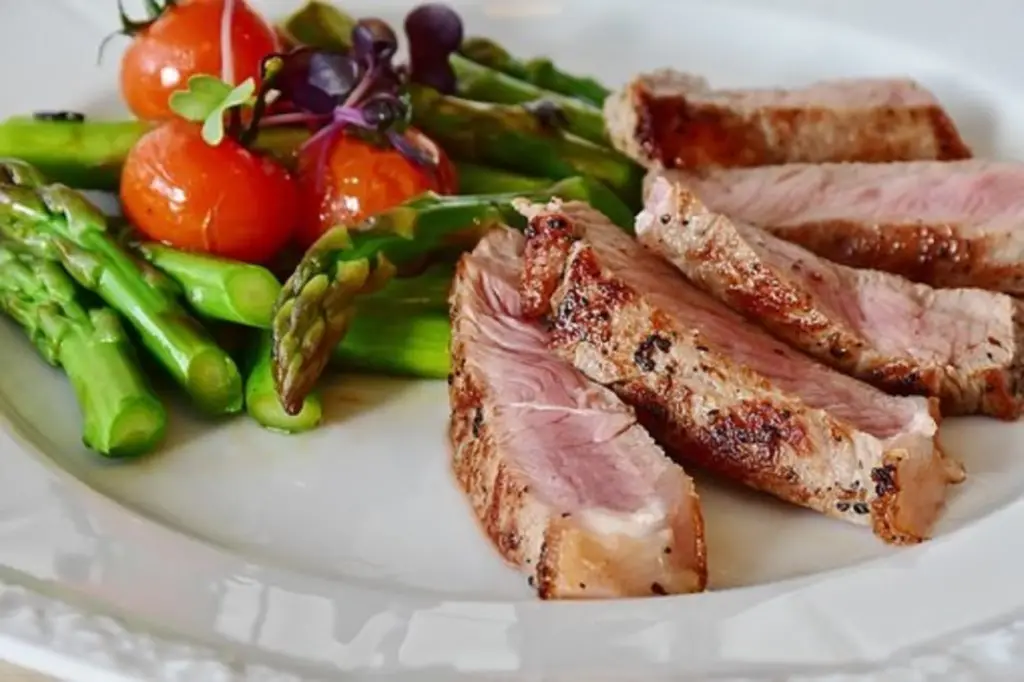 Can You Bring Keto Options On Board With You?
One of the best ways to stay on track while on a cruise is to pack your own snacks. This will allow you to have some measure of control over what you are eating and ensure that you have keto-friendly options available. 
Most cruise lines will allow you to bring non-perishable prepackaged food in limited quantities. Some great options to pack include nuts, seeds, cheese and meat or fish jerky.
Cruise Lines and Keto Options
When it comes to dining on a cruise, it is important to do your research beforehand. Many cruise lines offer special dietary options, such as low-carb or keto meals, but these may not always be available. 
To ensure that you have enough options, it is a good idea to reach out to the cruise line ahead of time to inquire about their keto-friendly options.
For North American cruises, here are some specific tips for some of the most popular cruise lines:
Call the cruise line in advance. They can note your account, which can trigger them to order things like extra gluten-free bread, or offer advice to ensure your dietary needs are met, like what types of snacks you can bring onboard. Lines such as Royal Caribbean, Celebrity and Norwegian do offer low-carb menus. 
Talk to the dining room Maitre D' once onboard. If you require menu adjustments at lunch or dinner, they can advise the best way to go about it. Often it's just as simple as asking your head waiter when ordering that you'd like to swap out extra veggies for the potato.
Eat at the buffet. The options are so plentiful that choosing keto diet-friendly foods are easy. No matter which cruise line you sail on, they will all have the same staple items that will help you to stay on your keto diet.
Make sure you pack your determination and goals, too, because there will be a fair amount of temptations on a cruise ship.
Breakfast On Board
All ships will have egg options, and you can vary your breakfast by having a different type of egg or omelet each morning. Pair an omelet with tomatoes and cheese with a side of bacon for a tasty keto breakfast.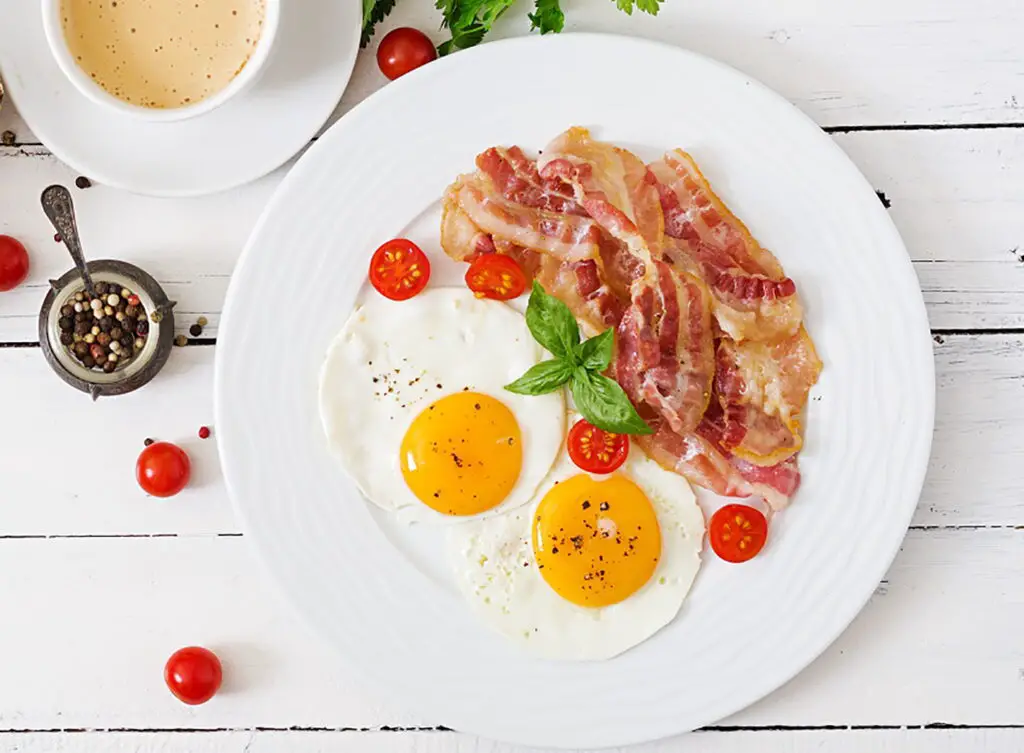 Low Carb Lunch At The Buffet
You will be able to create your own salads and be able to change them up every day when you have lunch in the buffet.
A buffet will have a wok and stir-fry counter along with carving stations and omelet bars. 
You will be able to get chicken and beef and pair it with a variety of vegetables, without any sauces or dressings. The buffet is a great place to choose options for a keto diet.
Dinner On A Keto Diet
You might be drawn to the main dining rooms where there is a lovely atmosphere to dine in. The main dining room will have specific menus and fabulous food, but you will have little control over what the items are cooked with. 
Most cruises will make the evening menu available to you beforehand, which will give you time to plan ahead where to eat.
If you don't want to miss out on eating in the main dining room, salmon is a staple on most cruise ships' menus. 
Remember that the fewer ingredients that a dish has, the more likely you will be able to keep it keto friendly. As we said earlier, skip sauces and dressings and opt for olive oil when needed.
Food For On-Shore
In addition to the above tips, it is also important to be mindful of the foods you are consuming while on shore excursions.
Many of the foods offered on shore excursions may not be keto-friendly, so it is a good idea to pack some snacks to take with you.
If you do take food from the ship to shore, be aware that most locations prohibit fresh food, even fruits or vegetables, from being brought ashore. Island locations, especially, have delicate ecosystems and those countries work hard to keep them protected.
You are allowed to take along prepackaged food if you are going on shore. Keep this in mind, so that you bring enough prepackaged food on board at embarkation in the event you have a few off ship excursions. 
Take A Low Carb Cruise
If you really want to immerse yourself in a low carb cruise, there is a group that schedules a yearly cruise that aims to bring people from all over the world who share the goal of eating low-carb.
They have speakers who share the latest tools that enable you to keep on your low-carb and keto way of eating. 
The cruise for 2023 sails
June 4 – 11 on the Allure of the Seas
and visits Roatan, Honduras, Puerto Costa Maya and Cozumel.
Final Thoughts
Always the best policy, check with your cruise line in advance to make sure what type of food options will be available to you. Ask exactly what you can, or can't, bring on board. 
It would also be good to double-check what you would be able to carry onshore in the way of food items. 
Overall, eating keto on a cruise can be a bit of a challenge, but with some planning and preparation, it is definitely possible.
By packing your own snacks, researching the cruise line's options, and being mindful of the foods you are consuming while on shore excursions, you can ensure that you are able to stick to your keto diet while still enjoying your cruise.
This page contains affiliate links for which we may receive financial compensation when a purchase has been made through one of our affiliate partners. Jonathon is the tech guy behind CruiseportAdvisor.com. When he's not stuck in front of his computer, Jonathon enjoys travel & cruising (even after being on a cruise ship that caught fire - a story for another day!)