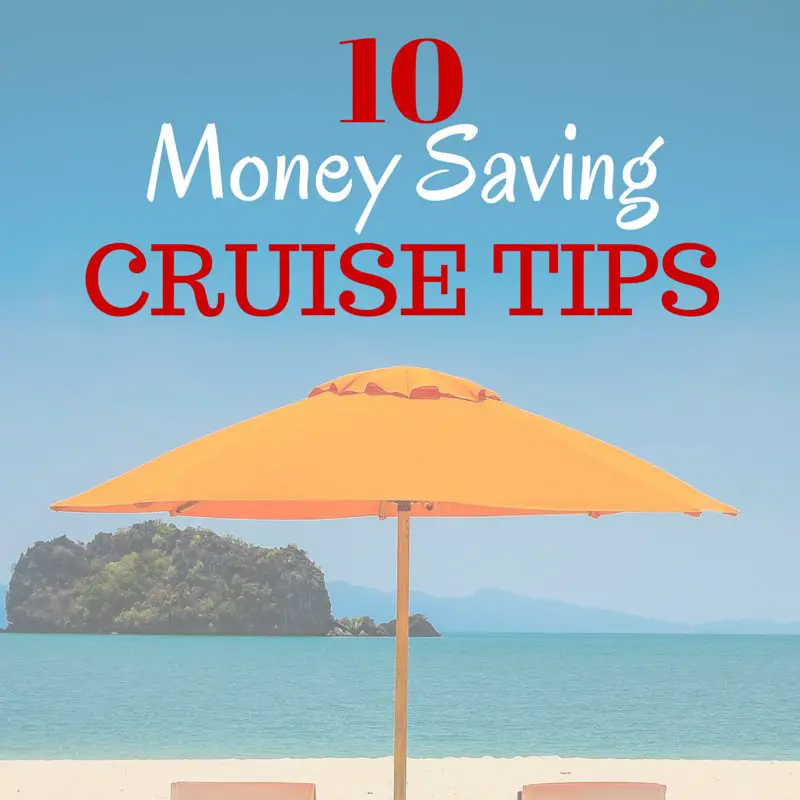 10 Money Saving Cruise Tips
Last updated on August 24th, 2022 at 06:07 pm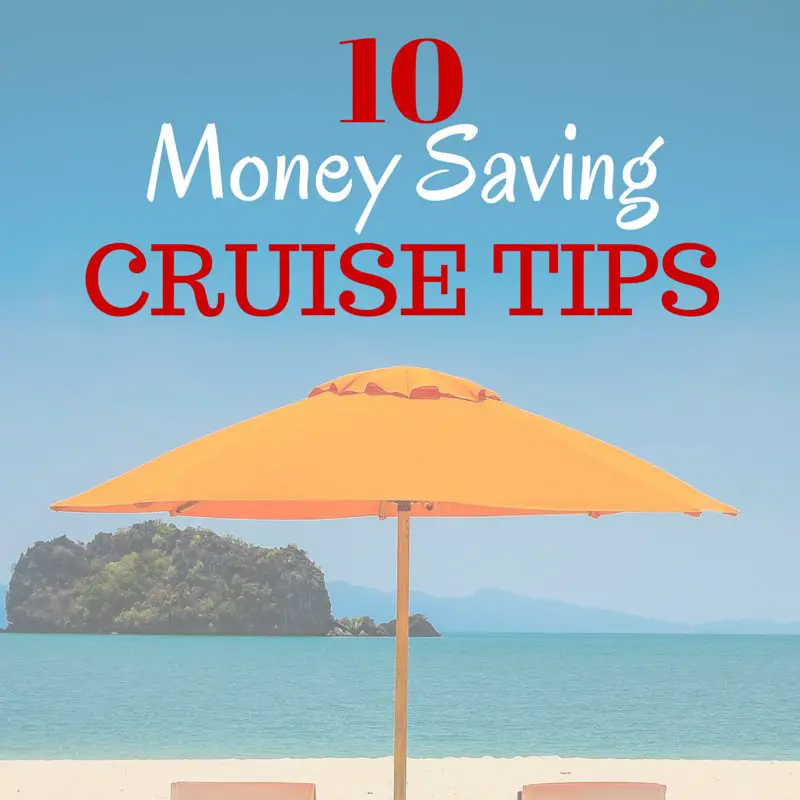 There are many reasons why saving money on a cruise might interest you. If you're like me, my budget is finite, which means that I don't have an endless supply of income to do as I please so I have to look for ways to save money on things like vacations.
My philosophy on taking vacations goes something like this; I would rather vacation more often and look for ways to save money, rather than "go big or go home" on a fewer number of vacations. To travel fairly often means that we have to get creative to finance our vacations using what little cash we have, but we've learned so much along the way and had a lot of fun.
We fell in love with cruising, not only because of the amazing ships, the great staff and the wonderful destinations, but also because going on a cruise is a fairly inexpensive way to travel. Dollar for dollar, we just can't afford to take a vacation on land that offers as much as a vacation at sea.
Over years we've learned a number of ways to get the expenses down to a minimum, but it's take creativity and some sacrifice.
Check out our top 10 ways to save money on your next cruise.
1.) Drive to the Port
Unfortunately this won't work for everyone, but if you live within driving distance to a port, take advantage of it. Unless you can get a really cheap flight, driving saves you a lot of money. Our theory is that if we can drive there in about a day (ie. 8 hours drive) we can likely save money. If it goes beyond 8 hours and we need to get a hotel and eat a number of meals at a restaurant, if can get expensive and time consuming.
There's an added bonus to driving to the port;
When you drive to the port you don't have to worry about how much your baggage weighs or how many bags you take. Booking a flight for a cruise can be tricky since most airlines now charge for every piece of luggage and have weight limits.
2.) Go with an Interior Cabin
I know many will disagree with this, however we would rather cruise in an interior room more often, than break the bank on a balcony less often. Here's our thinking: You will probably not do much more in your cabin other than sleep.
There are so many things to do around the ship that we normally spend very little time in our room. If we want to go outside, we never really have a hard time finding a nice spot to sit and enjoy the view. On our last cruise we were upgraded to an outside room which had a window. That was a nice option too and is still less expensive than a balcony cabin.
3.) Buy excursions in advance or don't buy any at all
The cruise lines would like you to believe that you can only buy shore excursions from them, but it's simply not true. There are a number of reputable shore excursions companies out there that offer the same shore excursions as the ships, but at a price that is sometimes up to 50% lower. If you don't have the money to buy a shore excursion, don't fret.
Sometimes it's nice to just get off the boat and see what's there. In some ports, it's safe enough for you to explore yourself. Do some research and be your own tour guide, but be smart about it. In locations where safety may be an issue, watch who you talk to or buy from. For example, in Cozumel, there are plenty of taxi's available near the port and a tour is fairly inexpensive. Another example; If you're docked in Kings Wharf Bermuda, the island is quite safe and public transit is inexpensive. You can tour around on your own and spend very little. Be careful in places like Jamaica, Freeport, Nassau and a few other Caribbean ports as naïve cruise guests can sometimes make good targets for criminals. Google is your best friend before your trip!
4.) Deposit cash into your onboard spending account
Cruise lines would like you to add a credit card to your online charge account, but it's not mandatory on most cruise lines. We normally deposit a limited amount of cash into our online spending account and we keep and eye on our spending. Because the cruise lines offer so much within the cost of your cruise fare, you don't "NEED" to spend a fortune on incidentals. Using a Credit card can give the false sense that money is endless and a large bill on your last day can really ruin an otherwise great trip.
5.) Bring lots of $1 USD bills
At most ports of call, you're going to want to carry some US cash to use for tipping. Carrying small bills allows you to tip restaurants, taxi's and other service providers when you're off the ship. Making sure that you have the cash before you depart will also save you money.
The ATM's located on the ship have services charges from $2.50 to $5 each transaction, not including the charges that your bank may also charge and at ports of call, ATM fees can be as high as $9 per transaction! A few extra withdrawals can really add up. Be prepared with an assortment of cash denominations and you will save.
6.) Avoid the on-ship "sales"
Most cruise lines do it; Most often during sea days or near the end of the cruise an overly enthusiastic cruise director will announce over the loudspeaker that there's an AMAZING sale happening.
Whether it's $10 watches, $10 t-shirts or $20 necklaces, these hyped up "sales" are nothing more than sales gimmicks to get you to part with more money. Often the products sold are high margin, low quality items that you won't be very satisfied with once you're back on dry land. Yes, a "designer watch" for $10 is too good to be true!
7.) Set a strict limit at the casino
Hopefully, this isn't news to you, but casinos make money by helping you lose yours. It's as simple as that! While it can be a rush to hear the bells and see the lights of all the "winners," chances are quite high that more people in the casino are losing money versus those that are winning. If you want to save money on your next cruise just don't go to the casino at all, but if you plan to play, set a limit and stick to it.
8.) Eat & Drink only complimentary food or drinks
During your cruise, much of the food that you have access to is already part of your cruise fare, but there are also premium food options that cost extra. Even if you eat only at the complimentary venues, you're still going to have a great vacation and experience wonderful food and service. We have been on 7 day cruises where we never once purchased an upgraded food or beverage option and we still had a great time! After all, we were still enjoying the great weather, enjoying the shows and other entertainment and didn't feel as though we missed anything by not partaking of a premium steak or sushi.
As for beverages, coffee, tea, water, iced tea and lemonade are often part of your cruise fare and available at many venues around the ship. Also, check the policy with each individual cruise line – but you may be able to bring some of your own beverages on board. Some cruise lines allow you to bring a limited amount of water, soda or wine onboard.
9.) Plan your packing
One of the best pieces of advice I could give you: Don't wait until the last minute to pack! Plan what you're going to need to bring at least a few days before you go. Start by making a packing list and think about it for a few days. In the days leading up to your cruise it's highly likely that you will remember or think of things that you might want to take. For examples, with toiletries – make a comprehensive toiletry list as you're packing so you don't forget anything.
Items are expensive on the ship.
As an example, one morning my wife woke up with very red eyes. I was trying to be kind by saying "Maybe it will go away" but in all honesty, she looked pretty bad! We ended up buying a small bottle of eye drops as the onboard store for $12! The same eye drops at Walgreens or CVS would have been about $3. Think about all the various items that you might need and try to bring them along.
10.) Don't Park at the Port
While it might be most convenient to park directly at the port (if you're driving,) parking fees at the port are usually higher than if you park off-site. Depending on the port that you are departing from, many off-site parking lots exist close to the port offering free shuttles to the port. Most parking lots are a short shuttle ride away from the departure port and are anywhere from 15% to 30% cheaper than parking at the port.
Nearby hotels will offer similar packages but will bundle in a night's stay at the hotel as well as parking. For us, if we have driven a number of hours to reach the port, we go a arrive in the departure city one day before the cruise and stay at a hotel that offers a park & cruise package. We enjoy a relaxing evening at the hotel and then catch a ride over to the port in the morning. Our car stays safely parked at the hotel and they pick us up at the port upon our return.
BONUS TIP:
Book through a travel agent. Yes. I said a Travel Agent. Most people think they get the best deal by scouring the deals online through various websites – and if you're good, you just might get the best deal. However, travel agents (especially ones that specialize in cruises) may have access to deals that you won't find online, or they'll come with better perks. Reach out to a travel agent and you might be surprised what they are able to do for you!
This page contains affiliate links for which we may receive financial compensation when a purchase has been made through one of our affiliate partners.
Jonathon is the tech guy behind CruiseportAdvisor.com. When he's not stuck in front of his computer, Jonathon enjoys travel & cruising (even after being on a cruise ship that caught fire - a story for another day!)