Key West – Florida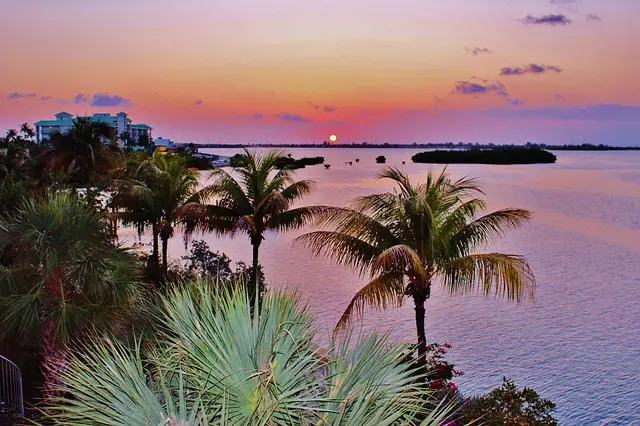 This Island City in the midst of what can only be called a tropical paradise, was once home to famous author Ernest Hemingway, before his death in 1961. Rather isolated until 1921, Key West is now connected to the mainland via the Overseas Highway, allowing easy access for visitors.
With its coral reefs, balmy weather and fantastic location, Key West is a hot spot for diving and snorkelling.
Currency:
USD. The most easily locatable ATM's are likely the two Wells Fargo ATM's. To find them simply head down Duval Street, away from Mallory Square. You should see them within 2-3 minutes on the right-hand side. Additional ATM's are located throughout the island.
Wireless Internet:
Wifi should be easy to find at most restaurants and cafes in Key West. Two locations near the Pier that are guaranteed to have access are the Sippin Coffee House & Internet Cafe (424 Eaton Street), and the Starbucks just a few blocks away (430 Duval Street).
Languages:
English
Where You Dock in Key West – Florida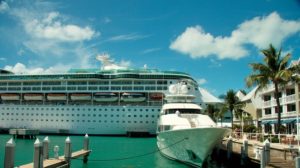 Cruise ships dock at three locations on Key West.
"Outer Mole Pier" – This pier was built by the U.S. Navy and is the only Pier out of the three that can handle the larger cruise ships. Passengers that disembark here will be required to take a 5-minute shuttle into town which will drop them off in the Mallory Square Area. The shuttle is free. Passengers are advised keep their ID and Cruise Ship Card on them at all times.
Pier B – Located just south of Mallory Square passengers disembarking from this Pier are a short walk away from the Old Town and Duval Street.
Mallory Square Pier – The closest of the three, this pier is essentially right on Mallory Square and only a short walk away from the main tourist attractions on the island.
Getting Around Key West – Florida
For the most part, Key West can be easily walked and many visitors enjoy the island on foot. To spare your feet or speed up the process, there is always the option to take a taxi, public bus or cycle.
Shopping In Key West – Florida
A walk down Duval Street is a must for anyone with shopping on their mind. From classy boutiques and big name brands to eco-friendly treasures and unique jewellery, it's all there! Art galleries, restaurants and bars provide a great break from shopping whenever necessary.
Duval street begins at Mallory Square and completely crosses Key West, ending at the southern coast of the island, less than a block away from the southernmost point of the continental U.S.
Dining In Key West – Florida
If incredible food and a great ambience is your modus operandi, try one of these highly-recommended Latin Restaurants that truly capture the flavour of Key West
Bien – 1000 Eaton Street – A Caribbean Latino Restaurant with mouth watering dishes such as a Caribbean Roast Dinner and Paseo Prawns.
Hot Tin Roof – 0 Duval Street – One of the easiest locations for cruise ship passengers to find, this restaurant with its great seaside views and open patio is known for its Latin American-style food. With the option for small taster portions of their well-known dishes, customers can try it all without feeling greedy.
Bliss Restaurant – 411 Petronia Street – A quiet Latin Fusion gem with an array of seafood dishes, it's the perfect place to enjoy good conversation and great food. While in Key West, Key Lime Pie is a must try, and you'll be hard-pressed to find one better than at Bliss!
Things To Do in Key West – Florida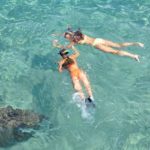 Boat Tours, Scuba Diving and Snorkelling – Numerous businesses provide opportunities to explore the mysteries of the waters off Key West. Marine lovers and adventurers will enjoy all the ocean activities on offer.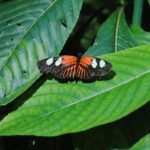 Key West Butterfly & Nature Conservatory – A stunning climate-controlled habitat, the Butterfly and Nature Conservatory is always a great visit, no matter the weather outdoors. Cascading waterfalls, beautiful flowering plants, trees, tropical birds, and of course – over 50 varieties of incredible butterfly species from across the globe.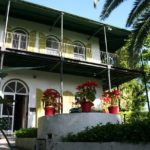 Ernest Hemingway Home & Museum – This former residence of the classic author is now inhabited by the unusual, six and seven-toed cats that are descended from Ernest Hemingway's own pets. The house stands on the second highest point of the island and is one of the locations where Hemingway completed some of his famous works.
Top Tours & Excursions In Key West – Florida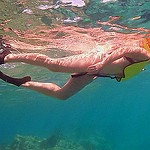 Photo credit: SNORKELINGDIVES.COM / Foter / CC BY
Premium Sail & Snorkel Adventure Enjoy this small group sail aboard a catamaran where it will take you to crystal clear water where you will stop to explore beneath the waves. See beautiful fish and coral before enjoying a cold beverage as you relax in the sun....
Duration: 3.5 hours Activity Level: Moderate Note: All snorkel equipment and safety training provided.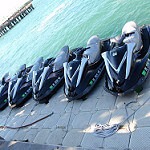 Photo credit: Beachfront Solutions / Foter / CC BY-SA
Jet Ski Tour Key West Tour Key West aboard your own jet ski! See the US Naval training area, the historic seaport and perhaps a dolphin or manatee which make their home in the mangroves. One price for up to 3 passengers!...
Duration: 1 hour 45 minutes Activity Level: Moderate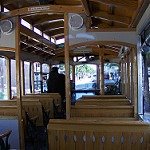 Hop On Hop Off Key West Trolley See all of Key West on this narrated tour in an open-air trolley. Hop off when you wish to explore and hop on when you want to see something new....
Duration: 1 hour minimum Activity Level: Moderate Wheelchair Accessibility: Yes – accessible trolley runs every hour