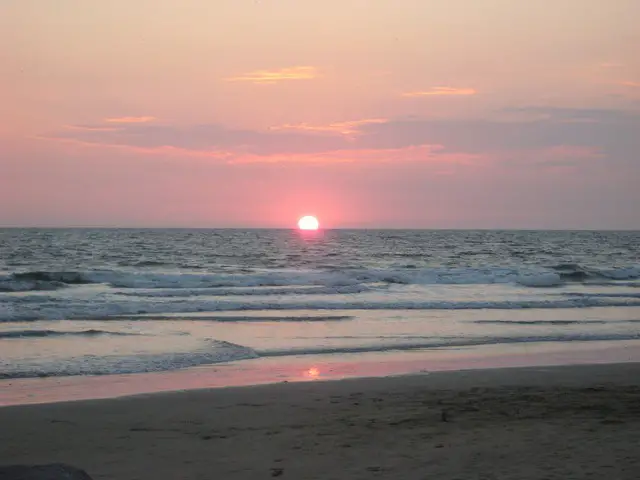 Located on the Pacific coast, across from the southernmost tips of the Baja California Peninsula, Mazatlan is a city in the Mexican state of Sinaloa.  The name of the city comes from the Nahuatl language and means "land (or place) of deer". It is thought that Mazatlan came into being in 1531 when the Spanish took control of the area. For quite some time after that, it was a base for smugglers and pirates. 
In the late 19th century, the city started to attract manufacturing and a large immigrant population. Germans opened the Cerveceria del Pacifico brewery in 1900, and it is still in existence today.
 After the end of WWII, Mazatlan started to attract tourists and American sport fishermen helped the area to gain in popularity. Unfortunately, Mazatlan went through a very rough period in the 1980s when Mexico's drug cartel and syndicates brought havoc to the area. The willingness of tourists to visit the city dropped drastically, and crime kept cruise ships away.
   The city has been working to change that reputation, and has been concentrating on improving cruise passenger service and safety of visitors to the city. At one time known as the "Pearl of the Pacific '', the city is working to regain that title.  
At one end of the city, The Golden Zone (Zona Doado) has the best beaches in a 3-mile stretch and nightlife that is a draw to tourists. The other end of the city, and closer to the cruise port, "Old'' Mazatlan has colonial-style plazas, bistros, cafes and art galleries. There is also a growing number of American and Canadian expats who are drawn to the city's cheaper real estate and cost of living.
Safety
It is always a good thing not to wear expensive jewelry or flash a lot of cash when in Mexico. While Mazatlan is a safer place than it used to be, it is still advisable to stay within the city limits unless you are on a ship excursion. 
Check out these excursions in Mazatlan.
Where You Dock in Mazatlan – Mexico
The cruise port in Mazatlan is the same port that commercial ships berth at. It tends to be a very busy cargo port, so much so that a free tram will take cruise passengers through the shipping containers to the cruise terminal.
At the terminal there will be various vendors and shops, along with a pharmacy. There may also be timeshare vendors who will want to give you a free ride to look at their properties, so be aware that these free rides have a purpose. 
Pacifico Brewing is right across the street, so you will find tables set up under the trees and beer available for purchase. There is also a quieter crafts market set up across the street from the terminal. 
There are no ATMs in the terminals; you will need to go to one of the banks in town.
Getting Around Mazatlan – Mexico
Walking
It is about a mile walk into the part of town referred to as Old Mazatlan. The walking path into town is marked with a blue line to direct you to the historic center. The city is quite spread out, so if you are wanting to see the entire city, you will need a taxi.
Buses
There are buses in Mazatlan, and they are used mainly by locals.  They are an inexpensive way to get around, but know that some do not have air conditioning. Know, too, schedules can be "flexible" and they are not always on time, so take this into consideration for getting back to the ship on time.
Taxis
Taxis will be present at the cruise terminal, and can be identified by the red or green stripe down the side of the cab. Negotiate your fare before you get in the cab and make sure you have small amounts of cash, as not all drivers will offer change.
Pulmonias
This form of transportation looks like a golf cart. The vehicle is open-air and is everywhere in Mazatlan. They are easily flagged down on the street. Prices will vary and are unregulated in Mexico. Again, ask the cost of the fare before getting into the vehicle. This form of transportation tends to be more expensive than a cab. 
Check out this drive through Mazatlan in a pulmonia:
Rental Cars
If you just want to wander Old Mazatlan, you can do that on foot. If you are wanting to see the Golden Zone or other attractions, then you will need to use a taxi or rent a car. 
There are rental car services in Mazatlan. You will need to be at least 25 years old, although some companies allow 18 – 25 year old renters, but charge an additional fee. You will need your current, valid driver's license from your home country. Your passport and a major credit card will also be needed. It will also be mandatory that you have Mexican Liability insurance. The cost of this insurance is not always disclosed in the cost of renting the vehicle. This insurance can be up to $20 per day. 
If you choose to rent a car, know that there probably be spotty cell service wherever you travel. Download Google Maps or Maps.me office before you drive outside of the city. 
Toll roads are well-maintained and have less stops than roads without tolls.  There is a site where you can calculate tolls here: Traza Tu Ruta, Secretary of Transports, Mexico
Speed limit signs,  along with distance signs, are posted in kilometers.
There will be military checkpoints along the way. They can either be a permanent or temporary checkpoint. The checkpoints will be on both sides of the roads and you will see men in uniform with automatic rifles. While this can be intimidating, their inspections will be for illegal drugs, guns or contraband items. Expect that you will be stopped, but do not expect that they will speak English. Let them inspect the vehicle and then you will most likely be sent on your way. 
If you are stopped by the local police for an infraction, they will take your driver's license and you have to go to the police station where you will pay a fine in order to get it back. If it is relatively small infraction, the police may ask for a "mordita." In essence, this is a bribe to let you go on your way. Some travelers have reported that they were stopped when there was no infraction. Just know that if you are ever stopped, the odds are not in your favor. 
There may not be GPS in the areas you travel in, and it is not unusual to see livestock in the road. Also, you should never travel at night. 
Shopping In Mazatlan – Mexico
As is the case in many ports, you will find the familiar. Walmart, Sam's Club and Home Depot are present in the city. If you want something to take home that represents Mexico, look for Mexican blankets with their bright colors. Masks and pottery are also items that are a traditional craft introduced to Mexico by Spanish artisans during the colonial period. Nothing says Mexico like Tequila and mezcal, and glassware to serve it in is a popular souvenir to bring home. For women, cotton fabric blouses called huipil have unique embroidery in the form of flowers or other intricate patterns. Taxco silver jewelry is another favorite item to take home. Make sure you see the 925 stamp on whatever piece you choose.
Gran Plaza Mazatlan
This mall has about everything. There are clothing stores, a food court, cinema, bowling alley and gym.
Grandarva Bazar
This bazaar has unique items like masks, textiles and wooden carvings.
AD Jewelry
The jewelry here is handmade by Mexican artisans. They use natural stones and 925 silver. The piece comes with a lifetime guarantee, although I am not sure how you would use that guarantee once you are home. They have pieces in gold, too, and also have diamonds and engagement rings.
Mazatlan Central Market/Mercado Pino Suarez
If you want to take home some spices, this is the place to get some. The building is a former aircraft hangar built in 1899. They have fresh fish, meat, cheeses, fruits and vegetables along with spices and baked goods. The market fills a city block. You can also purchase a meal there and there are always food carts and juice stands outside on the surrounding street.
This upscale is the largest operator of mid-to-high department stores in Mexico. The store has over 60,000 square feet on two floors with clothing, furniture, electronics, cosmetics, perfumes, jewelry and beauty supplies.
Both a museum and gift shop, this family owned business has a stunning collection of sea shells.
Dining In Mazatlan – Mexico
Menus in Mazatlan are heavily influenced by seafood. Specialties include ceviche, zarandeado fish and aguachile. Along with smoked marlin and tuna, bearded tamales that are made with shrimp, tacos, fish crackers and grilled roasted chicken are dishes offered at most restaurants. Mazatlan also has a wide variety of beers, with the best known being Pacifico, which has its own factory in the harbor. Horchata, barley, coconut horchata and wines, not to mention tequila, are drinks you will find at most venues in Mazatlan.
With a beachfront location, Panchos has traditional Mexican fare but offers American dishes too. They have oven smoked pork shank,a great variety of seafood and steak items. Every meal comes with a small appetizer and the end of the meal brings a shot of Kahlua and cream, and both are on the house. 
In business since 1954, Molokai is located on the sandy stretch at Stone Island. Technically not an island, it is a peninsula that is located just off the south end of the coast of Old Mazatlan, it can be reached by land from the east. It can also be accessed by a five-minute ferry ride across the channel. Its location on the beach gives diners the opportunity to dine inside or out. The seafood is some of the freshest in Mazatlan. Shrimp, fresh fish, prawns and chicken dishes are a few of the items on the menu. They have beer and margaritas along with free WiFi and good service.
With a few locations around Mexico, Los Arcos specializes in dishes "from the sea to your table". From the menu, choose cool or hot items. The cool menu has red aguachile, stuffed avocado, snook callus, shrimp ceviche, crab ceviche, and tuna sashimi.
From the hot menu, they offer grilled salmon, fish, octopus and oysters. Or you could have the mongolian octopus, fish greaves, culichi shrimp, squid cracklings or any number of varieties of steaks. Their beverage and dessert menu is as extensive as their food items.
Fresh corn and bean salsa is made at your table. Reviewers like this open air restaurant with its unique decorations for the excellent food, no matter what you choose. Bacon wrapped shrimp and pork shank and a wide variety of seafood dishes. A tequila called Agatha, watermelon margaritas, flaming strawberries and amigas coconut ice cream were also suggested by reviewers.
Angelinas has Mexican food with an Italian and Latin flare. Starters include fried eggplant, steak ceviche, tomato & avocado tower, potato wedges or ahi tuna wonton tostada. They also offer alfredo, pesto fettuccine and Mediterranean pasta. Entrees range from steak, burgers, pork shank, chicken piccata, shrimp tacos, salmon with capers, grilled octopus, and fish al pastor. They also have good old-fashioned pizza with classic toppings like pepperoni, sausage, mushrooms, goat cheese or even praline pecans.
Things To Do in Mazatlan – Mexico
Beaches
Playa Sabalo
This beach begins at the north end of the Golden Zone, and is considered one of the best beaches in Mazatlan. This area is sheltered from the ocean and the water tends to be calmer, making it good for swimming and watersports. You can purchase a sailing excursion, water ski, parasail or take a ride on a banana boat at this location.  It is also close to resorts, restaurants and shops.
Beaches off Stone Island
The beaches located here are ones that the locals prefer as it is not as crowded. Often offered as a shore tour, this area is a five-minute ferry ride away. There are several oceanfront restaurants in the area, too. 
Check out the video from a visitor to the beaches on Stone Island:
Walk the Malecon
One of the longest malecon in the world at 13 miles, this seawall has a very wide sidewalk and bicycle lane that fronts the ocean. Along the malecon there are monuments and statues to see, the Fisherman's Monument among them. The cliff divers also dive next to the malecon at El Clavadista.
Watch the Cliff Divers
Even though they are called cliff divers, the divers will leap from a platform that is about 50 feet above the water. Divers need to time their jump so that they hit the waves to ensure it is deep enough when they hit the water. They dive seven days a week, and while this is free, donations are appreciated.
Take a tour of the theater in the historic Old Mazatlan. Fully restored, it is one of Mazatlan's cultural treasures and played an important part in the revitalization of the historic district.
Absolutely magnificent on the inside and out, the Cathedral Basilica of the Immaculate Conception is the main religious building in the city of Mazatlan. Built  in Baroque-Revival style it is home of the Catholic Diocese of Mazatlan. Many reviewers said it was a must-see.