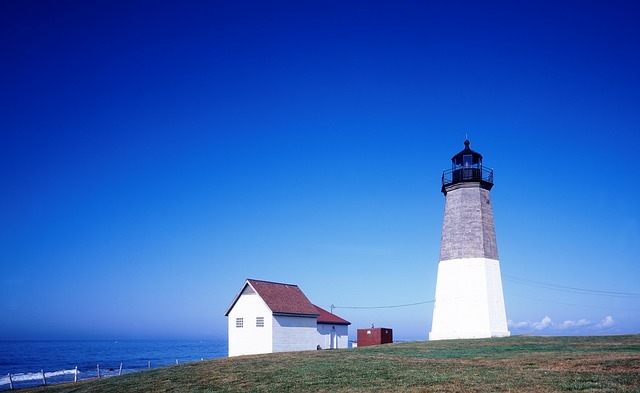 The state of Rhode Island is the smallest of the 50 states in the United States of America. It covers just 3,144 square miles and is located in the northeastern region of the US. Fairly flat, and with no real mountains, Rhode Island's most distinctive feature is Narragansett Bay; this is also where cruise ships anchor.  The bay is an extension of the Atlantic Ocean and has more than 30 islands. 
Providence
is the capital of Rhode Island and one of the oldest cities in America. Newport is 34 miles south of Providence and is Rhode Island's most popular tourist destination.  Newport is positioned on the southern tip of Aquidneck Island. Founded in 1639, Newport has elegant mansions that dot the coastline and are a testament to an era of great wealth. The Vanderbilts, among other wealthy people, built the Marble House in Newport.   Newport was a getaway spot for rich US industrialists in the 19th century. Today, the city still sports its cobblestone streets, and has trendy restaurants, upscale shops, sandy beaches and marinas of expensive sailboats.  Home to the Newport Cup sailing, the city has strong ties to the sport of sailing and its lifestyle. Newport has hosted the America's Cup, a renowned annual sailing regatta for many years. Newport also has the United States' oldest bank building, the oldest synagogue and the oldest typewriter. Still doing business today, the White Horse Tavern was built in 1693 and is the oldest tavern operating in the US today.  Visitors are drawn to the beauty of the area, the opportunity to see its famous mansions, one of the finest yachting waterfronts and the Newport vineyards that produce excellent wines.
Good To Know
Just one block north of the cruise ship tender pier is the Newport Visitor Information Center, at 23 America's Cup Avenue. You can purchase cruise ship tours at the Visitor Information Center, but they are on a first-come, first served basis. So if you intend to purchase a tour, head to the Visitor Information  Center as soon as you get to the pier. Reservations and pre-purchases are not available on-line or in advance. Know, too, that any ticket you purchase cannot be exchanged for a different time other than the one purchased. 
Click here for the Newport Visitor Information Center.
Check out these excursions in Newport.
Where You Dock in Newport – Rhode Island
Larger ships anchor in the harbor of Narragansett Bay, Anchorage "D", which is west of Goat Island. Passengers are tendered to Perrotti Park.  Smaller vessels dock at the South Alofsin Pier at Fort Adams State Park. 
It takes about 10 to 20 minutes to tender from the ship's anchorage to the pier, depending on where your ship anchors.
Getting Around Newport – Rhode Island
Walking
Most of the attractions for tourists in Newport are within walking distance of the location that passengers are tendered to. There is a concentration of shops, restaurants and boutiques in Newport. Conde Nast Traveler named Newport the Best Walking City in the US. Newport has a lot of historic charm and architectural treasures, but the streets are made from cobblestone, so wear sturdy walking shoes.
Newport Harbor Shuttle
The harbor shuttle departs from Perrotti Park, where its ticket booth is located, every hour on the hour. It will make a circuit of Newport Harbor, stopping at Bowen's Wharf, the Ann Street pier, International Yacht Restoration School, the Newport Marina, Fort Adams and Goat Island. This shuttle is a hop on and hop off transport, so you have the chance to stop and explore or get something to eat before going to your next destination. Click here for more information. 
Buses
The Rhode Island Public Transit Authority (RIPTA) operates both buses and trolley-buses.  Bus 67, The Yellow Line, goes along Bellevue Avenue to the Newport Mansions. Bus 63, the Purple Line, connects downtown Newport and Middletown. An all-day pass allows you to hop on and hop off when you wish. 
Go here for schedules and maps for the trolley in Newport: RIPTA
Taxis
Taxis are plentiful in Newport. You can hail one on the street or call ahead. All Newport taxis charge an initial rate before tacking on the metered fare and a fuel surcharge that is based on the distance traveled. The initial rate is usually a few dollars. Both Lyft and Uber operate in Newport.
Newport Cabs  401.841.0030
Atlantic Taxi 401.239.6600
Bikes and Scooters
If you want a fun and easy way to get around the city at your own pace, Scooter World rents bicycles, traditional scooters, two seater scooters.
Water Ferries
Rhode Island has water ferries that go between islands. Just know that they have seasonal hours and travel depending on the weather conditions. If you are interested in taking a water ferry, click here for more information.
Rental Cars
You can rent a car in Newport, but if you plan to stay in the city and sight see, it is not recommended. The streets in Newport are narrow and parking is a nightmare. You would spend more time finding a spot to park than you would actually seeing anything. 
If you do choose to rent a car, you will need to be 21 years or older, have a valid driver's license and major credit card. Driving is on the right hand side of the road in the US.
Enterprise is the closest car rental agency to the pier, but if you want to tour the city in style, check out  Newport Classic Car Tours.
Shopping In Newport – Rhode Island
Nautical themes run through Newport as do heavy sweaters and items to protect you from the elements.
Located in the historic downtown, these shops are near the waterfront. They include many favorites like Sephora and the Gap. There is also a Panera bread located here.
Quite the store, you will find architectural antiques, monumental bronze and almost anything in between. This 30,000 square foot store has been in business since 1969. The one-of-a-kind items come from around the world, and they like to say that each piece has a story. If you find something you can't live without but it won't fit in your cruise ship cabin, they will ship domestically or internationally.
The glass art pieces at the shop reflect the sea and the colors of nature in New England.
This store sells quality British and European clothing and accessories for men.
Alloy Gallery was voted the "Best of Rhode Island's studio jewelry." Featuring the works of various artists in contemporary jewelry, they also redesign old jewelry. 
Dining In Newport – Rhode Island
There are six states in the US that comprise a region called New England. Connecticut, Maine, Massachusetts, New Hampshire, Vermont and Rhode Island. This area is famous for its clam chowder and the oysters that are harvested from local waters. Lobster rolls are a classic option when visiting as well as clam cakes. Some of the smaller businesses that dot the waterfront are only open during the summer season.
Try their award winning chowder inside the restaurant or out on their four-season patio. As you would expect, seafood is prevalent on the menu. You can order oysters on the half shell, black pearl mussels, tuna nachos, grilled swordfish or a 2lb lobster bake. They also offer BBQ ribs, black angus petit filet and chicken pot pie.
In business since 1987, Scales and Shells uses fresh seafood that comes from the dock to their door. They even know what boat their seafood came in on. Everything from their fish to calamari are cleaned and cut in their restaurant. You can get raw oysters, shrimp crab claws and shellfish. Various forms of lobster, shrimp, calamari, salmon tuna and scallop are available. If you prefer, there are pastas and many vegetarian sides.
The Clarke Cooke House has its share of accolades. Food & Wine magazine said it is "by far the most sophisticated restaurant in Newport…"  Travel & Leisure has said it is "one of the top 10 outdoor dining spots in America…" 
With oysters, littleneck clams, lobster and jumbo shrimp, there is no shortage of fresh seafood. You can also get native cod, grilled swordfish, over-roasted chicken, wood grilled filet mignon or New York sirloin steak. 
There are numerous salads, and appetizers like johnnycakes, crabcake, calamari, mussels and tuna ceviche. If that was not enough they have beers, martinis and a wine list. 
From comfort food to fresh seafood, the Brick Alley Pub offers great soup, fish and chips, chicken sandwiches and garlic mashed potatoes. Ahi tuna, clam chowder, lobster mac & cheese, and chicken piccata, along with a number of sandwiches, burgers and pizza. You should be able to find something you like on their extensive menu.
The Mooring Seafood restaurant has been in business over 35 years serving "top of the catch" seafood. They also have a raw bar, an award-winning wine list and vegetarian options.  They serve soups like clam chowder and scallop chowder. You can get salads to go with a lobster roll, blackened tuna sandwich, falafel wrap or a beef burger. Fish & chips, lemon sole, clam bucatini and seafood pasta are also on the menu.
Things To Do in Newport – Rhode Island
Brand new in 2022, the Sailing Museum opened in Newport in May. Celebrating Newport's deep roots in the maritime world, as well as its connection to America's Cup racing, the museum seeks to preserve the heritage of the sailing and to honor those who shaped sailing as a sport.  Housed in the historic Armory Building in Newport, the museum enables all ages to learn about sailing and to be inspired to be out on the water. Check out this YouTube video showing the opening of the museum:
Historic Fort Adams is a former US Army post. First established in 1799, the fort was a coastal fortification named after President John Adams. The fort offers 75 minute guided tours that give you an overview of the history, design and restoration of Fort Adams. You can also take the Fort Adams Bay Walk, which is a 2.5 mile loop around the perimeter of the fort that gives you spectacular views of Newport Harbor.
Believe it or not, The Elms was just the summer home of Mr. and Mrs. Edward Julius Berwind of Philadelphia and New York. Mr. Berwind made his money in the coal industry and he had this home designed after the mid-18th century French chateau d'Asnieres in Paris. Back in 1901, when the home was completed, it cost a staggering sum of $1.4 million. The Elms is featured in HBO's "The Gilded Age", being filmed in October of 2022. There are 48 rooms in The Elms, spread over 60,000 square feet with a grand ballroom that holds 400 people.
Go sailing in Newport Harbor aboard a sailing yacht. Up to six people can sit back and relax on this tour of the harbor and Narragansett Bay. The tour will take you past the former Kennedy estate, Hammersmith Farm, Clingstone and the Rose Island Lighthouse.
Explore the island for the day. Located just a mile offshore, Rose Island sits in the middle of the East passage of Narragansett Bay. You can tour the lighthouse museum where each room of the lighthouse has been restored to the way it would have been when the lighthouse was manned. Learn more about the island: