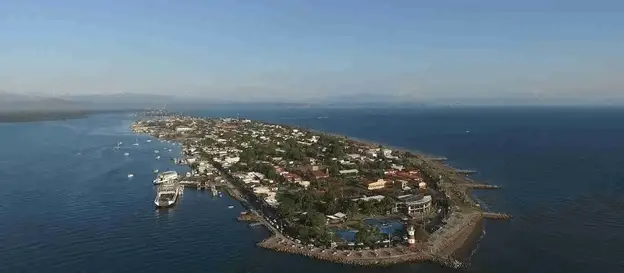 Costa Rica is a small country, but it has a large biodiversity. While only about the size of West Virginia, you will find almost 5% of the planet's plant and animal species here. Set between Nicaragua and Panama on the isthmus that connects North and South America, flora and fauna from both continents thrive in Costa Rica.
Puntarenas is located on a long and narrow peninsula in the Gulf of Nicoya. It is surrounded by water on most sides and is only about four blocks wide.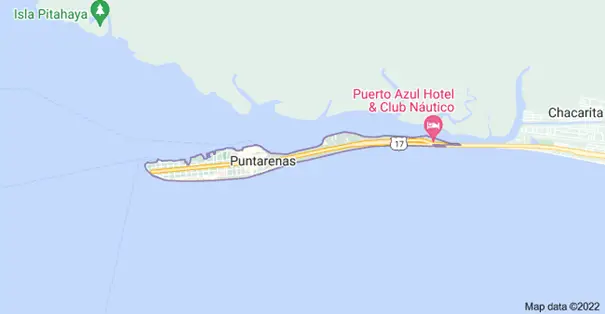 Puntarenas means "sandy point."  For years, Puntarenas had been the country's main seaport, but today it caters mainly to cruise ships. Known as the Pearl of the Pacific, Puntarenas has a natural beauty.
Most cruise ship passengers use Puntarenas as a starting point for eco-adventures. After the Caldera Highway was built, Puntarenas became a day trip destination for Ticos, the name that Costa Ricans call themselves. (tico is male and tica is female) Residents from the landlocked cities in Costa Rica will head to Puntarenas over the weekends and holidays to take advantage of the beaches. Historically, Puntarenas is the most visited beach area by tourists and Costa Ricans alike.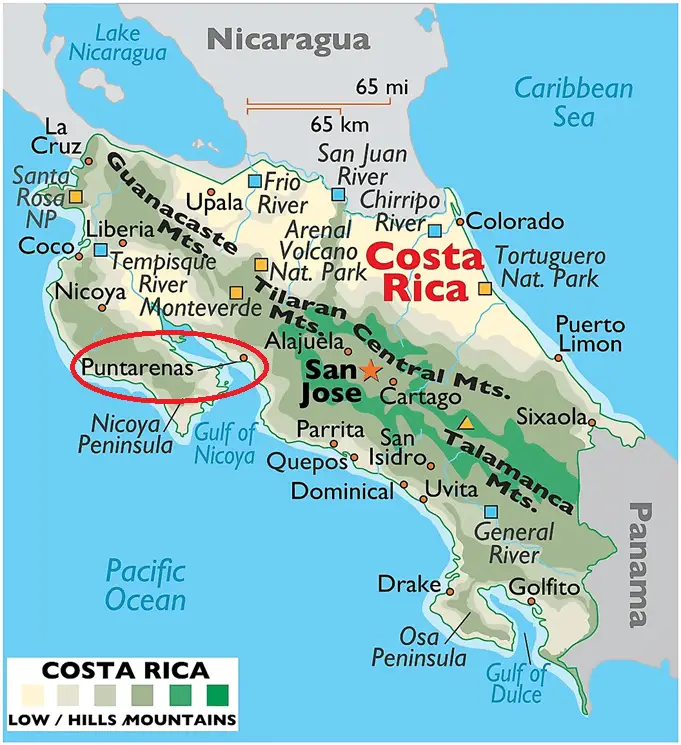 The Puntarenas Province borders the Pacific Ocean and is the largest province in Costa Rica. It has a long line of mountains next to the coast that creates an impressive landscape that extends more than 500 miles down the Panamanian border.
Check out these excursions in Puntarenas.
Good To Know:
According to the Costa Rica tourism website:
"If you want to use a cell phone in Costa Rica, you must bring an UNLOCKED cell phone and buy a SIM prepaid card at the ICE (the national telecommunications company) booth in the baggage section of the airport (or in a telephone company office in any city around the country). The unlocked cell phone must be a quad-band GSM or 3G handset or at least have an 850 or 1800 mHz band. Most US phones use 950 mHz. Motorola and Sony Ericcson are brands that have models with the right bands. At the airport ICE booth, you can ask for the different SIM prepaid cards they offer and it will be inserted in your handset. Some of them will include internet access."
If you dock at Puerto Caldera, there are no options for food or drink until you get into Puntarenas, which is 20 minutes away by taxi. Bring water with you from the ship if you think you will need one before getting into town.
Where You Dock in Puntarenas – Costa Rica
There are two spots that ships will dock. One is Puerto Caldera and one is Puntarenas.
 Port Puerto Caldera: Cruise ships will normally dock at Port Puerto Caldera. This is Costa Rica's largest seaport. It is also an important cargo port. It is about 17 miles from the port to Puntarenas.
Port Puerto Caldera has little in the way of facilities for cruise passengers. There is nothing within walking distance of the port either. From the port it is about a 20 minute cab-ride into Puntarenas. 
Ships will dock opposite a terminal building. In this building there are restrooms and a few souvenir stalls with jewelry, wooden crafts and Costa Rican coffee.
There are not any venues for food or drink in this terminal. One of the main reasons ships dock at  Puerto Caldera, rather than Puntarenas, is that the port is protected by a windbreak.
Puntarenas: If your ship docks in Puntarenas, you are very close to the main drag called Paseo de los Turistas. There is a wide walkway that has shopping and dining venues. This area is parallel to the beach.
Across from the dock perimeter there is a cruise ship terminal (Muelle de Cruceros) that has restrooms and phone stations. Complimentary shuttles will take you from the gangway to the main exit if you don't want to walk it.
Regardless of whether you dock in Puerto Caldera or Puntarenas itself, if you purchased an excursion through the ship, or Shore Excursions Group, the tour will pick you up where your ship docks. 
Getting Around Puntarenas – Costa Rica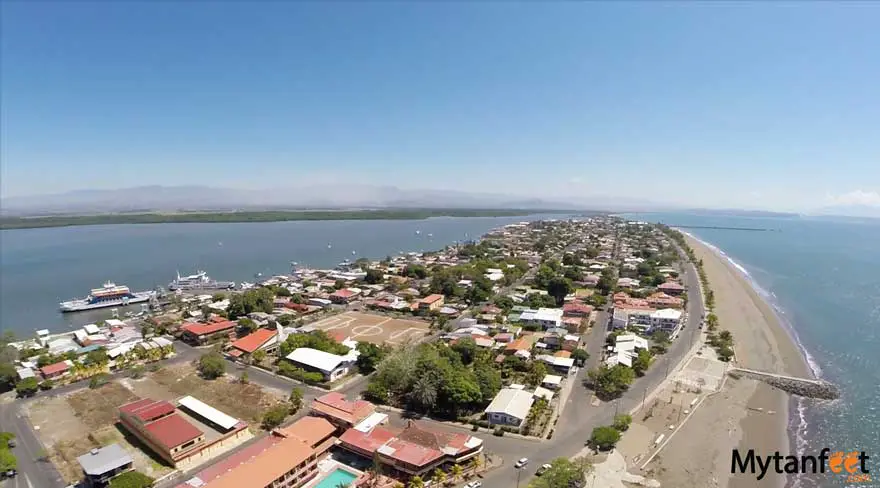 Walking
Walking Puntarenas is easy to do, although it can take you a while depending on how quickly you walk or how long you take to observe your surroundings. The town of Puntarenas comprises the entire peninsula and the main road that goes through the middle is called Paseo de los Turistas (Tourists Walk). A boardwalk runs parallel to the shore. There are restaurants, shops and food stands up and down this road.
Check out this video of a drive down Paseo de los Turista:
Bicycles
Many locals ride bikes. You can rent bikes from area shops. Just make sure to keep it locked when not in use. Pedestrians do not have the right of way, and bikes ride in the street, not on the sidewalk. Also, helmets are scarce.
Taxis
If your ship docks in Puntarenas, there will be taxis that line up close to the pier. It is the same if your ship docks at Puerto Caldera. There will be taxis available at the pier.
 Here are two taxi services if you want to call ahead:
Taxis Unidos Puntarenas 506-2660-2020
Rental Cars
To be able to rent a car in Costa Rica, you will need a valid photo drivers license. You will also need a passport to rent a car. Driving is on the right-hand side of the roads. The challenging terrain and subpar road infrastructure can make driving challenging.
This is an article by the Tico Times, a Costa Rican newspaper, that gives tips for driving safely in Costa Rica.
 The "Visit Costa Rica" website, under Tips for Travelers, states this about renting a car in Costa Rica:
Driving a car in Costa Rica gives you the freedom to navigate the beautiful landscape at your leisure. But there are a few things to keep in mind before you begin your adventure.
If you experience a mechanical issue or a flat tire avoid stopping in lonely places and don't accept unsolicited help from strangers. It is better to call the Rent-a-Car or dial 9-1-1 to request help.
Don't leave any valuables unattended in your car – such as credit cards, cash, jewelry, or your passport. Use public parking lot with surveillance.
Use a GPS or a GPS navigation app. It'll save time and prove convenient when exploring. Just make sure you have a chip or an international data plan!
The terrain can get more adventurous depending on where you choose to go. So keep that in mind when renting your vehicle.
Verify the condition of the car and its required safety equipment (warning triangles, reflective vests, lug nut wrench, spare tire and a fire extinguisher).
When renting the car, read the contract thoroughly to understand what is covered and what is not. Ask for details of car policies and insurance. Be aware of all the details about the insurance policies.
There are several car rentals in Puntarenas. Here are a few:
Adobe Car Rental en Puntarenas Costa Rica
Buses
The bus station in Puntarenas is about 15 blocks from the cruise ship terminal. You can walk there, but it will be time consuming. The bus will run to other cities in Costa Rica and the cost is relatively inexpensive. However, the commute time will be a factor depending on how long your ship is in port. For example, a trip to San Jose is three hours one way by bus, but when by car or taxi it would be a bit over an hour. Check out the bus schedules here.
Water Ferry
Depending on how long you have in port, there is a water ferry that travels between the ports of Puntarenas and Paquera on the Nicoya Peninsula. The ride across the bay takes about 70 minutes. The ferry takes both cars and passengers.
To get to the ferry terminal, follow the main road, Avenue Central, all the way to the end of the point of the land that juts out into the ocean. You can use the lighthouse as a guide in the direction you need to walk. You can purchase tickets in advance, at this site: https://www.quickpaycr.com/
Unfortunately, the site is in Spanish and does not give you the option for an English version. However, if you use Google Translate, you can translate a whole page at a time.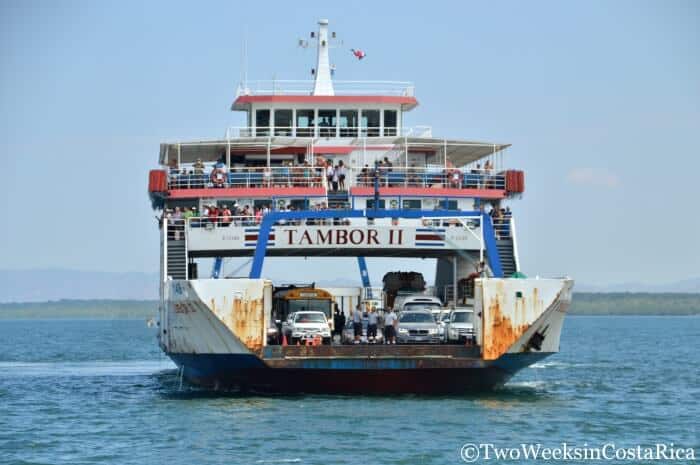 Shopping In Puntarenas – Costa Rica
Costa Rica is not known as a shopping mecca, and true local handicrafts are not common. Ironically, most of what one would see in shops are imported from surrounding countries, and often mass-produced, especially in tourist areas. Fortunately, one of the towns famous for local handicrafts, Sarchi, is only a 40 minute drive from Puntarenas. Also, if you're looking for some serious shopping beyond the tourist shops, San Jose has a good selection of shops in the Avenida Central, which is designed for pedestrians, but it is about a 2 hour drive by car from Puntarenas. 
If you are looking for a few souvenirs to remember your time in Costa Rica, coffee is always a good bet, replica pre-Columbian jewelry, or paintings of local scenery. 
Shopping in Puntarenas
Paseo de los Turistas
The area that most tourists shop at is the Paseo de los Turistas walkway. This strip has souvenir and craft shops and there are also pop-up stalls that are scattered along the walkway between restaurants and other shops. If you are not looking for anything in particular the Paseo de los Turistas will suffice for food, beverage and other small items. 
Central Market (Mercado Municipal) – 10 min. walk from pier
This covered market is mainly for locals, with vendors selling fish and produce, While you will find some items of interest here, there is not an extensive amount of crafts or souvenirs, but can be an interesting glimpse into how locals shop. It's about a 10 minute walk straight down the street (C. Central) from the end of the cruise pier, then turning right on Av. 3 and walking another block to the market.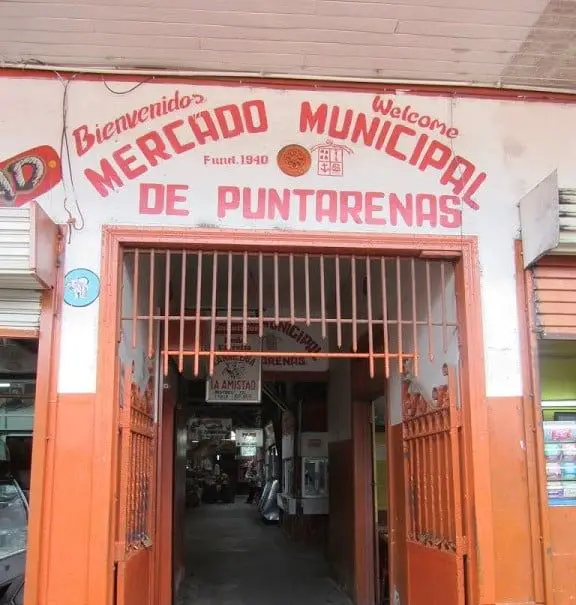 You will find trendy women's clothes and good customer service in this small boutique. It is located on Calle 2 just north of Av. Central.
This store has clothing options along with sneakers and flip flops. It is located a 6 minute walk from the cruise pier, straight down C. Central.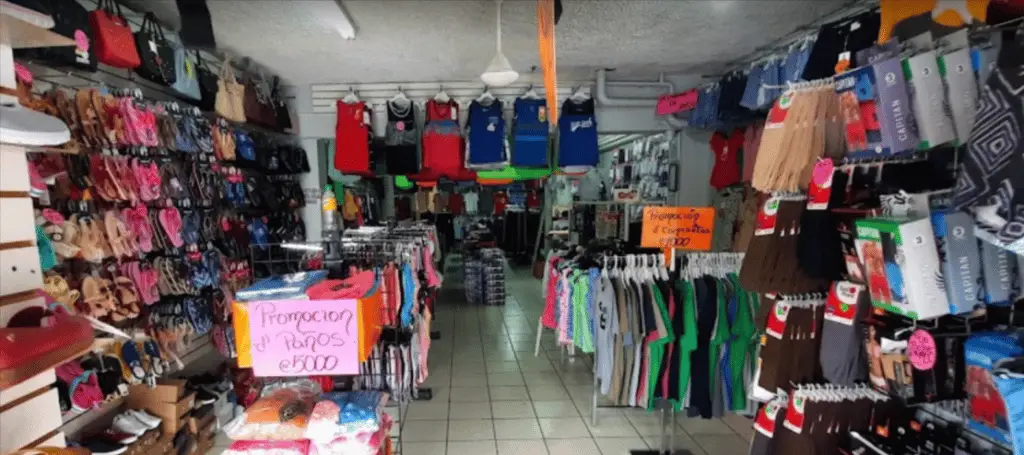 Shopping in Sarchi
As mentioned above, Sarchi is located a 40 minute drive from Puntarenas and is filled with shops offering locally made arts and crafts. They are especially known wooden furniture, leather goods and colorfully painted oxcarts in varying sizes, which were historically used to bring coffee and other goods to market.
Click here to check out this all day shore excursion which takes you on a tour of a coffee plantation, a charming village, Grecia,  known for its architecture, and an oxcart factory in Sarchi. 
Dining In Puntarenas – Costa Rica
One of the best things about visiting foreign places is experiencing the culture through the food. Check out this informative (and hunger-inducing) video about the best things to try on your visit to Costa Rica:
When in Puntarenas, there is no shortage of restaurants and eateries in the town. Walking down the Paseo de los Turistas boardwalk, you will find any number of places to stop for food or drink.
Maes Grill – 10 min. walk from pier, along the beach
Besides seafood, Maes has great burgers too. Located in front of the beach, the restaurant also has friendly staff.
Lunarossa – 20 min. walk from pier, along the beach
If you are looking for someplace with air conditioning and good food, Lunarossa has both. Fish tacos, poke and salads and ceviche with an Asian flair. Fresh tuna, octopus and avocado make for a taste of Costa Rica.
Restaurante & Marisqueria Gugas – 1 min. walk from pier, straight ahead
Fresh fish, ceviche and shrimp with rice are just a few of the items on the menu. A variety of cold drinks and stable WiFi makes this a good spot to stop and refresh yourself.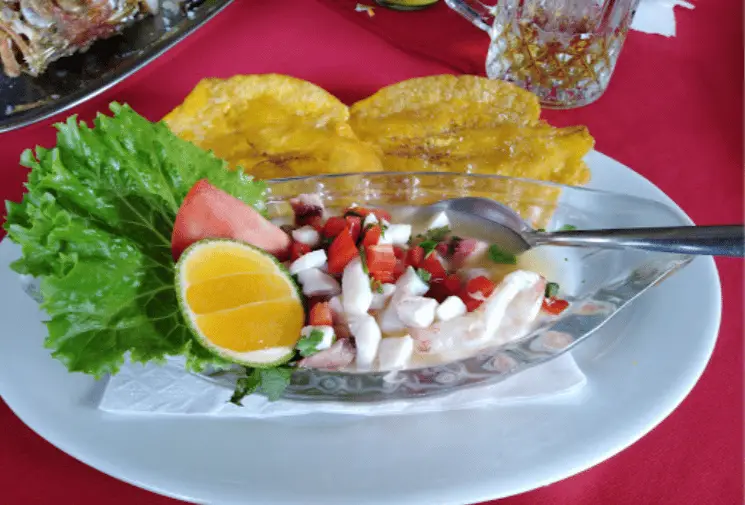 La Takeria – 17 min. walk from pier, along beach
Generous portions, this Mexican restaurant is small and cozy. You can choose from chimichangas, quesadillas, and a variety of tacos. They pay attention to the presentation here, with a friendly staff. Try tequila, beer or soft drinks with your meal.
Pizza Pata – 5 min. walk from pier, on Centenario
Many reviewers call Pizza Pata the best place for pizza in town. With a variety of toppings, you can build your own pizza. If you don't feel like pizza, they have a good selection of pasta dishes and salads, too. Service is fast in this dine-in restaurant, and the food is great.
Things To Do in Puntarenas – Costa Rica
As mentioned previously, Puntarenas is typically used as a jumping off point for various eco-tours and excursions, featuring lots of outdoor activities, but if you're just looking to get off the ship and see what the town has to offer, here are some things to do:
Playa Puntarenas
If you dock in Puntarenas, this beach is located right at the end of the cruise pier and extends the length of the peninsula. If you want to take a dip in the water, it's likely a good idea to walk a ways down the shore. Garbage can be an issue, but the town is trying to keep the beach clean.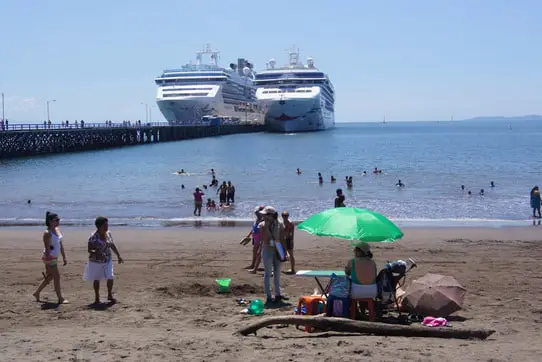 This historical site houses artwork, a small exhibition of Puntarenas' history and a theatre. One of its main objectives is to "preserve, enrich and transmit local and national culture." Admission is free and it is located steps away from the stone-built Puntarenas Cathedral.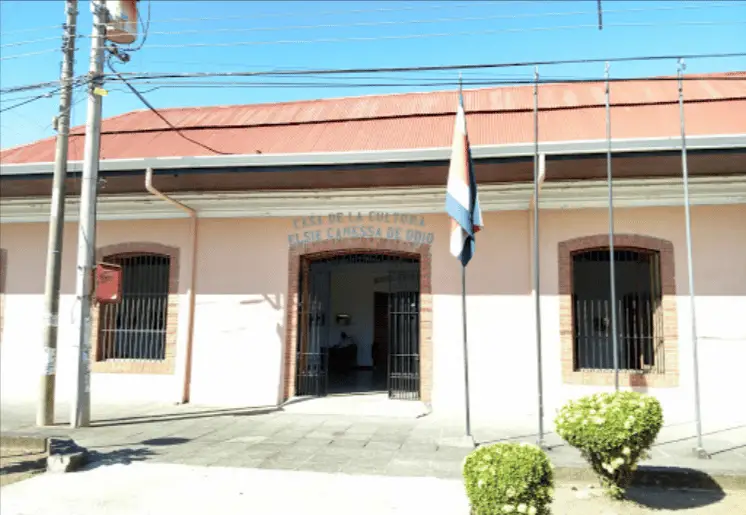 This small, but country's only, marine park has an aquarium and exhibitions with about 50 species, kiddie pool and splash area, picnic area and food service all for $10 for those over 12 years and $5 for children 4-11 years. You can take a guided tour at no additional cost – just make a reservation in advance to do so.  The hours are Tuesday-Sunday, and it can be a  great place for kids to explore.
Top Tours & Excursions In Puntarenas – Costa Rica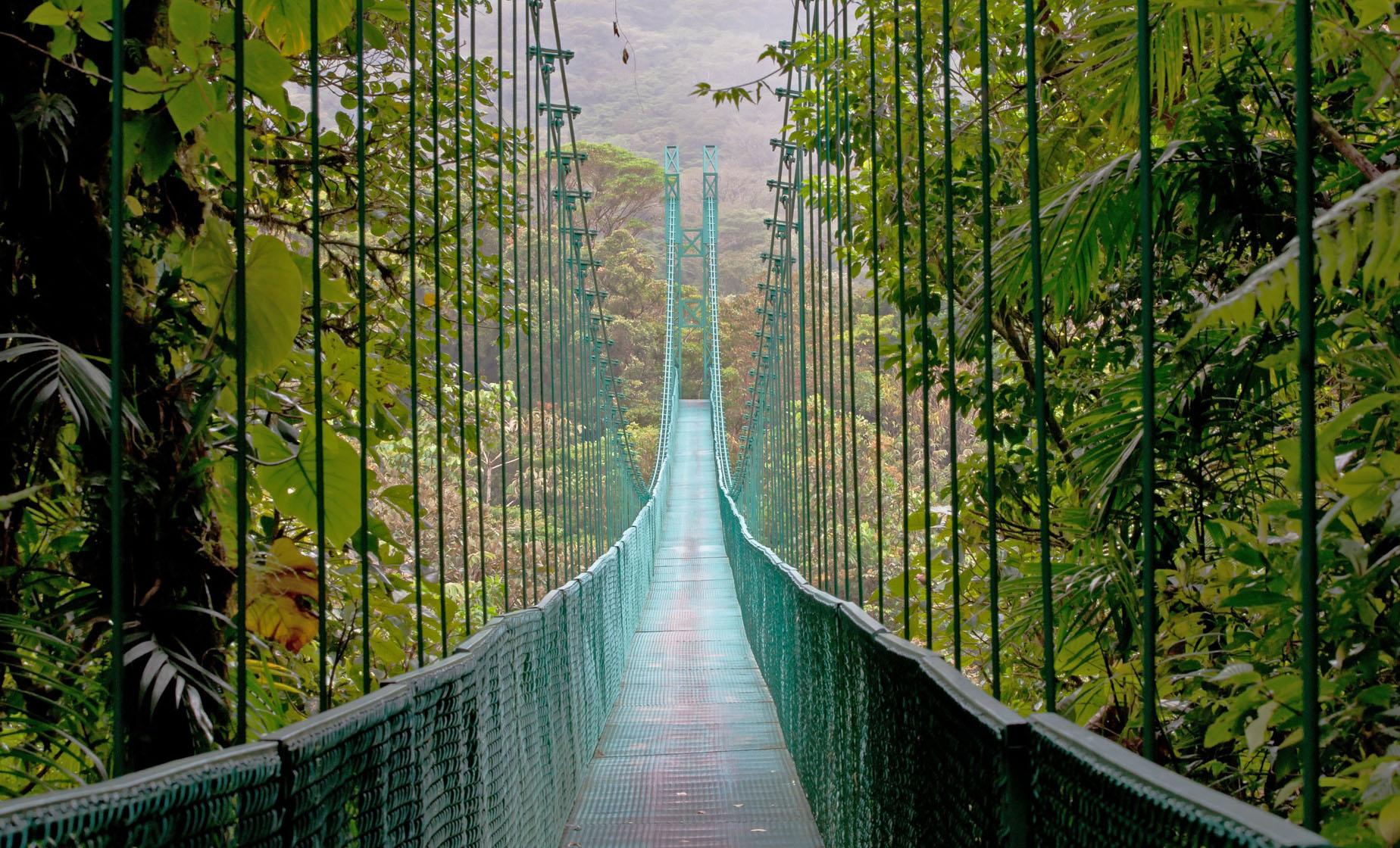 Nature lovers will have a field day on this scenic Puntarenas tour around Costa Rica. You'll visit multiple natural wonders, including some of the country's top attractions. Your tour begins on the Pan-American Highway, the famous roadway known for its epic landscape views, on a 2-hour drive to where you'll arrive at the first major site on this excursion: Monteverde. Here, you will learn about Costa Rican culture and stop at a wonderful viewpoin...
Duration: 8 Hours
Activity Level: Easy
Wheelchair Accessibility: No
Food: Light lunch included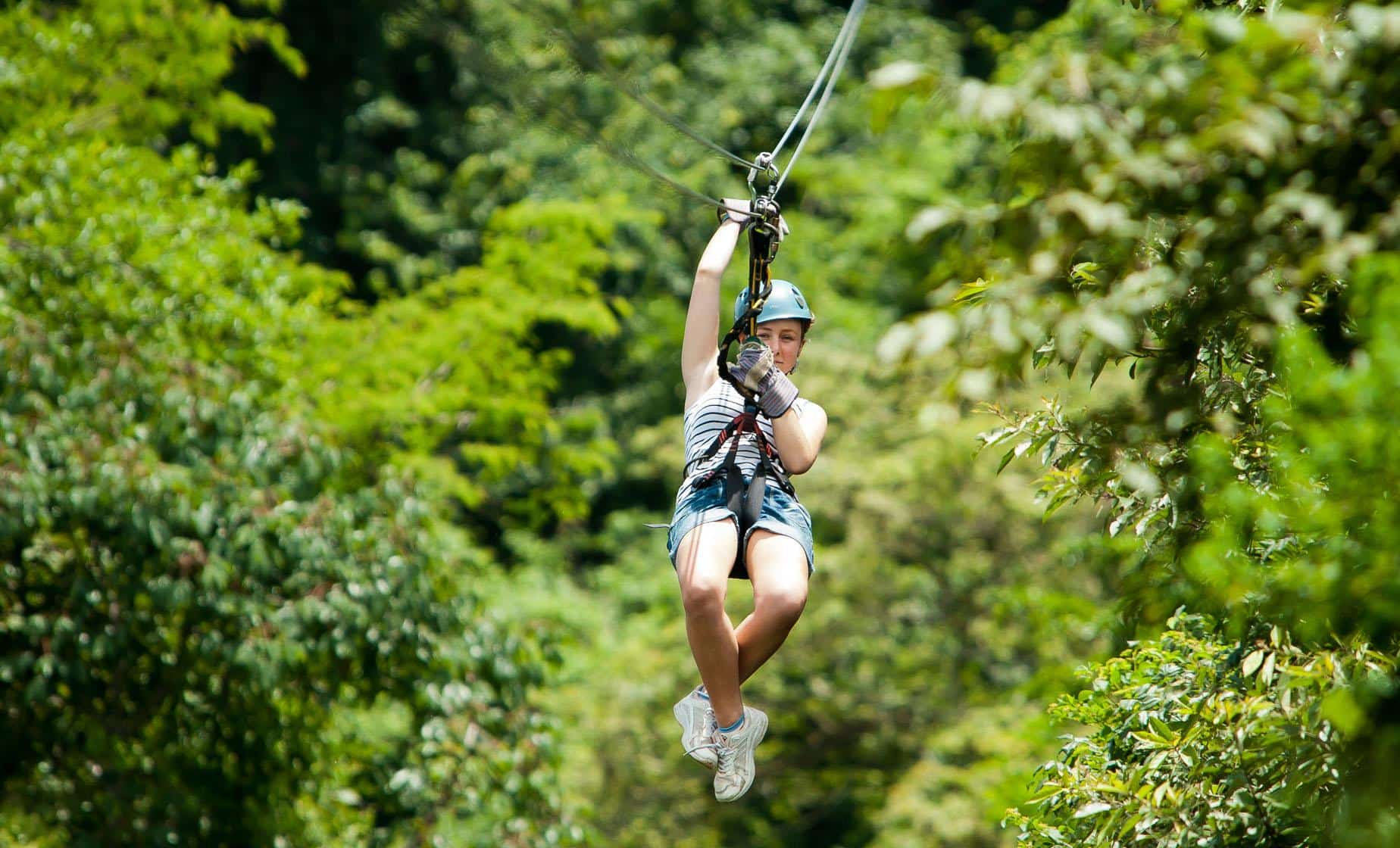 Your Costa Rican adventure begins conveniently from the pier as you set off on a relaxing drive through the stunning countryside in air-conditioned transportation Your local and knowledgeable guide will point out many different sights of the region. Carara Adventure Park is a privately-owned reserve with 80 acres of rainforest and stunning views. After instructions, the groups will be transferred to the top of the mountain where the zip line beg...
Duration: 6 Hours
Activity Level: Moderate
Note: Min. age and max. weight restrictions
Wheelchair Accessibility: No
Food: Not included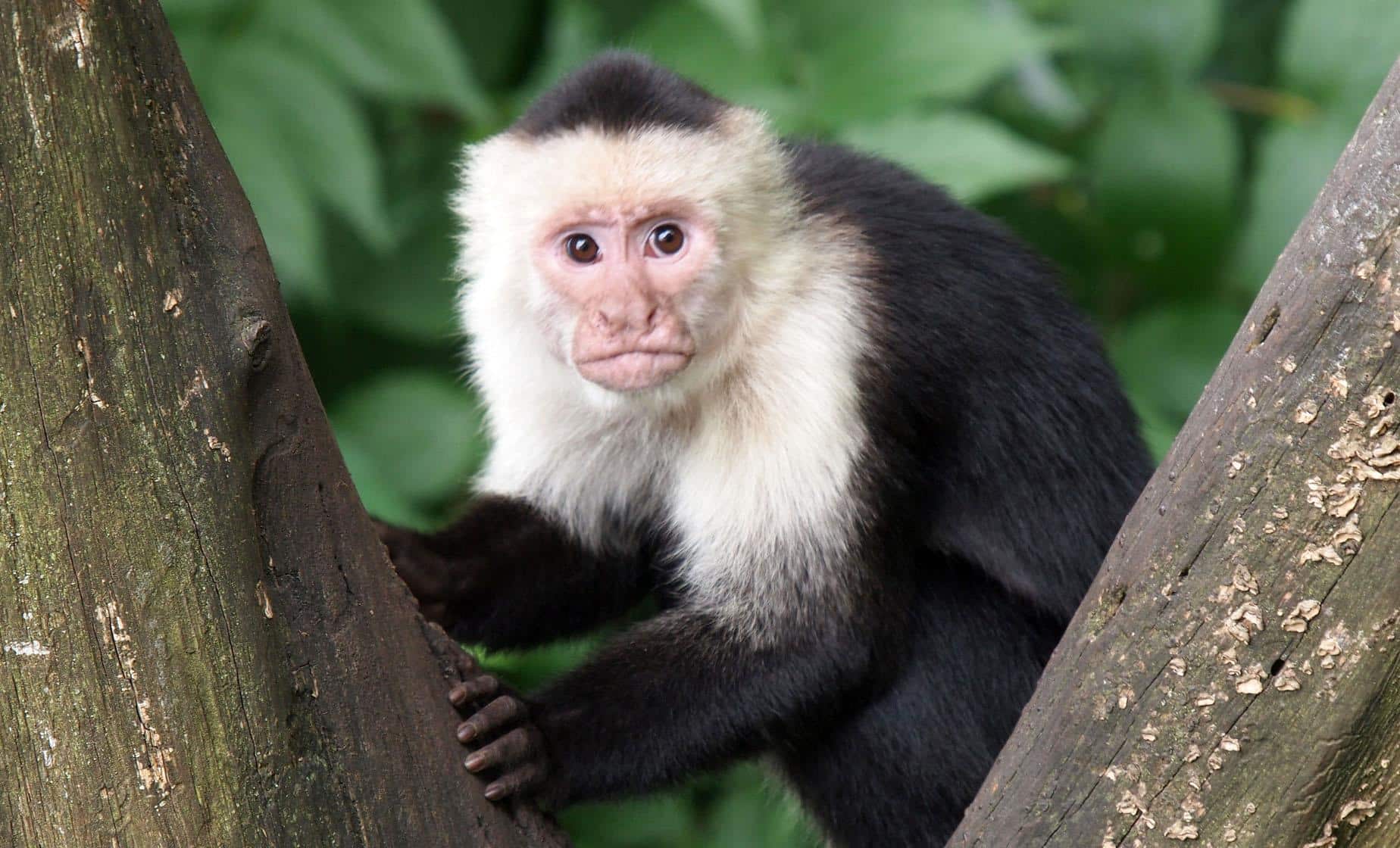 See the best of Costa Rica on this informative and cultural tour.  If you want the full Costa Rica experience, this is it. Your tour starts with an introduction to the local creatures. Upon arriving at a private wildlife area, you'll get to see the white-faced monkeys that call Costa Rica home.  From there, you'll make your way to the local "fruit towns," which live up to their name. Here, there are plenty of tropical fruits to taste and you'...
Duration: 7 Hours
Activity Level: Easy
Wheelchair Accessibility: No
Food: Light lunch included