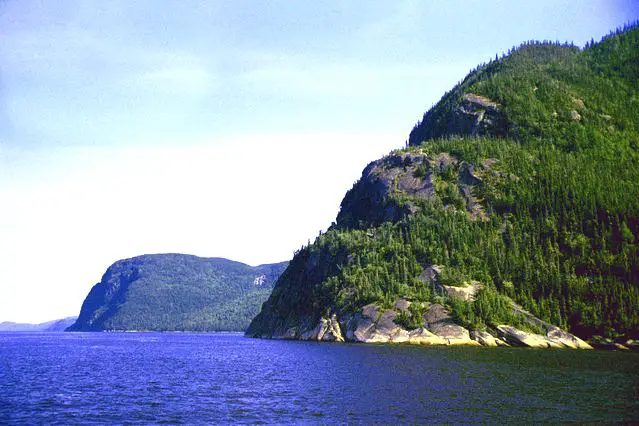 Located on the Saguenay River, Saguenay is a city in Quebec, Canada about 120 miles north of Quebec City. The city of approximately 150,000 is divided into five boroughs including Chicoutimi, Jonquiere and La Baie and has 14 municipalities. It is quite a spread-out area, and takes approximately 30 minutes to get from the cruise port in La Baie to the furthest point of Jonquiere. Chicoutimi is the most populated region and has the majority of shops and restaurants. 
Absolutely stunning, the Saguenay Fjord is among the longest in the world and leads to the St. Lawrence River. The steep banks of the fjord were formed by glaciers during the last ice age. It is the only navigable fjord in North America.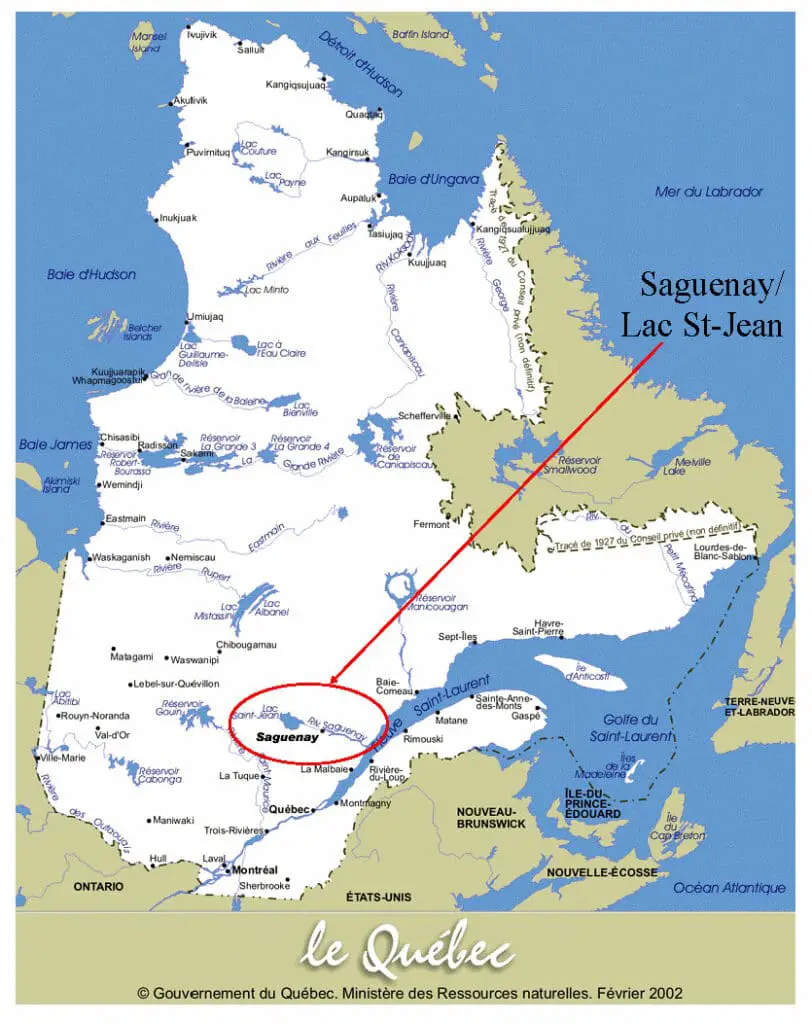 Credit: ville.saguenay.ca
This region of Quebec has a history as a French fur trading post back in 1676. In operation for over 100 years, sawmills for pulp sandpaper industries took over about 1893.
In 1878, Quebec City merchant Charles-Napoleon Robitaille was traveling by horse and sleigh on the frozen Saguenay Fjord when the ice broke and he found himself in freezing waters. He prayed to the Virgin Mary to spare his life so that he might raise his family. He survived being immersed in the icy river, and becoming ill afterward, but recovered. (Unfortunately the horse did not make it) Charles vowed that he would create a monument to the Virgin Mary to commemorate what he considered a miracle of survival. 
Sculptor Louis Jobin carved the statue out of three huge white pine logs that stand 30 feet high. During transport, the Virgin Mary herself took a dip in the Saguenay Fjord when she fell off the boat, but unlike Charles's horse, she floated. Getting the statue's 6,000 pounds up the escarpment was a feat that needed another miracle. Poor Mary ended up being cut into 14 pieces and hoisted up the cliff where she was reassembled and covered with a thin lead sheathing for protection. Standing proudly on her perch since 1881, mariners who pass by slow their vessels and sound their horns to honor both Mary and Charles-Napoleon Robitaille.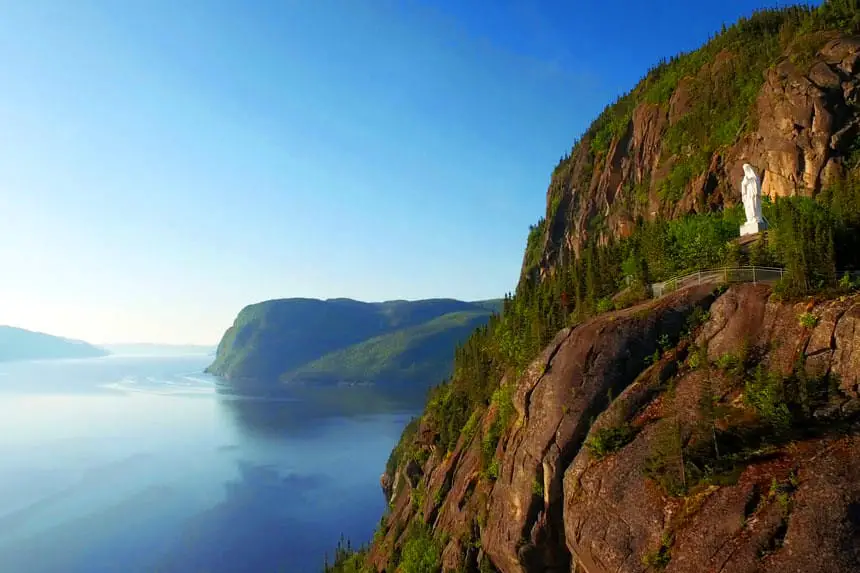 Credit: histoiresainteducanada.ca
Saguenay is one of the most beautiful regions in Quebec of vast forests and rivers. The waters of the fjord see species of beluga and blue whales. The Saguenay-St. Lawrence Marine Park is one of the world's best locations for whale watching.
September has numerous cruise ships coming to see fall foliage. Most visitors come to see the area's unspoiled natural beauty. The Saguenay River Fjord is the major draw for the area, and it is an impressive sight.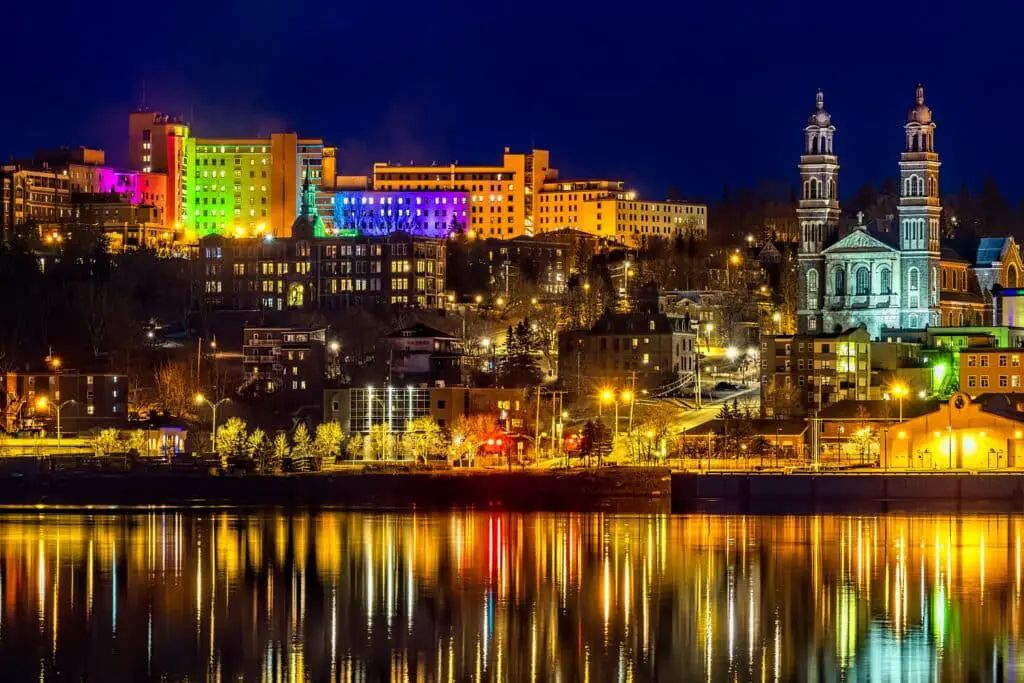 Photo by Andre Ouellet on Unsplash - Borough of Chicoutimi, Saguenay
Where You Dock in Saguenay (Quebec) – Canada
Ships will dock or anchor at the Bagotville Wharf in La Baie on the shores of Ha! Ha! Bay. While this may seem an unusual name, it can be traced back to a French term. The "haha" means an unexpected obstacle or a dead end. Early explorers in Canada found plenty of both.
Saguenay itself is made up of a larger area consisting of 5 boroughs, La Baie being one. It is like a small town with a few shops and restaurants. It's worth exploring, but if you're looking for a larger feel with more options, Chicoutimi is approximately a 20 minute drive and has many shops and restaurants.
Saguenay sees more than 60,000 cruise passengers per year. The pier has even been visited by the RMS Queen Mary II.
Ships are often met by a show troupe that puts on a performance in pioneer dress and are accompanied by local music.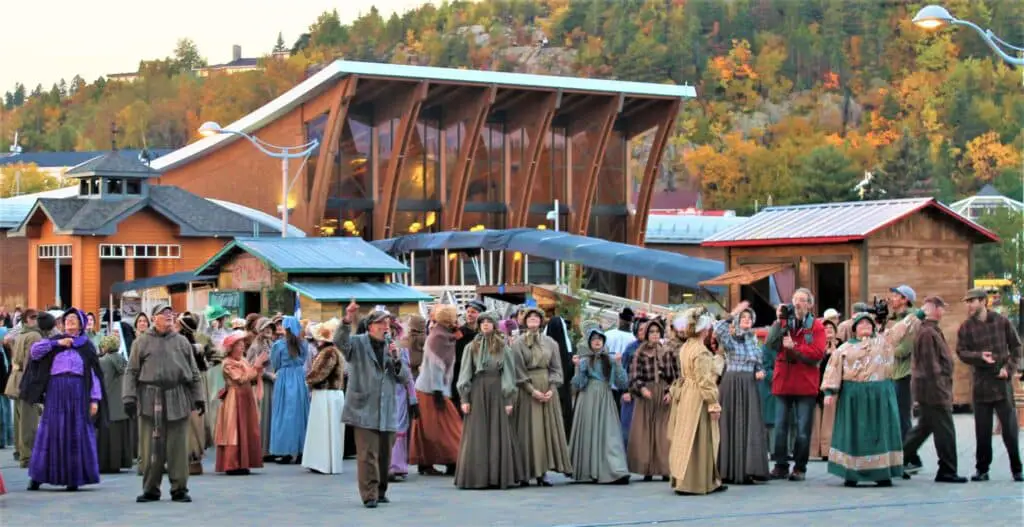 Tours depart from inside the cruise pavilion, where is free WiFi and computers for passenger use as well as a cafe, local artisan shops and Visitor Information Centre. 
Taxis and car rentals are available from the pier. 
Check out the live webcam at the cruise ship pier.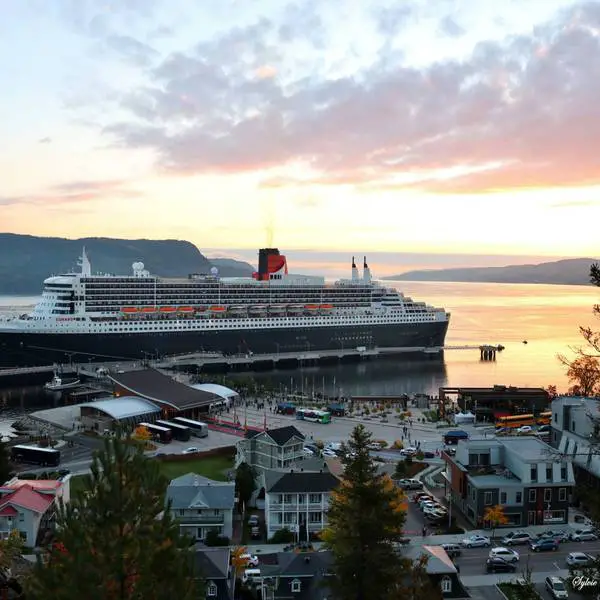 Getting Around Saguenay (Quebec) – Canada
Walking
It is about a five minute walk from the pier to La Baie's village center. There are shops and places to eat here. This is not a large area, so you should be able to cover the few streets without needing a map. If you're looking for more of a city-feel with more shops and restaurants, you'll need other transportation to drive into Chicoutimi. 
Buses
The buses are the hop-on, hop-off type. There are two Saguenay tours that the bus offers. One will take you to the Fjord museum, a shopping center, and a glass maker and sculpture studio.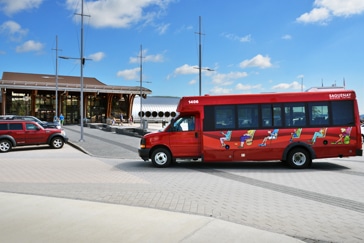 The second tour goes to the downtown and cultural area of Chicoutimi. There will be a stop at a cathedral, a regional museum and public market. The buses will run about every 20 minutes when ships are in dock and cost approximately $30pp with tickets available onsite. 
Taxis
The cruise pavilion is the place to book a taxi. There you can also choose a taxi that will tour you around the region or just take you where you want to go.
Rental Cars
Again, the cruise pavilion is the place to rent a car. You will need to be at least 21 years old and present a valid, unexpired government-issued photo driver's license. You will also need a major credit card. Driving is on the right-hand side of the road.
Shopping In Saguenay (Quebec) – Canada
There is no shortage of shopping in Saguenay. The city has five downtown centers, Arvida, Chicoutimi, Jonquiere, Kenogami and La Baie (where the ship docks). Each city center has shopping and boutiques and restaurants. From La Baie to the furthest center of Jonquiere, it is approximately a 30 minute drive.  Chicoutimi is more of a "city" and has the largest number of offerings in one area. 
If you're looking for some souvenirs, much of what the province of Quebec is known for is food related, so keep a look out for local maple syrup, cheese from a fromagerie, sweets and baked goods from a boulangerie, especially a creamy, delicious type of fudge called sucre a la creme, wine and other local alcohol.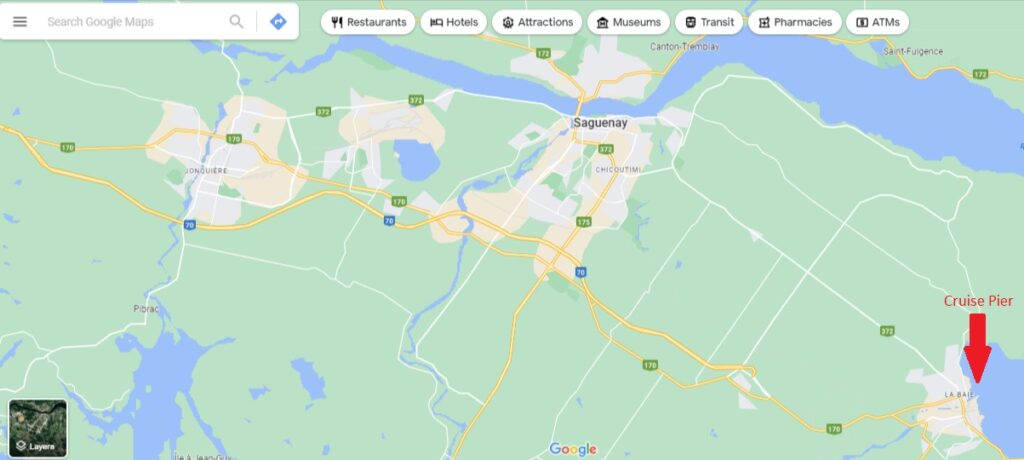 This small shopping complex closest to the port, has men's, women's and children's clothes, a bank, liquor store, dollar store, jewelry store, home store and groceries.  There are also often pop-up stores featuring items from local artisans. 
Place du Royaume – 17 kms from pier in Chicoutimi
The largest shopping mall in the area, Place du Royaume has brand name and local stores including Walmart, Sephora, Tommy Hilfiger, Old Navy and a food court with McDonalds, KFC and Starbucks. 
The Saguenay-Lac-Saint-Jean Crafts Corporation has created a "craftsmans route" comprised of more than 70 artisans who specialize in different materials such as wood, glass, textiles, metal, ceramic, leather and more. 
While many artisans are in the Chicoutimi area, the featured artists that are closest to the port are:
Conception Cuir, a leather artist who makes bags and wood and leather furniture. They are located a 4 minute walk south of the pier on Rue Victoria in La Baie.
L'atelier-boutique a Moi de Moi, does beautiful silkscreen printing on shirts, cushions, bags and much more, all inspired by the nature and animals of the region. 
Click this link to a see list of artisans, or here to a list of maps where all the shops are located. 
This delicious shop has been making their own chocolate onsite for 20 years and also offers gelato.  It will be hard to not try one of everything!
Dining In Saguenay (Quebec) – Canada
Quebec's cuisine has its roots in 16th century French dishes. Today's cuisine has been influenced by Quebec's history of fur trading, the seasonality of ingredients, and what early settlers traded. Poutine is distinctly Canadian and is a mix of fries, gravy and cheese curds. Pea soup, tourtiere (a meat pie), and feves au lard (beans, bacon and molasses) are also dishes that are traditional to the area. Quebec is the largest producer of maple syrup in the world. They have also created over 700 different kinds of cheese. The region also has the mother lode of blueberries, and you will even find them in breakfast sausage. You will find no shortage of restaurants and unique and delicious food in Saguenay.
Know that when ordering in restaurants, if you ask for an entree it is an appetizer in French. A main course is called a plat. Also, "dinner" is often eaten at mid-day, while supper is an evening meal. 
Restaurants Close to the Port
European, North American, Vegetarian, French, BBQ
This busy bistro offers delicious breakfast lunches and suppers with local offerings of seafood, cheeses and beer. Staff are friendly and there is lots of indoor and outdoor seating. Enjoy a coffee and desert or a full meal. They also have a location in Chicoutimi.
 

 

View this post on Instagram

 
Canadian, French
With views of the fjord, this small bistro uses local ingredients to inspire their soups, salads, and main dishes. Open in the evenings only.
Cafe, Ice Cream
Stop by this shop to grab a treat to enjoy on your walk around town. Reviewers say the gelato rivals those you'd find in Italy. For a cooler day, the hot chocolate is made with melted chocolate, or have a tea or coffee. Pastries and local products are also available.
Top Restaurants in the Saguenay Area
Restaurant Le Bergerac – 3919 rue Saint-Jean, Jonquiere – 25 kms from pier
European, Caribbean, French Cuisine
In business since 1995, this small restaurant has an extensive wine list and a "creative fine dining" menu. Located in an old home in downtown Jonquiere, they grow their own herbs for their dishes. They serve Jamaican jerk-style mahi-mahi, filet mignon with wild mushrooms and Yukon Gold potatoes.
Boefish – 1303 boul. Talbot, Saguenay – 17 kms from pier
Steakhouse, Mediterranean, Barbecue
 

 

View this post on Instagram

 
This upscale restaurant specializes in steaks and fresh Mediterranean fish. The octopus salad and lobster pasta are favorites. They also have surf and turf platters to share. Try the IPA beer or an offering on the extensive wine list to pair with dinner. This restaurant is open for dinner only.
Temaki Sushi Bar – 317 Racine Street E, Chicoutimi, 19 kms from pier
Sushi, Japanese
There is an emphasis on sushi, but you can also get miso soup, cucumber salad, edamame and desserts as well as Waygu steaks and sausages. They have tempura veggie egg rolls and a spicy Japanese crab. The smoked salmon roll is also recommended. Everything is fresh and made-to-order and the restaurant is open at 2pm Wednesday to Saturday if you fancy a late lunch. 
Things To Do in Saguenay (Quebec) – Canada
Saguenay Fjord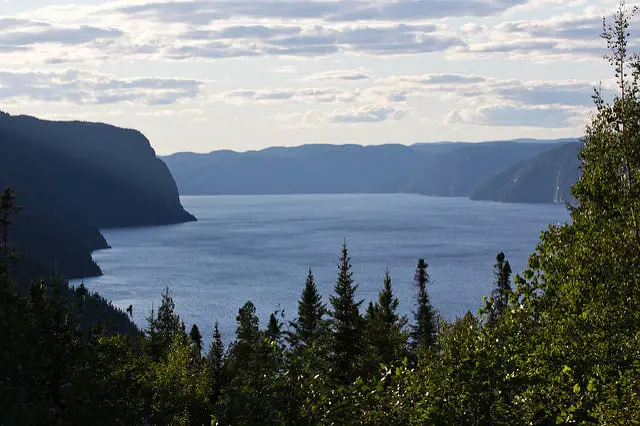 At 146 miles long, Saguenay fjord is one of the ten longest fjords in the world, with a long glacial valley and rocky cliffs. It is the only inhabited fjord in North America. The area surrounding the fjord is rugged and mountainous, with cliffs up to 1,150 feet high.  Cruises will offer tours like Zodiac rides in the fjord or get the view from above in a seaplane. 
Musee du Fjord – 3346 boul. de la Grande-Baie Sud, La Baie, 4.6 kms south of pier
Here you can learn all about the Saguenay Fjord in a fun and interactive environment. You will be able to both see and touch some of the fjord's living organisms. There are multimedia exhibits and 3-D films. There are 650 types of sea life in the aquarium. Wander by yourself, or join a guided walk at low tide to dig for minerals and plants. Tickets are available to purchase online.
This magnificent park is a wonder to explore. If you don't have the time on your cruise stop, you should try to get back when you do have time to explore. The park offers the opportunity to be in the middle of nature at its best. You can backpack, hike, kayak, fish, sail and bike. This area has extraordinary chances for wildlife watching or an expedition into the backcountry. Take a look at this tour which leaves from the cruise terminal.
Here's what awaits you: 
Top Tours & Excursions In Saguenay (Quebec) – Canada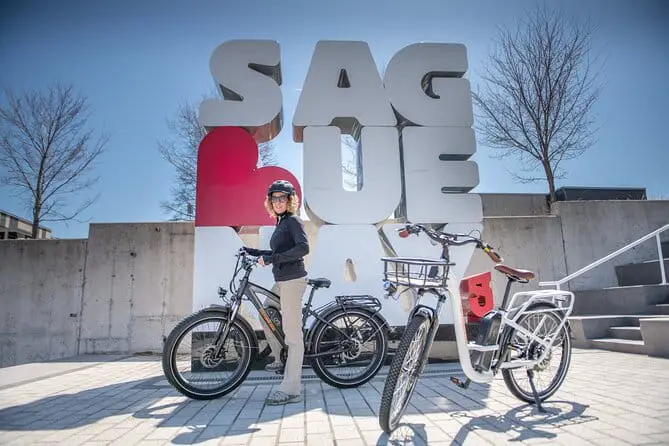 Next to the cruise port you'll find your electric bike and helmet. Choose from one of two audio tours which will tour you all around the La Baie area. 3 hours will allow you to stop at the various attractions and give you time to treat yourself to a coffee on the terrace. At the rendezvous: Cheese factory, parks, (monument of 21, history (Pyramid of Ha! Ha!), shops and views of the fjord to discover all along the cycle path and in the Eucher trai...
Duration: 3 Hours
Activity Level: High
Note: Must be 18 to rent e-bike.
Wheelchair Accessibility: No
Tour Includes: Bike, Helmet, Audio Tour
Book Now