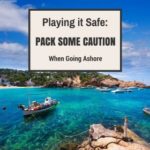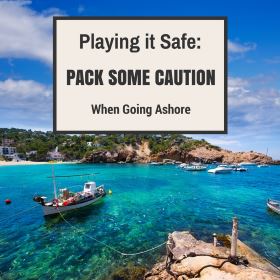 Playing it Safe: Pack Some Caution When Going Ashore
Last updated on August 24th, 2022 at 08:07 pm
For many, port hopping is one of the best parts of cruising. You can snorkel in Grand Cayman today, sombrero shop in Cozumel tomorrow and parasail in Roatán the day after that.
Who wants to worry about safety when we're having that much fun?
But it doesn't have to be a pain to take precautions while adventuring in the Caribbean ports. Here are some simple, good-sense suggestions to ensure you get back to the ship in the same shape you were when you got off:
Keep it clean. Whether you're taking a tender, catamaran or walking around town, your hands are going to inevitably be on something. Bringing a small hand sanitizer can help keep any bad germs at bay.
Sun shade. On the beach, we expect to get sun. But it shines on the sidewalks too. Suntan lotion, sunglasses and a hat are essentials for a day in port—however you're planning to spend it.
Keep it close to the vest. Wallets should be well secured and not visible. Cross-body bags are best for women.
Don't be bugged. With the Zika virus still a concern, consider slathering on some bug repellant before going ashore.
Forecast: sun with rain. Bringing a small umbrella or raincoat that folds into a tiny bag will come in handy for those pop-up rainstorms common the in the Caribbean, particularly in places like St. Thomas and San Juan.
Make sure time's on your side. A watch is a must. The cruise lines have their own ideas about handling time zone changes and the ship's time is not always the island's time. To make sure you get back onboard before your ship sails away, ensure your watch is set to the ship's time and this should be your guide—not the clocks in port.
Risky business. Yes, you can save money by taking a taxi to the beach or touring with a local. But know that the ship won't wait for you. Traffic jams, breakdowns, detours—any of these can delay your trip back to the pier. If you book with the cruise line, though, the ship will wait—or at least help you catch up with it after it's left the dock.
Know where you're going to. The ships usually have some sort of a map (typically given during port shopping talks), or you can get one from the local tourist office. Having a destination and being aware of where you are will keep you from getting lost and wandering into places where it's not the best to be.
The road less traveled. That neat little back street may beckon, but if there's no one else on it, you might think twice. And at night, it's best to avoid streets that are not well lit.
Look right. Many of the islands (think St. Thomas, St. Kitts and Bermuda) have British origins and drive on the other side of the road. It helps to know this upfront so you know which way to look when crossing a street.
Mind the gap. On some of the islands—like anywhere—there may be sidewalks in disrepair. In Castries, St. Lucia, there's a big gap between the sidewalk and the street, presumably for drainage, so you'll want to be extra cautious if you're planning to wander around. And sturdy walking shoes or sneakers wouldn't hurt either.
Rum and sun make a heady mix. There's nothing like a frozen Margarita or ice cold Carib to take your vacation up a notch, but overdoing it can make you forget you're in the sun and bring a bad burn or dehydration. Or make you forget you have a ship to catch.
Don't be "photoblivious." You might really want to take that photo, but it's probably not a good idea to stop traffic to get it.
Disguise your camera. If you tend toward more expensive equipment, the pros suggest carrying it in non-brand name bags and straps to prevent against theft.
Sweet and discrete. Respecting the locals, their property and way of life, and keeping a low profile in port will help you stay safe and get respect in return.
Most important of all. Know how to reach the cruise line's port agent or U.S. embassy if the worst happens and you need help. You can usually find the contact info in the ship's newsletter on the day of your visit.
Or, maybe this is the most important tip of all: don't cuddle a wild iguana! I wish I were making this up—to the horror of all around him, a cruiser at St. Thomas' Crown Bay pier mugged for the camera holding an iguana he snatched from the rocks.
To sum it all up—do some prep, pack some useful stuff, take along your common sense, and don't take unnecessary chances. That's the very best way to safeguard your health and the rest of your vacation.
This page contains affiliate links for which we may receive financial compensation when a purchase has been made through one of our affiliate partners.
Diana Greenburg got into cruising late, but is trying very hard to make up for lost time. She writes for a living, but in her spare time does a blog on—what else—cruising! Visit Musing About Cruising at Musing About Cruising